Ultimate Guide of ImgBurn Download
I want to download ImgBurn to my computer for creating DVD. Where can I download the free ImgBurn? By the way, my computer is Windows 7, 64 bit.
My ImgBurn is version 2.5.7.0. Are there any update of this DVD burning app for downloading? My computer is Windows 10, 32 bit. Thanks at advance.
ImgBurn, as the free lightweight CD/DVD/HD DVD/Blu-ray creating toolkit, gains high reputation throughout the world. About ImgBurn download problems, you may often suffer from. In this page, we will discuss the hottest issues about ImgBurn download that you may be interested in.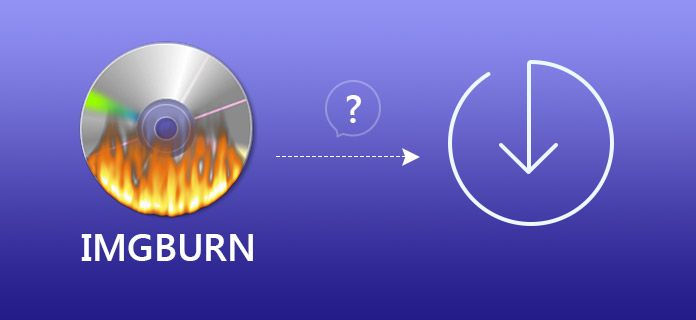 Tip 1. What type used iPhone would you like?
If you have a clear understanding of this software, then just jump to Part 2. Otherwise, it deserves your time on it.
ImgBurn is the burning toolkit that helps you create CD/DVD/HD DVD/Blu-ray. It can burn audio CD from any file type supported by via DirectShow/ACM like AAC, APE, FLAC, M4A, MP3, MP4, MPC, OGG, etc. Also, you can burn video files to DVD, HD DVD and Blu-ray video disc. This software is compatible with all Microsoft Windows system like Windows 95, Windows 98, Windows Me, Windows NT4, Windows 2000, Windows XP, Windows 2003, Windows Vista, Windows 2008, Windows 7, Windows 8 and Windows 10 (including all the 64-bit versions). If you use Wine, it should also run on Linux and other x86-based Unixes.
ImgBurn is the free burning software, but you cannot use this software to make any illegal copy of copyright disc.
Note: This software has been disconnected since June 13th, 2016.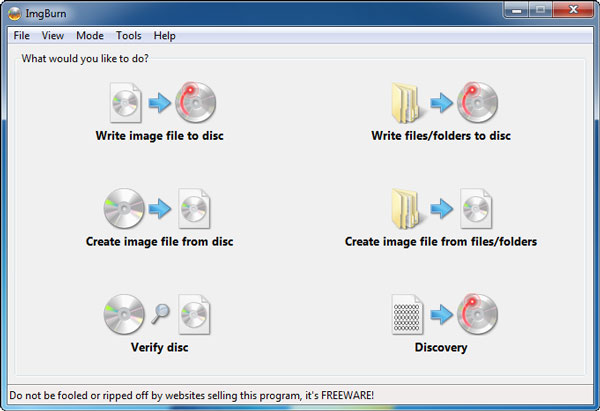 Part 2. Where to download ImgBurn??
ImgBurn provides many ways of downloading illegally. According to its official description, you can download the latest ImgBurn, v2.5.8.0 from the following platforms:
Mirror 1 - Provided by Digital Digest
Mirror 2 - Provided by BetaNews
Mirror 3 - Provided by Softpedia
Mirror 4 - Provided by Free-Codecs.com
Mirror 5 - Provided by TechSpot
Mirror 6 - Provided by MajorGeeks
Mirror 7 - Provided by ImgBurn
Part 3. What is the review of ImgBurn v2.5.8.?
Till now, ImgBurn has updates its latest version to v2.5.8.0. Dating back to its old versions, you will find there are many version of this software. From its official downloading page, you will find it only keeps its latest version. You can find the basic information about its latest version of 2.5.8.0.
Version: 2.5.8.0
Requirements: Windows (All versions)
Download link: http://download.imgburn.com/SetupImgBurn_2.5.8.0.exe
Size: 3870 KB
User Rating:

Feature:
1. Five modes:
Read - Read a disc to an image file.
Build - Create and write an image file from files on your computer or network.
Write - Write an image file to a disc.
Verify - Check a disc is 100% readable. Optionally, you can also have ImgBurn compare it against a given image file to ensure the actual data is correct.
Discovery - Put your drive/media to the test! Used in combination with DVDInfoPro, you can check the quality of the burns your drive is producing.
2. ImgBurn supports a wide range of image file formats like BIN, CUE, DI, DVD, GI, IMG, ISO, MDS, NRG and PDI.
3. It can burn Audio CD's from any file type supported via DirectShow / ACM - including AAC, APE, FLAC, M4A, MP3, MP4, MPC, OGG, PCM, WAV, WMA and WV.
4. It can create video into DVD from a VIDEO_TS folder), HD DVD Video discs from a HVDVD_TS folder and Blu-ray Video discs from a BDAV/BDMV folder) with ease.
5. The Automatic Write Speed feature allows you store your favorite burn speed settings on a per 'Media ID' basis, right down to a drive by drive level.
Part 4. What are ImgBurn Alternatives?
ImgBurn, as the burning toolkit, will enables you to find alternatives hard. However, you can find ImgBurn alternative with single software.
Burnova - Best DVD Creator
For Mac
Burnova is the professional BD and DVD Burner
Download YouTube videos and convert them to DVD disc/ISO/folder
Burn any video like MP4/MKV/AVI/M4V to DVD disc/folder/ISO file
Create local videos from computer to Blu-ray disc/folder/ISO file
Burn DVD with various menu templates
Get the tutorial from this post to transfer video into DVD.
What you need: Burnova