iPad Keeps Freezing? Here Are The Quick Fixes You Should Know
What should you do if your iPad freezes? You may feel unhappy and wonder the reasons why iPad freezes. It may be temporary. You only need to reboot your iPad. But sometimes, rebooting your iPad is not enough and you need other solutions to fix the problem. How to fix it and prevent iPad from freezing? Here are some ways if your iPad freezes.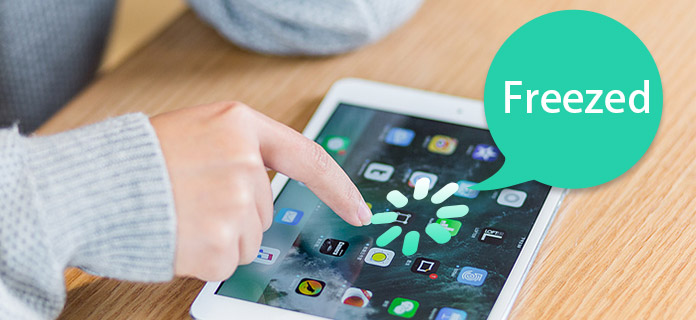 iPad Keeps Freezing
Part 1. iPad freezes? Why?
Reason 1: iPad freezes due to buggy Apps
Although it's rare for apps to cause iPad to turn off completely, it often keeps you iPad freezing. In this time, you can force the app to close, and then check to see the update or delete the buggy app. What you need to do is do a double click on the Home button and to swipe up on the preview window of the app.
Reason 2: iPad freezes because of freezing temperatures
Actually iPad is not suitable for extremely hot or cold situations. When your iPad freezes in such situation, you have to take the iPad to somewhere warmer or restart iPad. In order to fix iPad-freezing issues for cold areas, Apple has been working on some patches, which you can download some hot fix with system update.
Reason 3: iPad freezes for battery problems
iPad battery power may be low and even worse, the iPad battery is damaged. This situation can let your iPad freeze. Use elimination and try to plug your iPad into your PC or a wall outlet. If it's not work after you have juiced it up, then you should take your iPad to an authorized Apple repair shop.
Reason 4: iPad freezes as for iOS bugs
Sometimes, the iPad just freezes for a quite short time. Other times, your iPad may be shut down completely and restarts. So keep updating iPad operation system, which can be software issue that an update from Apple has been fixed. You can also check for the uninstalled software updates in iPad settings to get a stable iOS.
Reason 5: iPad freezes when no spare storage space
After you download many apps, it's common to find that iPad gadget's storage is nearly full. When your iPad storage is full or nearly full, it can make the operation of the iPad to slow down, even lead to iPad freezing. Just transfer some multimedia files to other device, and then you can improve the performance and stability of iPad.
Part 2. How to fix my freezing iPad
In order to fix iPad freezing, you should also take the security of iPad content into consideration. iOS System Recovery should be the best solution as for the case. Of course, you can also reboot iPad or restore iPad from iTunes backup. Here are 3 ways to fix iPad freezes in detail. You can choose the best way to fix your frozen iPad.
Solution 1: Fix iPad freezing with iOS System Recovery
Step 1 Launch iOS System Recovery
Download and install iPhone Data Recovery, and then launch the program on your computer. Choose the "iOS System Recovery" mode, which is able to fix iPad-freezing issues and other problems.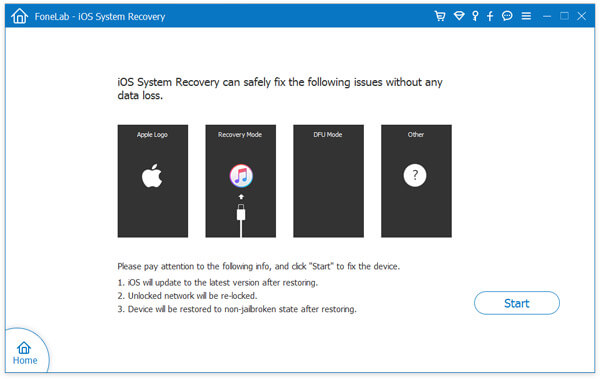 iOS System Recovery
Step 2 Connect iPad with the program
Use a USB cable to establish a connection between the frozen iPad and computer. Then, the program will detect your device automatically. Make sure the information of iPad is correct before you click "Repair".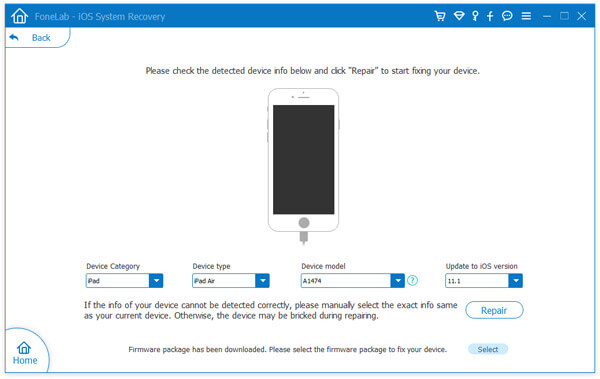 Repair
Step 3 Download the right firmware
Based on the model of your iPad, the software will retrieve the best version for you. Click the "Download" button and then it can start downloading the required firmware to fix iPad freezes issues.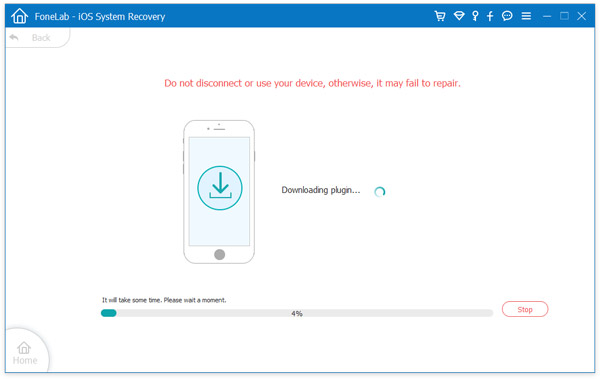 Download the Right Firmware
Step 4 Repairing iOS to normal
Once the download of the software is complete, it can start working on the unfreezing your iPad. It will take a quick 10 minutes to repair the iOS system to make your iPad to function well. The program will notify you when it's finished.
Solution 2: Fix iPad freezing by rebooting iPad
Step 1 Hold down the "Sleep/Wake" button for several seconds. Follow the directions on the screen by sliding the button from the left side to the right side to reboot your frozen iPad.
Step 2 If the "Slide to power down" message did not appear, you need to continue holding the Sleep/Wake button about 20 seconds. In this way, your iPad will power it down without the confirmation.
Step 3 After the iPad is totally shut down, wait for a moment and then hold down the Sleep/Wake button several seconds again to restart your iPad.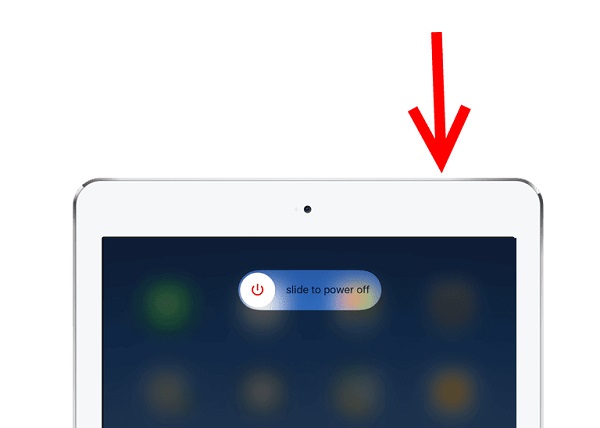 Shut Down
Solution 3: Fix freezing iPad via restoring iPad from iTunes
Step 1 Open iTunes on your Mac or Windows, you can connect iPad to computer with USB cable. And then tap the "Trust This Computer" and enter the passcode.
Step 2 Select iPad when it appears in iTunes, and then choose the "Restore iPhone…" option to restore iPad to factory settings with iTunes.
Step 3 Choose the iTunes backup according to the size. Click the "Restore" button. You can fix freezing iPad issue within a few minutes.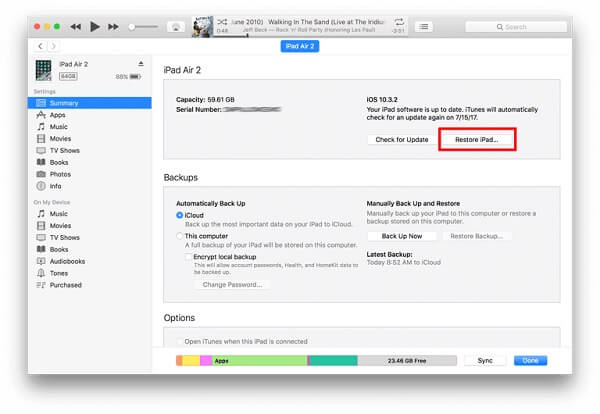 Restore iPad
Part 3. Tips to prevent your iPad from freezing
The situation of iPad freezes is quite common. Many users will feel frustrated when they are facing such situation. Tired of fixing frozen iPad, you may wonder how to avoid such situation from happening again. Here are some tips on how to prevent your iPad from freezing:
1. Download apps from formal sources. Maybe it's the best choice to download apps from App Store.
2. Update your iOS and apps regularly. It can help to eliminate bugs so that your device can work normally.
3. Do not use your iPad while charging.
4. Do not use your iPad in extremely hot or cold situation.
5. Close the apps you are not using in the background.
6. Be sure to have enough storage in your iPad.
Conclusion:
With the wider use of iPad, it's common to have the situation that your iPad is freezing suddenly. You can try to reboot the freezing iPad first. If it does not work, you need to try other ways like restoring iPad from iTunes backup. This article shares the reasons why iPad freezes, the ways to fix your frozen iPad and tips to prevent your iPad from freezing. If you have questions, please leave a comment in the article.