Effective Ways to Fix iPad Stuck on Apple Logo
Have you ever face the situation that your iPad stuck on the Apple logo and not responding? Maybe it happens just when you upgrade to a new iOS version, jailbreak your iPad, or install some third-party apps. How to quickly get rid of this bad situation? In this article, we will tell you the reasons why iPad stuck at Apple screen and proper methods to deal with it.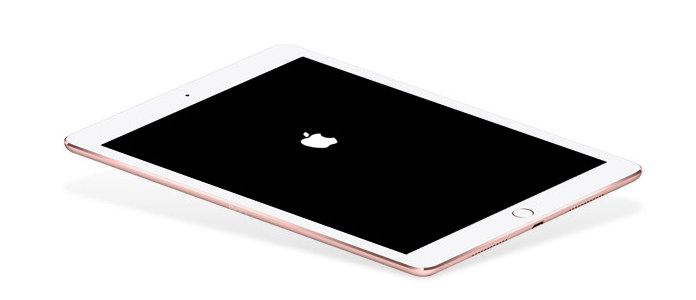 iPad Stuck on Apple Logo
Why iPad stuck on Apple logo screen
iPad may be stuck on Apple logo for lots of reasons. After jailbreaking your iPad, updating the iOS version or having a regular restore from an iPhone/iPad/iPod backup with iTunes, or resetting iPhone/iPad to factory settings, you may suddenly find the Apple logo stuck with the iPad screen. But what really happens when you getting the Apple logo freezing on your iPad?
When you boot your iPad, it will check its power IC, logic circuit and system memory, and then turn on its processor and set up a slew of internal components. During the starting process of iPad, Apple logo will appear on the screen and the startup functions will automatically happen in the background. If your iPad cannot pass the white Apple logo on the black background, there must be something wrong with the specific part and it can't work properly.
Here we list some possibilities why this happened:
1. Jailbreaking
Jailbreaking is a process of software modification that breaks many limitations on iOS apps and gives you full control of your iOS device like iPhone SE/6s Plus/6s/6 Plus/6/5s/5c/5/4S/3GS, iPad Pro/Air 2/mini 4, iPod and more. When you break the limitation, you also give the apps an easy access to the operating system. And that will handily cause Apple logo to hang on the screen.
2. iOS update
When you want to update iPad to new iOS version, it will create a path for new data to the iOS core functionality. This can cause a problem. Security software, defective USB cables, and faulty USB ports can all interfere with the data transferring and make software corruption. It also happens when you transfer files from PC/Mac to iPad or recover data from an iTunes/iCloud backup. Data transfer process may get the Apple logo stuck on your iPad.
There are many other reasons can make your iPad only show Apple logo, such as you install new third-party apps on your iPad, or damage some iPad hardware.
Now you have an initial understanding that why your iPad frozen on Apple logo, next, we will tell you how to fix it in regard of various circumstances.
How to fix iPad stuck at Apple logo
If the iPad is locked up and continually gets stuck on the Apple logo, you definitely have reset the iPad. But if it doesn't work, what should you do? You can fix it through the following ways.
Force iPad to reboot
Hold the Power and Apple Home button at the same time for about 10 seconds.
Apple logo will disappear and then be back to the screen.
Release the buttons when you see the Apple logo again.
Under normal circumstances, after rebooting, your iPad will return to normal.
Restore iPad with iTunes
1. Turn off your iPad.
2. Connect iPad to your PC/Mac via USB cable and launch iTunes.
3. Keep pressing the Home button.
4. When you see the iTunes logo on the screen, it means iTunes detects your iPad (iTunes won't even recognize iPad?). Then release the Home button. Then you enter the iPad Recovery Mode, and you can restore your iPad by clicking the Restore iPad...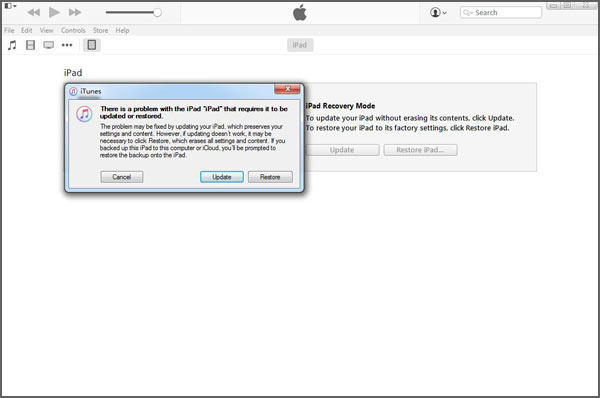 If you have to restore iPad with iTunes, you will find your iPad data will be erased during the process of restoring. And iPad will be replaced with one iTunes backup on this computer.
Fix iPad stuck on Apple logo with iOS System Recovery
Want to directly fix iPad stuck on Apple logo? Here we sincerely recommend the professional iOS System Recovery to help you fix iPad frozen on Apple logo problem. First, you can free download it to your computer.
Step 1 Launch FoneLab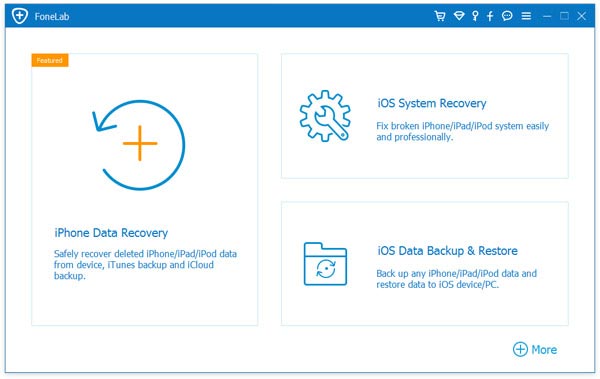 Launch this software on your computer and connect your iPad to it with USB cable. Click "More tools" on the left column and then tab the "iPhone System Recovery" on the preview window. Then you will enter the "iPhone System Recovery" window.
Step 2 Start to fix iPad stuck on Apple logo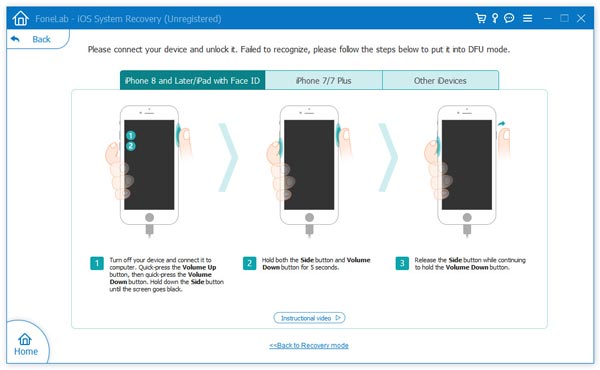 Click "Start" button to begin to fix iPad frozen on Apple logo. You need to put iPad into Recovery or DFU mode to fix iPad stuck on Apple logo.
Step 3 Download firmware package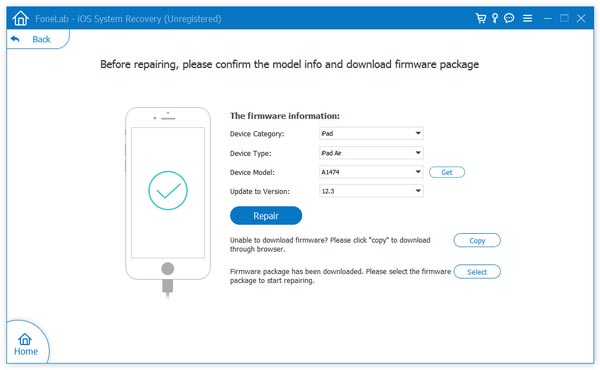 Select the right iPad model and then click "Download" to download the repaired device plug-in. It will take a few minutes to complete the downloading.
Step 4 Fix iPad stuck on Apple logo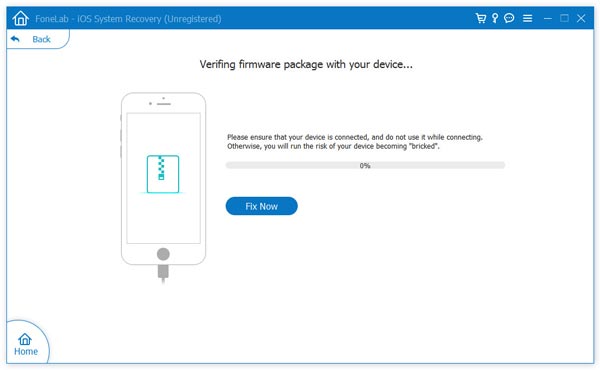 When the plug-in download is finished, iOS System Recovery will automatically fix iPhone/iPod/iPad stuck on Apple issue. After that, your iPad will get out of frozen on Apple logo and back to normal condition.
Professional software to recover iPad data
If you kick your iPad out of Apple logo, but the data on your iPad is gone, just use iPad Data Recovery to help you to resoter the lost data from iCloud backup. You can choose the Mac version if you are using a Mac. Firstly you should download and install this software on your PC/Mac.
1. Click Recover from iCould Backup Files and sign in your iCloud account. It will automatically display the iCloud backup in the interface. You should first download the needed backup file.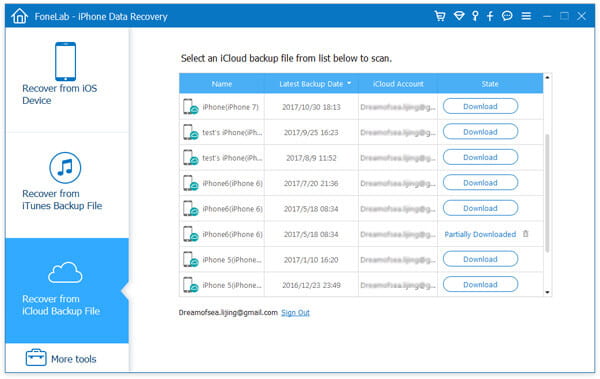 2. Click Scan to scan the detail information of this backup.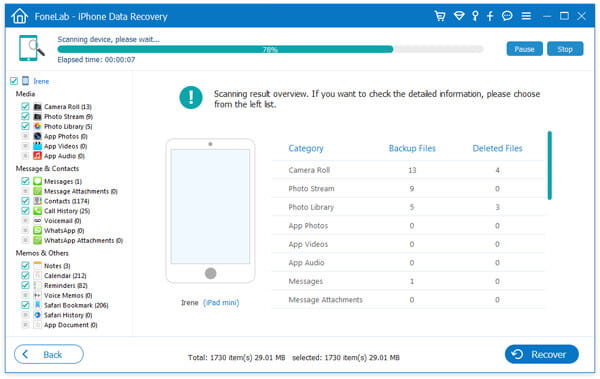 3. After a while, you can see all found data of your iPad classified into categories and displayed in the interface. You are able to select the important files to back up to your PC/Mac.
4. Click the Recover button and choose the destination file folder to save the valuable data.
Just a few seconds later, all the selected data will be copied to your computer.
If there are still some important data in iTunes backup you want to recover, and you want to preview and select parts of the data to restore. At this point, this iPad data recovery software can help you to retrieve data from iTunes backup.
Click Recover from iTunes Backup File, it will automatically detect the original iPhone/iPad/iPod backup and display them in the interface. Choose the suitable backup and click "Start Scan".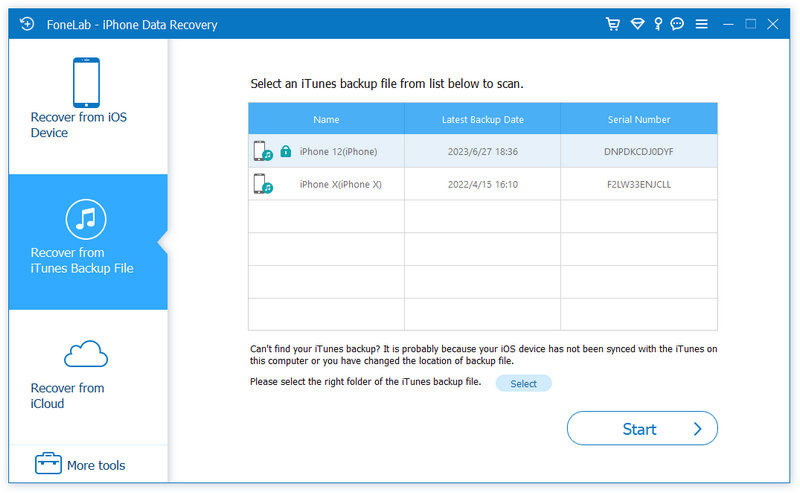 The following steps will be the same as the method mentioned above.
No matter which method you choose, you can easily fix the "iPad frozen on Apple logo" issue. What's more, you can use this iOS data recovery software to recover your lost data, so you can free set your iPad back to factory mode, and don't need to worry about the missing data.
This post shows you the ways to fix the issues when your iPad is stuck in Apple logo. The problem that iPad stuck in Apple logo can be fixed. But just in case data loss, you are suggested to back up iPad frequently.