Why and How to Fix iPhone Battery Percentage Jumping up/Down Suddenly
"I have this battery problem with my iphone 6 (12.1) for over a month now. At 100% battery, it drains very quickly and most of the time the battery percentage jumps from 60% to 30% etc. And from 20% when the warning shows it then jumps to 1%. Does my iphone battery have any chance working again properly?"
You are not the only one who is suffering battery percentage jumping up when plugged in, and then going down suddenly on iPhone.
The bizarre battery issues can be extended back to iPhone 5s, iPhone 6, iPhone 6s, iPhone 7 and iPhone 7 Plus. The problem was especially found by most users after updating to iOS 12/13/14.
"iPhone 6 battery jumps up to 100% when plugged in to charge."
"iPhone 7 battery percentage drops suddenly after charging it to full."
Whether your iPhone battery percentage jumps up or down quickly, you come to the right place.
In this post, we will explain why iPhone battery percentage jumps suddenly and gather the top 5 solutions to fix it.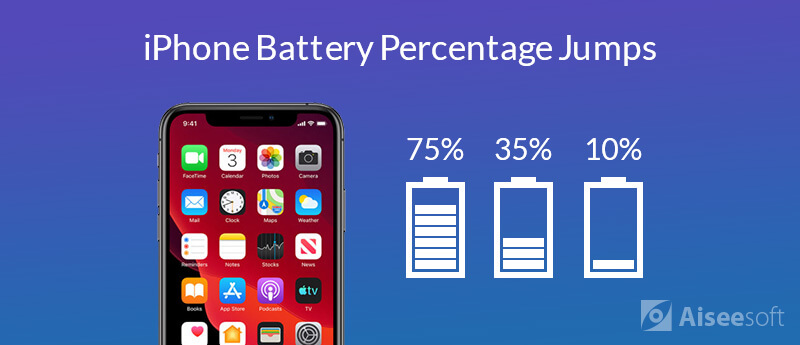 Part 1. Why Is iPhone Battery Percentage Jumps up/Down Quickly?
The reasons for iPhone battery percentage are various.
Here we gather the most common reasons for this problem.
1. Apple's lithium-ion batteries.
Apple uses lithium-ion batteries with smaller packages than traditional batteries in its iOS devices to charge iPhone faster and last longer. However, the lithium-ion batteries are far from perfect.
It is reported that the lithium-ion batteries may lead to battery percentage to jump from one charge to another.
Sometimes, the device shuts down suddenly with 20% or more charge.
Some users complained that their iOS device doesn't charge consistently while it's plugged in.
2. Software problems.
Since iOS 12/13/14 update, many users complain that the battery life became shorter. Though Apple explains they will the iOS update will save battery life, still, some old iOS models like iPhone 6, iPhone 5, etc., get stuck in the battery percentage problem. For fixing it, you need to repair your iOS system error.
3. Hardware damage.
Generally speaking, the battery life is about 2 years. If your iPhone battery has worked longer than 2 years, the jump-up/down problem of battery percentage shows your iPhone battery is damaged. Moreover, as a result of liquid damage or other faulty components, you need to replace your battery to fix the battery percentage jumping on iPhone.
After learning why iPhone battery percentage drops suddenly or goes up quickly, you can follow the following tips to fix the problem.
Part 2. 5 Solutions to Fix iPhone Battery Percentage Jumps Around?
1. Fix iPhone Battery Percentage Jumping - Calibrate Battery on iPhone
Calibrating iPhone can condition the battery and help the software to calculate the range of the battery life. If it is possible, you are recommended to calibrate iPhone battery after every iOS update.
Step 1.
Drain the iPhone battery completely
You need to run out the battery first. Make sure there is no battery left. Even if it shows 2% battery life, you should still use your iPhone to let your iPhone shut down automatically.
Step 2.
Fully charge iPhone
Plug in your iPhone to the charger, and let it be fully charged without any interruption until it shows the maximum 100% battery. The 100% battery does not mean it is fully charged, but shows you can get the expected maintenances. So, you should charge your iPhone for extra hours after the battery percentage reaches 100%.
Step 3.
Reset iPhone
After that, just keep connect your iPhone with the charging cable, press the sleep/wake button for about a second to start your iPhone, then hold down the sleep/wake button and home button until you see the Apple logo. Then your iPhone will be reset and just remove the charging cable.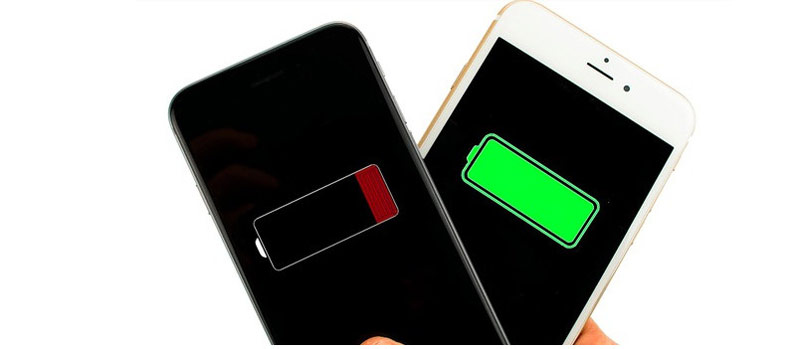 You can let your iPhone sit overnight after the battery is 0% left to drain it further. More details about calibrating iPhone, just check it here.
2. Fix iPhone Battery Percentage Jumping - Fix iPhone System (Downgrade iOS)
Most users report the problem that the battery percentage jumps up or down suddenly after updating to iOS 12/13/14. For fixing the issue caused by the iOS update, you need to downgrade iOS.
It is not easy to downgrade iOS without any helper. Aiseesoft iOS System Recovery is the necessary iOS downgrade software to complete the task easily.
Aiseesoft iOS System Recovery is the professional iOS system repair utility. It fixes iOS system errors like Apple logo, headphone mode, DFU mode, Recovery mode, white screen, freeze, etc.
Plus, it can assist you to downgrade or update iOS to the version that your device supports.
Without any skills, you can easily downgrade your iPhone by following the step-by-step guide below.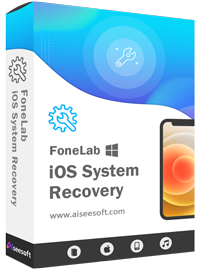 Downloads
Downgrade iOS 16 to 15, from 14 to 13, or other versions.
Fix iOS devices stuck in loop restart, freeze, black screen, etc.
Restore iPhone to factory settings without Apple ID or password.
Compatible with iPhone 14, 13, 12, 12 Pro, 12 Pro Max, 12mini, 11, 11 Pro, 11 Pro Max, XS, XR, X, 8, 7, iPad Pro/Air/mini, etc.
Step 1.
Free download this iOS downgrading software on your computer. Install it by following the on-screen instructions. Run it immediately after the successful installation. Choose "iOS System Recovery" from the main interface.
Connect your iPhone to computer with the USB cable. Do not forget to input your password to unlock it, and tap the "Trust" button on your iPhone.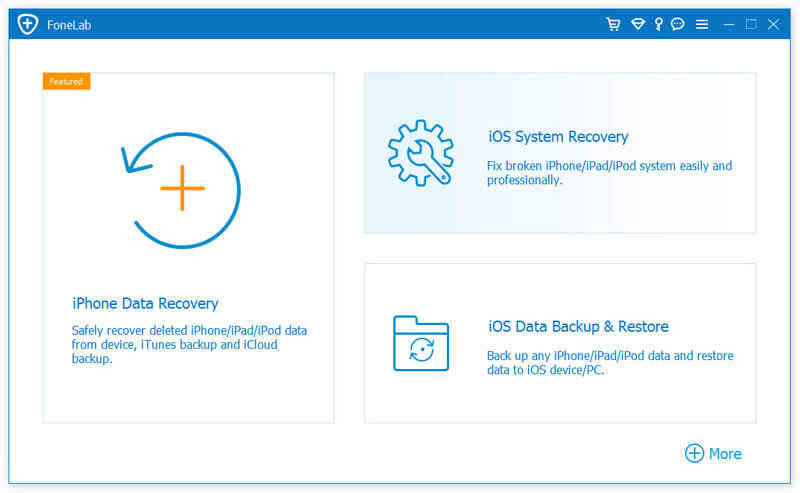 Step 2.
Click "Start" to proceed with it.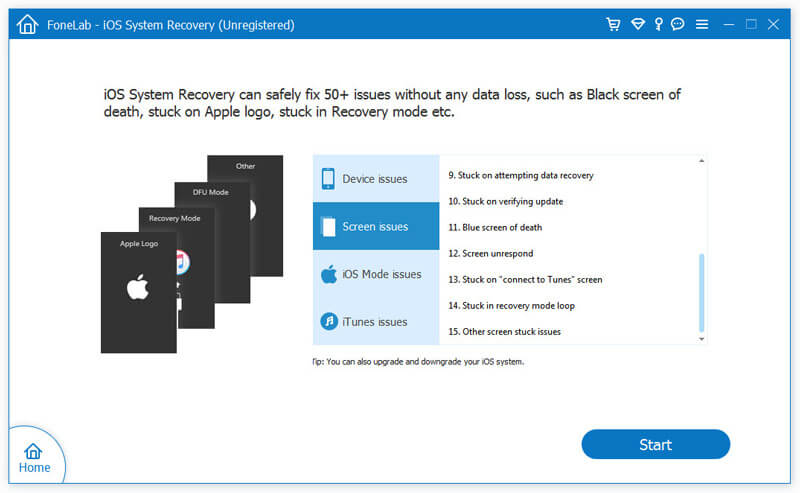 Step 3.
Here, you need to select the repair mode from "Standard Mode" or "Advanced Mode". Here we just need to select "Standard Mode".
Then the basic information about your device will show. Click "Optimize".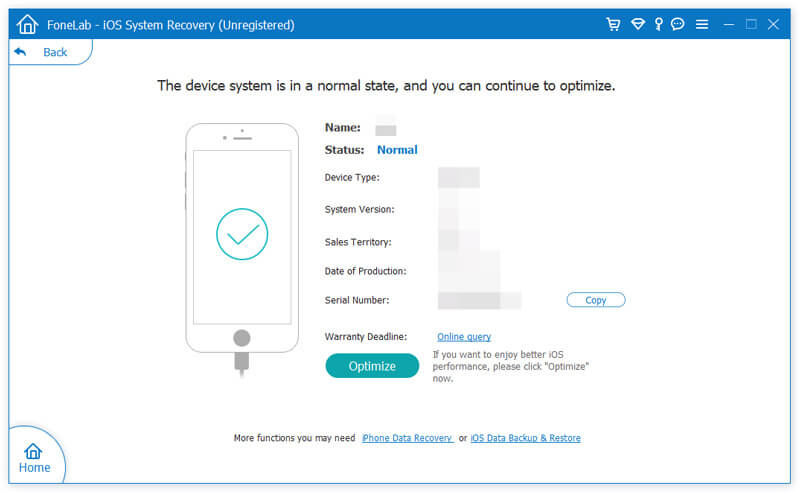 Step 4.
You can see all the matched device information (Category, Type, and Model) of your iPhone. If they are not, just select the correct one from the drop-down list.
All the iOS version that your iPhone supports will show automatically in the list. Select the one, and click "Next" to start to download the firmware and downgrade your iOS version.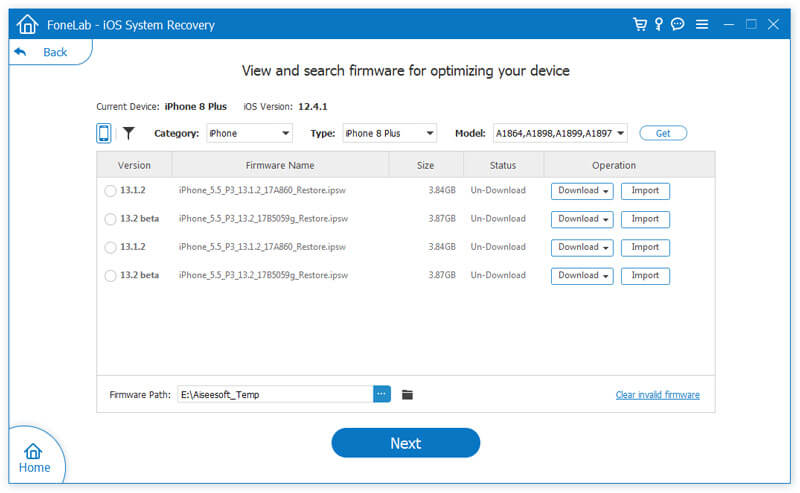 3. Fix iPhone Battery Percentage Jumping – Restore iPhone with iTunes
Downgrading iOS can help fix iPhone battery percentage jumping up/down quickly. However, if your iPhone is the new model like iPhone X, but your iPhone still runs the old iOS version like 12.4, the newest model running in an old iOS version may also lead to the abnormal battery percentage display.
At this point, you need to update iPhone.
Apart from updating iPhone with iOS System Recovery by repeating the steps below, you can also use iTunes to accomplish it.
Step 1. Connect iPhone to iTunes on computer
Click your iPhone icon and it will go to "Summary" section by default.

Step 2. Update iPhone in iTunes
Click "
Update
", and it will check the latest iOS version that your iPhone supports. In the popup window, click "Download and Update" to update your iPhone.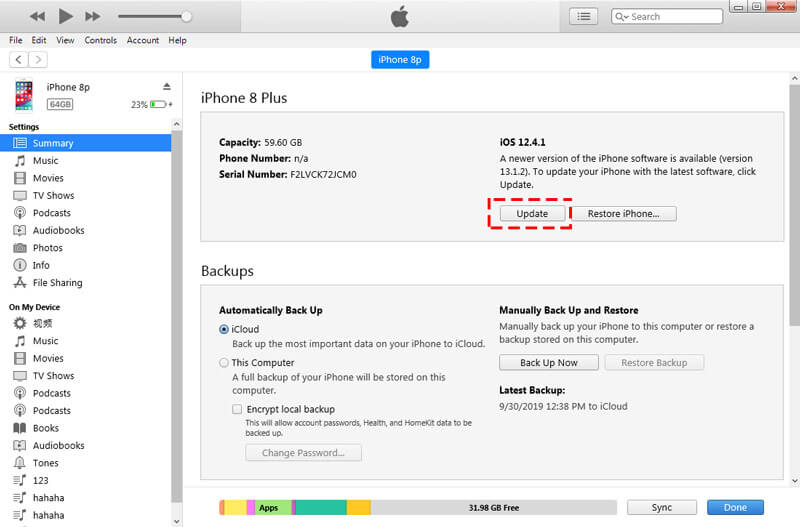 4. Fix iPhone Battery Percentage Jumping - Check Battery Healthy
If your battery is not properly used, your battery percentage will display unproperly.
For example, if you always charge iPhone to 50% and then use it, or expose your iPad to extreme hot or cold temperatures, you will encounter the short battery life, and battery percentage display disorder.
Just avoiding those improper operations to save your iPhone battery life.
You can download the third-party battery health apps or the built-in health services on iPhone to check it frequently.
Go to "Settings" on iPhone, tap "Battery" to scroll down to find "Battery Health", where you can see "Maximum Capacity" and "Peak Performance Capability".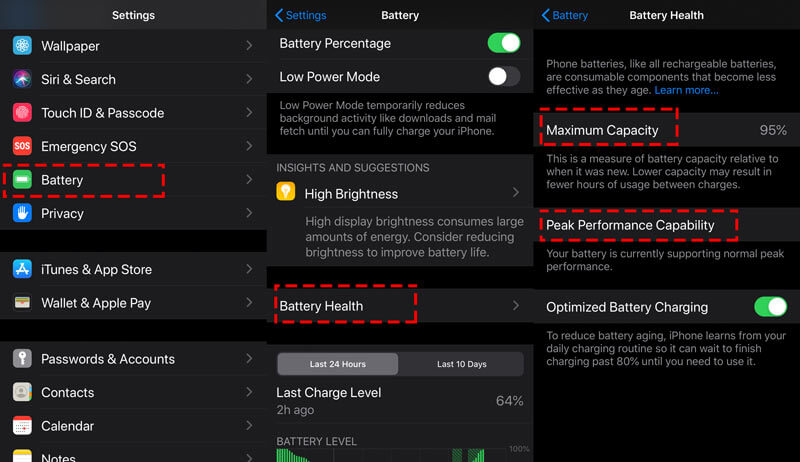 The "Maximum Capacity" value will be 100% for a new iPhone, and overtime as the battery ages, the number will go down, and a normal battery is designed to retain up to 80% of its original capacity. If the number on your iPhone is less than that, you had better replace a battery.
The "Peak Performance Capability" reports the problems with the battery. Most newer iPhone devices will show the message that, "Your battery is currently supporting normal peak performance" to indicate your iPhone battery is currently normal. If there are problems that degrade your iPhone performance, it will also notify you.
5. Fix iPhone Battery Percentage Jumping - Replace Battery
If your iPhone battery is going to die or the battery hardware is damaged, the above soft settings will not work to fix the issue that percentage jumps or drops.
The only solution to fix it is to replace the battery.
Just contact the Apple Store and make the schedule, then the staff of Apple will help you replace the battery.
More details of iPhone battery replacement, just jump to the article here.
Conclusion
iPhone battery is to iPhone what heart to human beings. When the battery percentage jumps up or drops down suddenly, there is something wrong with the heart. For dragging it to the healthy state, you need to know why the problem happens and how to fix it. In this post, we gather the top 5 solutions to solve the problem efficiently.
Does your battery get other problems? Do you have any solutions to fix it?
Let me know by leaving your comments.

Leave your comment and join our discussion