How to Fix Battery Percentage Not Showing on iPhone 11/12/13/14
The battery percentage is gone from my iPhone screen and I cannot see battery level of my handset, how to fix the problem that battery percentage is not showing on iPhone notification bar?
It is important to full control the power of your iPhone since you can do nothing if your iPhone is out of power. Battery percentage can tell you how much power left and you can charge your iPhone in time. However, some iOS users reported that the battery percentage disappeared from the iPhone screen.
Therefore, we will tell you 6 effective methods to fix battery percentage not showing up on iPhone 14, 13, 12, 11, 11 Pro, 11 Pro Max, X, 8, 7s, 7, 6s, 6, etc.
Part 1: 5 Common Ways to Fix Battery Percentage Not Showing on iPhone
According to our research, there are 5 ways to display battery percentage on iPhone. With the guide below, you can fix the problem quickly even though you do not understand why is your battery percentage not showing.
Method 1: Turn on Battery Percentage in Settings App
To show the battery percentage on iPhone 6 or other non-X models, you can set it in your Settings app.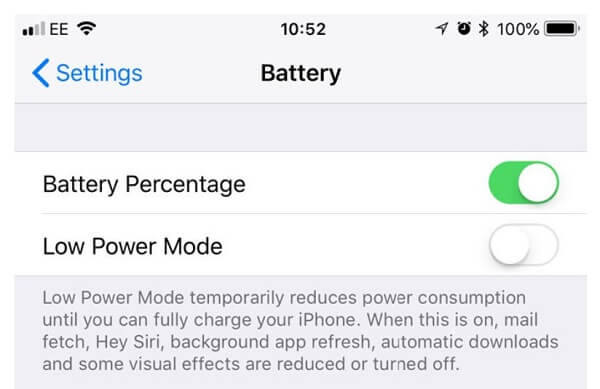 People cannot see your timeline or search for you.
Some information like messages you sent may remain visible to others.
You are still visible in the friends list of your Facebook friends.
You can reactivate your Facebook account whenever you want.
You may be interested in how to search people in Facebook.
Step 1Open the Settings app from the home screen of iPhone, and tap on your name.
Step 2Scroll down to find the Battery entity, tap it and you will be presented the Battery Percentage option.
Step 3Toggle on the switch next to Battery Percentage to enable it. Then the battery percentage will show on iPhone.
Note: For iPhone X, touch the top right corner, and swipe down to pull down the Control Center. Then check out the battery percentage at the upper right side.
Method 2: Restart iPhone
Sometimes, your iPhone gets stuck in specific mode and battery percentage will not show on iPhone. The solution is simple, restart your device.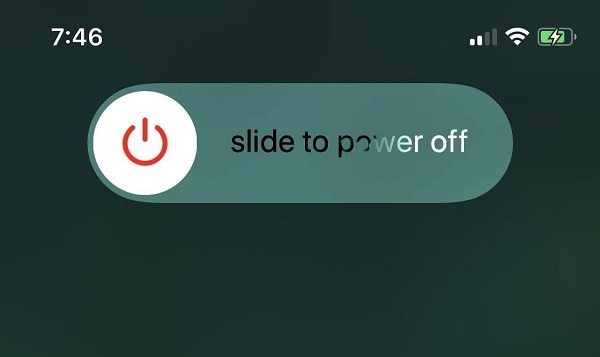 Step 1Close all apps including the apps running in the background. Press and hold down the Power button until the power-off screen pops up.
Step 2Move the slider to right side and you iPhone screen will turn black.
Step 3Wait for 20 seconds. Hold down the Power button again to turn your iPhone back on. Then the battery percentage should show on iPhone normally.
Method 3: Manage Your Notification Bar

The notification bar on iPhone only has limited space. If you have enabled several icons, battery percentage will not show on iPhone 5 and other models.
In such case, you can turn off several services in the Settings app, such as clock, location service, alarms and more. (iPhone notification not working?)
After that, the battery percentage icon will show up on iPhone as usual.
Method 4: Update Software
As you know, outdated software can cause various issues, including battery percentage not showing on iPhone screen. So, you can try to update iOS to solve this problem.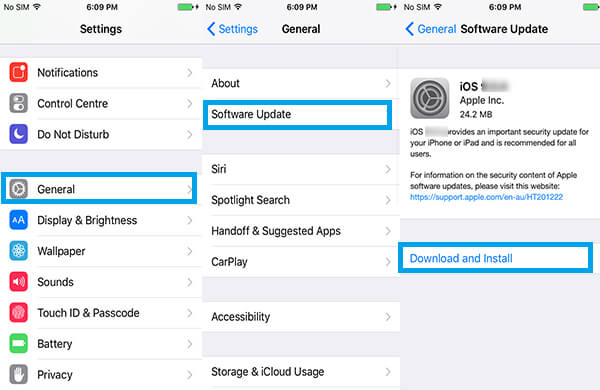 Step 1Go to Settings -> [your name] -> General -> Software Update.
Step 2If a new version of iOS is found, tap the Download and Install button, enter your passcode to get it.
Step 3When software update finishes, your iPhone will reboot and the battery percentage will display normally.
Method 5: Reset iPhone
Factory reset is another piece of troubleshooting for iPhone that is not showing battery percentage. However, you'd better back up your iPhone first since it will remove all your data and settings.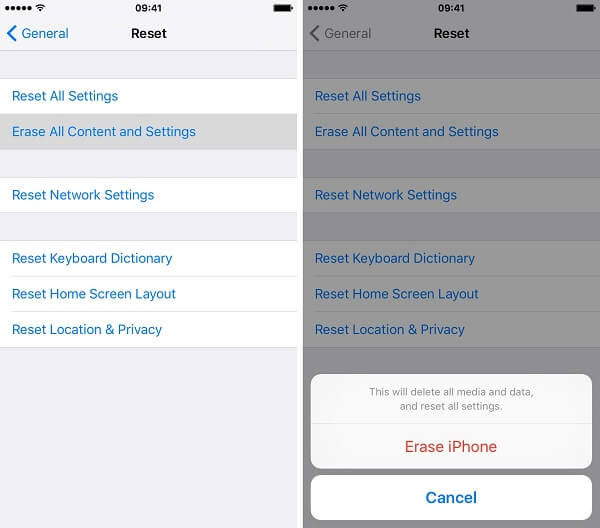 Step 1Run the Settings app and tap on your name.
Step 2Head to General -> Reset, and choose Erase All Content and Settings.
Step 3When prompted, tap Erase Now and enter your passcode. If you have enabled Activate Lock, enter the password associated with your Apple ID to turn it off.
Step 4Once the process is complete, you can set up your iPhone as a new device and let battery percentage show on iPhone.
Part 2: One-stop to Fix Battery Percentage Not Showing on iPhone
If the methods above are not valid for you and battery percentage is still not showing on iPhone, you will need a more powerful tool, such as Aiseesoft iOS System Recovery. It is a flexible way to repair iPhone for both average people and tech savvy.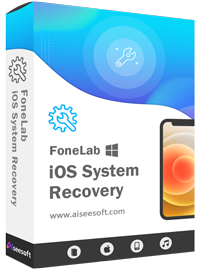 Downloads
Fix a wide range of issues including batter percentage not showing.
Repair iPhone in DFU mode or Recovery mode based on your situation.
Protect your personal files, data and settings from damaging.
Available to all iPhone and iPad running iOS 16/15/14/13/12/11 or earlier.
In a word, it is the easiest way to fix the iPhone that does not show battery percentage.
How to Fix Battery Percentage Not Showing on iPhone
Step 1Connect iPhone and iOS System Recovery
First of all, you need to download and install the iPhone repair tool to your computer. Then connect your iPhone to the machine with a USB cable. Once launch the software and choose iOS System Recovery, your device will be discovered immediately.
If your iPhone is not detected, you can follow the on-screen instructions to put your device into Recovery mode and continue to fix it.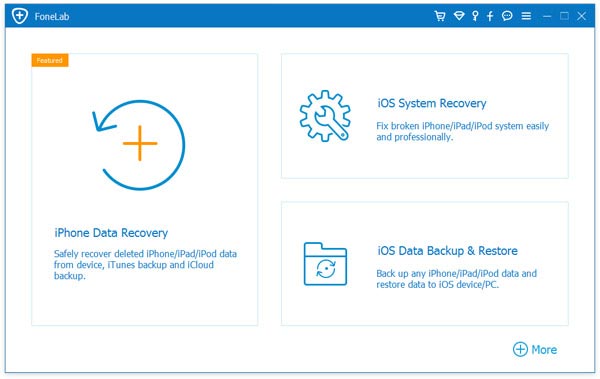 Step 2Repair iPhone in one click
Firstly, choose the Standard or Advanced mode based on your need, and click Confirm button to move on. If your iPhone is still working, click the Optimize button to downgrade or upgrade iOS. So, your iPhone will work normally as well as show battery percentage.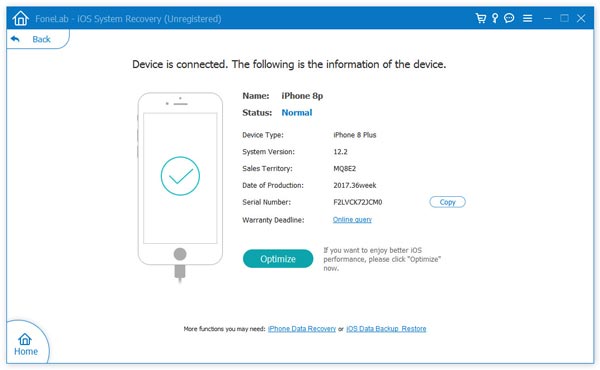 If not, you will be presented the Info window. Fill out the form and click Repair button, and then choose the proper iOS and download it. Once click the Next button, the software will download the firmware and repair your iPhone automatically.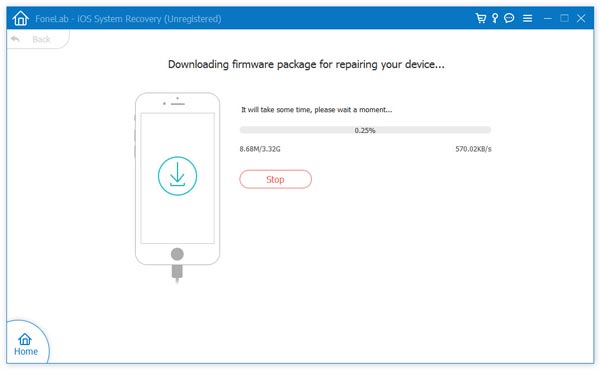 Note: It may take a while to complete the whole process. When it is done, you will get the notification. Quit the software, disconnect your iPhone and restart it. Now, you will find the battery percentage shows on iPhone.
Conclusion
It cannot be denied that iPhone is one of the most advanced handsets. We can get a lot of useful features and services from your device. However, little bugs happen frequently, such as battery percentage is not showing on iPhone. Following our guide above, you should fix this problem.
If you have important data on your iPhone, you'd better use Aiseesoft iOS System Recovery. Data protection is the biggest advantage of the software. More questions? Please write them down below this post.

Leave your comment and join our discussion