Best 10 Tips to Save Battery for iPhone X/8/7/6/5/4
How to save battery on iPhone?
Each iOS update always comes with more advanced battery-saving technologies, including the newset iOS 11/12 update. Apple specializes in extending their products battery life and battery span. Even so, the current energy-preserving technologies are not satisfied users' needs of more battery power when use iPhone. Many users often complained about their iPhone battery draning so fast, and looking for tips on how to save battery on iPhone X/8/7 Plus/7/6s/6/5s/5/4. Therefore, this article is written in response to iPhone users' needs of saving battery power of their phone. The article includes seven frequently-used and efficient tips to preserve battery life of your iPhone.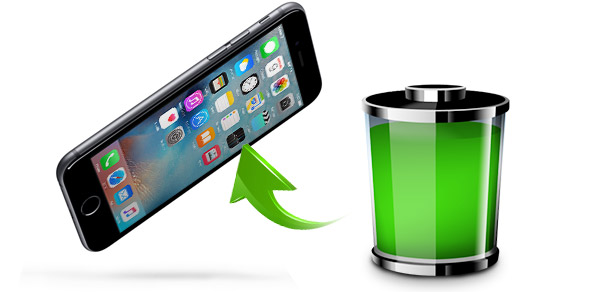 Save iPhone Battery
How to save battery on iPhone - 10 tips to save iPhone battery
1. Update the latest software
Each update of Apple software often includes innovation in energy-saving technologies. Namely, more advanced iOS system your iPhone uses, longer standby time your iPhone lasts. So, you should always be sure that your iPhone is in the latest version of iOS (currently iOS 11/12), which will save your iPhone battery.
Just go to Settings > General > Software Update and update your iPhone to be in the latest iOS.
2. Adjust iPhone display settings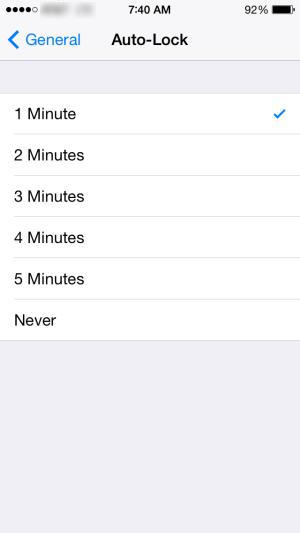 The more traditional way to improve iPhone battery is to change its display settings. You can set a shorter Auto-lock, turn on Auto-Brightness or reduce screen brightness, disable Wi-Fi and Bluetooth,
2.1. Go to Settings > General > Auto-lock > Tap your preference.
2.2. Head to Settings > Display & Brightness (Brightness & Wallpaper in iOS 7) > Turn on Auto-Brightness.
2.3. Head to Settings > Display & Brightness (Brightness & Wallpaper in iOS 7) > Move the slider to adjust brightness in a state that you can see phone screen in a bright sunlight.
2.4. If not using Wi-Fi and Bluetooth to conserve more battery power for your iPhone, just turn them off.
Go to Settings > Wi-Fi > Slide it to Off/white.
Go to Settings > Bluetooth > Slide it to Off/white.
3. Keep an eye on signal strength indicator
If you were in a place with no cell coverage or low signal and would not need the cellular network at that time, you had better turn Cellular Data off and put your iPhone in Airplane mode to save your iPhone battery life.
Just swipe up to open Control Center > Tap Airplane mode.
Or go to Setting > Cellular > Switch Cellular Data Off and go back to Settings and switch Airplane Mode to On/green.
4. Upload Photos to iCloud selectively
During a trip or a day out, for extending your battery power, turning off auto-uploads of photos to iCloud is an important part of power-saving plan. You can choose to upload them when you have a full battery and are easy to recharge it.
Simply head to Settings >Photos & Camera > My Photo Stream > Slide it to Off.
5. Some adjustments on App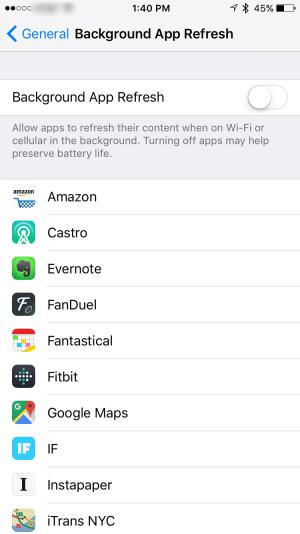 You also can preserve your battery life through making some adjustments on App installed in your iPhone.
Turn off Background Refresh for apps
Go to Settings > General > Turn Background App Refresh off for all Apps on your iPhone, or you can disable this feature of some Apps when install them.
App updates selectively
Go to Settings > iTunes & App Store > Turn all automatic downloads off or switch only Updates to Off/white.
Turn Suggested Apps off
Go to Settings > General > Handoff & Suggested Apps > Slide My App and App Store to Off. If you do not want to take suggestions for Apps' relevant information from installed Apps and App Store any longer, just turn them off to extend your iPhone battery power.
Disable Apps' notification
If you do not want your iPhone waking and frequently displaying you with some unexpected notifications of installed Apps, you can turn off notifications for the App to save battery life on iPhone. You can find it in
Settings > Notifications > App Store > Move the Allow Notifications slider to Off/white. Actually, you can disable much more notifications as possible to extend your iPhone battery life.
6. Turn New data Push off and fetch email less frequently
New data push and checking email on iPhone also suck your battery. So turning new data push off and fetching email less often can improve your battery life. You can set them in this way:
Head to Settings > Mail, Contacts, Calendars > Fetch New Data > Slide Push at the top to Off and then set Fetch to Manually or a longer interval.
7. Activate Low Power Mode (iOS 9 or later)
The latest iOS 9, iOS 10, iOS 11 and iOS 12 also are the most battery efficient iOS which includes a new mode called Low Power Mode to enhance the iPhone battery life when it is in a lower level. There are two ways to enable Low Power Mode.
When your iPhone battery goes down to 20%, iPhone will prompt you and when at 10%, and it will remind you of turning on Low Power Mode with one tap to save your iPhone battery.
Or you can head to Settings > Battery > Turn on Low Power Mode.
Apart from the above-mentioned 7 main battery-saving tips, there are several tricks to enhance your iPhone battery life.
◆Keep your iPhone in a cool, moisture-free environment. Do not put it in direct sunlight.

◆Do not fully charge or fully discharge battery of your iPhone.

◆Consider an Extended Life Battery, such as Kensington, Mophie and other accessory makers' battery cases.

◆Turn off location services or location-tracking Apps.

◆Turn off Vibrations replaced by Ring or set it to None.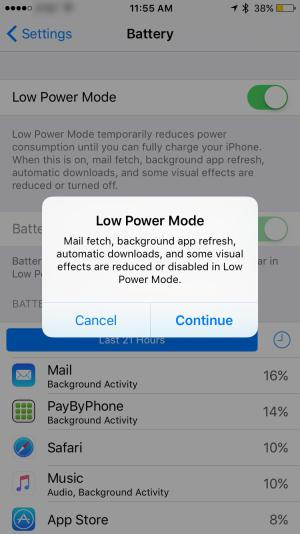 8. Turn off iPhone & iCloud Analytics Data and Advertising
iPhone & iCloud Analytics Data is the feature on iPhone that automatically sends daily diagnostic and usage data to Apple for improving activity. The details include hardware, operating system specifications, performance statistics, data how you use your devices and apps, Siri and other intelligent features from your iCloud account. To some extent, you may disclose your private information to Apple.
Advertising is the ads that are delivered by Apple's advertising platform, which will appear in the Apple News and in the App Store. The delivery ads will lighten your iPhone screen and run some battery.
For saving the battery on iPhone, you need to make settings for the items mentioned above.
Go to Settings > Privacy > Analytics to turn off Share iPhone Analytics and Share iCloud Analytics.
Go to Settings > Privacy > Advertising > turn on Limit Ad Tracking.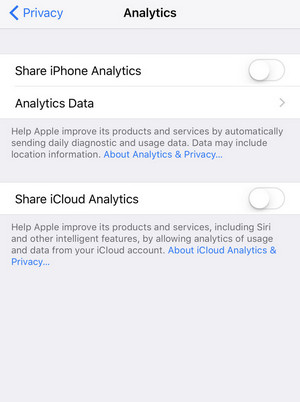 9. Turn off background apps
iPhone provides users more pleasure with various apps. It is very common for you to open many apps every day. However, every time, you open one app, and then you come back to Home screen to run another one app, then the first app will run in the background, and definitely it will run out your iPhone battery. For avoiding such battery life running, you had better turn off the apps that you do not want to use.
Double-click your Home button, and you will find all the background apps, just slide from bottom to up on the app, then you could turn off the background apps, which will greatly save your battery life.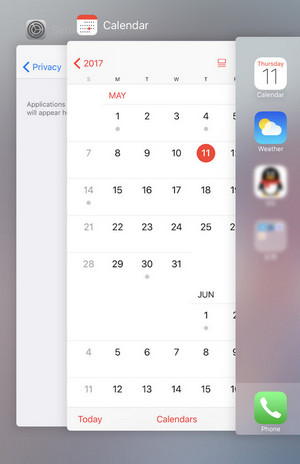 10. Other tips for saving iPhone battery life
In daily life, some habits may also let us damage our iPhone battery. Like Charging iPhone with playing iPhone at the same time, iPhone always keep using but never turn off. Here we will explain that.
If you use an iPhone for a long time, there will some cache on your iPhone, and gradually, the cache of the iPhone will also take up some battery. So turn off once a week. Moreover, it also can help you resolve issues that have crashed or other technical problems.
Another bad habit is to charge your iPhone with playing iPhone at the same time, or play your iPhone without full charging your iPhone. First, such operation is not safe enough. Second, the battery life will be affected greatly by your misconduct. So just let your iPhone fully charged and then play it.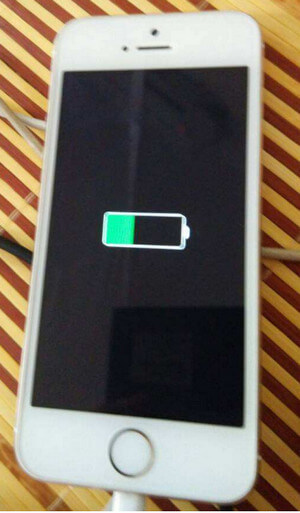 You may need: How to Fix iPhone Battery Jumps up/Down
Recommendation: Best iOS System Recovery tool to save iPhone battery
iOS System tool is a professional tool that enables you to fix all kinds iOS System issues easily.
iOS System Recovery
Fix iPhone battery draining so fast, iPhone overheating, stuck in DFU mode, recovery mode, Apple logo, headphone mode, etc.
Optimize iPhone status, and help you save iPhone battery life.
Support all iOS devices like iPhone X, iPhone 8, iPhone 7, iPhone SE, iPhone 6S Plus, etc. Apply to iOS 12, iOS 11, iOS 10, etc.
Easy to use and safe enough to cause no data loss.
Conclusion will be made here: In this article, we have mainly showed you how to save battery on your iPhone. It is important to know that saving iPhone battery enables you to use your iPhone for longer, and all the tips are just from the hottest suggestions from Google. More advice will be welcome to improve this post to help more people.