Easy Guide to Fix iTunes Error Code 9006
"There was a problem downloading the software for the iPhone 'iPhone X'. An unknown error occurred (9006)".
If you also receive the error message when you are restoring or updating iOS device with iTunes, then you must suffer from iTunes error 9006. What is error code of 9006? How to repair the error? Keep reading to get the answers by yourself.
Part 1. What is iTunes error 9006
iTunes error 9006, like error 3194, 2005, etc. occurs when you are using an older version of iTunes or trying to restore/upgrade your iOS device with iTunes. This error shows the failure of the software update or download for your iOS device that you are using.
For the reasons for iTunes error 9006, it is often ascribed to dis-connectivity between iTunes and Apple server. It can be the busy network connection. For completing the updating process, iTunes requires the respective IPSW files (IPSW file is the raw system update file that can be used to update your device via iTunes) related to your device. Also, if you are using an older version of iTunes that is not supported by your device, the error may appear. Still there are numerous causes that lead to iTunes error 9006. No matter what reasons, you could also find the solutions as below to get rid of the error.
Part 2. How to fix iTunes errors
Solution 1. Fix iTunes error without data loss quickly
One of the quickest and best ways to fix the iTunes error is using Aiseesoft iOS System Recovery. It is the iTunes error repairing program that resolves plenty of issues related iOS errors.
Aiseesoft iOS System Recovery
For Mac
iOS System Recovery is the professional iOS system recovery for iPhone iPad iPod (iOS 11/12/13/14/15/16 supported) on Windows computer.
Fix iPhone from DFU mode, recovery mode, Apple logo, headphone mode, etc. to normal state.
Support all iOS devices like iPhone 14/13/12/11/XS/XR/X/8/7/6/SE, iPad Pro, iPad Air, iPad mini, iPod and more.
This iOS system recovery is easy to use and safe enough to cause no data loss.
Step 1 Download, install and run this software on your computer. Click the main menu on the left top side, and select "iOS System Recovery".
Step 2 Plug your iPhone to PC, and click "Start" > Follow the on-screen guide to enter the next step.
Step 3 Select the iPhone information matched your device correctly, click "Repair" to star to fix your device.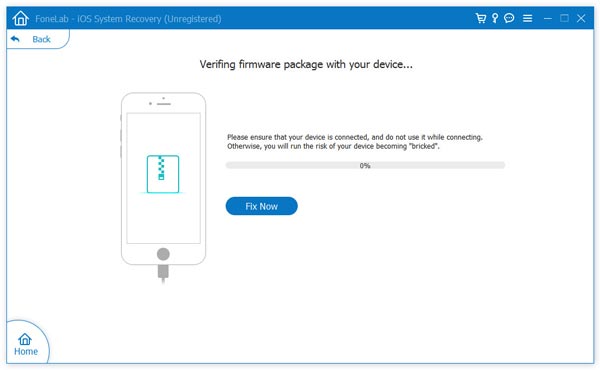 Solution 2. Update iTunes
Since the old iTunes version may lead to iTunes error 9006, you could update your iTunes to the latest version.
Run iTunes on your computer > Click "Help" > "Check for Updates" to check and install the latest iTunes version to your computer.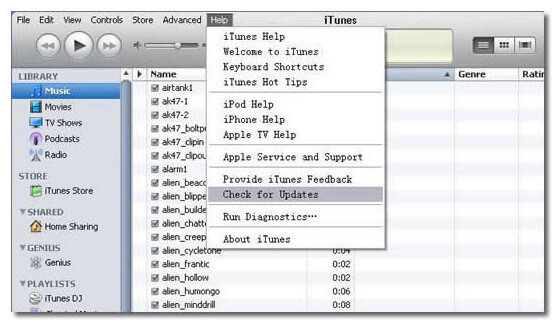 Solution 3. Remove iTunes error 9006 by IPSW file
iTunes error 9006 occurs when your system are not able to download IPSW file automatically. So here you can download the IPSW file manually.
Step 1 Download the IPSW file that is matched your iOS device. You should make everything is exactly correct with your device.
Step 2 Connect your device to the system, and run iTunes and visit "Summary" section.
Step 3 Here you will see "Restore" and "Update", you need to select the respective button, meanwhile hold "Alt" + "Command" keys on Mac or hold "Shift" on Windows for choosing the IPSW file that you have recently downloaded on your computer.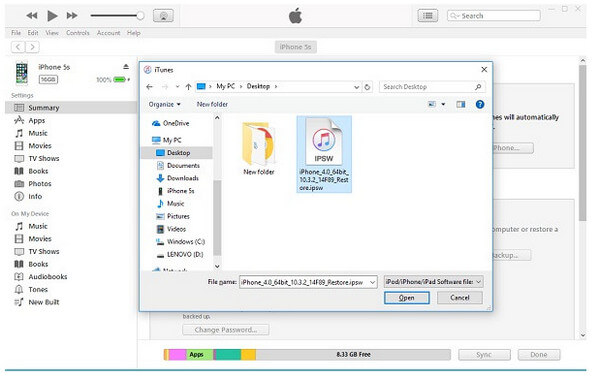 Then you can update or restore your device with iTunes by fixing the error 9006.
Solution 4. Restart computer
Sometimes, the network on your computer is slow or busy, so you can restart your computer to have another try to fix the error 9006.
Solution 5. Reboot iOS device
If your iTunes version is the latest, then it is probable that your device is problematic. The simplest way is to restart your iPhone directly.
Just press the Power (wake/sleep) button. After getting the Power slider, just slide the screen to turn off your device. Wait for a few seconds before restarting it.
Solution 6. Check network connection
You can choose to reconnect the network, and then restart your Windows and Mac computer again. After that open iTunes again to see if the error is removed from iTunes. Also, for Windows users, you need to verify that access to port 80 and 443 are allowed on your network.
If necessary, you need to reset TCP/IP:
Step 1 Open a command prompt, select "Start" > type "cmd" in the search box.
Step 2 Under "Programs", right click CMD.exe icon and select "Run as administrator".
Step 3 When "User Account Control" box pops up, click "Yes".
Step 4 At the command prompt, enter the command:
netsh int ip reset c:\resetlog.txt
Then press "Enter" and restart your computer to reset the Internet Protocol.
Solution 7. Disable firewall/anti-virus software temporarily
Anti-virus/firewall may also block the connection from Apple for your iTunes, so you will get the error 9006 message. At that point, you could turn off the security software, firewall, etc. After you removing the error and update/restore iPhone, you just turn on them again.
Solution 8. Restore iPhone from another computer
If you still fail to restore your iPhone, but you did backup your device on another computer, then here you just unplug your iPhone and connect it to another computer for restoring.
Solution 9. iTunes alternatives
This is the last but not least solution when you suffer from iTunes
Solution 10. Restore iOS from other backup
Not only iTunes that lets you restore from, but also could you choose other iPhone/iPad/iPod backups to get the restore. iCloud is one of them. Learn the details here to restore iPad from iCloud backup.
Now let's put an ending of this page that iTunes error 9006 can be as easy as you can imagine to solve by yourself. Definitely, more solutions to fix this issue will be welcome in the comments.