iTunes Error 14: What Does It Mean and How to Fix It
"So I'm trying to update my iPad mini 1G from 7.1.1 to 7.1.2 but iTunes cannot download the update firmware without corrupting the download. I tried 14 other ipsws from other websites and iTunes will either hang during the update (30+ min) or when the progress bar reaches the end iTunes will give me error 14. I've tried looking in the forums but nothing helps, I've reinstalled iTunes on my Mac, I've used three different cables to fix error 14: nothing works. Here are my specs:
OS X 10.9.3 (Mavericks)
iTunes 11.2.2 (3)
iPad Mini 1G 7.1.1"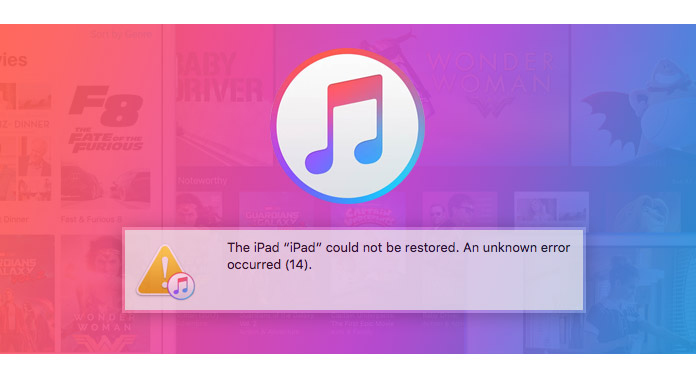 This is the question from Apple discussion to find solution when the user suffers from iTunes error 14.
If you also suffer from iTunes error 14, then you come to the right place. Keep reading to find the 10 solutions to help you fix iTunes error 14.
Part 1. What is iTunes error 14 (iPhon/iPad error 14)
For removing iTunes error 14, you need to understand what iTunes error 14 is.
The error 14 is an error that appears when you are restoring or upgrading your Apple devices which include the iPhone, iPod, iPad as well as Mac devices. There is always a tendency that the iTunes error 14 will stop the process of updating or restoring process.
There are various possible causes that lead to iTunes error 14:
A bad USB cable connection between computer and iOS device.
Security software presents in your computer.
Unstable network connectivity.
Outdated iTunes version.
An error with firmware upgrade.
No matter what is the case that causes iTunes error 14, you will need the solutions as below to help you.
Part 2. Solutions to fix iTunes error 14
Solution 1. Check USB cable and connectors
Checking your USB connections will be the first choice because sometimes iTunes error 24 may appear as a result of a poor connection.
You can use an original Apple USB cable.
Switch the USB port.
Use the cable in another device to see if the cable is OK.
Solution 2. Upgrade iTunes version
iTunes error comes up when you are restoring or upgrading your iOS device. In that case, there may be the factor that leads to iTunes error 14: the outdated iTunes. So you should check and upgrade your iTunes version.
Run iTunes > Click "Help" in the main menu > Select "Check for Updates" to check and update your iTunes version.
Solution 3. Disable Security Software
If you have installed security software on your computer, try to disable temporarily and retry the iOS update or restore. If iPhone error 14 still shows, uninstall the security software and redo the process.
Solution 4. Restart computer/iOS device
If at first attempt the iPhone error 14 shows up, try restarting your computer and iOS device, which can be the basic way to deal with the iTunes errror 14.
Solution 5. Forced hard reset
iPhone error 14 or iTunes error 14 can be fixed easily by doing a hard reset on your device but this step can totally remove all the data stored on your iPhone/iPod/iPad.
To properly hard reset your iPhone, press the "Sleep/Wake" and "Home" button at the same time for about 10 seconds until the phone screen is black and will restart. Once the device has restarted, it will ask for your phone security passcode. You can verify if the hard reset has fixed the iPhone error 14.
Solution 6. Delete or Remove.IPSW file on Mac and PC
IPSW is an Apple device software update file on all Apple devices that is being used for new software and feature releases as well as fix all software vulnerabilities. This file can also be used to restore any Apple devices to its factory set ups.
Find IPSW file location on your Windows or Mac:
On Mac: ~/Library/iTunes/iPhone Software Updates.
On Windows 8/10: Users\Username\AppData\Roaming\Apple Computer\iTunes\iPhone Software Updates.
For Windows 7 and below: Users\AppData\Roaming\AppleComputer\iTunes\iPhone Software Updates.
Solution 7. Set Date and Time
You have to ensure that the correct date and time is set on your iOS device. If not correct, it could lead to error 14 during the process of updating and restoring.
Solution 8. Backup and clean restore
First backup your device and then perform a clean restore of iOS 11. Then have a clean restore of iOS 11/12 using the IPSW file that downloaded from Apple's Developer Center. Finally restore your device with the backup you created after installing iOS 11/12 successfully.
Solution 9. Make use of the warranty
All iPhones are under a 1 year warranty. As such, if you find that your iPhone has indeed turned into a glorified brick, and nothing you do is fixing it, then you can simply take your iPhone to the nearest Apple store and exchange the faulty iPhone for a new one to get rid of iTunes error 14.
Solution 10. Fix iTunes error 14 via iOS System Recovery
If you try all ways mentioned before, but still fail to fix iTunes error 14, then you can try the third-party tool, iOS System Recovery.
Aiseesoft iOS System Recovery
For Mac
iOS System Recovery is the professional iOS system recovery for iPhone iPad iPod (iOS 11 supported) on Windows computer.
Fix iPhone from DFU mode, recovery mode, Apple logo, headphone mode, etc. to normal state.
Support all iOS devices like iPhone X/8/8 Plus/7/7 Plus/SE/6S Plus, iPad Pro, iPad Air, iPad mini, iPod and more.
This iOS system recovery is easy to use and safe enough to cause no data loss.
Step 1 Run this software on your PC, click the main menu and select "iOS System Recovery".
Step 2 Connect your iPhone to PC > "Start" to proceed the steps.
Step 3 Follow the onscreen notes to operate your iPhone, select your iPhone model, and other information > "Repair" to start to the fix your iPhone.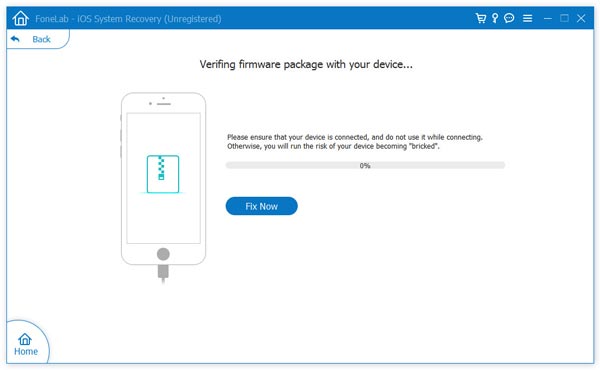 What you need is to wait patiently to fix the iPhone error 14 from iTunes.
Whatever solution you take, hope the solutions will help you exactly fix iTunes error 14. If you find other solutions to fix this issue, do keep us posted.
If you feel tired to fix iTunes error when you try to restore your iOS devices, just seek for other means to restore your iPhone iPad iPod, this post will do you a greate favor: How to restore iPod.