What should You Do When iPhone Error 53 or iTunes Error 53 Happens
What is error 53? How to fix iPhone/iTunes error 53?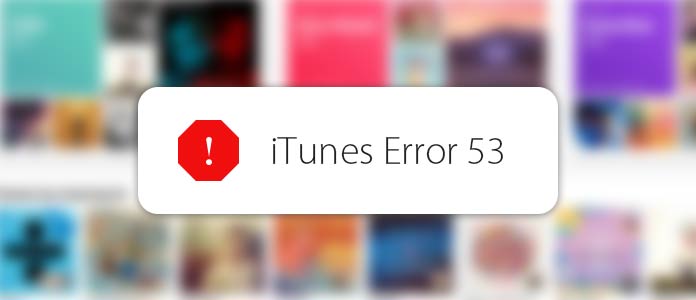 When you want to connect your iPhone to iTunes, some problems may leave some iPhone owners with phones that do not work at all. Error 53 is one of such problem that makes many iPhone users confused. If you have an iPhone 6 or 6 Plus that is running iOS 8.3 or higher, you are likely to have encountered or will face error 53. According to most reports, it usually pops up when people try to update iOS or restore their iPhone. You cannot find this error in Apple technical support page or other place. So, we are going to talk about iPhone 6 error 53 and share all knowledge you should know about it in this article.
Part 1. What is error 53
iPhone Error 53 is some kind of unknown error. And according to our lab testing, it usually occurs as a result of security-related problems. We found that people reported this problem have some common places, which provide clues for our analysis.
First of all, most iPhone 6 users that have encountered this problem said they have repaired screens or Touch ID at some stores rather than official Apple Center. Though unauthorized repair service is much cheaper, it may leave you with a duplicate component. When iOS cannot detect the original Touch ID button, error 53 will be triggered. That means you cannot pass the connect-to-iTunes screen and restore or update your iPhone as usual.
On the other hand, the problem also could result from software errors:
1. If you did not download or install iTunes client completely, the warning message would appear to prevent from connecting iPhone to iTunes.
2. Apple releases iTunes update frequently to repair bugs and errors. If you still use the old version iTunes or iTunes update failure, error 53 will show up.
3. iTunes client is software too, so it is the attacking target of virus and malware. To protect iPhone, iTunes will refuse connecting when it is attacked by virus or malware.
4. Another reason is that iTunes-related files are accidentally deleted by other programs or your own.
Now, you should understand that error 53 may result from both hardware and software problems. And besides to repair iPhone with official Apple technical support, you can fix this error with the solutions below.

Part 2. Best way to fix iPhone error 53
It is not simple to fix iPhone error 53, for iOS is a closed operating system and the factors caused this error are rather complex. Fortunately, there are several professional iPhone system recovery tools able to fix this error. FoneLab - iOS System Recovery is such a professional application. Its key features include:
Main features
1. It has the capacity to fix various iPhone software errors and bugs in one click, like iPhone error 53, blue screen and more.
2. You can decide to repair your iPhone in recovery mode, DFU mode, and more.
3. iOS System Recovery works on all iPhone models, including the latest iPhone X, iPhone 8/8 Plus.
4. More importantly, it uses USB connection and advanced algorithm during iPhone repair, so it is safe and secure.
5. And this desktop application is compatible with both Windows and Mac, including Windows 10 and the latest version of Mac OS X.
How to fix iPhone error 53 with iOS System Recovery
Step 1 Install iOS System Recovery
Download and install the latest version of iPhone system recovery application to your computer based on the operating system. Use original USB cord to connect iPhone and your PC.
Step 2 Diagnose iPhone error
Launch the recovery tool and press More tools on left side. Then choose iOS System Recovery on the repair tools list. When you go into the recovery window, click on the Start button to start diagnosing iPhone errors.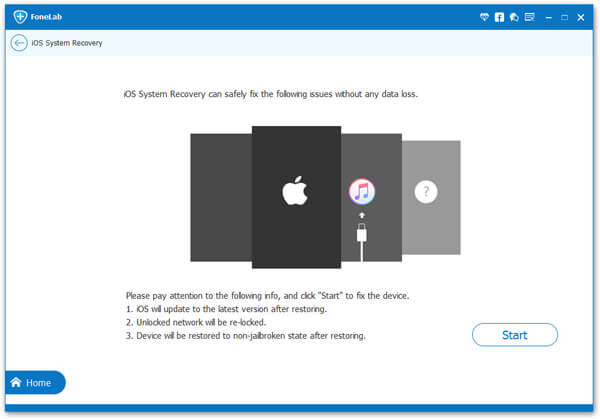 Step 3 Repair iPhone error 53
When the factors cause iPhone error 53 is detected, you should confirm iPhone configurations on the interface. Then click on the Repair button to download the repair plugin and repair iTunes or iPhone error 53 immediately.
Tip: If you already downloaded plugin before, you can press the Select button to import it from your PCs.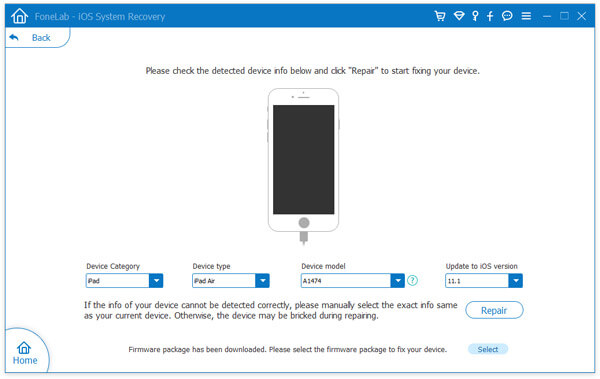 After the process, you can reboot your iPhone and execute update or restore as you wish.
You can watch the video to learn more about iOS System Recovery: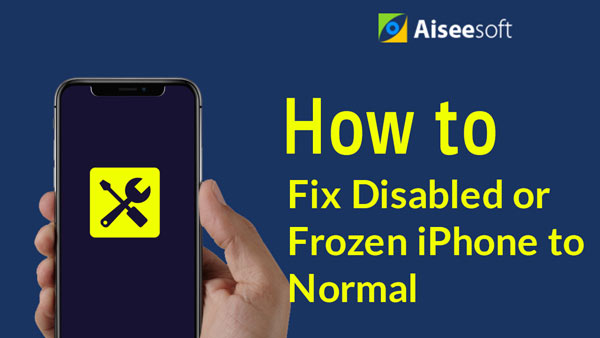 Part 3. How to fix error 53 by restoring iPhone with iTunes
If error 53 appears in iTunes, you can try to fix this problem by restoring iPhone with iTunes in DFU mode.
Step 1 Update iTunes
Launch iTunes and unfold the Help menu on top ribbon. Choose Check for updates from the list to download and install iTunes update to your computer.

Step 2 Turn on DFU mode
Plug your iPhone to your computer and wait for iTunes detect your phone. Press and hold the Sleep/Wake button and round Home button at the same time for 8 seconds. Then release the Sleep/Wake button and keep holding the Home button until iTunes detect an iPhone in recovery mode.
Tip: The Sleep/Wake button is on the right side of iPhone 6/6s/7/7 Plus/8/8 Plus or top of other iPhones.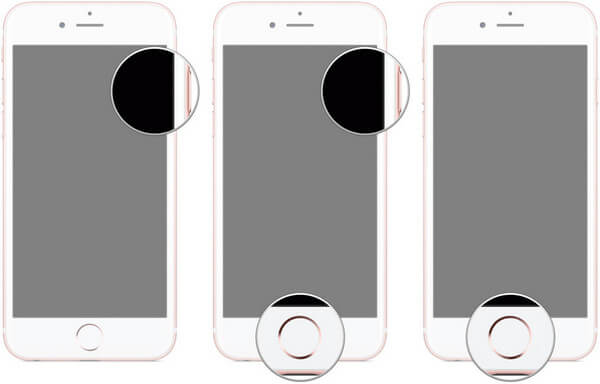 Step 3 Restore iPhone to fix error 53
Let go of the Home button and enter DFU mode. Then click on the Restore iPhone button in iTunes interface to restore iPhone under DFU mode.
This method will wipe all personal data and settings from your iPhone and install the latest iOS. When it is done, you can set your phone as a new one. It could remove most software factors that could cause error 53. If not, you will need to contact Apple support.
In this tutorial, we have talked about how to fix iTunes or iPhone error 53. We analyzed major factors that could lead to this error appears. And according to our analysis, it usually related to security problems, although it appears as unknown error. Compared to reasons, ordinary people may care about how to remove this error easily. From this point, we recommended FoneLab - iOS System Recovery. It has the capacity to fix iPhone error 53 in one click, so even beginners can grasp this application. And it is a good choice to repair and restore iPhone without iTunes. On the other hand, you can get rid of iPhone error with iTunes under DFU mode. But you have to understand that that will erase all data from your iPhone.