Text Messages Not Sending? Here Is The Fix
Recently, I often get the text messages not sending problem on my iPhone 6. Sometimes, it's a "Failed to send" prompt on the screen. Sometimes, it just freezes on the "Sending" condition. I tried rebooting iPhone but it didn't make the problem go away. Why is my iPhone not sending messages? How to fix it? Any help?
Have you ever trapped into the situation that text messages not sending? If you are an iPhone user, what to do when you encountered the issue of iMessages not sending? In this article, we will show you why your iPhone messages not sending and effective ways to fix it. If you are searching for the answer for this problem, just keep reading to find the best solutions.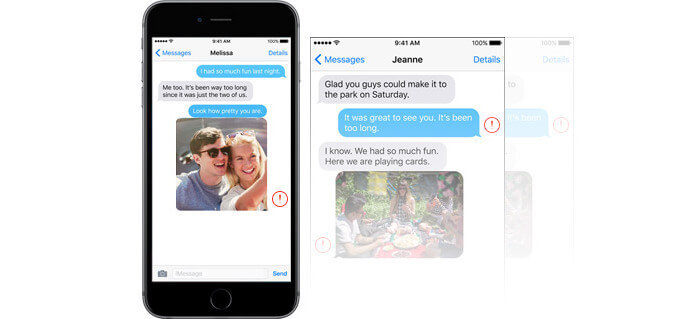 Text Messages Not Sending
Part 1. How to fix iMessages not sending
Apple's iMessage is a very popular messaging platform for iOS users to communicate with each other. It's very convenient to send and receive iMessages just like using the regular SMS messages. Moreover, it is based on network connection and totally free. Though it is widely used by millions of people all around the world, iMessage frequently run into issues here and there. Actually, there are many reasons that can cause your iPhone not sending text messages properly. Luckily, in many cases, you can handily fix these problems with pretty simple methods. If iMessage not sending on your iPhone, follow these steps to fix it.
Some scenarios that can cause iMessages not sending
Many reasons may cause your iPhone can not send text messages. First of all, you need to check if your iOS device is connected to the internet. Is your iPhone 12/11/X/8/7/6/5/4 in airplane mode? Do you put iPhone in a good network connection?
◆ iMessages function is turned off.
Go without saying that you can't send iMessages on iPhone if you have already turned off this function. So when you access iMessages not sending problem, you can first ensure this feature is on.
◆ The iMessages account you are reaching is disconnected.
You should know that signal can only be registered to one phone number at a time. Make sure you didn't register two devices with one same phone number.
◆ iPhone is under no or a very bad network connection.
You can't send text messages if your iPhone isn't connected to either a cellular phone network or a Wi-Fi network. The reason may lead to messages cannot be sent in app like WeChat, WhatsApp, Viber, Line, Messenger, etc.
Common ways to fix iMessages not sending
iMessage only works with a Wi-Fi or cellular data connection, so you should make sure iPhone is under a good network connection. To check your iPhone Wi-Fi, you can open up Safari and try navigating to any frequently-used website. If the website also doesn't load or Safari says that you're not connected to the internet, then you need to get an available network.
Reset iPhone network settings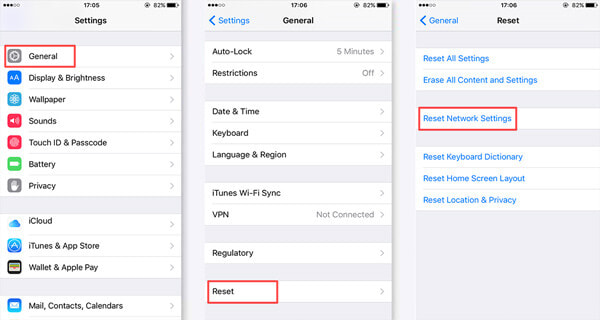 Unlock your iPhone and navigate to "Settings" button.
Tap "General" > "Reset" > "Reset Network Settings"
Enter your passcode and then click Red "Reset Network Settings" button.
Turn iMessages on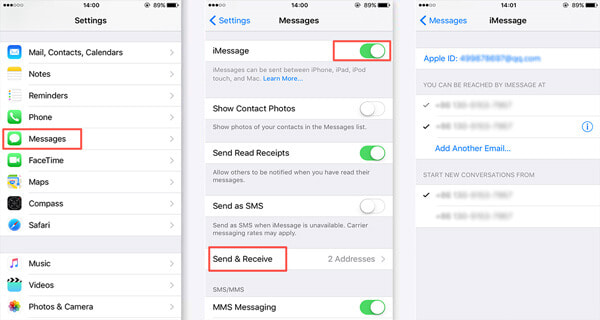 Check your iPhone iMessage settings to make sure that they have not been changed.
Tap "Settings" icon and click "Messages", ensure "iMessage" is switched to "ON".
After that, you can tap "Send & Receive" to check your Apple ID information. Here you can reset your iMessage account.
Reboot iPhone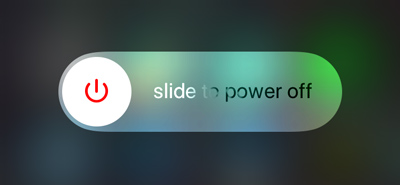 If your internet connection works well and messages settings are correct, you may try rebooting your iPhone to fix iMessages not sending problem.
Hold down the "Home" and "Power" button at same time about 10 seconds until you see the Apple logo appears on the screen.
Professional method to fix iPhone not sending iMessages
Under most circumstance, you can fix the iMessage not sending issue with the solutions above. What if the problem still come back to you from now and then? To solve this issue thoroughly, you can rely on the powerful iOS System Recovery. You can free download it and have a try.
Step 1Launch iOS System Recovery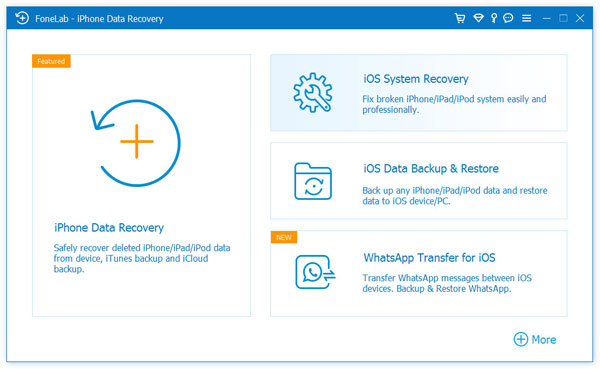 Click the download button above to get this tool saved on your computer. Then install and launch it. Connect your iPhone to it via USB cable. Click "iOS System Recovery" option on the main interface. Click "Start" button to restore iPhone system.
Step 2Put iPhone into Recovery/DFU mode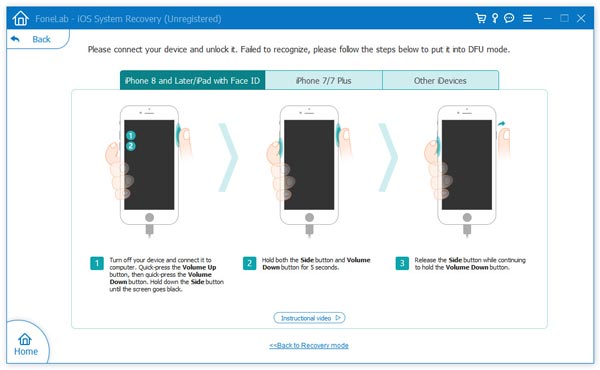 Click "Question" button and follow the instructions to put iPhone into Recovery mode or DFU mode. Here you are suggested to take iPhone into DFU mode.
Step 3Fix text messages not sending on iPhone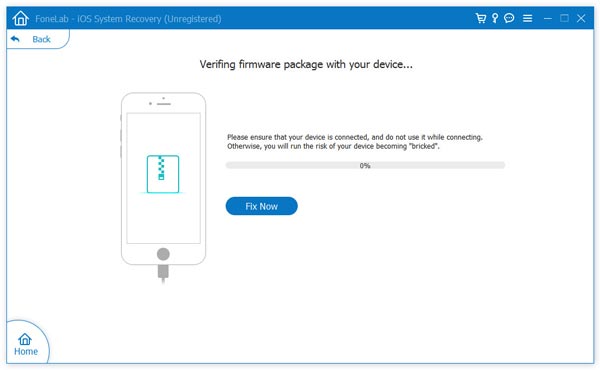 Select the right iPhone model and then click "Download" to download the repaired device plug-in. When the plug-in downloading process is over, this software can automatically begin to restore iOS system and fix iMessage not sending.
Check how to fix iPhone not send iMessages from the video below: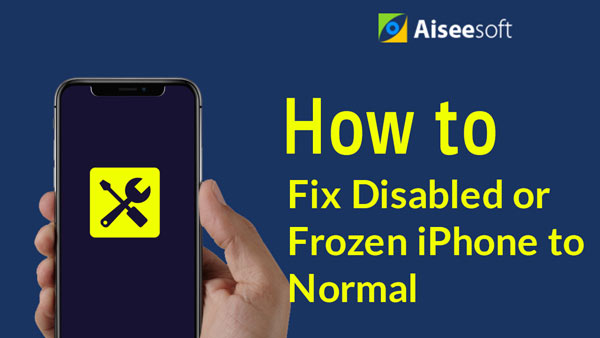 Part 2. How to fix message not sent
If you are facing the regular text messages not sending issue, your iPhone may be covered in a similar situation just like iMessages not sending. You also need to make sure your iPhone have a good network connection, SMS/MMS settings are right, and iOS device is not in Airplane Mode. What's more, you should make sure the phone number you sent is not out of carrier services. And you can upgrade the latest iOS version to fix the issue. After all these trying, if iPhone text messages not sending problem still remains, you may need to restore iPhone.
Way to restore iPhone
Before you finally restore your iPhone device, you'd better back up your iPhone data to your iCloud or iTunes. If you want to directly copy iPhone files to your PC/Mac, you may prefer to use the professional iOS Data Transfer to help you do that.
Restore iPhone with iTunes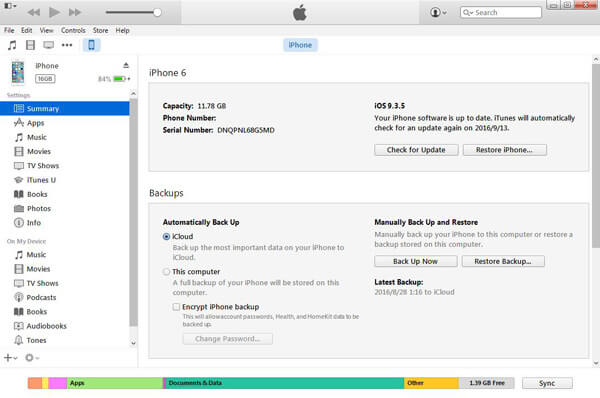 1. Launch the latest iTunes on your computer and connect your iPhone to it with USB cable.
2. Click your iPhone icon and then click "Restore iPhone...".
3. Make sure "Find My iPhone" is turned off.
4. Select the suitable iTunes backup file and click "Restore".
During the iPhone restoring, you need to keep iPhone being connected with iTunes. iTunes will automatically sync iPhone with computer. Then you can check if the text messages not sending problem is solved. If you are using an Android phone, you can fix text messages not sending on Android.
In this article, we mainly talk about some situations that text messages not sending and effective ways to fix text messages not sending and iMessages not sending. We all know that it's more likely to lose data after iPhone restoring, so we sincerely suggest you backing up your data first. If you still unluckily miss some important files, don't worry, you can recover deleted iMessages from iPhone here.