7 Reasons Why My Messages Are Not Sending & 7 Ways to Fix the Problem
Communication reigns supreme even in this digital world; instances still may occur that your message to others might not be sent to them. Knowing the culprit behind this is important; you can quickly pinpoint the real problem. Our expert troubleshooters have resolved this problem and are ready to share this information with you. So, let's cut to the chase and begin solving message errors and know why my messages are not sending.
Part 1. Why Are My Messages Not Sending - 7 Real Reasons Behind This Problem
As we did some research, there are seven reasons why my messages are not sending, and we have listed them below for you to read. Knowing the problem can hint at what solution we should use to fix it.
1. Internet or Signal Problem
One of the main culprits, why messages are failing to be sent is an internet or signal problem. Online messaging application needs an internet connection to send a message to the recipients successfully. But if you want to send a message to others using the built-in option, you must have a sim card and cellular data.
2. App Glitches
Technology is incredible, but it could be impeccable. Apps may experience faults or malfunctions that impede message delivery. Situations like this can be solved by regularly updating your messaging app because developers constantly enhance and improve their products.
3. The Recipient's Phone is Turned Off or Out of Coverage
It may not be about you; sometimes, the recipient's phone can be off, or they could be in a place without network access. The messages will only be delivered once their device is connected and active.
4. Large Message Size and Media Attachments
Large messages or media files, such as high-resolution photos and movies, might exceed the file size restrictions set by your messaging app or network provider. Determining the file size and using different sharing techniques for more extensive media can solve the problem.
5. Contact Blocking or Restricted
A particular contact may have blocked or put you under message restriction if you cannot send messages to them. If that's the case, confirming it with them is crucial.
6. App Permission Issue
On some devices, messaging apps may require you to give them specific permission to send messages successfully. Without permission, messages will not send on iPhone or Android devices.
7. Software Incompatibility
Incompatible software can lead to a problem such as compatibility issues. You might need help sending messages to other users quickly.
Was the iPhone message not delivered? Undoubtedly one of the reasons we added here is why it happens. Now that we have shed light on these reasons why you are stuck on this problem. It's time to troubleshoot and solve the problem using the solution provided in part 2. We will equip you with practical solutions to send messages to others successfully. So, stay tuned!
Part 2. How to Fix Messages Not Sending - 7 Ways to Solve the Problem Quickly
When a problem like what we have mentioned appears, you will need to solve this using the solutions that we have added here. Learn what these are and how to do them because this is a simple yet effective method of fixing them.
1. Connect to a Stronger Internet or Find a Better Signal
Why are my iMessages not sending? Your internet connection could be faster or more stable. We suggest you connect your iOS device to a stronger internet connection. If you use the default messaging app on your phone, you better find a better cellular signal.
2. Relaunch the Messaging App
Aside from that, you can re-launch the application you use to send messages. Doing that lets you restart the messaging from fresh and see if it works better than usual.
3. Update the Messaging App
Outdated messaging apps can lead to text messages not sending. When it requires you to update it, you must update the application or your device to the latest version to get the newly updated version with fix bugs and glitches.
4. Clear App Cache
Whenever you encounter this error on your messaging app, try clearing the app cache to see if it will help. But you must remember that all the data will be reset to its original state once you do it. To do it, you can go to Settings and select Apps. Find the app name you want to clean, go to Storage, and tap Clear Cache.
5. Confirm Recipient's Status
If a message fails to send to a specific contact, then there might be a problem on their end. For example, if your number is blocked on their device, you can still send messages but not on an app, yet the recipient cannot see it. To solve this problem, you can ask the recipients if they have inadvertently blocked your number.
6. Restart Your Device
Why are my messages not sent to one person? It may be due to an error only on our device, so you will need to resolve this immediately with a simple restart. A simple device restart can resolve various software-related issues.
7. Factory Reset
This should be considered a last resort since it will wipe iPhone and Android data. If everything we have mentioned failed in solving the problem and you suspect it is a system-wide issue, you need to back up your important data before performing the factory reset on your device.
Bonus: Fix Any Issues on iOS System Quickly
FoneLab iOS System Recovery is a dependent tool you can use whenever you encounter messaging error on your iOS. This tool offers you a new way to fix iMessage not sending issues. Even though you are not an expert in troubleshooting this type of problem, you can still do it once you have this a few clicks away. Everyone does encounter problems on their iOS, which is why the app features solution, namely iPhone Data Recovery, iOS System Recovery, iOS Data Backup & Restore, and WhatsApp Transfer for iOS. So, if you want a multi-purpose solution downloaded on your computer to fix any iOS you have, click the download button below.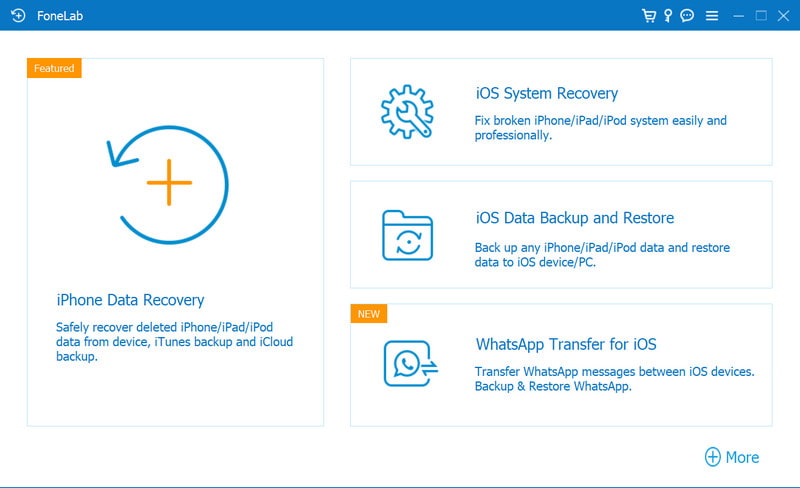 Part 3. FAQs on How to Fix Messages Not Sending
Why was iMessage not delivered?
Because you are not connected to an internet connection, iMessage is Apple's proprietary instant messaging service that uses the internet to transmit messages instead of traditional SMSM or MMS. When you send a message, it is transferred to the internet through the servers to the recipient's device. You can text messages over the iMessage app with WiFi or cellular data.
Why can't I send messages, but I can receive them?
There are several reasons why you're able to send messages to others but able to receive them. It could be a carrier issue, internet connection, message settings, blocked contacts, or software glitches.
Why is my iPhone not getting text messages?
When iMessage is not sending, you can try changing your network connectivity, but if you are doing an SMS or MMS messaging, try to clear some space on your iOS and reset the networking setting.
Why does my message fail to send as MMS?
MMS, or Multimedia Messaging Service, sends multimedia content like photos, videos, and audio files. Still, it can fail due to incorrect MMS settings, including APN configuration, file size limitation, and turning off mobile data.
Why can't I be here when someone texts me?
When you set your device to do not disturb or turn the notification sound off, you cannot hear the notification sound when someone sends you a message. To fix this, you can press the volume up on the side of your phone to increase the notification so that you will be notified when someone texts you, or there is an alert on your phone.
Conclusion
Why are my texts not sending? We have mentioned seven reasons you can not send a message to other people, which could also be one of your problems. Since there is a problem, we added a solution you can perform to solve the issue immediately. Plus, we added software that you can use when your iOS have issues internally, and you can fix the problem FoneLab iOS Data Recovery immediately.

Leave your comment and join our discussion