[Solved] How to Fix iMessages Not Saying Delivered
Centering on iMessage tricks, iPhone users may be familiar with them. However, still some of you may suffer from iMessage issues:
"My iPhone is iPhone 6 with iOS 10. But my iMessages not delivered with the exclamation mark."
"Why does my iMessage not saying delivered? How can I check if the iMessage is delivered successfully?"
"Why am I not receiving iMessage from my friend? He sent to me just now."
"How can I get the iMessages delivered to Android phone from my Dad?"
…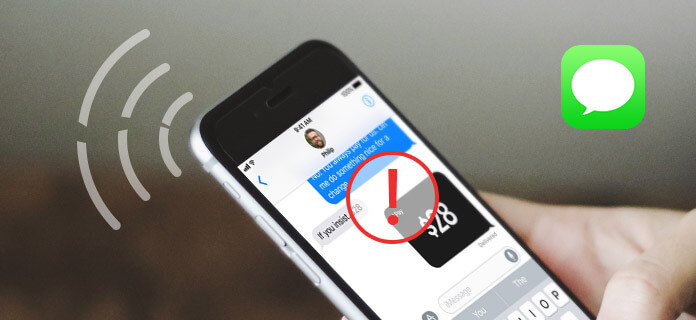 iMessages Not Saying Delivered
In terms of iMesages, there are various confusions from its users. In this post, we will remove the hottest issues related with iMessages not delivered issues to help you.
Note: iMessage service is based on a cellular data or Wi-Fi connection, so you should make your iPhone internet is ON when you do want to deliver the iMessages on your iPhone.
1. I want to send the iMessage to my friend, and input his iMessage email address, but it displays the message word as green color with exclamation mark. The iMessage fail to be delivered, right?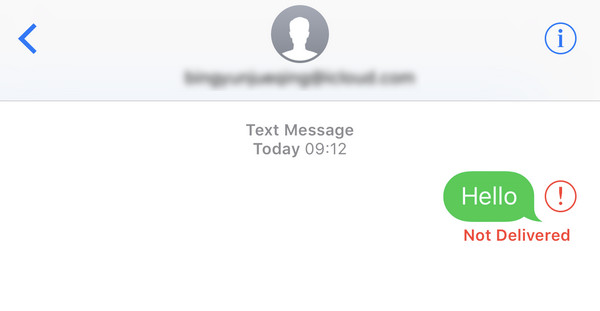 Here, firstly, if you find the iMessages you send or receive are marked as green, then the iMessages are not iMessages, but text messages.
For delivering an iMessage from your iPhone, you need to enable iMessage service is ON.
Turn on your iPhone and open "Settings" app. Find and choose "Messages" option, then slide "iMessage" to ON.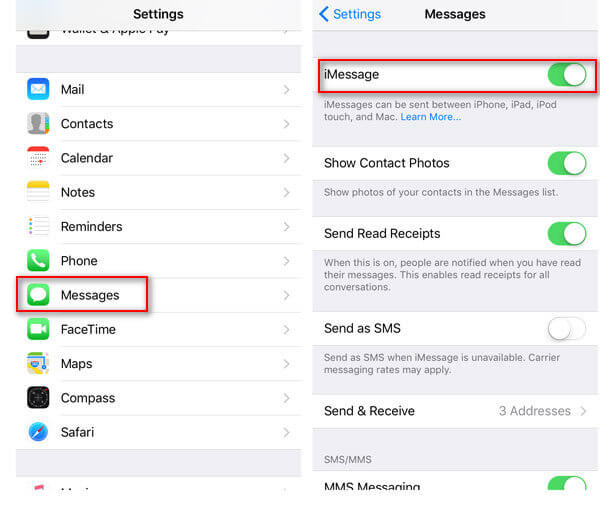 For receiving and sending iMessage, you could add your phone number or email address by tapping "Settings" > "Messages" > Enable "iMesssage" > Scroll down to find "Send & Receive" to "Add An Email".
Here you are able to add email to start new conversation or be reached.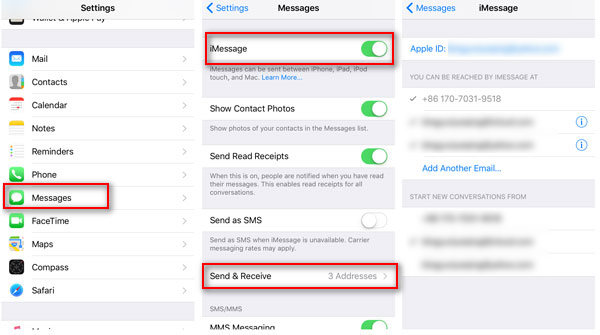 2. I deliver an iMessage to my friend, but my iMessage not saying delivered. And I check that with my friend, he did not receive my iMessage. What happened?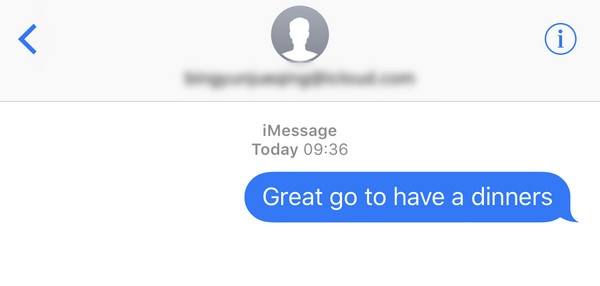 If you are sure you did enable iMessage service and the iMessage receiver is right contact, then it may be the problem from your friend. The receiver did not enable iMessage service on. Ask your friend to enable the iMessage service on. And you need to send the iMessage again; otherwise, he will miss the iMessage.
Check the following right image that shows you sent the iMessage to your friend correctly.
3. I deliver an iMessage to my friend, how can I know that he received my iMessage or not?
If the receiver get the iMessage and not read, then the sender will find iMessage only marked as "Delivered".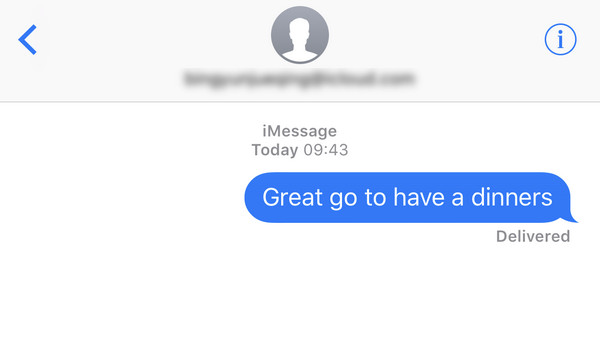 If the receiver read the iMessage, then the sender will find the iMessage marked as "Read +time".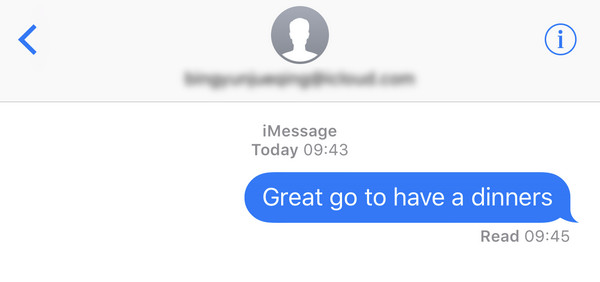 4. Recently I switched my old iPhone 5s to new Samsung Galaxy S8, but I still use the old iMessage receiving phone number on my new Android phone to receive the iMessages. However all of my friends complain that they give the iMessages and mark as delivered, but not get the reactions from me. But I swear I did not receive any iMessages on my new Android phone.
For fixing this problem, you should make it clear that iMessage delivery service is only available among iOS devices and Mac. Delivering iMessage from iPhone to non-Apple device is impossible.
Secondly, when you switch from an iPhone to Android phone or other non-Apple phone, the iMessages will get stuck in your old iPhone account, and will not arrive at your new phone. Fox solving this problem, you have to disable iMessage service on your old iPhone. (See how to disable iMessage on Mac)
Go to "Settings" > "Messages" > Toggle "iMessage" to OFF.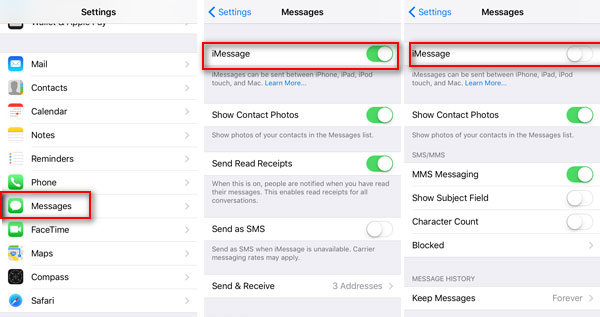 5. Apart from iPhone, I also use my Mac frequently to sync iMessages. But recently, I find my iPhone can receive iMessages, but Mac fail to receive them. How to fix that?
For removing this confusion, you need to make sure you did activate the iMessage email address.
On your iPhone, go to "Settings" > "Messages" > Enable "iMesssage" > Scroll down to find "Send & Receive" to check if the iMessage email address or phone number is activated under "YOU CAN B REACHED BY IMESSAGE AT" and "START NEW CONVERSATIONS FROM".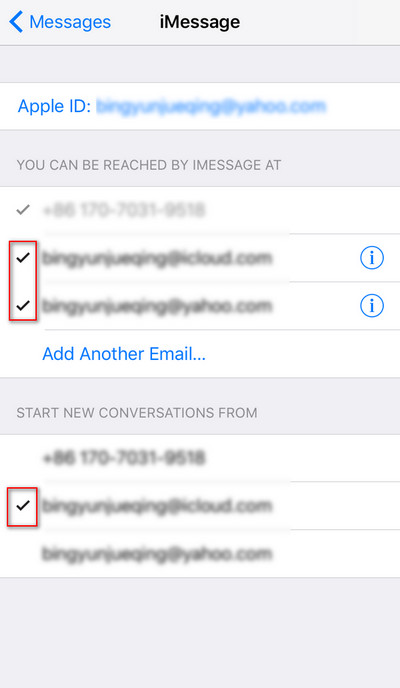 On your Mac, go to "Messages" > "Preferences" > "Accounts" to check the email address or phone number that you want to be reached at.

6. I left my iPhone at home. Can I deliver the iMessages from my Mac to my friends?
The answer is yes. You could use the same iMessage account as your iPhone on Mac to deliver the iMessages on Mac.
1 Set up iMessage on Mac
Open "Message" app on Mac, sin in the same Apple ID that you use with iMessage on your iPhone or iPad.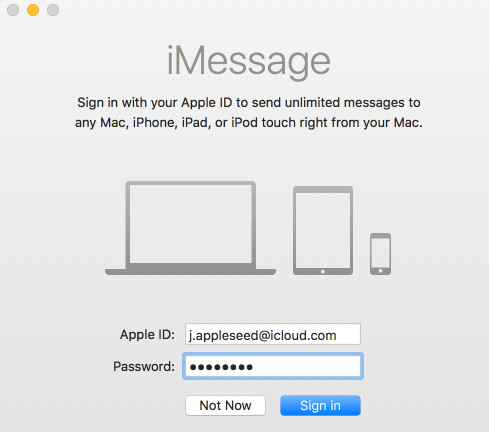 2Deliver iMessage on Mac
On Messages window, click the edit button at the top corner to input the receiver's email address, and the iMessage content to start to get the iMessages delivery from Mac.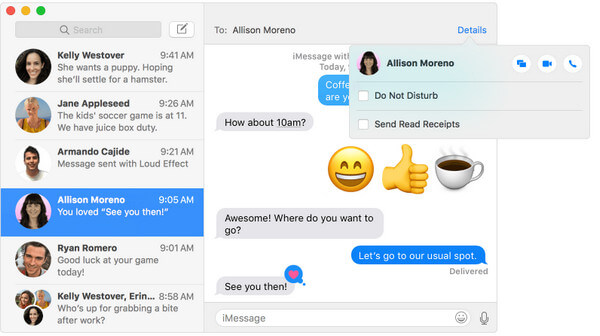 7. iMessages are really useful. However, if I accidentally deleted iMessages from my iPhone, is there any way that can help me to find back?
Commonly, if you did make iTunes or iCloud backup, then you could restore iMesaages from iTunes or iCloud backup.
Check these parts:
How to restore iMessages from iTunes
How to restore iMessages from iCloud
If you did no backup to iTunes or iCloud backup, you still could recover the deleted iMessages from your iPhone directly with FoneLab.
Recover deleted messages from iPhone directly.
Restore iMessages from iTunes and iCloud backup without iPhone.
Back up iMessages from iPhone to computer.
1 Run FoneLab on your computer, and plug iPhone to computer with USB cable.
2 Click "Recover from iOS Device" > "Start Scan" to scan your iPhone.
3 After the scan, click "Message" to view and save the deleted iMessages to your computer.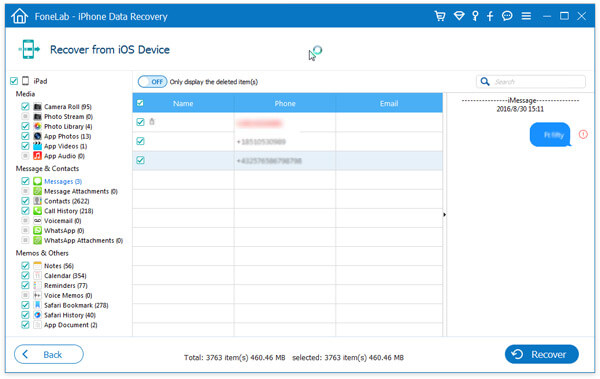 This post aims at providing the solutions for the hottest iMessage not delivered discussions. We provide several effective ways to help you fix this iMessage not saying delivered problem. Hope you can easily get rid of it after reading this post. If you have any better idea, you can leave us a message.
Want to forward the important text messages you receive to others? Just jump to forward text messages on iPhone.