6 Solutions to Fix WeChat Cannot Send (Voice) Messages
The new iOS 16 was just released, the problems always happen after new iOS update. AirDrop not working is one of the problems."Why can't I send messages on WeChat? iPhone 14 in iOS 16."
This is the question posted inWeChat discussion forum.
WeChat, the Chinese instant messaging app, is heated in many countries.
However, for some reasons, some users complain that they are unable to send messages or voice messages on WeChat.
Here, we will explain the reasons for this problem, and gather 6 helpful solutions to fix this problem in minutes.

WeChat Cannot Send Messages
Part 1. Why you cannot send messages on WeChat?
There are many reasons that caused you not to send messages on WeChat, and we can conclude as below:
1. Poor Wi-Fi network or hotspot connection on your computer or mobile phone.
2. The receiver you will send the messages is not in your contact list.
3. The receiver you want to send the messages has blocked you.
4. WeChat accesses no permission to use your microphone, and then you will not send voice messages via WeChat.
5. WeChat cahce is full and there is no enough space on your phone.
6. System problems from WeChat app.
After learning why you fail to send messages on WeChat, you can easily fix the problem with the following solutions.
Part 2. 6 solutions to fix WeChat not sending messages
Solution 1. Check network connection
As mentioned above, WeChat is an online app that requires your network connection. Poor network connection may lead to failure of sending messages.
For fixing it, you just need to check your network connection on your computer or mobile phone.
1. Use other online apps to see if your device has been connected with the network.
2. Close and restart the router or disconnect and re-connect the wire cable to check the network on your computer; reset network settings on iPhone or Android phone to see if the network is normal.
Then just try again to see if you can send the messages on WeChat again.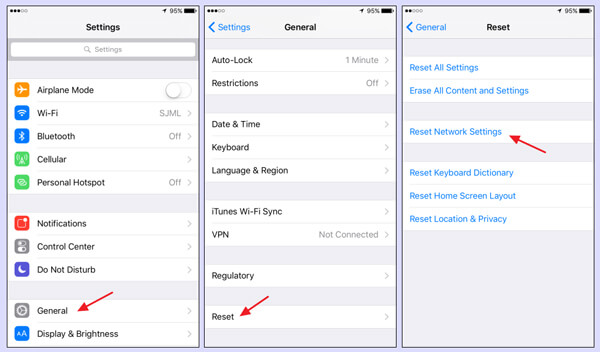 Solution 2. Add the receiver into your friend list
When you and the receiver are in the same WeChat group, but he/she is not in your contact/friend list, you cannot send him/her the message directly by the person. For solving it, you have 2 choices after signing into WeChat (WeChat account lost? Recover it now.) on your device:
1. Add the receiver into your contact/friend list by sending him/her the adding friend request.
2. Send the messages in the WeChat group, and @ him/her, then the receiver also get the notification to see your messages.
Solution 3. Ask the receiver to unblock you
If the receiver has blocked you on WeChat, then you can find his/her in the contact list, and send the messages, but the messages will be rejected automatically.
For removing this trouble, just ask the receiver to unblock you, if you did it unintentionally.
On his/her mobile phone, open the WeChat conversation with you > Hit the three-dot on the right corner > Tap your contact image > Hit the three-dot on the right corner > Toggle off "Block" to unblock you.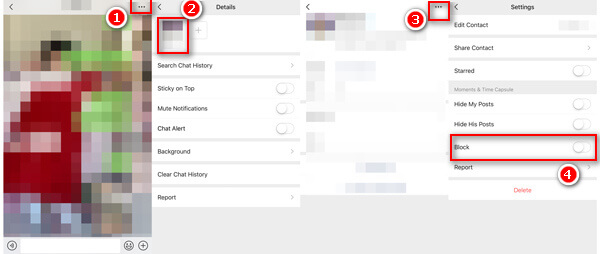 Then you can try to send the messages to him/her to see if the problem has been solved.
Embarrassedly, if the receiver purposely blocked you or deleted you from you're his/her contact list, then I think you should ask him/her by yourself.
How to check if the receiver blocked or deleted you on WeChat?
If you send the receiver the message, but Exclamation mark appears before the messages and pops up that, "The message is successfully sent but rejected by the receiver", then you are blocked by him/her.
If the message pops up that, "XX has enabled Friend Confirmation. [Send a friend request] to chat", then it shows the receiver has deleted you.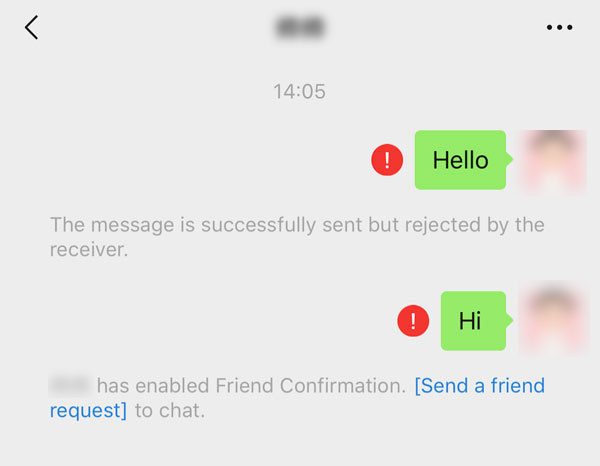 Solution 4. Access microphone permission to send voice messages
While you are using WeChat to enjoy all full functions, you need to grant permission for using.
While you send voice messages to the receiver on WeChat, you should enable microphone permission.
On iPhone, go to "Settings" > Scroll down to find WeChat and tap it > Toggle on "Microphone".
On Android, go to "Settings" > "Apps" > Select "WeChat" > "Permissions" > Turn on "Microphone".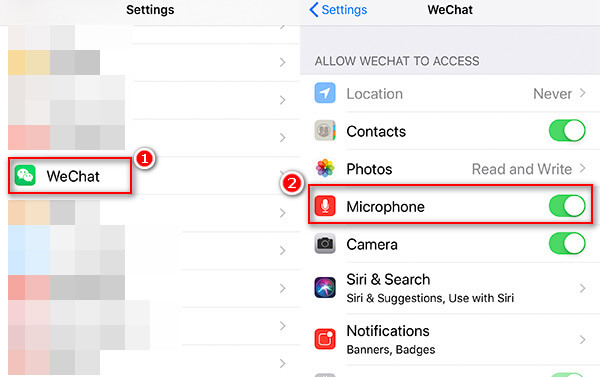 Then try to send your friend the voice messages to see if the problem has been solved.
Solution 5. Clear WeChat cache
When you use WeChat on your mobile phone, it will automatically store cache and data. The cache and data will take space on your phone. If WeChat takes a large amount of storage, and your phone storage is limited or full, it may lead to send WeChat messages unsuccessfully.
Clearing WeChat cache is the solution.
Open WeChat app on your phone, tap "Me" section at the bottom right corner > "Settings" > "General" > "Storage" > "Clear WeChat Cache" and then it will take some time to clear WeChat cache on your mobile phone.
If the space on your phone are still limited, just try to free up space on iPhone and Android.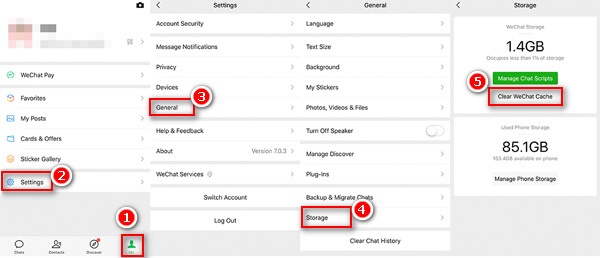 Solution 6. Contact WeChat support
If none of the above solutions work, you can try to contact WeChat support team to ask for the details. Maybe the problem is caused by the WeChat system or server, so you just try to update your information from WeChat support team or WeChat discussion forums.
Part 3. Tips of using WeChat to send messages
The above solutions are the general fixes to get rid of the trouble. Besides, you could try the following tips to fix the issue.
1. When WeChat fail to work, like not sending the messages or file, you can exit the app and log in to it gain to try.
2. Uninstalling WeChat and re-installing WeChat will also be another one universal solution to fix most common WeChat problems. Check here to uninstall apps.
3. Updating WeChat is another universal solution to fix most popular WeChat issues you encountered.
4. Do not backup WeChat data before uninstalling or updating this app. If you lost WeChat data accidentally while fixing it, use FoneLab to help you recover the lost WeChat data on your iPhone.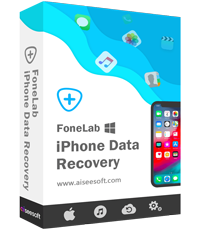 Recover deleted or lost WeChat from iPhone iPad and iPod.
Retrieve missing messages, photos, audio, videos, etc. from WeChat.
Work for iPhone 14/13/12/11/XS/XR/X/8/7, etc. running in iOS 16/15/14/13/12/11.
Restore WeChat backup from iTunes and iCloud backup.
Conclusion
Here we mainly talk about the issue that WeChat cannot send messages. We gather the general reasons for this problem, and also provide 6 solutions to fix the problem easily. What's more, we also show some universal tips to fix WeChat problems.
Any suggestion about this issue is welcome to leave in the following comments.