Sync Outlook Calendar with iPhone (3 BEST Ways)
Microsoft Outlook is a good helper for users to organize their busy life. It can manage contacts and tasks, and take notes. Especially, the calendar works as well like an alarm to remind people of the arranged schedule.
When you turn on the computer, the Outlook calendar reminder that shows on the screen is very clear to direct you what to do. But when you are in a journey of business trip or holiday, it is very troublesome for you to read the Outlook calendar on your computer.

Then an iPhone with Outlook calendar sync will be an good option for you. So how to sync Outlook calendar with iPhone? Three simple ways to sync Outlook calendar with iPhone will be introduced in this post.
Method 1: Sync Outlook calendar with iPhone in iTunes
When you want to sync Outlook calendar with iPhone or do other things with iOS devices, the first tool in your mind is iTunes. Before following the steps below, you must be sure that iTunes is enabled in your Outlook.
Step 1 Connect iPhone to PC while running iTunes on your computer, and find your iPhone icon.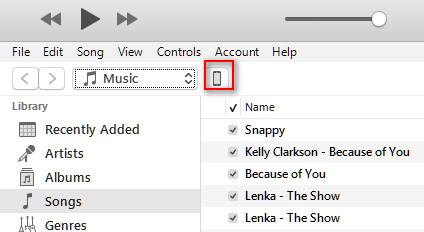 Step 2 Click your iPhone > "Info" > Get checkmark in "Calendar" and select "Outlook" from the drop down list. Here you could choose all calendars or selected calendars to sync to your iPhone.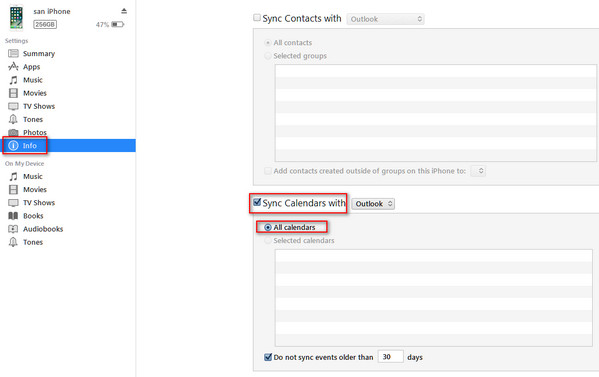 Step 3 Click "Done" to sync Outlook calendar with iPhone.

iTunes backup is the common way for iPhone users to sync Outlook calendar with iPhone. But it still has the disadvantage. It is a one-way sync to iPhone. That means, you could only view synced Outlook calendars on your iPhone. If you want to read iPhone calendars in Outlook, you will not access it.
Method 2: Sync Outlook calendar with iphone via iCloud
iCloud is an alternative to sync Outlook calendar to iPhone. iCloud can not send Outlook calendar to iPhone directly. It has to upload Outlook calendars to iCloud firstly, and then push Outlook calendar to iPhone from iCloud.
Step 1 Download iCloud for PC to your computer, log into your iCloud account on computer.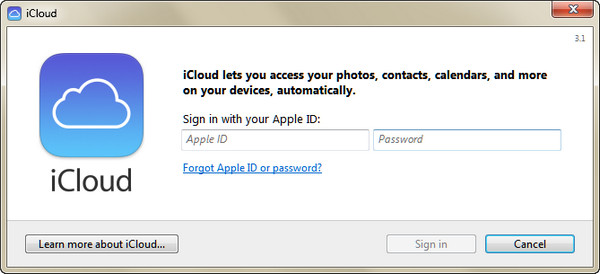 Step 2 Click "Mail, Contacts, Calendars, and Tasks" to allow Outlook setup for iCloud. At this step, you have to turn off your Outlook for syncing calendars to iCloud.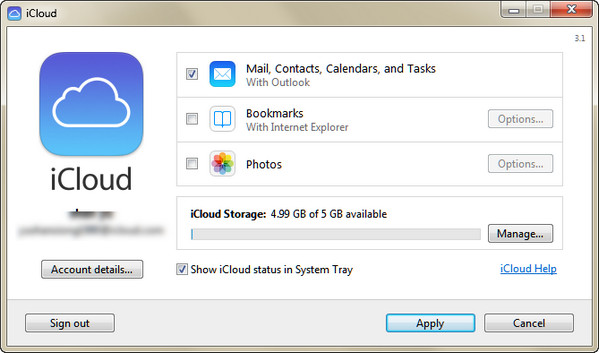 Step 3 Restore iPhone from iCloud to import Outlook calendar that stores in iCloud to iPhone. Here you could select all calendar or some calendars.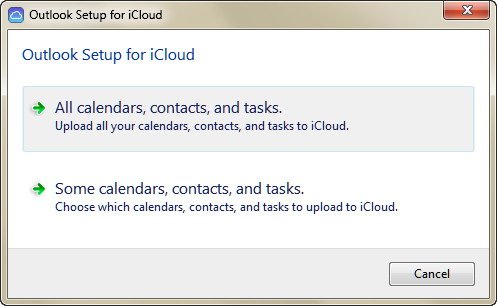 In this way, you get your Microsoft Outlook calendar on iPhone finally, but you are also forced to sync your contacts and tasks. And moreover, you are not allowed to view those Outlook calendars, contacts, etc. on iCloud. You will also like reading: Three Methods to Sync Outlook Contacts to iPhone.
Method 3: Sync Outlook calendar on iPhone directly
Unlock your iPhone, tab "Settings" > "Calendars" > "Outlook" > log into your Outlook Exchange account > Slide "Calendars" from "OFF" to "ON". If your iPhone is connected with Wi-Fi, you will sync Outlook calendars with iPhone automatically. If you need to sync contacts to iPhone, just Slide "Contact" from "OFF" to "ON".
In this way, you must get your Exchange account at first, but Exchange Server is an enterprise product costing up to thousands of dollars. So we sincerely recommend the first choice for you to sync Outlook calendars with iPhone.
Syncing Outlook calendar with iPhone seems easy, but it suffers a long process. However, if you want to sync iPhone calendar (including deleted and exisiting on iPhone) to Outlook for viewing it on your PC, you need the professional iPhone calendar extractor software, FoneLab.
FoneLab - iPhone Data Recovery
For Mac
FoneLab export calendar from your iPhone to computer.
It gets deleted iPhone calendar from iPhone directly and iTunes/iCloud backup.
You can preview the calendars on your iPhone and select what you want exactly to computer.
It supports contacts, photos, messages, reminders, bookmarks, etc. recovery.
Check here to learn how to recover deleted iPhone calendars.
We mainly talked about how to sync Outlook calendar with iPhone in this post. 3 effective solutions are told to help you copy Outlook calendar to your iOS device. Leave us a message if you have any better idea.