Suggestions about Accessing and Using Spotlight Search on iPhone iPad iPod touch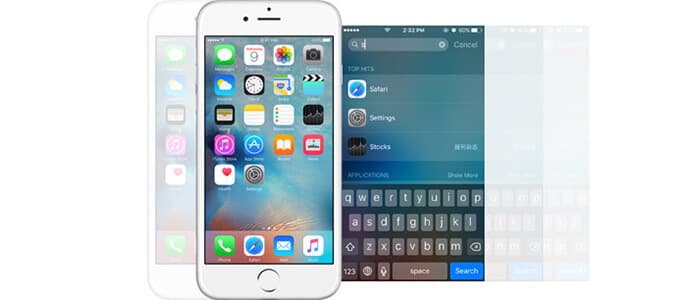 While computer provide its searching bar to let you search your local files, browser lets you search content on web. Apple provides its users a cool way to search local document and web content with its powerful tool, Spotlight Search. When it comes to Spotlight Search, there are few detaisl about this utility from Apple web. No matter what your are fresh hands or skilled in this tool, you will get a makeup of your knowledge about Spotlight Search on iPhone, iPad and iPod touch in this post.
What is Spotlight Search
What is Spotlight Search? This is a question asked for many times. In one word, Spotlight Search is the quick search tool created by Apple for iPhone, iPad, iPod touch and Mac users. In this article, we will focus on searching its features on iPhone, iPad and iPod touch.
Is Spotlight Search compatible with all iOS devices? Yes, Spotlight Search works well on all iOS devices with different function limitations. See the following comparison on different iOS version to understand it.
Changes of different Spotlight search features on different iOS version
iOS version
Spotlight Search features
iOS 4.0
Search text messages.
iOS 6
The folder that an application is inside of is shown.
iOS 7
Spotlight no longer has its own dedicated page, but is accessible by pulling down on the middle of any Home Screen.
iOS 8
more intuitive web results via Bing and Wikipedia.
iOS 9/10
Searching results include content in apps.
From the above chart, you may find Spotlight Search has a long history to help users to search iPhone iPad or iPod touch easily. And with iOS 9, you could get Siri Suggestions, which can suggest apps, people, location, and more before you even type, apart from its type search like contacts, messages, notes, music, photos, reminders, Safari, Settings, calendar, and more.
How to use Spotlight Search
With this powerful searching toll on iPhone, you could search a page, text message, contact, apps, etc. with keywords. But how to use Spotlight Search on iPhone SE/6/5/4/3GS or iPad Pro, even iPod touch? Keep reading.
Spotlight Search Settings
Before you use Spotlight Search on your iPhone, you need to turn on search settings. Tab "Settings" > "General" > "Spotlight Search" to slide on the buttons of searching results from which you want to find. Also, you could turn on "Siri Suggestions" to search apps, people or location and more before typing. You could select searching results from the following list:
App Store, Bing Web Results, Calculator, Calendar, Camera, Clock, Compass, Contacts, FaceTime, Find Friends, Find iPhone, Game Center, Health, iBooks, iTunes Store, Mail, Maps, Messages, Music, Notes, Phone, Photos, Podcasts, Reminders, Safari, Settings, Spotlight Suggestions, Stocks, Tips, Videos, Voice Memos, Wallet, Watch and weather.
Tips:
If you want to use Siri Suggestions, you must make sure your device is from one of iPhone 5 and later, iPad Pro, iPad (4th generation) and later, iPad mini (2nd generation) and later, and iPod touch (6th generation).
Access and turn on Spotlight Search
On your iPhone/iPad/iPod touch, swipe down with your finger on any page of Home Screen. Do not start to swipe from the top edge of the screen, because that will open the Notification Center, but not Spotlight Search.
For Siri suggestions, you could drag right from the Home screen to show Search and get Siri Suggestions.
Tips, not all religion or languages supporting Spotlight Search, see Spotlight suggestions to find if you are available to use it.
Search iPhone iPad or iPod touch
Search content (including deleted) on iPhone, iPad, or iPod touch
You need to type your keywords in the searching bar, and all applications include your input keyword will display in the list, you can find that it lets you search your contacts, text messages, notes, calendar, music, and more on your local storage.
One shinning point is that you can even search the deleted search deleted text messages on iPhone, contacts, photos and more on iPad. You even do not need any app to search the deleted messages. But you should note that the searching result only shows you the deleted items one time only.
If you want to search deleted text messages on iPhone for more than one time, then you have to use iPhone Data Searcher to help you to view and search your deleted text messages, photos, contacts, and so on. See how to use iPhone Dara Searcher to help you find text messages, contacts, photos, and more.
iPhone Data Searcher
For Mac
iPhone Data Searcher is a professional tool specially designed for iOS device users to recover lost/deleted data from iPhone/iPad/iPod safely and easily.
Back up all frequently-used iOS files from iPhone/iPad/iPod to PC/Mac.
Retrieve and export lost data from any iOS device, including iPhone X/8/7/6/5/4.
Get back data from your iTunes backup.
Restore lost data from iCloud backup when you forgot iCloud password.
Step 1 Launch this app and connect iPhone to PC/Mac. This software will detect your iPhone automatically.
Step 2 Scan iPhone data like text message, WhatsApp messages, photos, contacts, notes and more.
Step 3 Search your data, and the red marked data are those you deleted items on iPhone.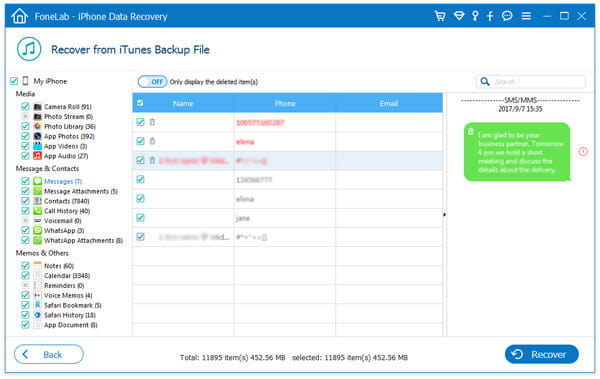 Spotlight web/app search
This on-device search also enables you to type words for web search on Google or Safari, also you could get iPhone app search as you like with WLAN connection. If you do not want us who use your iPhone to see youru web history, you could clear search history and cookies on iPad or iPhone.
Here, you can get a simple summary about Spotlight Search that it is a useful iOS search tool to help you find your wanted data quickly on device or web, but it gets limits when you search deleted items.