How to Turn Android/iPhone Flashlight On
Turn phone flashlight on and use it as a light source to solve emergency in the darkness is something we've been doing for years, but the method to activate the phone's camera flashlight varies according to what phone you're using, especially for Android phone with so many brands.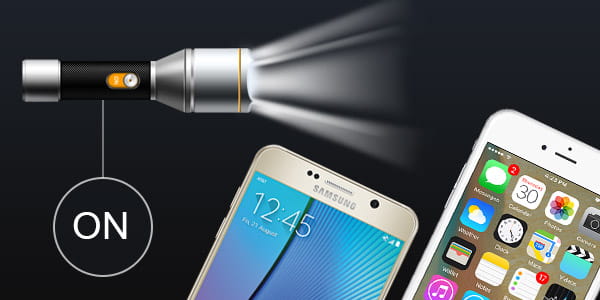 Part 1. How to turn Android flashlight on
Google has implemented a solution to get access the phone flashlight since Android Lollipop or higher version, which offers you an official way to turn flashlight on. You can find the method on quick setting or widget.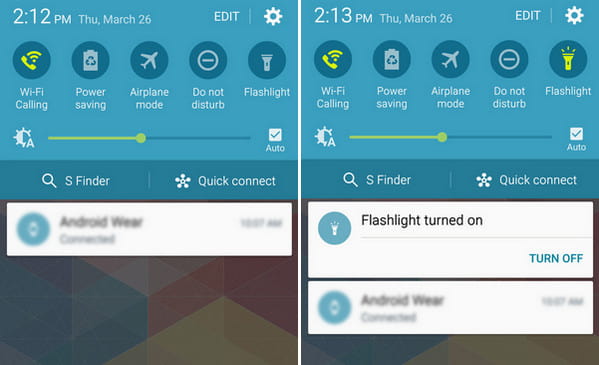 For instance, to turn on flashlight on Samsung Galaxy S6, simply swipe down the notification panel, there should be a Flashlight toggle in the quick launch area. If there isn't, tap on the edit icon from the top-right corner and find Flashlight from the list. Tap the toggle and the flashlight will turn on, tap it again to turn it off.
This method is simple enough, but it's not the quickest method. Plus, older smartphone do not even have this option. In that case, you could always find useful flashlight app for your Android phone, which enables you to turn flashlight on in a quicker and easier way.
5 best free flashlight apps for Android
Flashlight Widget
As though flashlight toggle is a good way to turn flashlight on, not all Android phones and tablets have a flashlight widget built in. If such is your case, you can try Flashlight Widget. It will place a widget on your home screen, which you can tap whenever you need to turn the flashlight on.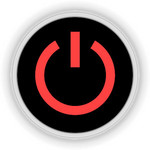 Power Button Flashlight
Power Button Flashlight is one of the most convenient way to activate the flashlight on Android. Just like its name indicates, this flashlight app gives you super access to flashlight, all you need to do is to press the Power button three times in a row. It also offers a few more settings, such as making your Android vibrate when the flashlight is on, and choosing how long the light is going to be.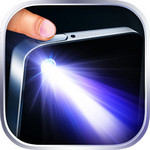 Torchie – volume button touch
Torchie is an easy-to-use, battery-friendly app that enables you to turn flashlight on using volume keys. Just hold two volume buttons together, you'll be easily saved from darkness. Besides, this flashlight app allows you to turn flashlight on while the screen on, from the lock screen or when the screen is off. Just make sure that the app is toggled on within your Accessibility services.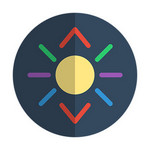 Shake Flashlight
If you think creating additional wear on the button is still troublesome, this Shake Flashlight app can help you with a more practical way. Without any button pressing, you can turn on/off phone flashlight by simple shaking Android phone. To ensure you don't accidently turn on the LED light, this app allows you to adjust the shake sensitivity. But be aware that not all Android phones have shake detection when the screen is off, in that case, you could only use shake Android flashlight on with the screen lit.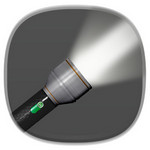 Color Flashlight
Apart from the basic Flashlight app, there are also flashlight apps with more interesting features. Color Flashlight has the standard lowest-permissions-needed and the standard ability to turn on your LED flash on the back of your phone. There are also a number of features available to make your device screen into a flashlight of various color, shapes, sizes and patterns.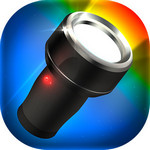 You may need: Best call flash app to make your phone flashes.
Part 2. How to turn on flashlight on iPhone X/8/7/SE/6s/6 Plus/6/5/5s/5c/4
Unlike Android phone, iPhone has the convenient built-in flashlight feature, and it's quite easy to enable or disable flashlight on your iPhone. Follow the guide below: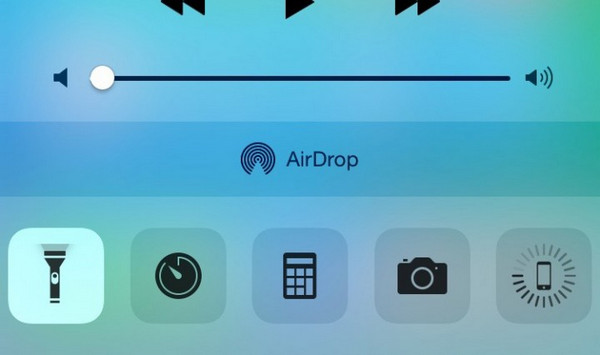 Swipe up from the bottom bezel and bring up Control Center on iPhone.
Tap the Flashlight button at the bottom left.
Point the LED flash on the back of your iPhone at whatever you want to light up.
If you want to turn off the LED flashlight, simply repeat the same process again.