What, How and Where Does iTunes Backup Store
For iPhone or Android users, text messages are probably one of the most valuable things on the device. Almost everyone uses Message app to chat with friends, families, etc. and some precious conversations would mean a lot to you. Even though nobody would want to lose important texts, there are still many situations that could cause text messages deleted unexpectedly, such as mistaken deletion, system upgrade, jailbreak issue, etc. If you are stuck at such trouble and wondering whether it is possible to recover deleted text messages, you've come to the right place.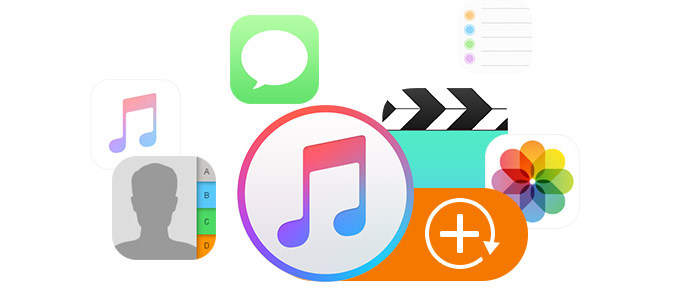 What, How and Where Does iTunes Backup Store
I backed up my iPhone to my computer in iTunes before going to Apple Store where my iPhone was repaired. When I came back home with a good one, I ran iTunes on PC again and prepared to restore my iPhone. Very strange, I found my media files in iTunes but could not find the pictures and photos. Does iTunes back up photos or pictures? Where does iTunes backup store? How do I change the location where iTunes stores files or extract iTunes backup? I am really confused now.
This is a question from Apple discussions. iTunes is offered by Apple to help users to back up iOS (iPhone, iPad and iPod) data or let you import videos on iTunes for playing. However, do you really know it well? Do you know if it can back up photos or pictures? Do you know how to back up iPhone music to iTunes? Where does iTunes save backup for iPhone/iPad/iPod on Windows or Mac? Do you know the way of restoring your iPhone from iTunes backup? Such questions are really troublesome if you do want to use iTunes app. This post will show you a simple brief about iTunes backup.
What does iTunes back up
iTunes could back up photos and pictures. And it could back up other various data from iOS devices. Below are the details.
Data that iTunes can back up
Photos and Images

Camera pictures taken, screenshots, images saved, wallpapers, etc.

Media Files

Movies, music, videos (other app/device), ringtones, etc.

Messages & Call Logs

iMessage, carrier SMS, voice message, contacts, call history, etc.

Application Data

• App settings, preferences, data, documents and install profiles
• App Store purchased application data
• Game Center and Mail account (messages aren't backed up)
• Keychain (all accounts passwords to enter into websites or application, including Wi-Fi passwords)
• Home screen arrangement, Paired Bluetooth devices, etc.

Setting

• Network settings (Wi-Fi hotpots, VPN settings, network preference)
• Nike + iPod saved workouts and settings

Memos & Calendar & Bookmark

• Notes, voice memos, voicemail
• Calendar accounts, subscribed calendars, events, etc.
• Safari and map bookmark

Others

• Safari history, offline data, browse cache, mail cache/message/attachments, temp files, etc.
Other data that iTunes cannot back up
• Content from the iTunes and App Stores, or PDFs downloaded directly to iBooks
• Content synced from iTunes, like imported MP3s or CDs, videos, books, and photos
• Photos already stored in the cloud, like My Photo Stream, and iCloud Photo Library
• Apple Pay information and settings
• Touch ID settings
• Activity, Health, and Keychain data (To back up this content, you'll need to use encrypted backup in iTunes.)
How to make and check iTunes backup
How to make iTunes backup
There are some ways for you to back up iPhone/iPad/iPod to iTunes. The common way told by Apple is as simple as you like. Run the latest iTunes on your PC > Connect iPhone to PC with a USB Cable > Find and click your iPhone

(the small iPhone icon, next to the ellipsis, below the menu bar) > "Summary" > "Backups" > "This computer". Then click "Back up Now" on the right bottom corner to back up your iPhone data to iTunes. If you have an iPad or iPod, they work in the same way. But this way is time-consuming, and you have to back up all data without selecting single or part data. And for photos, message backup, etc., it fails you to view iTunes backup files. So you can try other ways to sync iPad to iTunes selectively.
In this way, you can also find an option to checkmark "Encrypt iPhone backup" and create your iTunes encrypted password for your important files. When you recover iTunes backup, you also need this password. Forgot iTunes password? Fix it now.
How to check if iTunes back up iPhone iPad iPod successfully
After you make iTunes backup, how do you know if you have succeeded in backing up data? The answer is you can check the iTunes backup. Click the menu button (

) on the left top corner, and tab "Preference" > "Device". You will find all the backups with the names of the devices and backup dates. If you are not sure whether your detailed information, like contacts, photos, messages, etc., have been backed up successfully or not, you can refer to check contacts are stored in iTunes.
Where is iTunes backup storage location
By now, you have known that iTunes can back up data, and you can also check if you have made the iTunes backup. But do you know where iTunes backup file storage location is on your Windows XP/7/8/10 or MacBook Pro/Air? Can you change the location where iTunes stores backup manually?
iTunes backup is located in your Mac or computer as the following details:
Windows XP: C:\Documents and Settings\Administrator (username)\Application Data\Apple Computer\MobileSync\Backup\
Windows 7/8/10: C:\Users\username\AppData\Roaming\Apple Computer\MobileSync\Backup\
Mac OS X: \Library\Application Support\MobileSync\Backup\
iTunes could back up your iOS data, but you are not allowed to view any other of its backups except for media files. You can transfer iTunes Library to an external drive or flash drive for listening in the future. Also, you can rebuild iTunes Library to change your iTunes playlist manually. But you must be more careful to do that.
By the way, if you want to transfer iTunes backup or recover deleted iTunes files, you may need FoneLab - iPhone Data Recovery, a reputable iTunes backup extractor program to help you.
FoneLab - iPhone Data Recovery
For Mac
FoneLab is the best iOS data recovering and backing up tool to recover and backup iPhone/iPad/iPod data to PC or Mac.
Recover deleted iOS data like contacts, call logs, videos, audios, photos, notes, messages, etc. from iPhone/iPad/iPod.
Back up all types of iPhone data to PC/Mac.
Support iPhone X/8/7/SE/6/5/4, iPad Pro/Air/mini, iPod touch 6/5 and more.
Extract files without backup from iPhone directly.