Forgot iTunes Password? Get the Solutions
As an Apple users, you will not miss to complain iTunes.
"iTunes is difficult to use to back up my iPhone data."
"iTunes is not easy to restore my iPhone."
"Why my iTunes does not play music?"
"How to find my iTunes backup file?"
"I want to change a new computer, can I move iTunes library to an external drive for backup?"
"What is my iTunes backup going after I upgrade to Windows 10?"
"God, when I sign in iTunes store, I forgot my password, how can I find my forgotten password?"
"Opps! When I restore backup from iTunes, the encrypted backup needs me to print password. I tried several times, but still fail. Is there any recovery tool to help me?"...
In daily life, if you use iTunes, you will encounter many problems. Today, we will want to share some tips if you forgot your iTunes password, including the logging Apple ID password, and the password of restoring/backing up iTunes.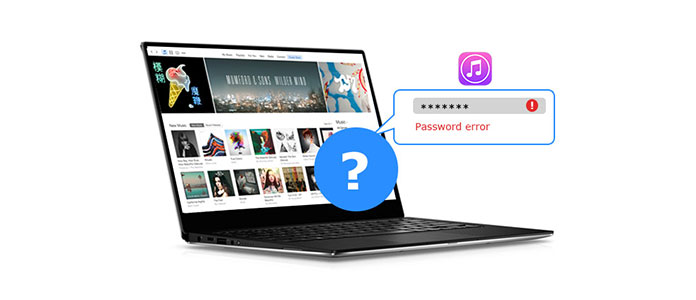 What is iTunes password
Before you reach the solution to find iTunes password, you need to have a clear understanding of different types of iTunes password.
iTunes signing in password – Apple ID password
iTunes logging password, also named Apple ID password. Apple ID, often created with your Email, is the personal account you use to access any Apple services like App Store, iTunes, Store, iCloud, iMessages, FaceTime and more. You could sign in iTunes with your Apple ID on your iPhone/ipad/iPods or PC/Mac to purchase music, movies, etc.
iTunes backup/restoring password
When you back up iPhone to iTunes on computer/Mac, you want to encrypt your private data, then you need to create a password. And the password you created for your iTunes backup is called iPhone backup password. Once you create backup password on iTunes, when you recover data from iTunes backup, you are required to enter your backup password. If you lost or forgot iTunes backup password, then you come to the right place now.
Forgot iTunes signing in password? Reset/change iTunes password
Reset iTunes password with iforgot.apple.com
When you transfer purchase from iPhone to iTunes, you found you forgot iTunes password for signing in. Then the only solution is to find your lost or forgotten Apple ID password for logging in iTunes.
Following the steps below to get a new Apple ID password for iTunes:
1Launch iTunes on your computer or Mac, click the account icon

on the right-hand to sign in your Apple ID. Click "Forgot?" to go to Apple website, iforgot.apple.com, where you could reset your iTunes password.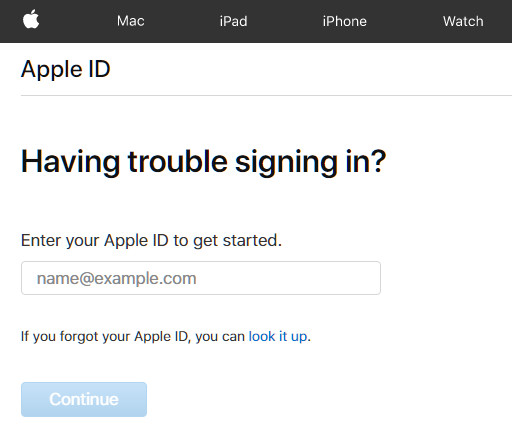 2Enter your Apple ID/iTunes account > "Continue" to reset your password for your Apple ID. There are two ways to help you to find your iTunes password, "Get an Email" or "Answer security questions".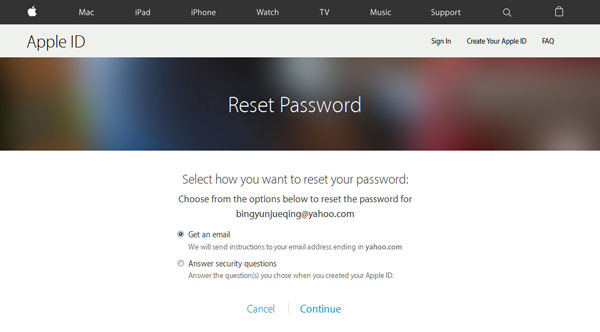 If you choose the first one, then Apple will send you an E-mail to your iTunes account for your creating new iTunes password. Click the link in your received mail, and open it to a new window to reset your iTunes password.
If you choose the second to create new password for Apple ID, it will show the pre-set questions that you set before. Only if you get the right answer, then you could go to a screen where you will create your new password for iTunes.
Change iTunes password with your iCloud
If use have enabled two-factor authentication, the built-in security method into iOS 9 and OS X El, then you are allowed to reset iTunes password from your trusted iPhone/iPad/iPod.
Go to "Settings" > "iCloud" > enter your name > hit "Change Password" to print your new password.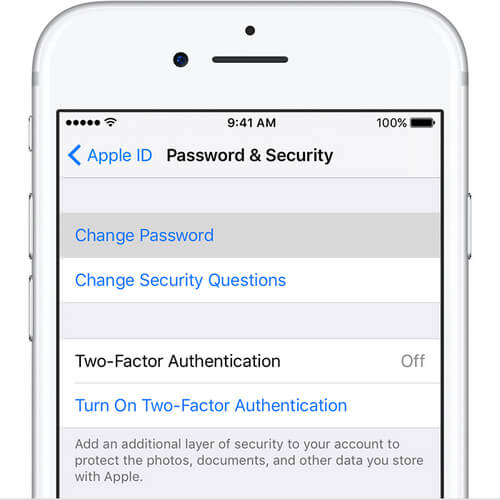 Create new iTunes password with Apple support
If you forget your Apple ID and password, then you have to go to local Apple store with your purchasing details. The more you provide your account information, the sooner you will reset your forgotten Apple ID password.
Forgot iTunes encrypted backup password? Recover/Disable iTunes password
After you made iTunes backup, you will be disappointed to find you should forget iTunes backup password when you prepare to restore deleted contacts from iTunes backup files. Though Apple claim that, "There is no way to recover your information or turn off Encrypt Backup if you lose or forget the password." Yes, Apple does not provide you the way to unlock encrypted iPhone backup just like it refused to unlock iPhone password for FBI. But Google is great. You could Google to find some iTunes backup password recovery tools online. Also, some tools enable you to remove iTunes password for backup.
Recover iTunes password for backup with recovery tools
iTunes Password Genius, its free version lets you recover your forgotten iTunes backup password which is set within three character. If your password for iTunes backup is more than three characters, then you have to get its Pro version on your Windows computer.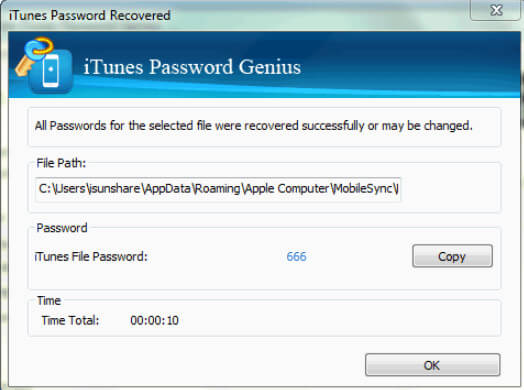 iTunes Backup Unlocker, is another password recovery tool. Firstly, it needs to find your iTunes backup, and then, provides three password attacks are provided to find your password of iTunes backup. If your password is more complicated, it will take more time.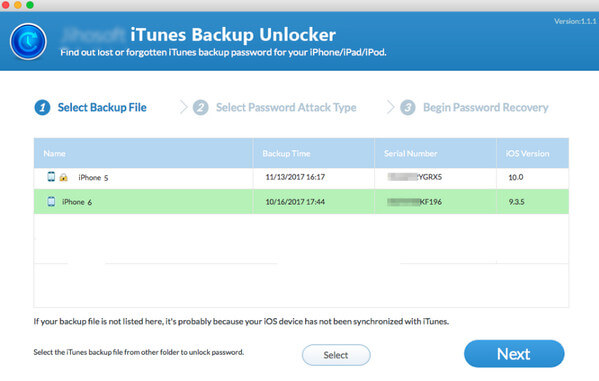 Still you will find other tools that recover password made on iTunes backup, iTunes password Rescue, iTunes Backup Password Recovery, and more. you can check this post to recover iTunes password.
After recovering your forgotten password created in iTunes, then you will feel free to view iTunes backup files as you wish.
Disable iTunes password for backup
After you finding your iTunes password for backup, you need to pay more attention to avoid the situation next time. You can remember your iTunes password for backup on notebook. Or you can disable your encrypted backup password. When you back up iPhone, you should uncheck "Encrypted backup", and you will not suffer the problem of forgetting iTunes backup password.
Last but not theleast suggestion is that you can find iTunes alternatives if you do not want to get involed in the password recovery of iTunes.