Everything about iTunes Backup Password
A lot of stored iPhone messages are useless for you. It takes quite much persistence to make up your mind to delete iPhone messages, worrying that you may need them one day. The funny thing is, once you delete these iPhone SMS, somehow they become useful and have some information you need. So how to find deleted messages on iPhone? In the following article, I have prepared two very simple tricks to check deleted iPhone messages without recovering them.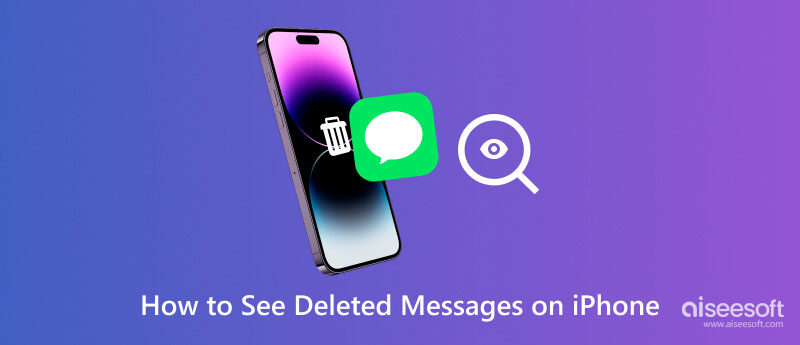 Part 1. The Difference Between iTunes Password and iTunes Encrypted Backup Password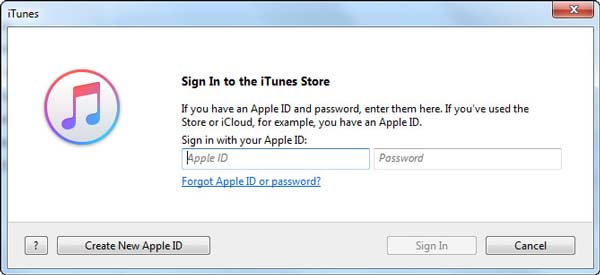 iTunes password: It is a password when you need to sign in to iTunes Store. In another word, iTunes password equals Apple ID password. iTunes password is along with Apple ID account. If you forgot iTunes password, you can change Apple ID.
iTunes encrypted backup password: Also named as iTunes backup password, it is used when you want to protect iTunes backups of your iPhone, iPad or iPod. When the password is created, the feature of encrypted backup will automatically lock and encode your files in iTunes. Compared with iTunes password, no account is needed for iTunes backup password.
You can keep reading and learn more about iTunes encrypted backup and the way to set iTunes encrypted backup password.
Part 2. What You Can Encrypt in iTunes
You can choose to encrypt backup in iTunes to lock and encode your data, and this feature can do more than other backup (those unencrypted ones). Besides contacts, videos, music and other regular data, it can back up other information:
Wi-Fi setting
All saved passwords
Health data
Website history
iTunes doesn't encrypt your backups automatically. To encrypt a backup in iTunes for the first time, you are required to turn on the password-protected Encrypt backup option. Then, iTunes will make encrypted backups by default for that device from then on.
Pay attention:
No Way to recover your information or turn off Encrypt Backup when you forget or lose the password. (Don't remember iTunes backup password?)
Part 3. How to Encrypt Your Backup in iTunes
Here we will show you how to set an iTunes backup password for you to encrypt your backup in iTunes. Also, we share some tips for turn off such feature if you want to unencrypt the backup.
How to Create Encrypted Backup Password in iTunes
iTunes won't automatically set encryption feature. If you want to encrypt a backup of your iPhone, iPad or iPod touch for the first time, you need to turn on the feature by creating iTunes backup password. After that, iTunes will automatically help you make encrypted backups.
Step 1.
Download and launch the latest iTunes.
Step 2.
Plug your iOS device into computer with a USB cable, and then iTunes will detect it (
iTunes does not recognize iPhone
?). Click the device icon in the top-left corner to enter the
Summary
window.
Step 3.
From the main interface, you will not miss
Encrypt iPhone/iPad/iPod backup
option.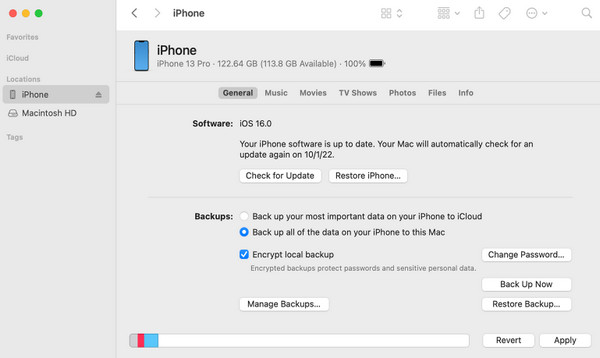 Step 4.
iTunes will prompt you to create a iTunes backup password. Make an easy-to-remember password, or it will be difficult to recover iTunes backup password and then get access to iTunes backups.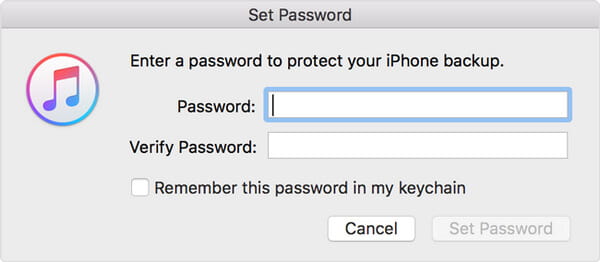 Step 5.
Confirm the password. Then iTunes will overwrite your previous backups and make encrypted backup afterwards.
Check If You Manage to Encrypt the Backup
Choose Edit (for Windows) or iTunes (for Mac) > Preferences > Device, and then you will a lock icon appearing right of your device name, as well as the data and time of iTunes backup.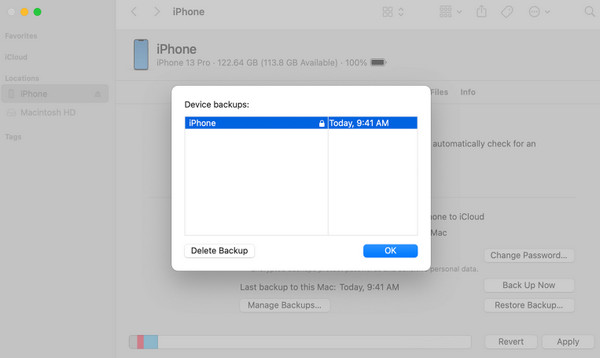 Part 4. How to Remove iTunes Backup Encryption
Way 1. Turn Off iTunes Backup Encryption
To shut down the iTunes encryption feature, you need to enter the password and uncheck the box of Encrypt local backup.
The iTunes backup password is must-have. If you don't remember it, you have to recover iTunes backup password, make an iCloud backup instead or reset your iPhone/iPad/iPod to factory settings.
Way 2. Remove iTunes Backup Encryption with the Best Tool
If all the above methods can't help you, then you have no choice but to try some iTunes backup password recovery tools, which may help you recover the iTunes backup password. Here we recommend you use Aiseesoft iPhone Unlocker. It helps you unlock your iPhone, iPad, and iPod by wiping the passcode without hassle. If you have forgotten your Apple ID and the corresponding password, it also helps you to remove them for a new one. If your phone is in Mobile Device Management, it can also help you remove this restriction efficiently. When you forget your iTunes backup password, you can use iPhone Unlocker to remove iTunes backup encryption settings and start new backups on iTunes again. This tool is very easy to use, and the interface is simple, so you don't have to worry about being unable to operate it properly.
Here are the detailed steps to operate it.
Step 1.
Download and install Aiseesoft iPhone Unlocker on your computer, and choose the
Remove Backup Encryption Settings
mode.
Step 2.
Connect your iPhone to the computer via a USB cable, and set it to let your device trust the computer.
Step 3.
Follow the guide on the screen and click
Start
to begin the process.
Step 4.
It may take a few minutes to remove the encryption settings. After the process, the iTunes backup encryption settings will be removed from your iOS device.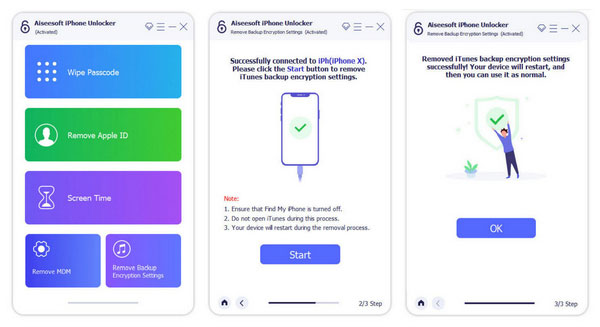 Part 5. How to Recover iTunes Backup Password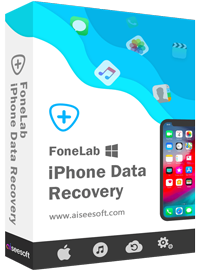 Downloads
FoneLab is the best iOS data recovering and backing up tool to recover and backup iPhone/iPad/iPod data to PC or Mac.
Recover deleted iOS data like contacts, call logs, videos, audios, photos, notes, messages, etc. from iPhone/iPad/iPod.
Back up all types of iPhone data to PC/Mac.
Support iPhone X/8/7/SE/6/5/4, iPad Pro/Air/mini, iPod touch 6/5 and more.
Extract files without backup from iPhone directly.
iTunes backup password is necessary when you want to get access to encrypted backup. If you lose the iTunes backup password:
Apple's Suggestions for Recovering iTunes Backup Password
You can't restore an encrypted backup without its password. But don't worry. With the device running iOS 11 or later, you can make a new encrypted iTunes backup of your device by resetting the password.
Step 1.
On your iOS device, go to
Settings
>
General
>
Reset
.
Step 2.
Tap
Reset All Settings
and enter your iOS passcode.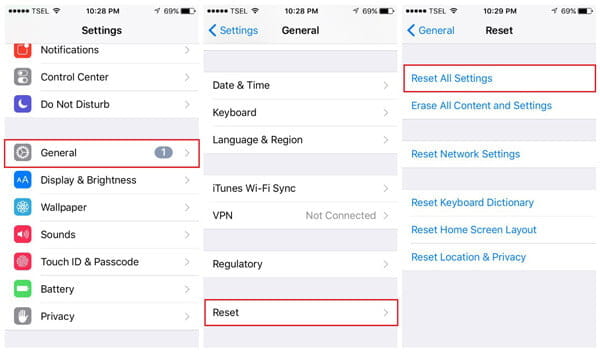 Step 3.
Follow the steps to reset your settings. This won't affect your user data or passwords, but it will reset settings, including your old encrypted backup password.
Step 4.
Connect your iOS device to iTunes again and make a new encrypted backup.
The previous encrypted backups are not available again, but you can back up your current device data using iTunes and setting a new iTunes backup password.
For device running iOS 10 or earlier, you can't reset the password. Maybe you can get backup the old iTunes backup password using the following hints:
Yourself.
If someone else set up your device, ask them for the iTunes password.
Use an iCloud backup instead. No iCloud backup, make a new one.
Try using an older iTunes backup.
Other Tips for You to Recover or Reset iTunes Backup Password
Try known password
Common passwords include:
Apple ID password
iPhone or iPad Passcode
Main e-mail password
Your computer user account's password
Simple passwords such as 0000 or 1234
Use Keychain Access on Mac
Maybe you save your iTunes backup password to Keychain if you are a Mac. Navigate to Keychain Access and find if you can get the iTunes backup password.
Step 1.
On your Mac, open
Application
>
Utilities
>
Keychain Access
. Or you can search
Keychain
from the spotlight.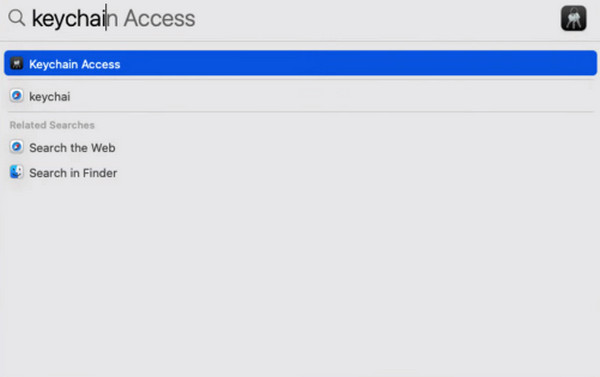 Step 2.
Click on
All items
from
Categories
.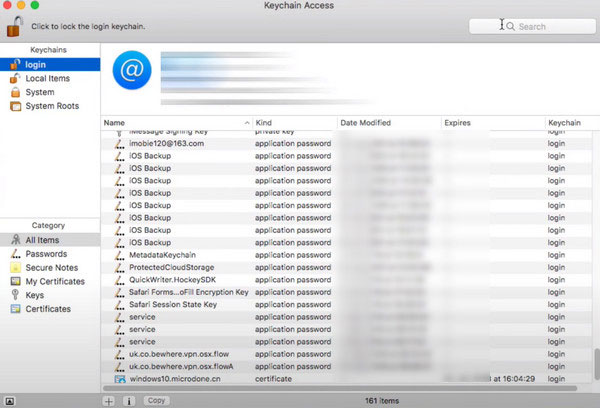 Step 3.
In the upper right search field enter
iPhone
and look for an
Application Password
named
iPhone Backup
. If you see it, double click it.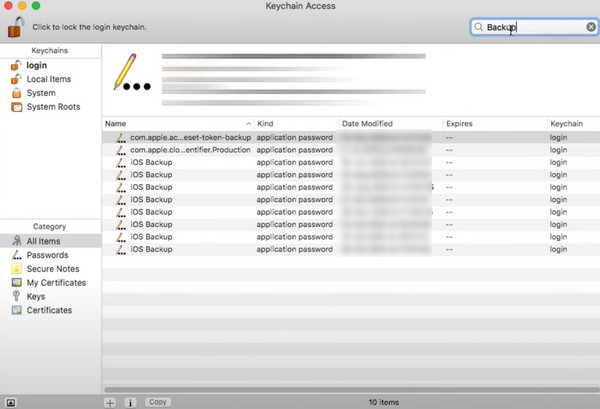 Step 4.
A new window that will open, tick the checkbox of
Show password
, enter your keychain password and click the
Allow
button.
Then you will see the iTunes Backup password for your iPhone in the pop up window.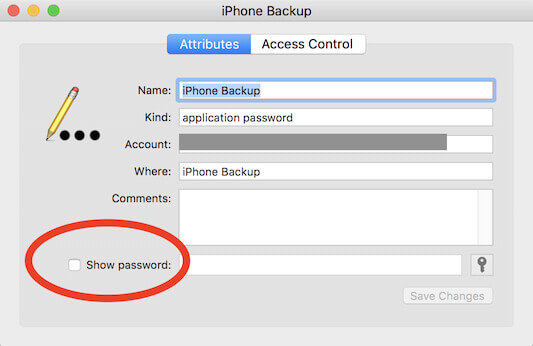 Try some iTunes backup password recovery tools
If all the above methods can't help you out, then you have no choice but try some iTunes backup password recovery tools, which may help you recover iTunes backup password.
Part 6. FAQs about iTunes Backup Password
Why can't I restore my iPhone from iTunes backup?
If this happens, you must check if you have iTunes backup turned on first. And if your iTunes is not updated to the latest version, it can also cause it not to be used properly. In addition, a faulty data cable connecting your device to your computer can also cause the restoration not to work properly.
Does reinstalling iTunes delete iPhone backup?
Reinstalling and updating the iTunes version will not affect your backup files. If you're worried about surprises, you can leave your backups on other platforms or your computer before working on the iTunes app.
Does iTunes overwrite iPhone backups?
The iTunes backup will only keep one version of the backup for a device, so it overwrites your previous backup, causing a loss of files and data. So you can make another backup of your important files on another platform for restoration if needed.
Are iTunes backups tied to Apple ID?
iTunes backups are not tied to your Apple ID and do not require you to provide it during the backup process. iCloud backups only require your Apple ID.
What can replace iTunes for backing up your iPhone?
The most preferred alternative to iTunes is iCloud. iCloud, the most popular backup tool for Apple users, can back up almost all of the data on your device, and you can transfer backups directly to another device by signing in to your iCloud account on that device.
Conclusion
In this post, we let you know what iTunes backup password is and offer some tips if you forget iTunes backup password. If you have something to say, welcome to tell us.

Leave your comment and join our discussion