Top 6 Audiobook Player to Play Audiobooks on iPhone and Android
Audiobook has become more and more popular in the digital world. Lots of readers choose to read the electronic books instead of the original paper books. The rise of audio publishing is directly proportionate to the rise of digital distribution. And for many of them, audiobook is their favorite way to access books.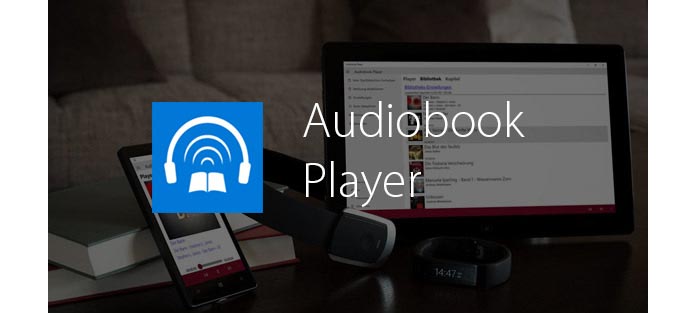 Various audiobook player apps are provided on the App Store, Google Play, Amazon App Store and Good e-Reader App Store to help you easily enjoy audiobook on your iOS/Android device. While which audiobook player should you choose? Don't worry. We will show you the easy-to-use audiobook player apps and simple way to play audiobooks on your iPhone/iPad/iPod and Android device. You can keep reading to find the answer.
Part 1: 6 Best Audiobook player for iPhone and Android phone
Though iPhone/iPad/iPod and many Android devices support the audiobook playing, you still don't know how to play audiobooks on your device. So at the first part of this post, we will show you the audiobook player for iOS/Android to help you play audiobooks.
1. MP3 Audiobook Player (iPhone)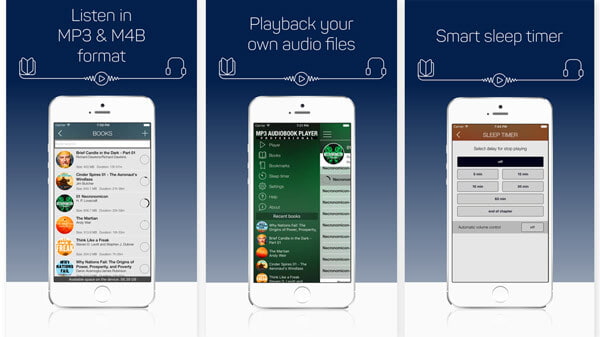 If you want to play audiobooks on iPhone, MP3 Audiobook Player is a good choice for you. MP3 Audiobook Player makes it very convenient to listen to MP3 and M4B format audiobooks on any Apple device. It doesn't offer audiobooks to you, but it is a good helper to play the audiobooks on your iOS device. Its sleep timer function allows you to make a suitable time to stop playing. Apart from audiobooks, you can use it to play your own audio files.
2. Smart Audiobook Player (Android)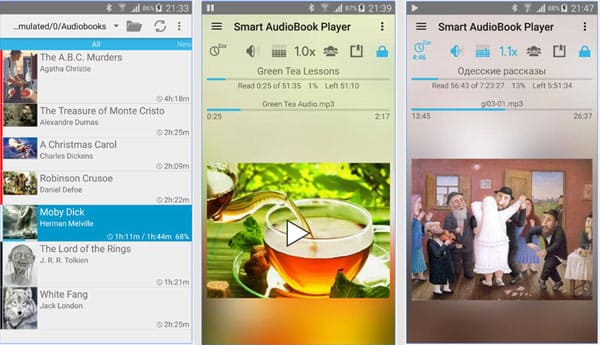 Smart Audiobook Player is a professional audiobook player for Android device. It enables you to handily play any audiobook on your Android phone or tablet. You are free to control the audiobook playing speed, download cover from the internet, and check the playback history. Moreover, it can automatically pause in case you are sleep. The audiobooks playing progress is saved independently, so you don't have to finish one book to start another.
3. Audiobook Player (Android)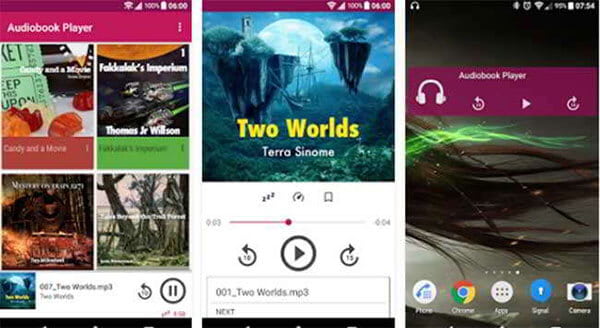 Audiobook Player is a slim and simple Audio Book Player apk on Android. It is a totally free audiobook player app which can scan your Android device for potential audiobooks on first launch and support Chapter Display in M4B files and MP3 Track Names. You can manually pick books shown in your library by selecting a specified root folder, or easily use the auto scan to update your library based on books found on your device.
4. Book Mower Audiobook Player (iPhone)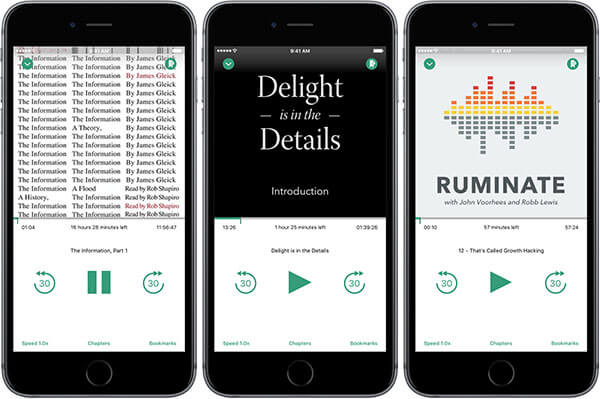 Book Mower Audiobook Player is an audiobook player for iOS 11/10/9/8 and compatible with iPhone, iPad and iPod touch. Its goal is to make getting, playing and managing audiobooks a delightful experience. This audiobook player app can keep track of your progress with automatically created bookmarks and work great with remote controls like Bluetooth or Apple headphone.
5. Audible Audiobook Player (iPhone, Android and Windows Phone)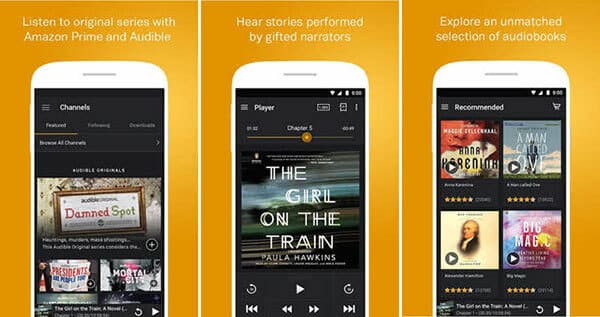 Audible Audiobook Player is together with Audible audiobooks library offered by Amazon. Audible's audiobook player offers solid playback features with chapter navigation, bookmarks, a sleep mode, variable playback speed and multitasking support for background playback and downloading. For Kindle user, they can pay a small fee to upgrade to Audible audiobook as this app increases integration with Kindle system.
6. Audiobook Player app by Audiobooks.com (iPhone and Android)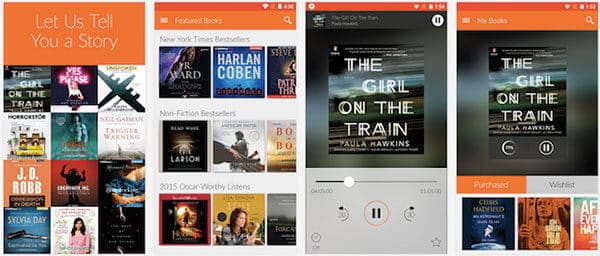 Audiobooks.com platform also offers an audiobook app for Android and iOS users to allow subscribers to choose from a library of more than 45,000 audiobooks from every categories that they can stream or download for offline listening. This audiobook player app can support variable playback speed, automatic bookmarking and sleep timing.
Part 2: 2 Best Audiobook player for Windows 10/8/7
1. iTunes - Great auidobook player for Windows and Mac
iTunes is not only a good way to organize the music and TV show, it can also be a good audiobook player. You can easily manage your audiobooks in iTunes by artists, albums, songs or genres. You can both buy audio books through the App store and add your own audio books from your computer. iTunes can only support MP3, AIFF, WAV, MPEG-4, AAC and Apple Lossless file formats.
2. Trout - A lightweight audiobook player for Windows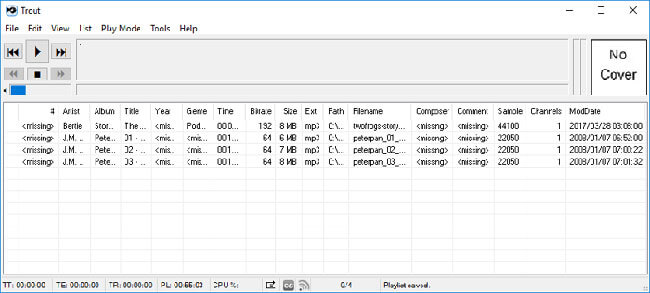 Trout is a free audio books player which can support various kinds of formats including AIFF, AIF, AIFC, MP3, OGG, WAV, MOD, etc. This free Windows audiobook player supports several different play modes, play control and track announcement. However, there is no bookmark feature in this software so it would be hard to start from where you left last time.
Part 3: How to put audiobook to iPhone for playback
iPhone is compatible with M4B audiobook. If you have audiobooks in M4B or MP3 format on PC/Mac, you can directly transfer them to your iPhone for playback. iTunes can help you transfer audiobooks to iOS device, but the powerful iOS Data Transfer can do a better job. You can free download it and have a try. Here are the steps of transferring audiobooks from computer to iPhone.
Launch iOS Data Transfer
Download, install and run this iPhone audiobook transferring software on your computer. Connect your iPhone to it with USB cable. It can automatically detect your iOS device and show its basic information in the interface.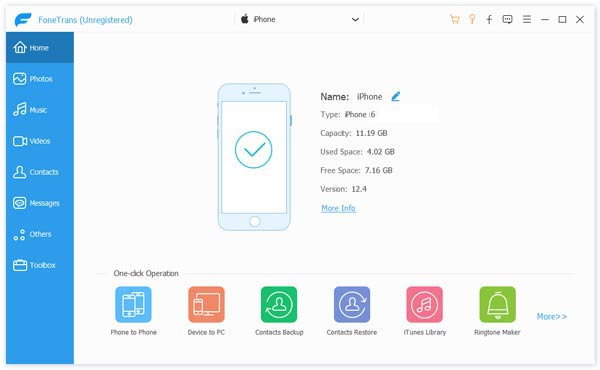 Check audiobooks on iPhone
Click "Media" on the left control and then click "Audio Book" on the top list. If there is no audiobook on your iPhone, you can click "Add Item" button to import audiobooks from PC/Mac to this program. Or you can click "Add" to transfer audiobooks to iPhone.
Transfer audiobooks to iPhone
After you click "Add" or "Add Item" button, you can choose the audiobooks from the pop-up window. Then click "Open" to confirm the operation to transfer audiobooks to iPhone. Just in a few clicks, you can easily move the audiobooks to iPhone.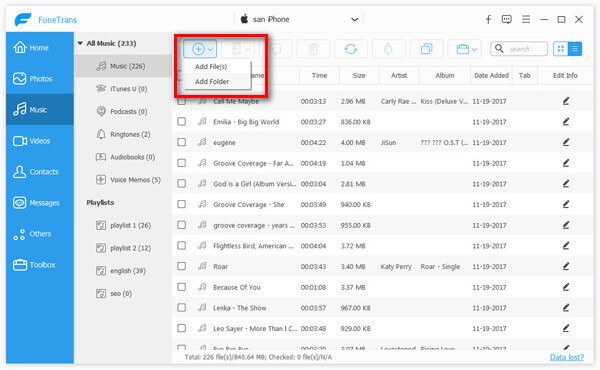 Here we also recommend a Free Audio Converter to help you convert audiobook to M4B for your iPhone. If you get some unsupported video or audio formats, you can rely on it to convert video/audio to your preferred format.
We mainly talk about audiobook player in this article. Whether you are using an iOS or Android device, when you want to listen to audiobooks on your device, you can easily do it with the recommended audiobook player apps. What's more, we show you a simple way to transfer audiobooks to iPhone. If you are tired of using iTunes, you can give the excellent iOS Data Transfer a try.