Simple Ways to Convert MP3 to MIDI on Windows/Mac
What is MIDI? MIDI (Musical Instrument Digital Interface) is a commonly-used compact file format in playing keyboard instruments. It is not an audio format like MP3, WAV, but a notes-based file format that can store full music strength and duration of the notes actually being played. However, Audacity only has limited supports for MIDI format. Though you cannot use Audacity to record MIDI input, it features, for example, importing/editing audios and converting/exporting audios in WAV/MP3 to MIDI files. Alternatively, there are some online MP3 to MIDI converters, so that you can easily change the MP3 audios into MIDI files. In this article, we will show you how to convert MP3 to MIDI with Audacity or with two online MIDI converters on Windows PC or Mac.

Convert MP3 to MIDI
Part 1. How to convert MP3 to MIDI with Audacity on Windows/Mac
Audacity can always be your best choice when you want to convert audio files in MP3, WAV, MIDI, M4A and so on. In many cases, we need to convert MP3 to MIDI. Follow the step-by-step guide in this part to know how to convert MP3 to MIDI with Audacity. Kindly note that you may need to download a lame_enc.dll file.
Step 1Download, install and launch Audacity on your computer. Click "File" > "Open" and import the MP3 file you want to convert to MIDI. Or you can directly drag the MP3 file into the Audacity interface. Click the "Play" button to play the selected MP3 file.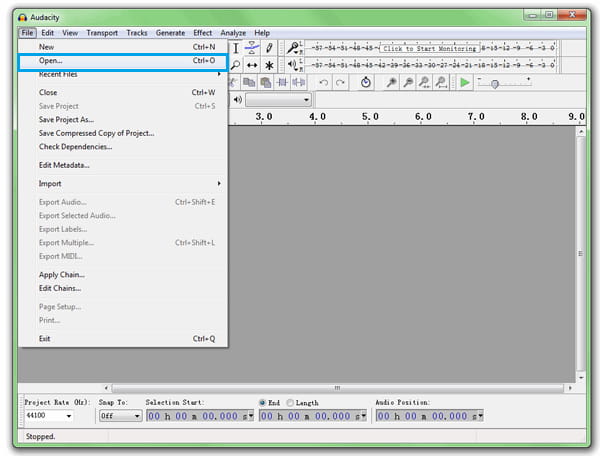 Step 2Click "File" > "Export Audio", and then an "Export Audio" window will pop up. From "Save as type" tab, choose "Other uncompressed files". You can now set format options. Choose SDS(Midi Sample Dump Standard) from "Header" tab. Choose encoding according to your need. Click "Save" button.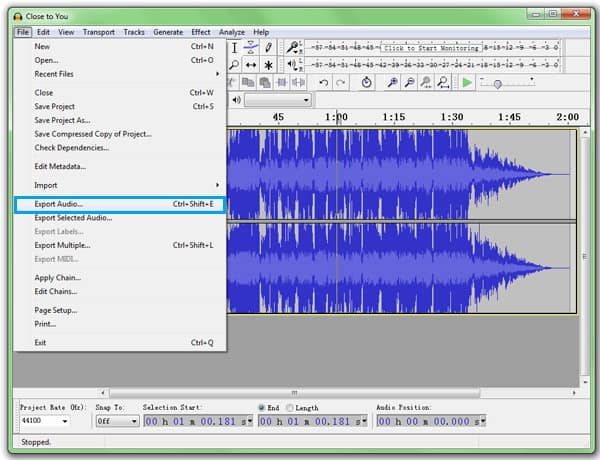 Step 3Then an "Edit Metadata" window will display. You can edit or modify the MIDI audio info here. Finally, click "OK" to convert MP3 to MIDI.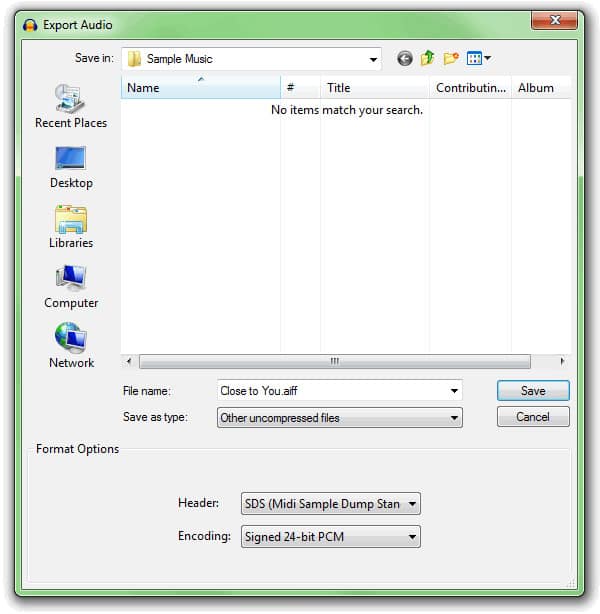 Besides MIDI conversion, you can also use Audacity to convert M4A to MP3. Apart from Audacity, there are other MIDI converters, like AmazingMIDI and so on. These software can help you change audio file in WAV/MP3 to MIDI on Mac or Windows computer.
Part 2. How to convert MP3 to MIDI online
If you don't want to download any desktop-based software, you can choose to make an MP3 to MIDI conversion with online audio converter. And in this part, we'd like introduce you with 2 reputable MP3 to MIDI online converters - Bear File Converter and Conversion Cat.
Bear File Converter - Convert WAV/OGG/AAC/WMA/MP3 to MIDI
Bear File Converter is a free and useful online audio converter, which can help you convert WAV, OGG, WMA, MP3 and more stream audio to MIDI file. Alternatively, it also lets you convert other audio formats like MIDI, WMA, FLAC, M4P, etc. to MP3.
And the output MIDI audio can be playable in Audacity or game software. What's more, the converted MIDI file is very small. However, the imported audio file should be 50 MB or smaller in size.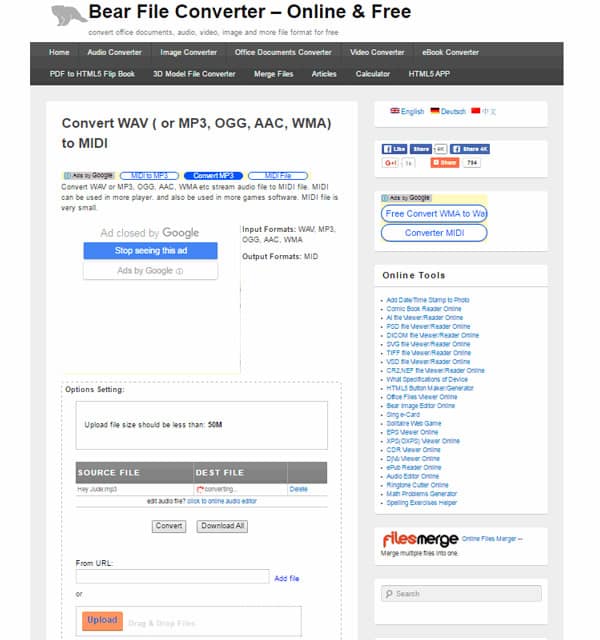 Step 1Navigate to Bear File Converter's MIDI Converter page. Click "Upload" button to load your MP3 audio. You can also drag the audio file to the interface. You can find the upload from the progress bar. The uploading speed may be a little slow, so you have to be patient.
Step 2After that, a "Convert" button will show. Click it and Bear File Converter will convert MP3 to MIDI for you.
Step 3Download the converted MIDI file to your Mac or PC.
Converter Cat - Convert MP3 to MIDI online
Convert Cat is another great audio converter for you to convert MP3 to MIDI with ease. You can find the interface is very clean and user-friendly. Compared with Bear File Converter, Convert Cat is more understandable. You can choose "Convert Files" option or "URL Converter" option as you like. And this online converter in detail explain the information of MP3 and MIDI. You can upload file up to 50 MB. If you want to import files larger than 50 MB, you have to register and log into Convert Cat.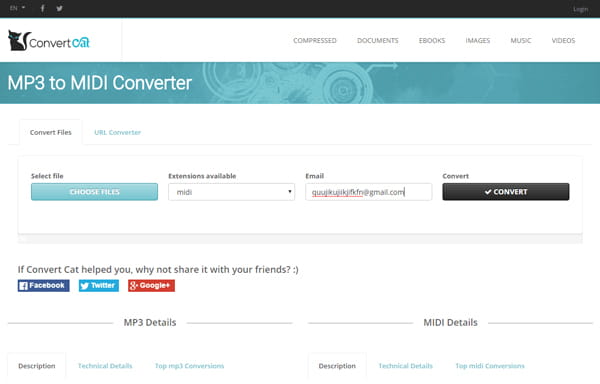 Step 1Visit Convert Cat MP3 to MIDI page. Click "Choose File" button and import the MP3 audio file.
Step 2Choose "MIDI" from the Extension Available tab. Type you email address into the blank box.
Step 3Finally click "Convert" button to convert MP3 to MIDI. For a while, an email by Convert Cat will be sent to you, and you can click the download link to get the converted MIDI file.
Part 3. FAQs of converting MP3 to MIDI
What are the advantages of MIDI?
The advantage of MIDI is its small file size, ease of modification and a wide choice of electronic instruments and synthesizer.
Why does MIDI sound different?
A MIDI file contains no audio recording like MP3 or WAV file. It sounds different from MP3 track. The sound is quite different when playing on different devices.
What is the difference between MIDI and audio?
A MIDI signal is generated by a keyboard, and it contains the information about which keys are being compressed. An audio signal is recorded on an audio track of a digital audio workstation software.
In this article, we mainly discuss how to convert MP3 to MIDI on Mac/Windows computer with Audacity and two online MP3 to MIDI audio converters. Does this post help you? If you have better MIDI converter to recommend, welcome to tell us. By the way, our site also provides greatest Free Audio Converter when you want to convert MP3 to WAV or M4A to MP3, etc.