| Format | MP3 | MP4 |
| --- | --- | --- |
| Definition | MPEG-1 Audio Layer 3 | MPEG-4 Part 14 |
| Standards | ISO/IEC Standard of 1991 | ISO/IEC 14496-14:2003 |
| Format | Audio encoding format | Multimedia Container format |
| Released Date | 1994 | 2002 |
| Founder | a group of engineers from Europe, belonging to Philips, CCETT (Centre commun d'études de télévision et télécommunications), IRT and Fraunhofer Society | ISO |
| Coding | Perpetual coding method | AVC or Audio video Codec |
| Capability | MP3 Audio Player | MP4 Player, web browser, Digital camera, instant messaging |
| Compatibility | Music Player supports MP3 file | iPhone, iPad, Android devices Game devices support MP4 file |
Pros: MP3 is an audio specific file, cannot compress video file or text file. MP4 file is a versatile file, not only for video codec, audio codec, but also includes text and image. The two files are less space consuming with a relatively high quality. MP3 is the most popular audio format for most of the music players while MP4 is compatible with almost any portable devices.
Cons: Both MP3 and MP4 use lossy data compression. The lossy compression method will reduce the amount of data that lose the quality of the original data. MP3 has a limited maximum frame size defined by IOS standard, joint stereo limitations and other shortages.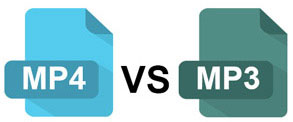 Due to the different capabilities and compatibilities of MP4 and MP3, you cannot listen to a MP4 file on music player or playback MP3 on some portable devices. What can you do to use MP3 on iPhone or extract audio from MP4 to music players? Just convert MP3 file to MP4 for iPhone or change MP4 to MP3 file. You only need to use a media converter program to navigate between MP4 and MP3. You can download the powerful program Aiseesoft MP4 Converter can break through the differences between MP4 and MP3 to achieve your requirement.
Related Products
Aiseesoft MP4 Converter
Aiseesoft MP4 Converter is a professional program for converting MP3 to MP4 or changing MP4 to MP3, breaking through barrier between MP4 format and MP3 format. It is an All-in-one program for MP4 solution. It supports various formats and devices, with the most powerful edition functions and the most convenient operation.