How to Get Rid of Virus on Android Phone
Today, digital devices make our lives more convenient than ever before; however, they bring not only benefits but also concerns about cybersecurity. According to the report, people waste hundreds of millions of dollars every year due to cybercrime.
Android phone is increasingly prevalent around the world, but the biggest disadvantage of Android systems is the security. It is more vulnerable to fighting virus and other malware. People are more likely to have antivirus software on computer. When it comes to Android phone, majority of users do not use any security technology.
Sometimes, bad behavior can be attributed to a virus or other malware and it can be difficult to tell what is to blame.
Worry about your phone is infected by virus?
In this post, we are going to share every knowledge you should know about cybersecurity on Android, including how to perform virus removal for Android.

Virus Removal for Android
Part 1: How to check your phone for viruses
If you do not have a third-party antivirus app on your Android phone, there are some symptoms to discover whether your device is infected.
1. Battery drains faster. The virus usually is running in the background and taking up your resources. In result, you may find that the battery runs out faster.
2. Data usage increases. Another important sign that your device has a virus is the rapid consumption of data traffic. The virus is usually designed to steal your information and privacy via internet.
3. Apps keep crashing. If your apps start crashing regularly for no reason, you phone could be infected by a virus.
4. Unfamiliar apps appear. Virus, Trojans and other malware may download apps that seem legitimate, but they are not. If you see an unfamiliar app appearing on your phone but you did not download it, you should check it carefully and perform virus removal for Android.
5. Adware pops up. Most ads can be stopped by ad blockers, but if you see pop-up ads on your phone even when your browser is closed, chances are that your device has a virus.
6. Unexplained changes. For instance, your phone is overheating even though you are not using it, or you receive odd messages or emails.
Part 2: Android virus removal tool
An antivirus app for Android is able to clean viruses out of Android phone effectively. Here we identify and list top 10 antivirus apps for Android devices.
Top 1: Avast Mobile Security
Price: Free
Key features:
1. Detect and clean viruses and other malware.
2. Block unwanted calls and contacts.
3. Remotely lock and wipe your device.
Top 2: Bitdefender Antivirus Free
Price: Free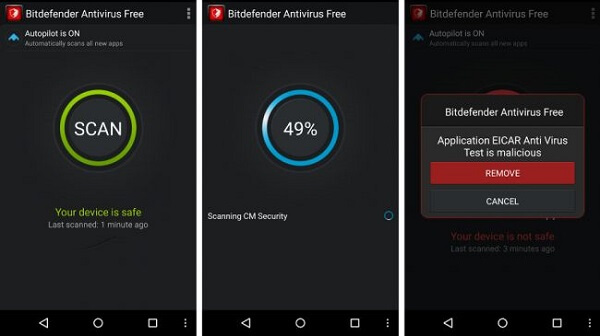 Key features:
1. Schedule virus removal on Android manually.
2. Scan new apps downloaded to your device.
3. Require no additional configuration.
Top 3: McAfee Security & Power Booster Free
Price: Free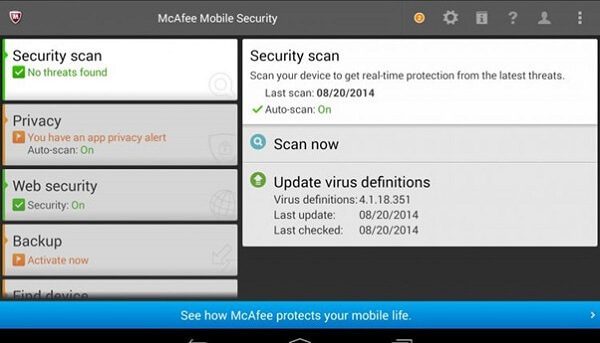 Key features:
1. Scan viruses and malware on your Android device.
2. Track your Android device and perform anti-theft remotely.
3. Monitor apps against privacy leakage.
Top 4: AVL
Price: Free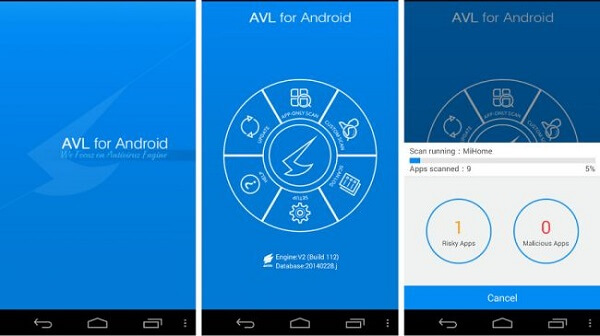 Key features:
1. Integrate the latest antivirus database.
2. Scan and remove virus from Android phone.
3. Block calls from strangers and blacklist.
Top 5: Norton Security and Antivirus
Price: Free & paid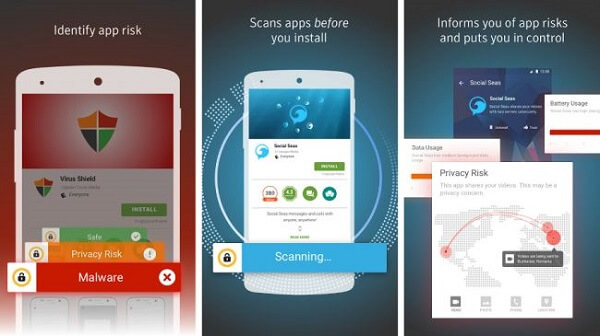 Key features:
1. Get rid of all viruses on Android phone.
2. Discover viruses inside files and apps.
3. Block SMS, phone calls and more.
Top 6: Kaspersky Mobile Antivirus
Price: $15 per year a device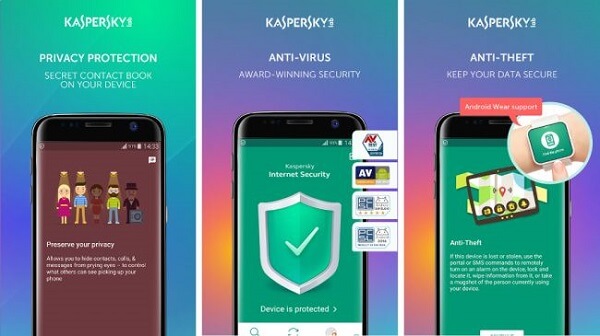 Key features:
1. Detect viruses, Trojans and other malware.
2. Block malicious sites or links.
3. Prevent infection from happening.
Top 7: Avira Antivirus Security
Price: Free & Paid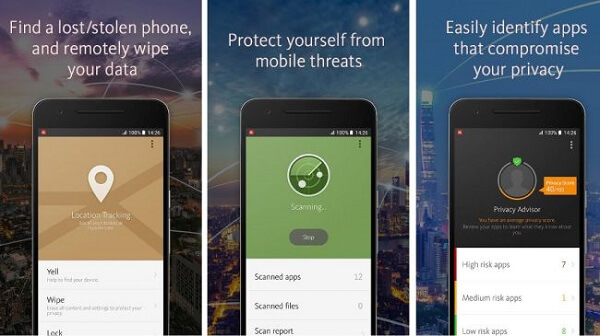 Key features:
1. Scan and remove virus from Android internal and external storage.
2. Check email addresses in your contact list.
3. Rate a privacy scale manually.
Top 8: AhnLab V3 Mobile Security
Price: Paid with free 10-day trial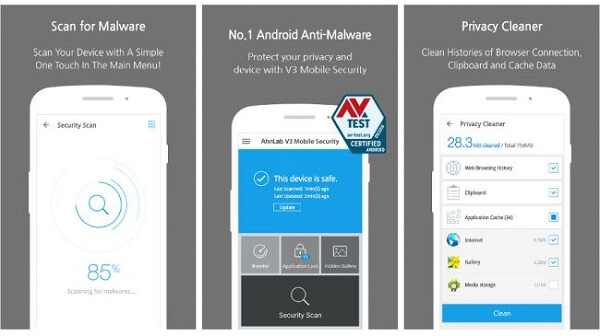 Key features:
1. Compatible with a wide range of Android devices.
2. Speed up the performance of Android phone.
3. Detect and clean malware.
Top 9: AVG Free AntiVirus for Android
Price: Free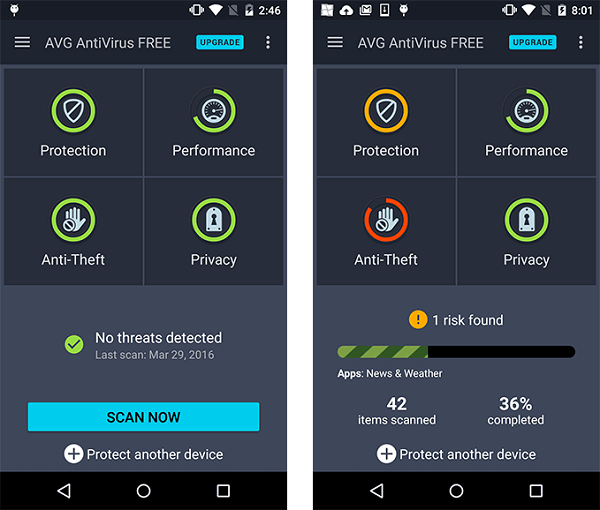 Key features:
1. Scan and clean viruses for free.
2. Block websites with illegal content.
3. Schedule scans when you are convenient.
Top 10: Trend Micro Mobile Security & Antivirus
Price: Free & Premium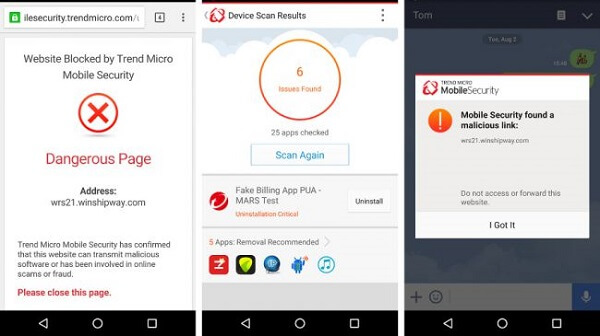 Key features:
1. Scan new apps for malware.
2. Prevent apps from accessing other data.
3. Contain a privacy scanner for Facebook.
Part 3: How to remove virus from mobile
If you suspect your Android phone might have a virus, there are two methods you can try to get rid of it.
Method 1: Remove virus from Android using a third-party antivirus app
We use AVG Free AntiVirus for Android as the example to show you the procedure.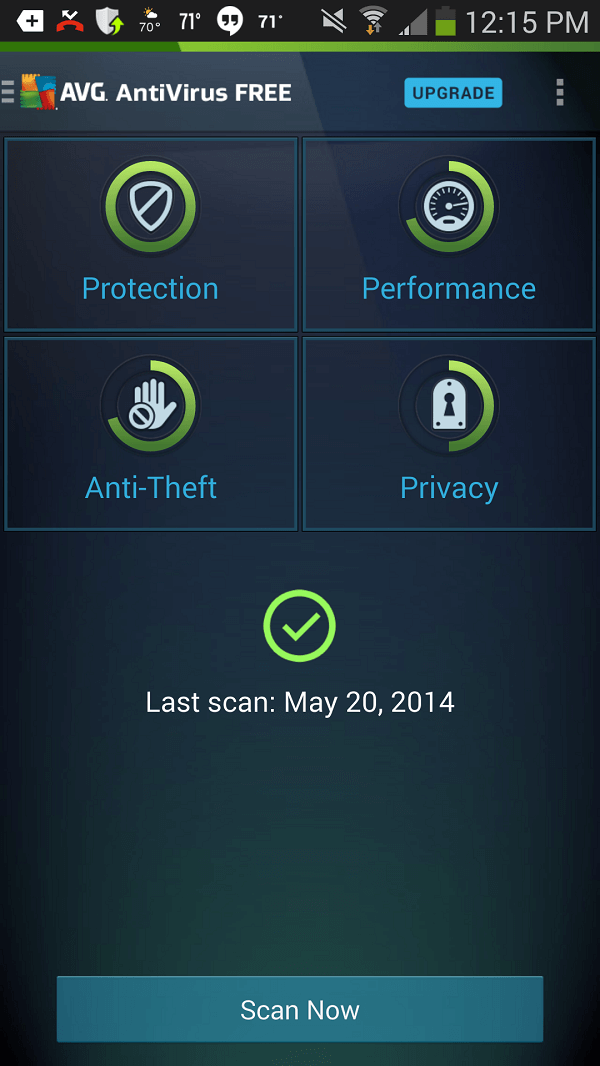 Step 1 Open the antivirus app from your app drawer and tap the Scan Now button. It will scan and check all files and apps on your phone for any virus.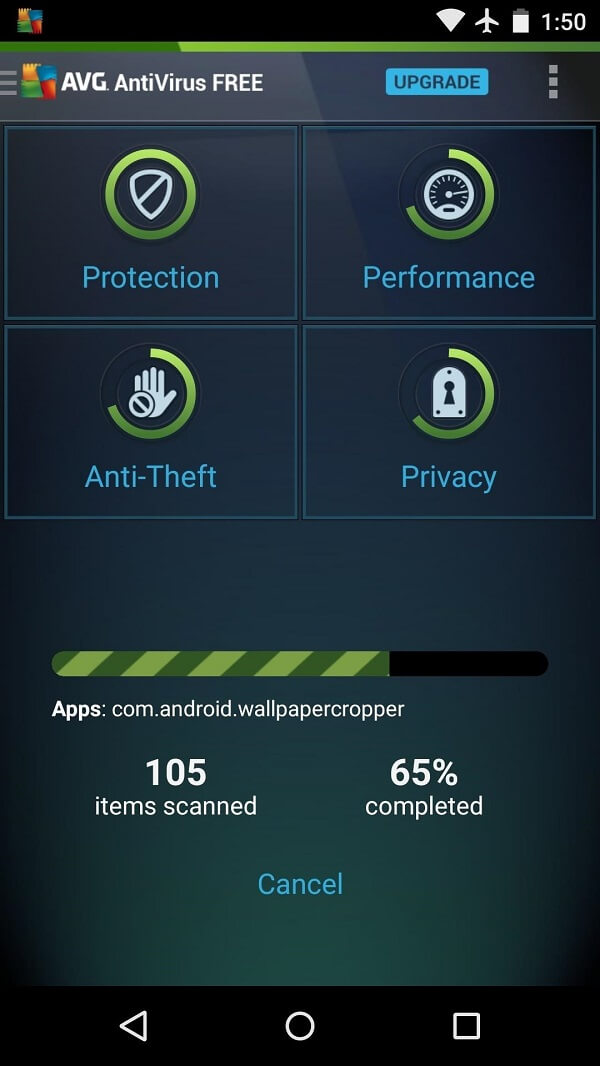 Step 2 If a virus is discovered, tap Resolve to remove it and uninstall the malicious app.
Method 2: Clean viruses out of your phone manually
If you do not like antivirus app, you can get rid of virus on Android manually as well.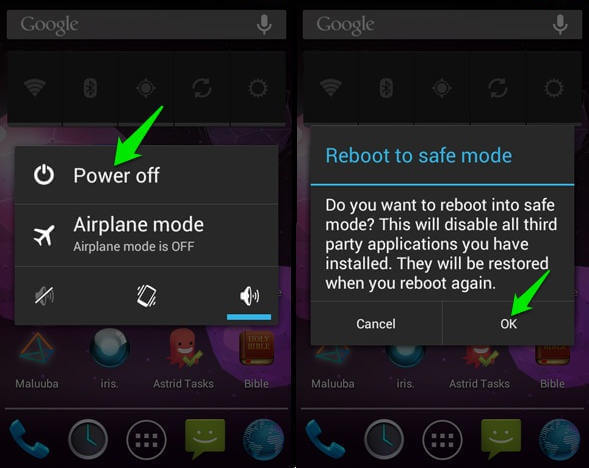 Step 1 Boot into Safe Mode on your Android phone. Press the Power button to activate the power-off screen, hold down the Power off option for a while until you see the Reboot to safe mode message. Tap OK to move on.
Tip: Android will not load third-party apps in Safe Mode. That could help you to identify and remove malicious app manually. (Do not need Safe Mode? Just turn off Safe Mode on Android phone.)
Step 2 When go into Safe Mode, run the Settings app and head to Applications, App Manager, or similar option.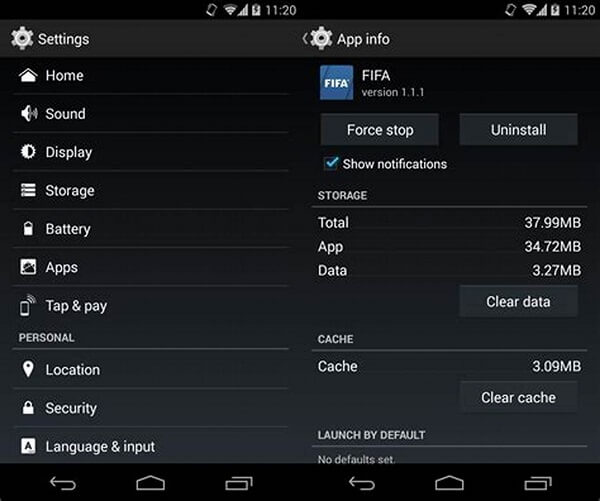 Step 3 Select the suspicious app and press the Uninstall button to remove it from your device. If the Uninstall button is unavailable, move to the next step to remove administrator access first.
Step 4 Head to Settings -> Security -> Device Administrators. Select the malicious app and press Deactivate. Now, you can back to the App Info screen and uninstall it.
Step 5 After removing virus from Android phone, you should clear cache data and APK files. Next, press the Power button, touch the Restart option on the power-off screen to go back to the normal mode.
Note: It is a bit complicated to remove virus manually, but this method does not require any extra apps.
Part 4: How to recover deleted files after virus removal
Sometimes, important files may be deleted when removing virus on Android. Antivirus apps, for example, may treat your files as virus because it contains sensitive information. Don't worry! FoneLab Andorid Data Recovery could help you to get it back.
Recover data from Android without backup simply.
Support photos, videos, audio, contacts, and more.
Get back deleted files from both internal storage and SD card.
Preview lost data for selective recovery easily.
Available to all conditions, like accidental deletion, system crashing, etc.
Compatible with all Android devices from major manufacturers.
Apparently, Andorid Data Recovery is an excellent tool to retrieve lost files and data during virus removal on Android.
How to recover deleted files after virus removal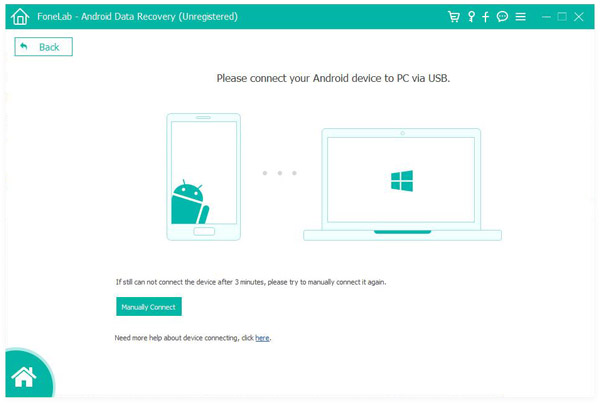 Step 1 Connect Android phone to your computer
Download and install Andorid Data Recovery on your PC. There is another version for Mac machines. Then launch it from your desktop and hook up your Android phone to your computer via a USB cable.
Note: You need to turn on USB Debugging mode on your phone in Settings -> Developer options. If you cannot find it, follow the on-screen instructions to achieve it.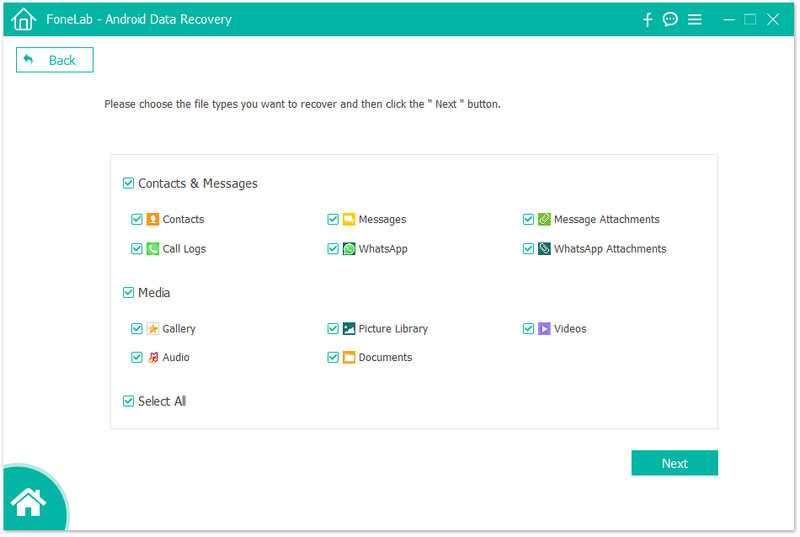 Step 2 Preview lost Android data
After your phone is detected, you will be presented the data type window. Select what data you want to recover, like Contacts, Messages, and more, and click the Next button to open the preview window. Here you can look at you the content of your files.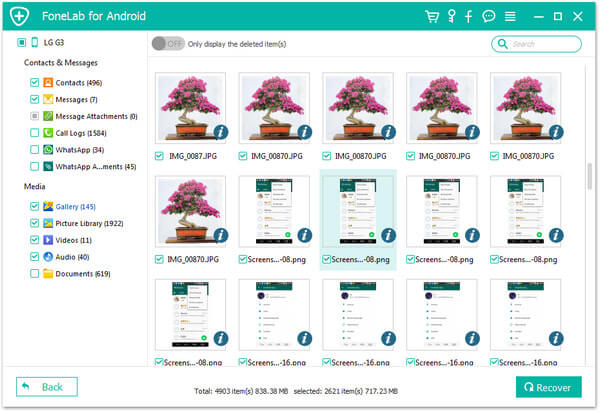 Step 3 Recover deleted files in one click
Tick the checkbox next to each file that you want to get back, and click on the Recover button at bottom right corner. When prompted, select a folder to save your files and initiate data recovery after virus removal on Android.
Part 5: Tips to avoid Android virus and malware
In order to avoid future attacks after virus removal on Android, you should follow the tips below:
1. Always install apps from Google Play Store unless the sources are reputable. Most viruses and malware are delivered by third-party APK files that you installed from internet. Once you enable the Unknown Sources option, your device will lose any protection. Even though you want to install an APK, make sure it is downloaded from trustable sources.
2. Avoid cloned apps. Most apps downloaded from Google Play are safe, but sometimes they may contain malicious code. That will visit your information, like account. We suggest you to use the apps from famous developers in Google Play. Plus, you should read the reviews carefully.
3. Read app permissions. Many people tap permit on all the notifications when installing an app. No matter where you get the app, check the permissions and learn to say no.
4. Update software. Google and your manufacturers release updates for Android frequently to introduce new features and fix bugs. It is well known that cyber criminals utilize these bugs to attack your device, so you should install the update once there is an available one.
5. Have an antivirus app. Android does not provide firewall or similar features. However, you can find a proper antivirus app according to our reviews above.
6. Reset to factory settings. The most drastic solution of virus removal on Android is to reset your device to factory conditions.
The downside is that all your files will be deleted, so you should back up your phone with Aiseesoft Android Data Backup & Restore.
Make a backup for entire phone in one click.
Preview your data and back up certain data types.
Not damage existing data on your Android phone.
Keep Android data and files in the original conditions.
Support Android devices from Samsung, LG, Sony, etc.
Learn the detailed steps here to backup Android.
Conclusion
Now, you should understand what you can do when you suspect that your phone is infected by virus or malware. First of all, Android devices will perform slower as time goes by, but if it displays the symptoms we shared in the first part, chances are that your phone has a virus. Nevertheless, you can remove virus from Android phone with two methods. Antivirus apps are easy to use, but you have to download it from Google Play Store.
On the other hand, you can try to remove virus in Safe Mode following our guide. Moreover, we also shared a way to recover lost files during virus removal, FoneLab Andorid Data Recovery. We hope that our suggestions and recommendations are useful to you.