Simple Methods to Put iMovie Video into YouTube
iMovie is probably a great tool to edit your videos on Mac, but it can be tricky if you want to share iMovie videos to YouTube. In face, YouTube upload from iMovie has been a common questions around Mad users.
The instruction is about the procedure for uploading iMovie to YouTube and the problems when you upload video YouTube from iMovie. The article can solve the problems and help you perform YouTube upload easily.
Problems for uploading iMovie to YouTube
Q: YouTube will not take iMovie project when I upload the video of iMovie to YouTube?
A: It might relate to the file format, you can convert the file to a QuickTime format or other common used video formats first. Please also make sure the file of iMovie is not too large for YouTube upload.
Method 1. Convert iMovie video to QuickTime
Launch the program, and then select the "Share" button.
Choose the "QuickTime" option.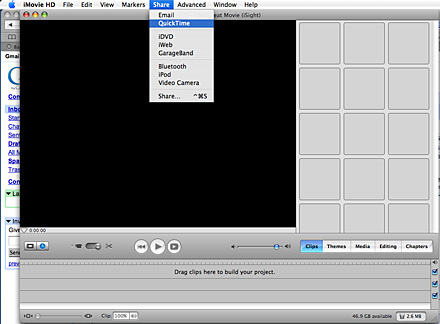 Click on the menu for your compression options and select web.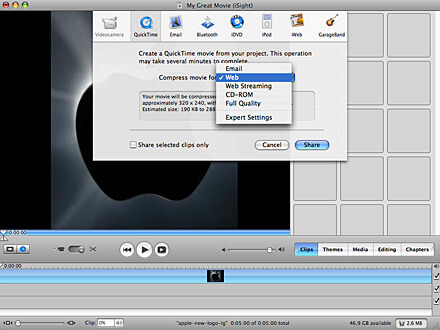 Log in the YouTube account and then click the"Upload" button to import the iMovie to YouTube.
The upload procedure might take a few minutes, and few more hours before you can find the iMovie on YouTube.
Method 2. Convert iMovie video to other popular video formats (recommended)
Other than the method above, you can also adopt another method to convert iMovie video to other common-used formats, which is more convenient. To do this, you'll need the help from a powerful video converter. Here I highly recommend one professional video converter for Mac. You can free download it and learn how to convert iMovies video to Mac here.
Q: iMovie says it is uploading to YouTube, but video never shows up
1. As for the problem, you can use a relatively short title with no special characters for uploading iMovie to YouTube. Do not use quote marks or other special characters in tags, descriptions as well. You can add special characters after you uploaded iMovie to YouTube.
2. If it still does not work, you can export video from iMovie to a folder in MP4, and then use YouTube uploader to import iMovie video to YouTube. If you just want to upload video to YouTube from iMovie, you can delete the "cashes" folder from the "Library" and the "com.apple.imovieApp.plist" file.
How to upload iMovie to YouTube?
You can follow the tutorials below to perform YouTube Upload easily: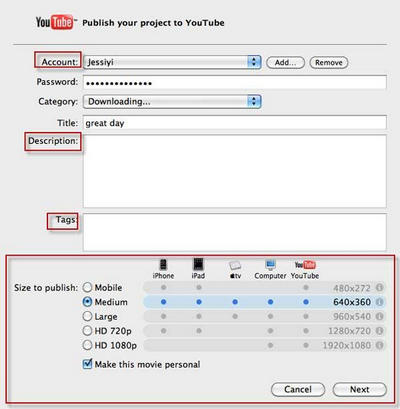 1. Make sure your video is the one you want to share, then click the share button in the menu bar and select YouTube.
2. Choose your YouTube account or create a new one.
3. Confirm your sign in.
4. Select the category, name, description, and tags for your video.
5. Select your publish size and click Next.
6. Now click the publish button.
7. Your video will be ready to watch on YouTube in 2-120 minutes.
Alternatively, if you have some YouTube videos and want to import to iMovie for editing, you can turn to YouTube videos to iMovie for help.