How to Combine GIFs into One with Efficiency
We may need to combine multiple vivid GIF files into a single one in order to make it more interesting and appealing. But it is difficult for us to find easy-to-use software to rely on. In the following article, there are some helpful applications for you to consider, I'm sure that you can find a suitable GIF combiner with ease.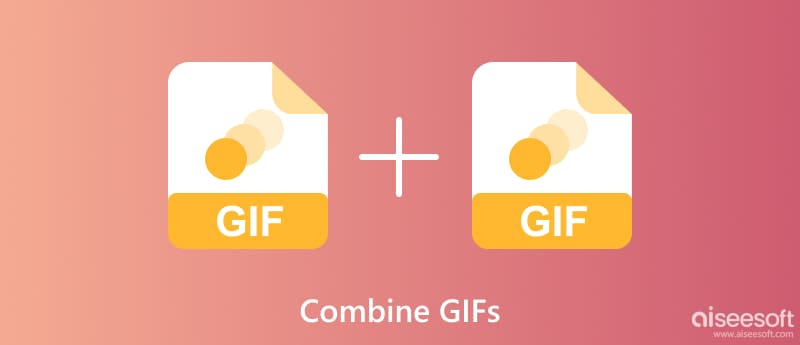 Combine GIFs
Part 1. Best GIF combiner to combine GIFs into one
Aiseesoft Video to GIF Converter should be the all-in-one GIF combiner to combine GIF files as well as videos into one. It promises to produce high-quality GIFs on both Mac and PC. It is a functional GIF combiner for you to take it into consideration.
1. Convert different video formats to GIF files, such as MP4, AVI, MOV and other formats.
2. Combine GIF files or even the video files into one GIF file, which you can share to social media websites.
3. Adjust the output GIF files, such as the encoder, resolution and more other output profile settings.
How to Combine GIFs into One with Video to GIF Converter
Step 1 Add GIF files or video files
Import your desired GIF images or video files into the program. You can click the "Add File" button to add all GIF files before combining them together.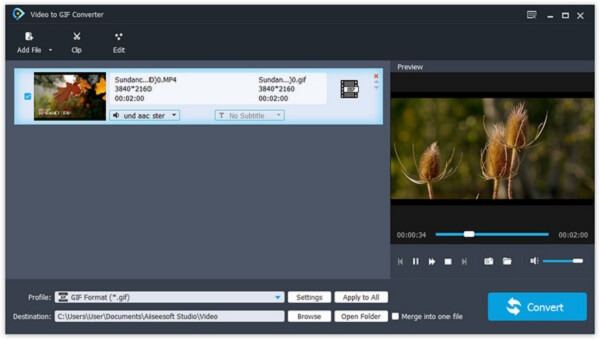 Step 2 Check the desired files
Checked out all GIF files you have prepared to combine. Adjust your settings and create your personal style of the output GIF.
Step 3 Further edit the GIF files
You can use editing tool to trim, crop as well as cut the GIF images. Also, you can accelerate the speed, slow down the action, etc.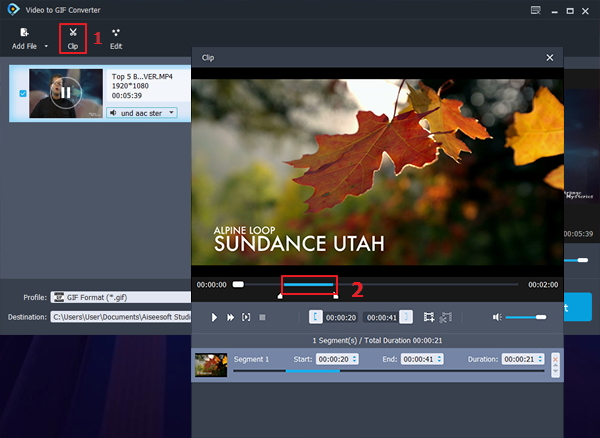 Step 4 Combine GIFs into one
Have a GIF preview and start to combine GIF images. And then you can check the "Merge into one files" to combine GIF files.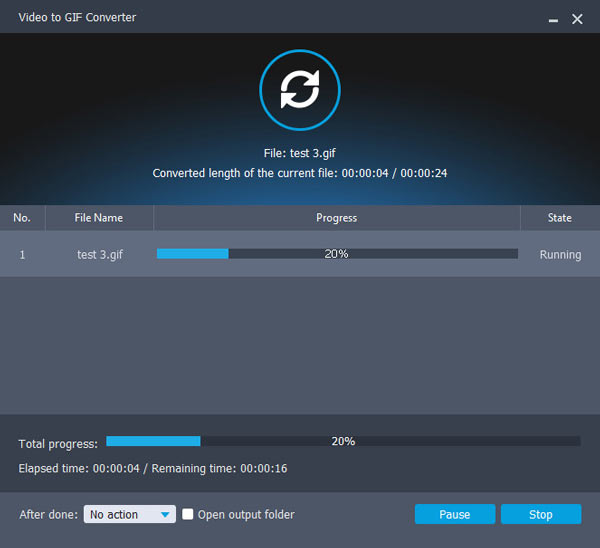 Part 2. Top 3 Fabulous Application to Combine Your GIFs
Top 1: Ezgif.com
Ezgif.com is an online multipurpose tool to help you combine multiple GIFs into a single one. Without downloading and installing, you can directly make use of it online. You are allowed to hit GIF Maker to combine your GIFs. Ezgif.com provides easy access for users to adjust the effects according to their preferences. Here come its specific instructions for you to consult.
Step 1 Go to its official website and import GIF files you want to combine. Moreover, with some still images, you can also create some GIF files no matter what the formats they are.
Step 2 After finishing uploading, all GIF files will be displayed according to its alphabetic order, and you have the capacity to change their orders.
Step 3 Click the "Animate It" button and it will offer a general preview for you to check the information.
Step 4 It is an optical choice. You can choose to optimize your GIF file using a variety of optimization options Ezgif.com provides, such as rotate, reverse, speed adjust, text and so on.
Step 5 Just hit "Save" to begin combining GIF files into one.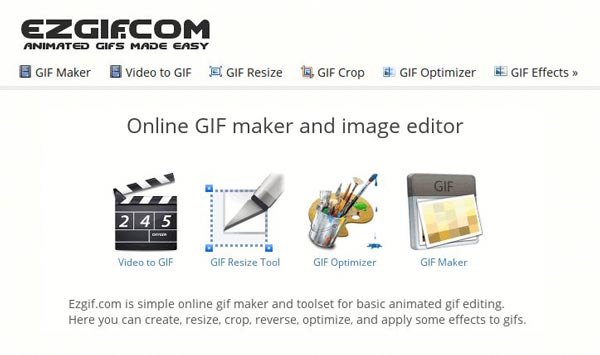 Top 2: GIFMaker.me
As the name suggests, GIFMaker.me is another practical and helpful free online tool that is specially designed to make GIF files. You are allowed to resize and compress your images. Through its introduction on the left of your screen, you can combine GIF files with easy. Just check out more details from the following steps.
Step 1 Import your wanted images. You can press "Ctrl" on your keyboard to quickly choose many images. But you are only permitted to upload 300 images at most.
Step 2 After having a small preview of all GIFs, you can adjust "Canvas size" by moving your mouse pointer or you can enter the numbers.
Step 3 Adjust the speed of animation just as the step 2. And you can also enter the accurate data.
Step 4 Click "Combine Animated GIFs" to begin merging GIF images into a single one.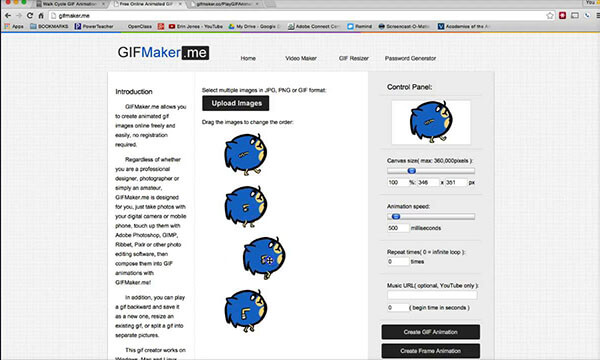 Top 3: Adobe Photoshop
As a very popular and famous versatile application, Adobe Photoshop can also assist you to combine GIFs into a single one with efficiency. Considered as one of the top GIF combiners which are able to deal with a large number of images or GIFs, Adobe Photoshop can play GIF images side by side after merging. In what follows, easy tutorials are prepared for you to refer to.
Step 1 Download and install Adobe Photoshop on you Mac or PC.
Step 2 After that, run the software and upload your GIF files to its individual tabs. You can see all GIF images on the screen at the same time by resizing their tabs.
Step 3 Make sure Timeline in Window menu is marked.
Step 4 Create a blank file, which has the identical height with the uploaded GIFs. And you can customize the settings based on your needs.
Step 5 Go to first GIF file and timeline toolbar, and after you find menu icon, you are supposed to copy all frames.
Step 6 Go to the blank file and paste all your previous copied GIF images here. Click Paste Over later.
Step 7 After accomplishing all your imported GIFs, it is a must for you to separate elements of them.
Step 8 Ensure the destination of your output GIF file and customize its settings after your careful checking. Remember to tap "Save" to finalize the process of combining GIFs.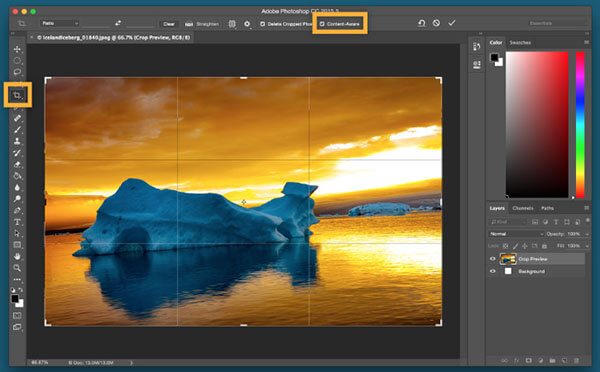 Part 3: Aiseesoft Video Converter Ultimate Helps You to Better Combine GIFs
The salient feature of Aiseesoft Video Converter Ultimate is merging. It is said to be a very versatile and professional application. With a very friendly interface, you will have no difficulties having a good command of its all functions, such as combining GIFs to one. There are more than 500,000 users regarding it as their primary choice, and in order to give users better experience, it owns a two-minute video tutorial. It is also suitable for Windows and Mac. The following article explains some detailed instructions for you when you are merging multiple GIF images into one.
Step 1 Download and install its latest version on its website
Step 2 Click "Add File" to import files.
Step 3 Edit your uploaded GIF files. You can clip, add 3D effect and so on. And you can also change the settings.
Step 4 Make sure your destination folder for saving output GIF image.
Step 5 After that Mark "Merge into one file" option to combine GIFs together.
Step 6 Click "Convert" to launch the combing process.