How to Convert PNG to JPG? This Best Tutorial Can Tell You
Summary: What is PNG? What is the difference between PNG and JPG? Want to convert PNG to JPG? How to open PNG files? How to edit PNG images? This post will give you the answers.
PNG and JPG have been the most widely used image formats by far. Many people would prefer the PNG format as it uses lossless compression.
PNG has been regarded as the alternative to GIF format since 2013. But do you really know PNG format?
Let's move on the next part to get the answers.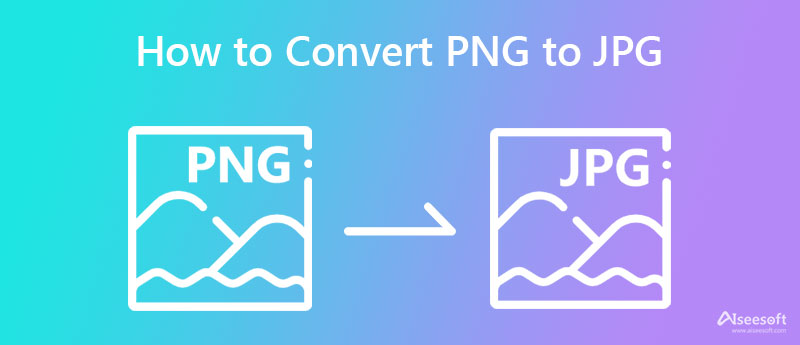 Convert PNG to JPG
What Is a PNG File
PNG format stands for Portable Network Graphics. It is a raster graphics file format that supports lossless compression. People like this image format as it can be used to store graphics on websites and many operating system store screenshots in the PNG format by default, such as macOS as well as Ubuntu.
When it comes to the image need to be transparent, PNG is very useful for making illustrations, doing photography, designing a website and so on.
PNG VS. JPG
PNG and JPG are all widely used. Based on W3Techs, JPEG is the most popularly-applied image extension, used by 73.5% of all websites. PNGs come in at the second place about 72%.
PNG
PNG was designed to replace GIF format. PNG works well in online viewing applications, like the World Wide Web, so it is fully good with a progressive display option. The MIME media type for PNG is image/png.
PNG is the replacement of GIF. However, PNG document cannot support animations, different with GIF. PNG is a format for storing bitmapped (raster) images on computers.
It was released firstly to take the replacement of the GIF image format. PNG applies indexed colors and lossless compression like GIF format, but it cannot be animated like a GIF image without copyright limitations.
PNG format is a lossless compression image format, and it is popularly used on the Web. PNG is a good choice for iconic graphics, storing line drawings or text at a small file size.
JPG
You might be confused between JPG and JPEG. JPEG or JPG, is a file extension that means Joint Photographic Experts Group. The MIME media type for JPEG is image/jpeg (defined in RFC 1341), except in older Internet Explorer versions, which provides a MIME type of image/pjpeg when uploading JPEG images. JPEG is also defined with the additional extensions: .jpe, .jif, .jfif, and .jfi.
PNGs applies a lossless compression, the file sizes are smaller than JPG files. JPGs use lossy compression, different with PNG files.
JPGs are commonly used for photographs. The size of each JPG file seems larger than PNG ones.
However, the JPEG format is better for color and a slight loss of quality due to compression, most importantly. People would like to edit pictures or photos. However, editing will degrade the quality. One solution is to use RAW JPEGs, and you are able to determine your edition, and then save out the final version without re-saving multiple times. So many people would like to convert PNG to JPG, especially for those people who like editing or re-saving pictures.
How to Convert PNG to JPG Online
Probably every single image file converter that you run across will be able to convert a PNG file to another format, such as GIF, JPG, GIF, BMP, PDF, ICO, TIF, etc. There are some recommendations, including FileZigZag and Zamzar.
Use FileZigZag to Convert PNG to JPG
FileZigZag is a free online image converter, which allows you to convert your PNG image extension to JPG format easily and fast. Just upload your PNG file and then select JPG from conversion list. You can download the converted image file instantly or by email after the conversion is over.
URL: https://www.filezigzag.com/png-jpg-en.aspx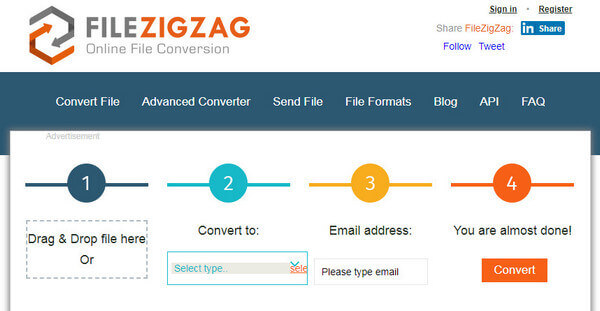 Step 1 Drag and drop your PNG file into the specific area.
Step 2 Choose the output format JPG from the "Select type" drop-down list.
Step 3 Enter your email address for receiving the converted files.
Step 4 Finally click the "Convert" button.
Use Zamzar to Convert PNG to JPG
Zamzar is another well-known online converter that you can use to convert PNG to JPG. As long as the PNG file size is not beyond 50 MB, you are able to use Zamzar online tool to convert PNG to JPG. Besides, it supports other image format or text formats.
URL: https://www.zamzar.com/convert/png-to-jpg/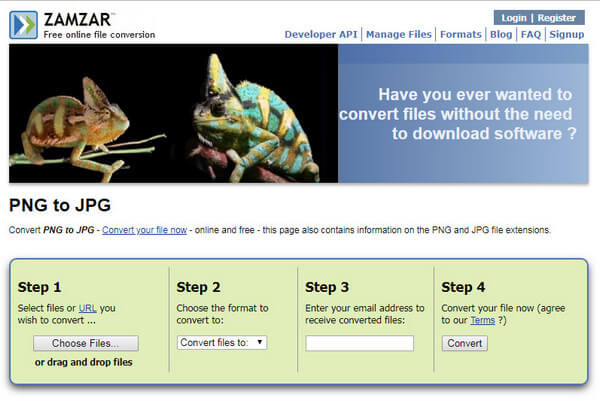 Step 1 Copy and paste https://www.zamzar.com/convert/png-to-jpg/ into your browser to open the image converter page.
Step 2 Click the "Choose Files" button, select all PNG images you want to convert, and click "Open" to upload them. Zamzar allows you to convert up to 10 PNG images no more than 50MB at one time.
Step 3 Pick up "JPG" from the drop-down list as the output format to "Choose the format to convert to", enter your email address in the blank to receive the file. Click on "Convert" button finally to trigger PNG images to JPG conversion. Finally, the file will be sent to your email.
2 Best PNG makers/converters for computer
Use Photoshop to Convert PNG to JPG
Photoshop may be the most widely-used tool to convert PNG to JPG without reducing image quality. However, it is not free. Therefore, if you have this photo editing software installed on your PC, you can certainly use it.
Step 1 Open the PNG image that you want to convert to JPG with Photoshop.
Step 2 Press keys "Ctrl + Shift + Alt + S" together. Alternatively, you can navigate File > Save in Photoshop. Now, you can choose the file format. Then select JPEG from the drop-down menu.
Step 3 Finally, hit the Save button and choose a path to get it done.
Another way for you to make PNG to JPG conversion is using Adobe Illustrator. If you have such tools, follow the same steps as Photoshop.
Use Paint to Transform PNG to JPG
For Windows users, it is easier to convert PNG to JPG. Paint application is a default Windows application that you can apply it to convert PNG files to JPG/JPEG without losing image quality.
Step 1 Open the PNG image with Paint from your Windows computer.
Step 2 Navigate to the menu, click File > Save as. Choose JPEG format. If you want to convert PNG to TGA, just select TGA.
Step 3 Choose a destination folder and enter a name. Confirm the file format is set to JPEG. Now hit the Save button to finish the conversion from PNG to JPEG.
How to Open a PNG File
The built-in photo viewer program on Windows can be directly used to open PNG files as it is included as part of a standard Windows installation, but you can use other ways to view PNGs.
All web browsers such like Chrome, Firefox, Internet Explorer and so on will automatically open PNG images. In another words, you don't need to download every PNG file you want to look at online. You can also use the web browser to open PNG files from your computer, by using the Ctrl+O keyboard combination to browse for the file. In addition, most browsers allow you to drag and drop PNG files to view, so you can open PNG image in this way.
In addition, there are some third-party image openers or services to let you view PNG files. Several ones include IrfanView, FastStone Image Viewer, XnView, Google Drive, Eye of GNOME, etc.
How to Edit PNG Files
Part 2: How to Remove Password from iPhone iPad with Recovery Mode
Want to edit PNG images? To edit PNGs, the very popular Adobe Photoshop we mentioned above can help you, but you know that it is not free. However, there are many online image editing tools that let you resize or edit PNG images easily.
1. Pixlr
Pixlr is a simple and flexible resizer. You can use this tool to edit PNG files easily, which allows you to create, edit and resize PNG images.
Besides, other image formats are also supported like JPG, TIFF, etc. Many users regard this online image editing tool as a mini-photoshop.
Pixlr is many people's favorite when they want to edit the PNG image while retaining the transparency intact.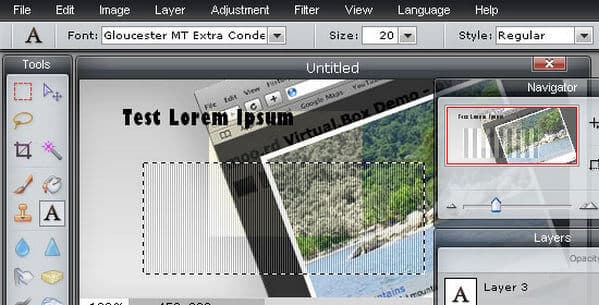 2. FotoFlexr
FotoFlexer is another free online image editor. It lets you edit transparent PNG images. How can you use FotoFlexr to edit PNG images?
Upload your photo, click the "Resize" button, type in your dimensions and hit the "Apply" button. Then click on the "Save" buttonl.
They also have advanced editing features which you may use if you need.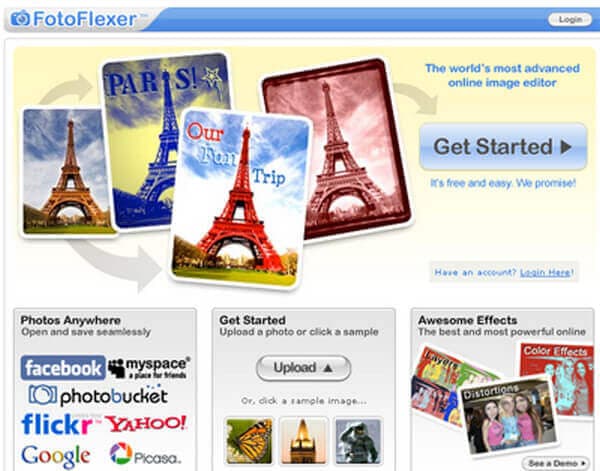 3. Images.My-addr
Image.My-addr is an easy-to-use PNG editor. You can use the tool to edit a lot of PNG images. However, this tool can only be used to resize the image and nothing beyond resizing. They do have other separate tools to convert images from one format to another.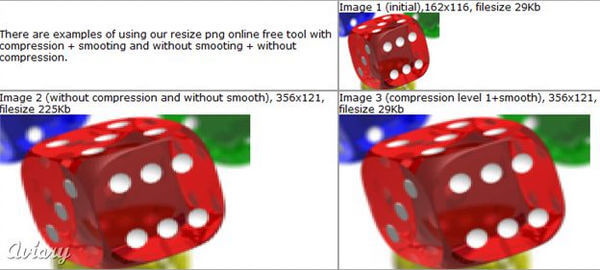 Recommendation: Produce JPG and PNG from PDF with PDF Converter Ultimate
PDF Converter Ultimate is the professional PDF converting software, which can help you convert PDF to Word/Text/Excel/PowerPoint/ePub/HTML/JPG/TIFF/PNG/GIF. With the award-winning OCR technology and superior recognition accuracy, it guarantees you a great PDF converting experience.
1. Convert image-based PDF to JPG, PNG and other formats without any limitation.
2. Transform a part of PDF document into image file.
3. Support converting PDF to Word/Excel/PowerPoint, etc.
4. Offer a variety of custom options to satisfying PDF conversions.
5. No damage on image quality during the PDF conversion.
6. Available to Windows 10/8/7/XP and Mac OS.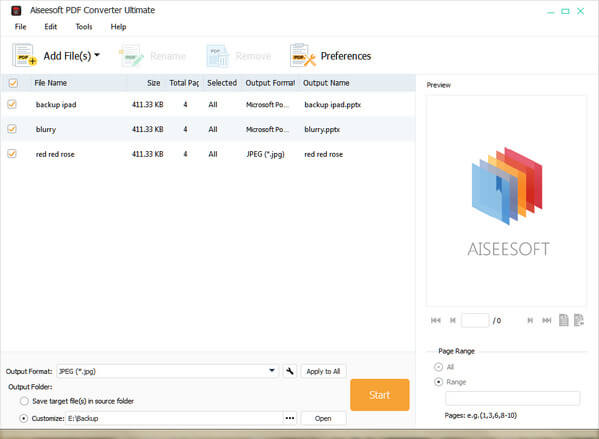 Learn here to convert PDF to JPG with this software.
Conclusion
There are definitely a few differences when you are comparing PNG with JPG. PNG file use a lossless compression ratio and have a few other abilities to use transparency and color palettes. JPGs on the other hand, use a lossy compression ratio which lets it sometimes be a better image format for photographs, than PNG.
Based on our introductions above, you might know more between PNG and JPG. Many people need to save JPEG/JPG to PNG in order to make a transparent picture. Some other would like to transform PNG to JPG as JPG has better image quality.
Online PNG converter is a portably convenient way to convert PNG to JPG. In this post, we introduce Zamzar, FileZigZag, etc. For PNG to JPG desktop conversion tool, Photoshop is a good choice, as it offers fast conversion and rich editing features. Preview may be also good for you if you want to convert PNG image to JPG/JPEG on Mac.
We also provide some tips on opening and editing PNG files. If you have any other suggestions, welcome to tell us.