How do You Make/Save/Send/Customize a Slideshow on iPhone X/8/7
Can I make, save and send a slideshow from my iPhone 7 Plus?
How can I add multiple songs to a Photo's slideshow?
How to play albums as slideshows?
There are many similar questions about how to make a slideshow on iPhone 7 Plus and other iOS devices. If you have the same problem, you just come to the right place.
This article introduces detailed steps of making a photo slideshow on iPhone and iPad.
What's more, you can also create a video slideshow here. Now, let's read together to solve above questions.

How to Make a Slideshow on iPhone
Part 1: How to Make, Save and Send a Slideshow on iPhone with Music
Actually, Photos app is a free iPhone slideshow app for all iOS users. You can make a slideshow on iPhone with music, too. Thus, there is no need to install other slideshow maker apps. Most features are available within the built-in free slideshow maker.
Step 1 Create a new album
Open the Photos app on your iOS device. You can choose whether to sort out images by day, week or year or not. Moreover, it also supports to create a new album with all images you need.
Head to the "Albums" section. Tap the "Add" icon on the top left corner. Enter a new name for this album. Later, tap "Save" to move on. You can browse and mark before your target photos. Tap "Done" option to save your changes.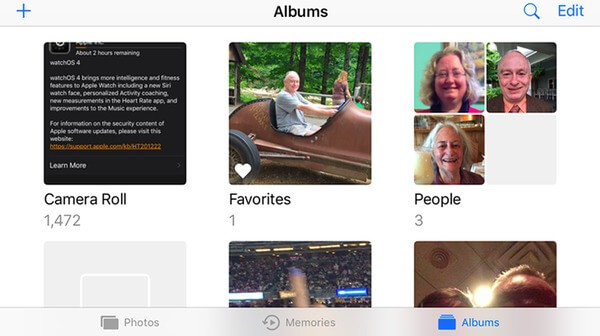 Step 2 Generate photos into a slideshow
You can find your newly created album in the "My Albums" section. Open this album. Find and tap the right-side arrow on the top right corner. Consequently, all contained pictures will be generated into a photo slideshow.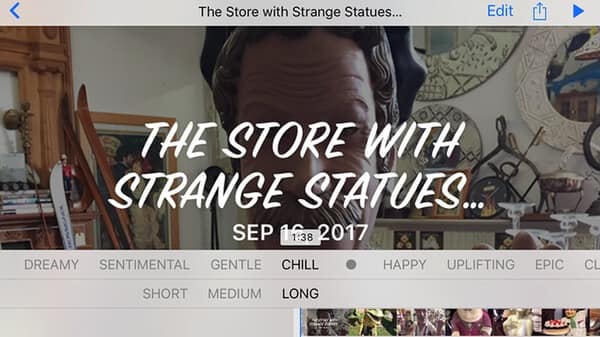 Step 3 Apply editing effects
Now you can choose from various themes. Each slideshow theme has its specific font and background music. Later, set the duration and preview the output effect carefully.
You will be prompted to add this slideshow movie to Memories. So tap "OK" to confirm. Well, you can also customize the title, music, duration and photos within the Photos app.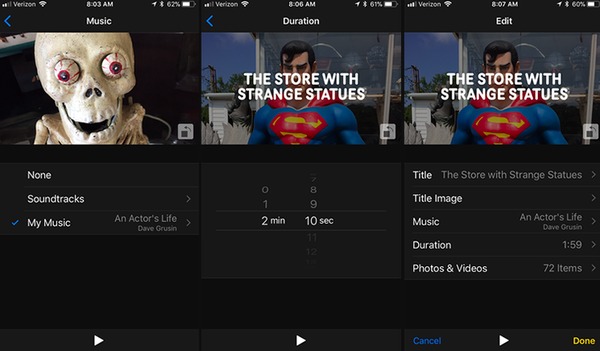 Step 4 Export your photo slideshow
After all customizations, you can tap the "Share" icon to send the selected slideshow video. Choose "Next" to move on. Later, you can choose the social media platform, such as Facebook, OneDrive, YouTube and more. When you save a slideshow, you can find this video in your Videos album.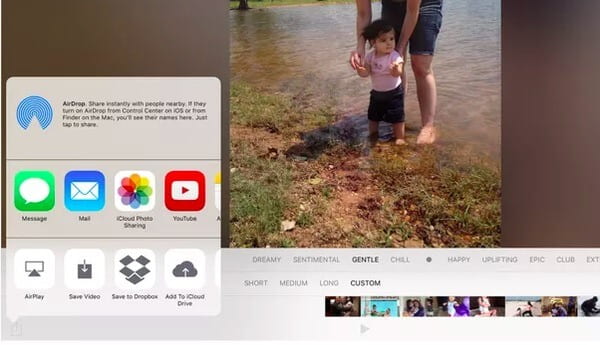 Furthermore, you can make a memories video on iPhone using Photos app, too. The main difference is that you need to select photos of one person or under the certain time.
Part 2: How to Change Settings of a Photo Slideshow on iPhone
What if you want to customize the previous slideshow video on iPhone?
Of course, you can adjust all slideshow settings after the customization.
For instance, you can change the background music with other audio files. Moreover, Photos app also allows users to manage the transition speed and other preferences.
Step 1 Get the Slideshow Options window
Play a slideshow on your iPhone as usual. Tap the iPhone screen while the slideshow is running. Then choose "Options" on the lower right corner. You can get a popping-up window with the name of "Slideshow Options".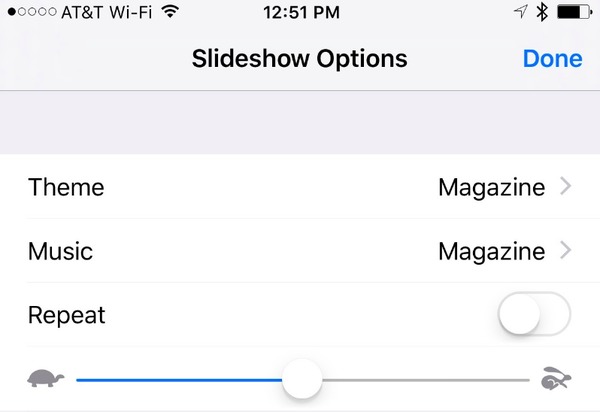 Step 2 Change the theme
Select "Theme" in the first place. You can choose from "Origami", "Dissolve", "Magazine", "Push" and "Ken Burns". Once you choose a new theme, it will be applied to your slideshow automatically. Sooner, you will be taken back to the "Slideshow Options" window automatically.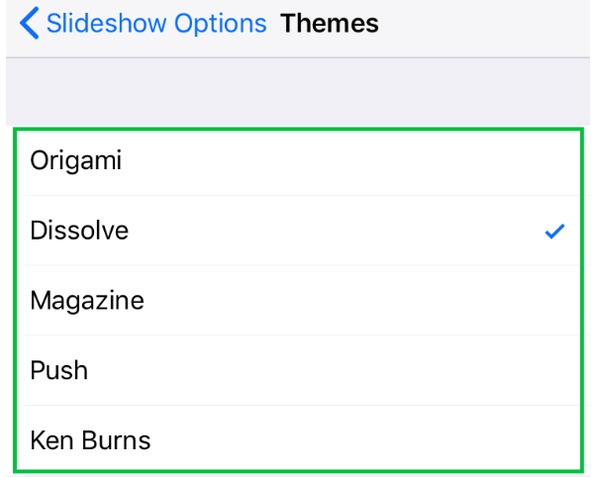 Step 3 Manage other slideshow options
Well, you can change the default background music with iTunes music too. If you want to make a GIF slideshow, you can trigger the "Repeat" option to the "On" state. As a result, the slideshow will run in loop endlessly.
What's more, you can manage the transition speed too. When you move the speed slider to the right side, the transition speed will be improved relatively. In another word, if you want to play a slideshow in a short time, you can move the slider near the "Rabbit" icon.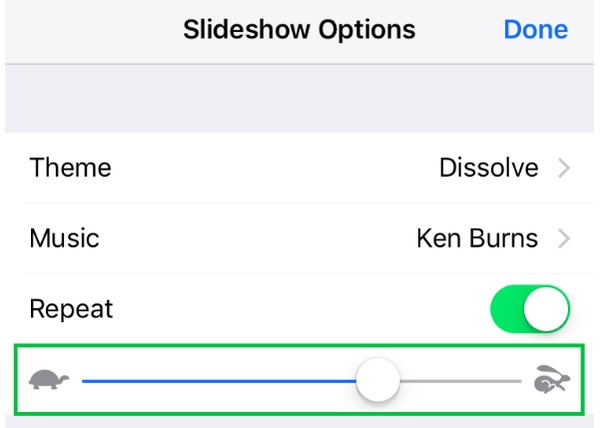 To save a slideshow on iPhone 8 or other iPhone models, you can tap the "Done" icon on the top right corner. Later, you can preview the slideshow video with all new changes.
Part 3: How to Make a Photo/Video Slideshow with Music and Play on iPhone
Though you can make a slideshow on iPhone for free, you cannot get much editing filters and themes. During this time, you can turn to Aiseesoft Slideshow Creator to get more features. This slideshow creator software provides an intuitive interface. Thus, both beginners and professionals can make slideshow videos of previous memories with ease.
Do not worry about the compatible issue. Actually, you can export the slideshow video to iPhone XS Max/XS/XR/X, iPhone 8, iPhone 7 and all Apple devices in high quality directly. In a word, you can regard it as an alternative way to make a slideshow on iPhone.
What Can You Get from the Slideshow Maker Software
Make slideshow videos with photos, movies and music files in different formats.
Get various movie styles, such as romantic slideshow, wedding slideshow, travel slideshow and more.
Create your own theme with 31 types of text effects, 31 transition modes, 32 kinds of filters and 37 selections of elements.
Wide support of output video formats and compatible digital devices.
How Do You Create a Slideshow with Background Music
Step 1 Import media files
Launch Aiseesoft Slideshow Creator on your Windows computer. Click "Add Files" from the "File" drop-down menu on the top. Select photos and videos you want to import to the timeline. In addition, you can click the "Add background Music" icon on the lower left corner to add songs too.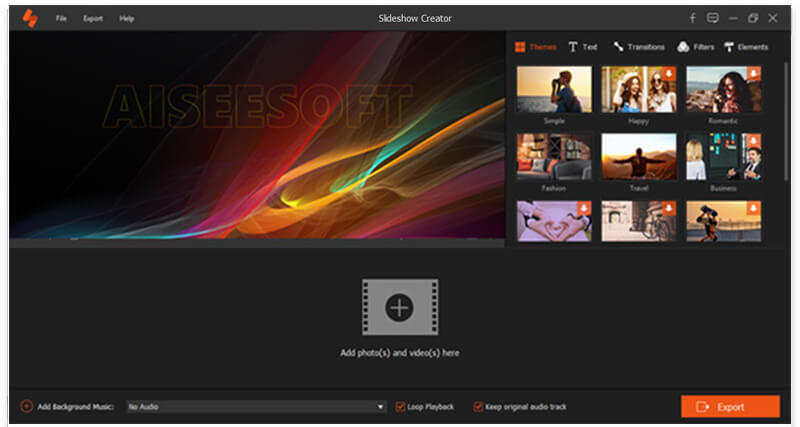 Step 2 Apply editing effects
Choose "Edit" to rotate, crop or do other customizations. There is a real-time preview window on the main interface. Therefore, you can monitor all your changes instantly. Moreover, you can adjust the duration accurately. Choose "OK" to move on.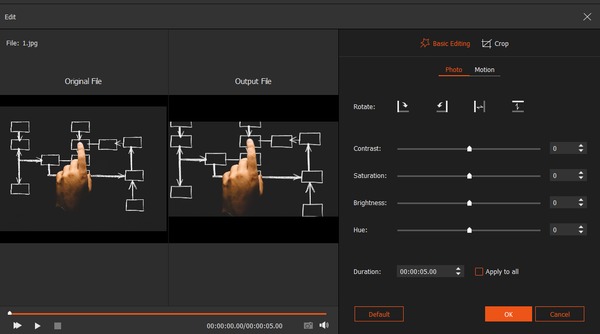 Step 3 Select the theme
You can see all pre-designed themes and stickers in the right panel. So browse those items carefully. If you want to add the slideshow theme, you can hover your mouse and click the "Add" icon above it. The timer tab will reflect all your changes. Therefore, you can add or remove any slideshow effect easily.
Step 4 Save your slideshow
If you want to finish the process, you can click the "Export" icon on the lower right corner. Locate the "Device" section. Choose "Apple" in the left panel. Later, you can choose which iOS device you need. At last, choose "Convert" to export your slideshow video.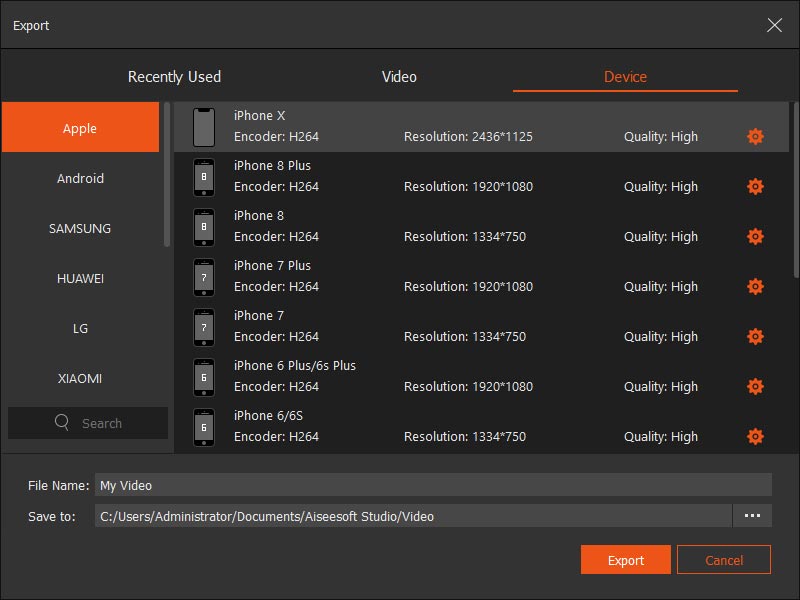 What's more, you can adjust the video resolution, quality and output settings in the same "Convert" window, too. Later, you can transfer your masterpiece to Apple iPhone or iPad for playback if necessary.
Here's the video about making slideshows for you. Click it to check.
That's all for how to make a slideshow on iPhone with background music. Please share this article if it works. You can also write down your suggestion or question in the comments below. We are glad to help you solve any question whenever you need.