Part 1. The Best All-in-one iPhone File Manager - Aiseesoft FoneTrans
Aiseesoft FoneTrans is the best alternative to iTunes to handle the device management of iPhone. You can also use it to manage iPod without iTunes. It helps users to bypass all the restrictions of iTunes and it's easy to use. You can use it to sync and manage photos, music, contacts, messages, videos, notes, calendars, etc. from iPhone/iPad/iPod. You can also use it to transfer files between iOS devices or between computer (Windows & Mac) and iPhone/iPad/iPod.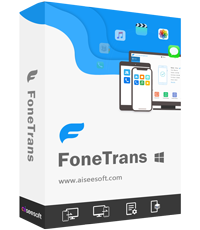 Downloads
Transfer data among iOS devices and the computer seamlessly
Sync all sorts of Files for iPhone, iPad and iPod Safely
Manage iOS data on computer smartly and easily
Backup & restore contacts without loss
Make ringtones of your own with your favorite music
FoneTrans is the most powerful software to manage your iPhone data. After knowing about it briefly, you can download it and have a try. Now, follow the detailed guide down below.
Part 2. How to Manage Data on iPhone with FoneTrans Easily
Although with so many powerful functions, FoneTrans is easy to operate. The interface is intuitive and the process is easy to learn. Now, follow the detailed guide and have a try yourself.
1. How to Manage Photos on iPhone
Step 1. Connect iPhone with PC
Connect your iPhone with your computer using a USB cable. Your device will be detected automatically.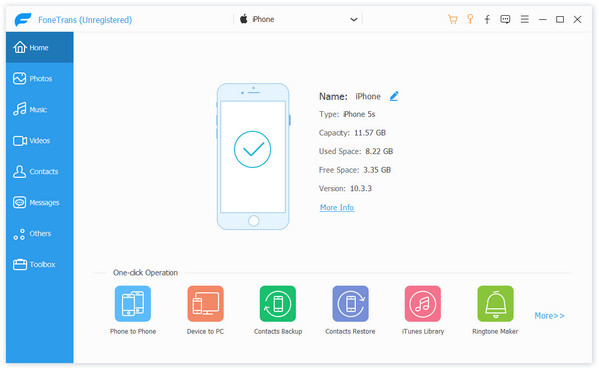 Step 2. Transfer Photos from PC to iPhone
You can add photos from your computer by clicking the
Plus
icon from the top menu. Select the wanted files from the computer and you'll see those photos on your iPhone later.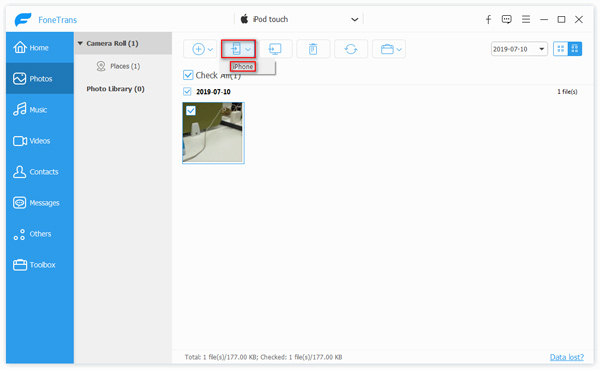 Step 3. Delete Photos on iPhone
Select the photos you do not want and click the
Recycle Bin
icon to delete them from your iPhone.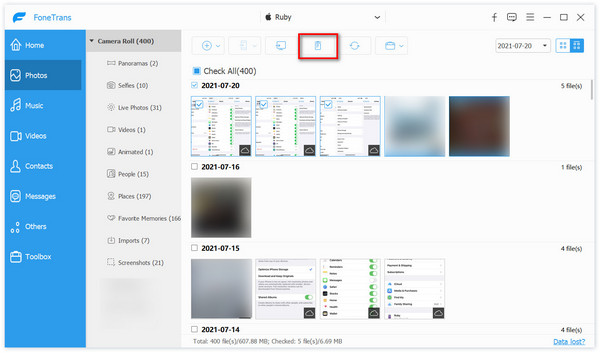 Step 4. Create New Album
Right click the interface of
Photos
and choose
New Album
. You can rename it and get a new album on your iPhone.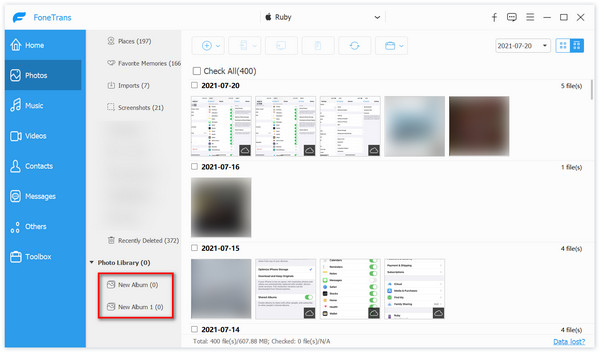 Step 5. Export Photos
If you want to export the selected photos to another iOS device. You need to connect the target device to the computer, too. Then click
Export to Device
. If you want to export to the computer, just click
Export to PC
.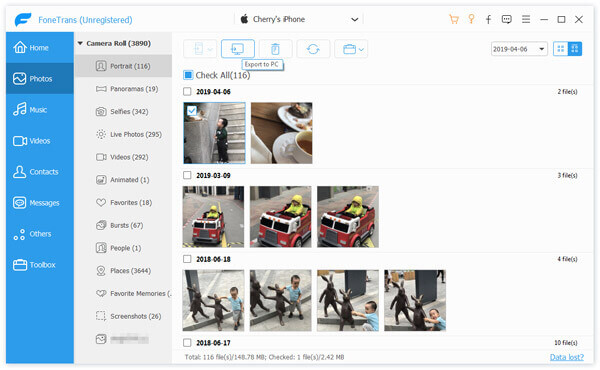 2. How to Manage Music with FoneTrans
Besides used as iPhone photo manager, it can be used as a music manager. Like Photos, you can add, delete, and export music from your iPhone with this iPhone file manager. There are some surprising features of Music management.
Step 1. Make Ringtone
Click the
Bell
icon from the top menu. Or you can choose
Toolbox
on the left panel and then select
Ringtone Maker
. Then you'll see the Ringtone Maker window. You can Set starting point and ending point, adjust Volume, and change the Save to PC folder.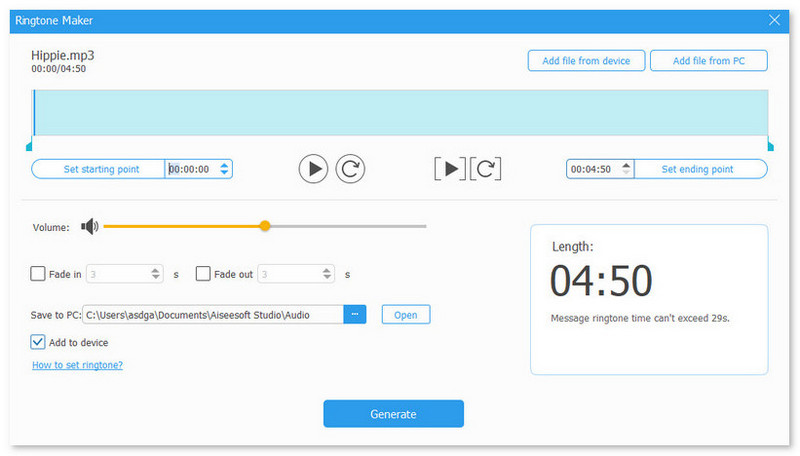 Step 2. Create New Playlist
Click the
Portfolio
icon and choose
Create Playlist
from the drop-down list. Then click the interface of
Music
and choose
Create Playlist
. You can rename it and get a new playlist on your iPhone.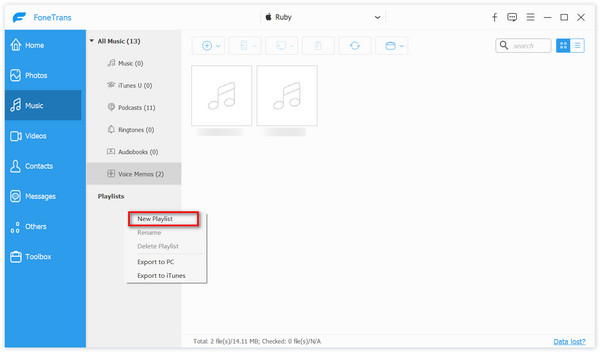 3. Manage Videos on iPhone
Like the Photos and Music management mentioned above, you can add, delete, and export videos on your iPhone. In addition, you can play them on the computer with FoneTrans.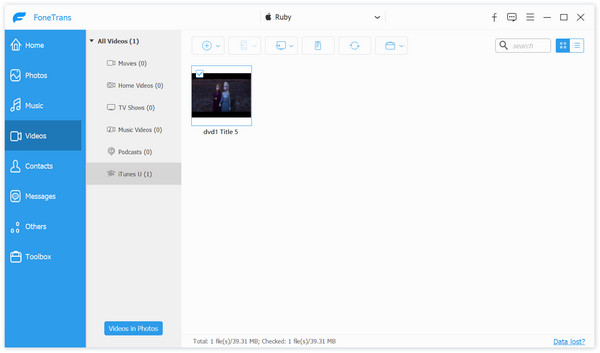 4. How to Manage Contacts on iPhone
Other than adding, deleting, and exporting contacts on PC, there is more you can do. You can seek this software for help when iPhone contacts are not syncing to iCloud.
Step 1. Find Duplicated Contacts
Click the
Double Squares
icon on the top. This manager will find out the duplicated contacts automatically. Then choose the duplicated contacts and choose to
Merge Selected
.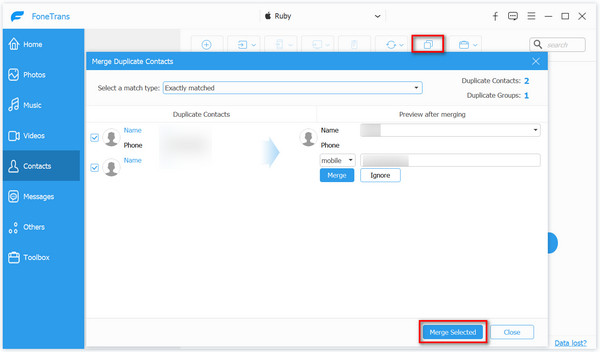 Step 2. Backup Contacts on iPhone
Click
Toolbox
on the left menu and choose
Contacts Backup
. Then click the
Back up now
button and click
Close
when the backup is done.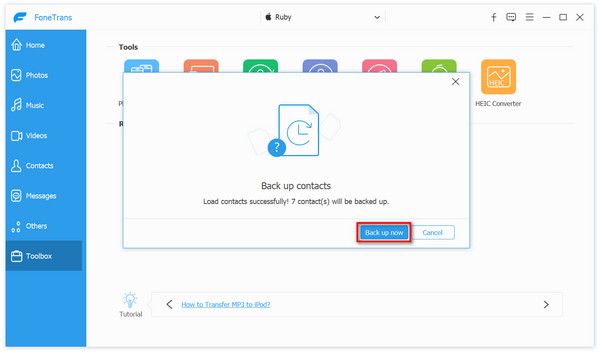 Step 3. Restore Contacts with FoneTrans
After backing up contacts, choose
Contacts Restore
. Select the contacts you have backed up, and click the
Restore
button.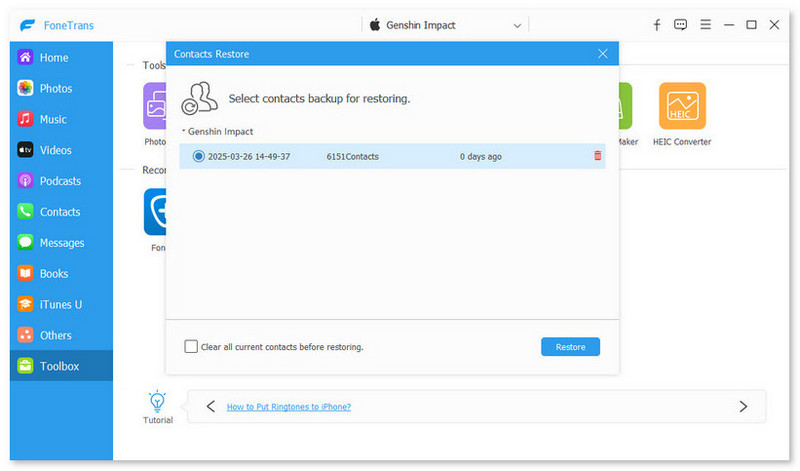 5. Manage Messages on iPhone
Select the messages you want to export and click the PC icon. Choose CSV File, HTML File or TXT File from the drop-down list. Then you change the destination for your messages. You can see it as a way to backup your messages on iPhone.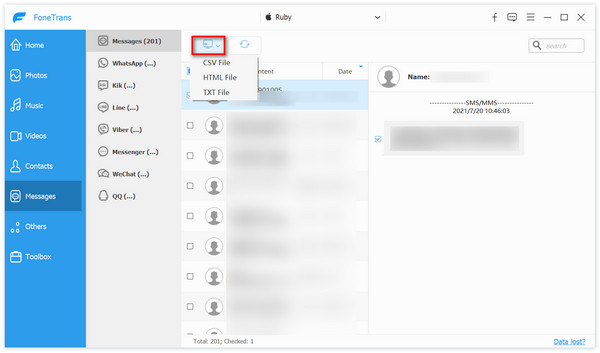 Besides, if too much space is occupied, your iPhone cannot run smoothly, which causes bad user experience. Therefore, you need to clear your iPhone regularly. Aiseesoft iPhone Cleaner is the best all-in-one erasing tool to manage your iPhone storage. It can clear unnecessary data to free up space on your iPhone, including erasing junk files, uninstalling applications, deleting large files and cleaning up photos. You can also choose to wipe all the data on iPhone permanently according to your need. It's 100% safe to manage storage on iPhone with iPhone Cleaner. Therefore, you can choose the appropriate tool according to your need.
Part 3. FAQs of Managing iPhone Without iTunes
How do I manage subscriptions on iPhone?
Step 1. Open Settings on your iPhone.
Step 2. Tap your name and choose Subscriptions.
Step 3. Select the subscription that you want to change.
How to manage apps on iPhone?
On the home screen, tap and hold the app you want to move or delete. When the apps wiggle, you can drag the app to the new location or click the Error icon to delete the app. When the operation is done, lift your finger off the screen and tap the screen to make it return to normal.
How to manage iCloud storage on iPhone?
Open Settings and tap your name. Choose iCloud to see how much storage apps and services take. Tap Manage Storage to delete unwanted files. You can also buy more storage or downgrade your storage at any time.
Conclusion
This article introduces you to two alternatives to iTunes. After reading it, you can manage your iPhone without iTunes well. You can manage photos, music, videos, contacts, and messages with FoneTrans. You can even make your own ringtone with it. With iPhone Cleaner, you can erase your iPhone in different levels. Please download and install both of them and have a try yourself.

Leave your comment and join our discussion