Top 6 M4A Audio Editor (Free & Paid) to Edit M4A Files as a Pro
Since 2007, Apple sold their audio file on iTunes as M4A file. As one high-quality audio format, M4A is compatible with Apple software. As M4A is designed for working on Apple software, many audio editor seems difficulty to handle this audio format. But you can still find M4A editor.
However, you must be careful to edit only non-copyright protected audio files. Most of these programs do not support copyrighted M4A files. That means no editing of an audio file you downloaded from the iTunes store. If you avoid copyrighted materials, these five free audio editors that allow you to edit your M4A files with little to no trouble.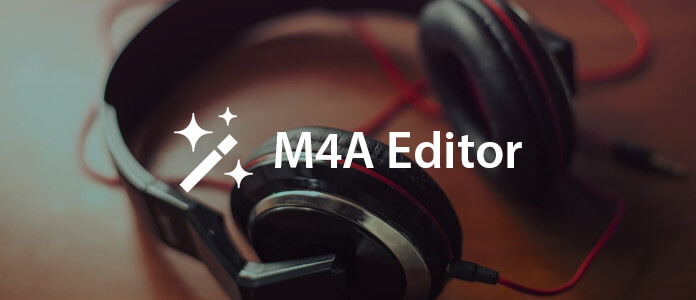 M4A Editor
Top 1: M4A Editor - Video Converter Ultimate
Video Converter Ultimate is the easy-to-use M4A video editor. It brightens your vision to edit M4A file.
Video Converter Ultimate
For Mac
Cut and trim M4A file by setting the exact starting and ending time
Adjust audio volume, encoder, channels, bitrate, sample rate, etc.
Merge any amount of M4A files together into one.
Support converting the video/audio file to M4A at fast speed.
Save the audio to MP3, AAC, WAV, etc.
Work on Windows 10/8/7 and Mac.
How to edit M4A audio file on computer
Step 1Add M4A file
Free download this M4A editing software on your computer, install and launch it immediately. Click "Add Files" to import one or more M4A files.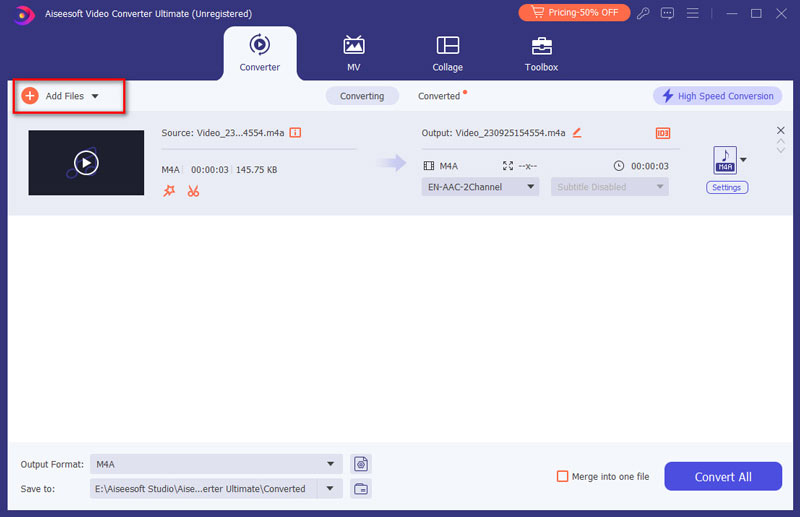 Step 2Edit M4A file
Clip/merge M4A file
Click the "Cut" button to enter the Cut window. Drag the processing bar or input the value to decide the starting and ending time of the M4A file, and then click the "Save" button to confirm the clipping parts.
Moreover, the option of "Merge into one file" at the down-left corner enables you to combine various M4A files directly.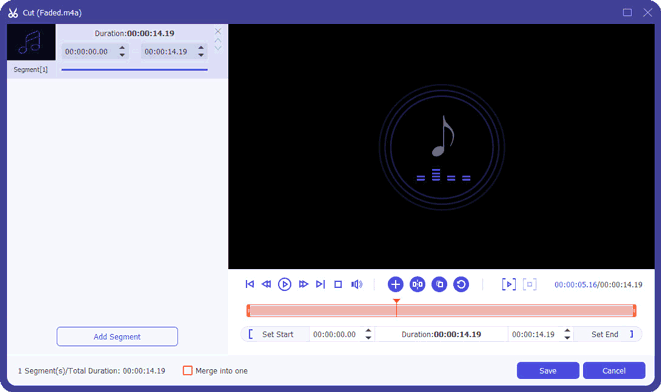 Adjust audio volume
To adjust the audio volume of your M4A file, click "Edit" button on the main interface. After entering the Edit window, go to the "Audio" tab and then drag the bar to adjust the audio volume.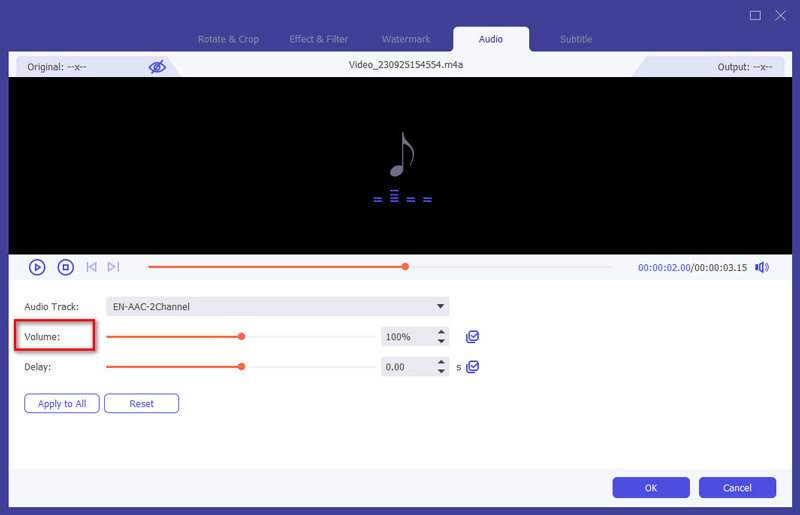 Configure the audio settings
From the drop-down list of output formats, select "M4A". Then, click the "Settings" button to stat adjusting M4A audio settings like encoder, channel, sample rate, bitrate, etc.

Step 3In the end, select a path for your M4A audio after editing and then click the "Convert All" button to export it to your computer.
Top 2: M4A Editor - Audacity
Audacity presents a globally-wide variety of hot features for all users. Available for several globally-used OS, this free audio editor and recording software application can be downloaded by users all around the world.
Audacity lets users convert, import, export, and edit audio files from a different type of file extension to another. Up until the present, Audacity is still widely used for school, work and other special tasks.
In its latest version of 2.3.0, this audio editing software supports M4A in input and output option with the optional FFmpeg library.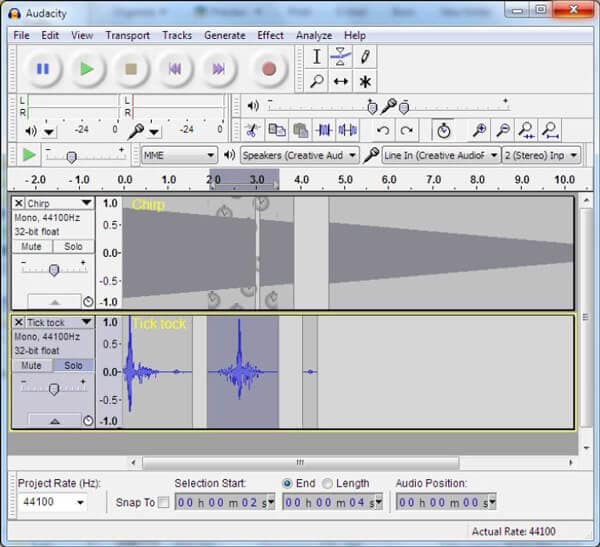 Top 3: M4A Editor - AVS Audio Editor
AVS is a reputable M4A editor. It is totally free for users to edit M4A file. With AVS Audio Editor, you are able to freely edit and save audio file in M4A format.
This is a special feature different with some other M4A editor software that cannot save the edit audio files in the same format. In addition, you can edit M4A files with 20 different filters and effects with AVS Audio Editor.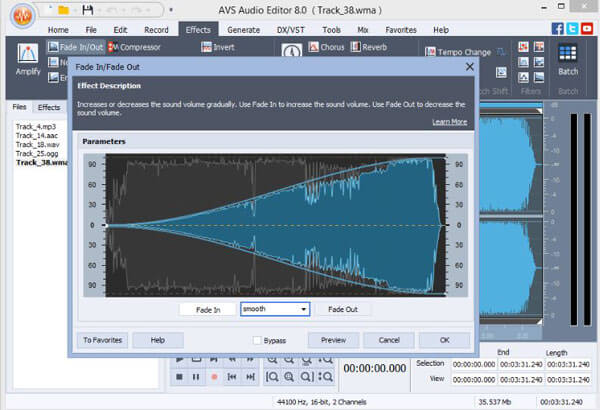 Top 4: M4A Editor - Wavepad
Another free M4A editor is WavePad. This desktop-based M4A editor software highly supports the editing and conversion of M4A audio format. To edit an M4A file, you can choose to copy, paste, delete, cut the file.
Or add some audio effects to all parts or some Top of the audio file. With WavePad, you can also covert M4A or convert other audio to M4A. The "to and from" conversion will be very useful if you want to convert M4A audio file.
But WavePad is free for non-commercial use. If you want to use WavePad for professional or commercial purpose, you need to its paid Master version of this M4A editor.

Top 5: M4A Editor - Windows Movie Maker
Although M4A is designed for Apple products, Windows Movie Maker (WMM) enables you to edit M4A audio file. Windows Movie Maker is a free and useful audio/video editing tool. When you add an M4A file into WMM, the file will soon appear in the audio/music section of the timeline.
From this section, you can edit .m4a audio file in the same manner you would edit a video on the program. To edit a M4A audio file, you can combine, split and even remove some sections of the file. But WMM is not the perfect.
Regardless of which audio file you are editing, the software will output the audio file in the format of WMA.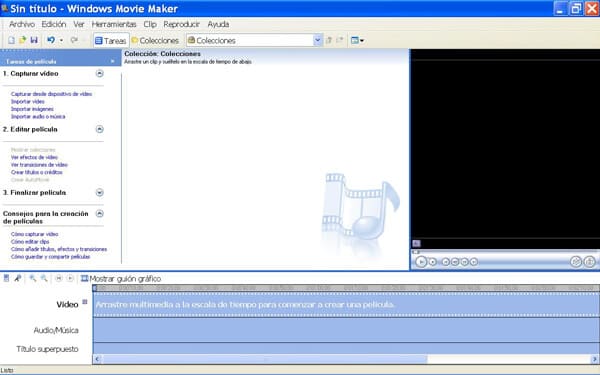 Top 6: M4A Editor - DJ Audio Editor
Looking for a professional-level M4A editor? You can try DJ Audio Editor. This useful M4A editor enables you to add effects or filters to your M4A audio file. What makes this M4A editor so different is its audio properties editor.
With this feature, you are able to edit the metadata of each audio file, add info like titles, artists or other information.
This program has both free and paid version. For more editing features, you have to upgrade its paid version. As DJ Audio Editor is professional, so this M4A editor software will take up a little more space.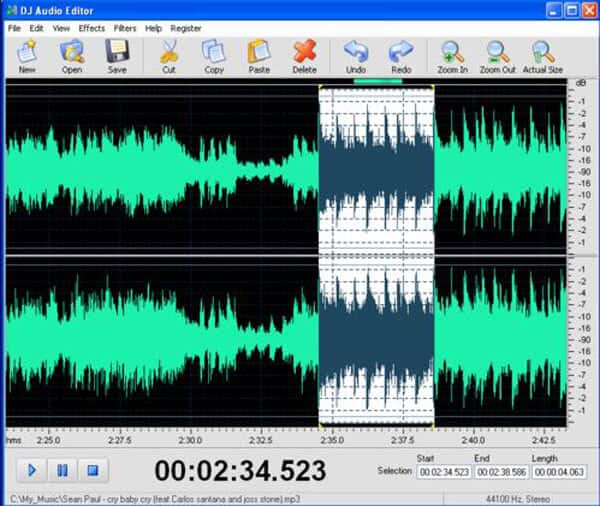 FAQs of M4A Editor
Can Audacity edit M4A files?
Yes. Audacity can import, edit and export M4A files with the optional FFmpeg library.
Is M4A better than MP3?
Compared with MP3, the sound quality of M4A is much better than that of MP3. M4A file always stays in smaller size, while delivering better audio quality.
How do I edit M4A file on iPhone?
With the Audio Editor tool, you can easily edit a M4A file on iPhone. You can get an audio editing tool from Apple Store. It lets you edit and audio M4A music, voice or other recordings.
Conclusion
This post aims at showing you the best 6 M4A audio editor for Windows, and Mac users. It has free and paid version, and you can start an easy audio editing on computer with the top 6 M4A editor.
Now it is your turn to decide the best one in the following comments.