How to Compress PDF File Size without Losing Information
Today, PDF is a widely used document file format to store text, images, graphic, table and more. However, the file size is a big problem. A PDF file can be hundreds of megabytes. If you are using PDF, you will find that it produces large files and takes a lot of space. That even blocks you to share your document online and send to your colleagues via email. That is why this article shares you several ways to compress your PDF files on PC and Mac.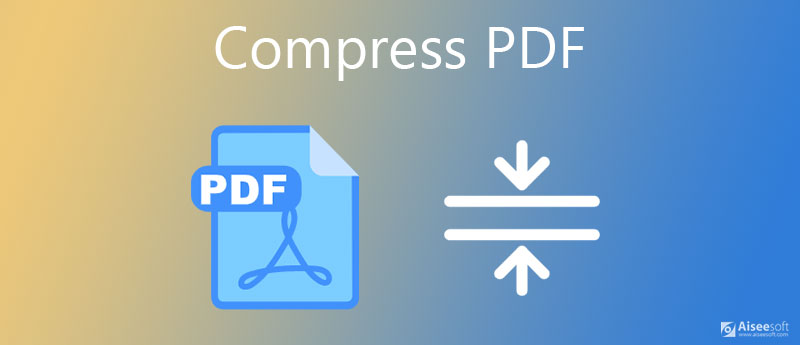 Part 1: Easiest Way to Compress PDF Online
Web apps are appealing and popular among internet users around the world. They allow you to perform plentiful of tasks without installing any software. Moreover, most web apps are free of charge with some limit, like file size. Aiseesoft Free Online PDF Compressor is the best choice to compress your PDF files online since can meet all your need and remove all limit.
Compress PDF files online without installing.
No file size, the number of times or other limit.
Keep all information and images in PDF with original condition.
Safe to use and delete your PDF file after compressing.
How to Compress a PDF File Online for Free
Step 1:
Open a web browser and visit https://www.aiseesoft.com/pdf-compressor-online/. Then you will see the home page. There are two ways to upload a PDF. Click the
Select PDF File
button, find the large PDF and open it. Alternatively, drag and drop the PDF file into the box to upload immediately. It supports both PDF and scanned PDF files.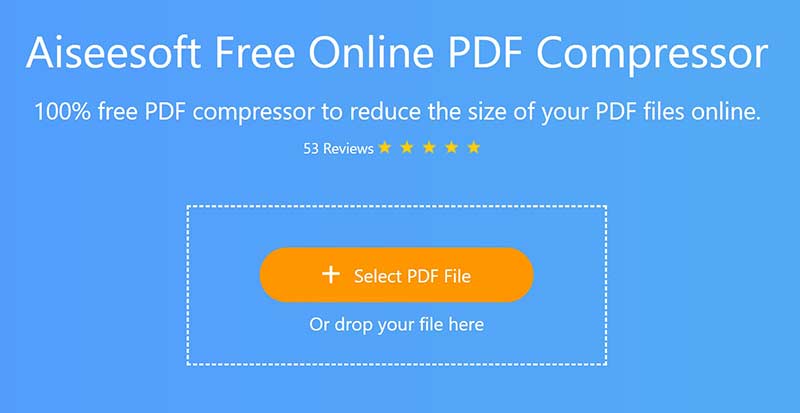 Step 2:
After uploading, the web app will begin compressing PDF immediately. When it is done, you will be taken to the download page.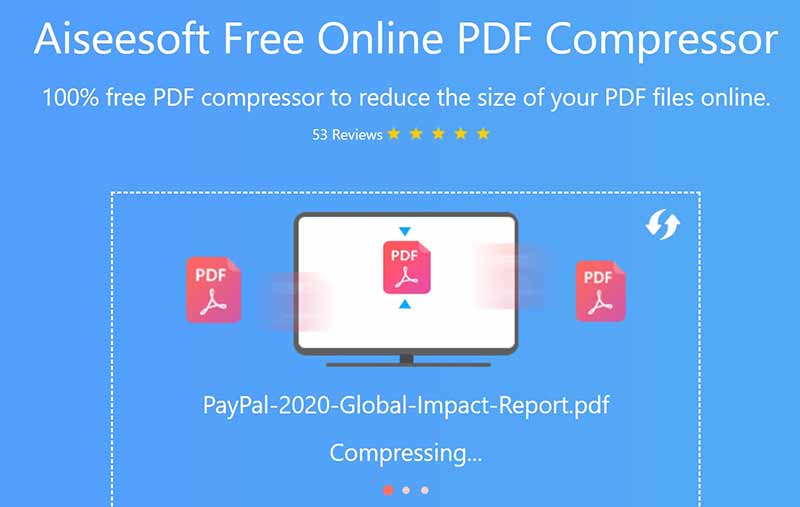 Step 3:
Look at the compressed PDF size. Our PDF, for example, is reduced from 12MB to 2MB. If you are satisfied with it, click the
Download the PDF
button to get the smaller document. Or click the
Compress Next PDF
button to start compressing another PDF immediately.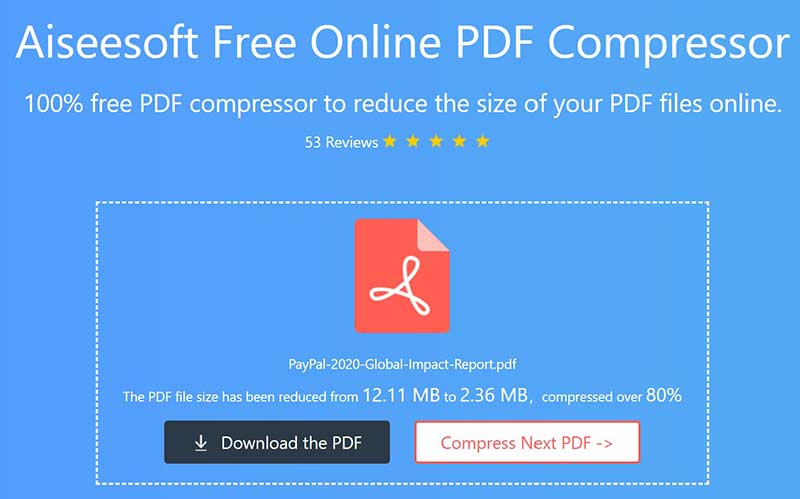 Note: According to our research, it only takes a few seconds to upload and compress a PDF. However, the real time is depended on your internet connectivity.
Part 2: How to Compress PDF in Acrobat
Acrobat is the PDF solution from Adobe. It is able to compress PDF files on PC. However, the different editions of Acrobat will do the job in various ways. Bear in mind that the PDF compressing feature is only available to paid versions of Acrobat.
How to Compress a PDF in Acrobat Pro
Step 1:
Open a large PDF in Acrobat. If it is the default PDF reader, double-click on the document. Alternatively, right-click on the PDF file, choose
Open with
and select Acrobat.
Step 2:
Go to the
Document
from the top menu bar and choose
Reduce File Size
. You can also go to the
File
menu, choose
Save As Other
and choose
Reduced Size PDF
.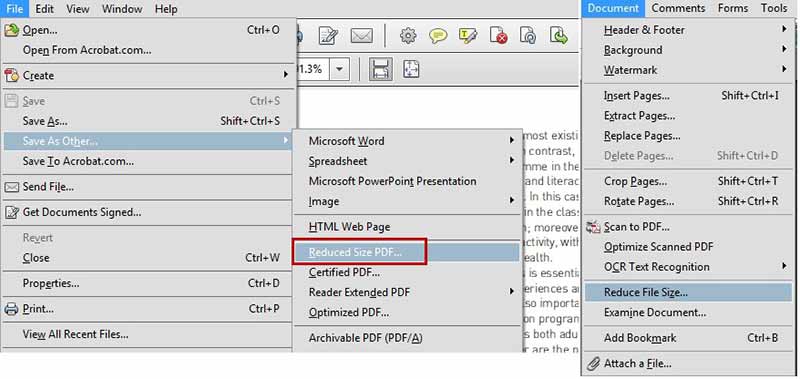 Step 3:
When prompted, select
Acrobat Version Compatibility
from the drop-down list and click
OK
to confirm it. Then you will get the
Save as
dialog. Enter the filename, choose a location folder, and click
Save
button.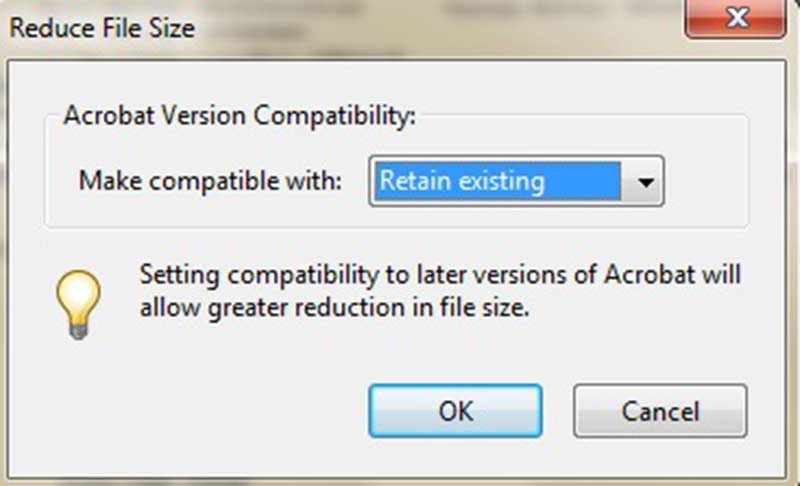 How to Compress a PDF in Acrobat DC
Step 1:
Firstly, you also need to open the PDF that you want to compress into Acrobat DC by clicking
File
and
Open
.
Step 2:
Then click the
Tools
menu and you will get the advanced tools in Acrobat. Click the
Optimize PDF
option to move on.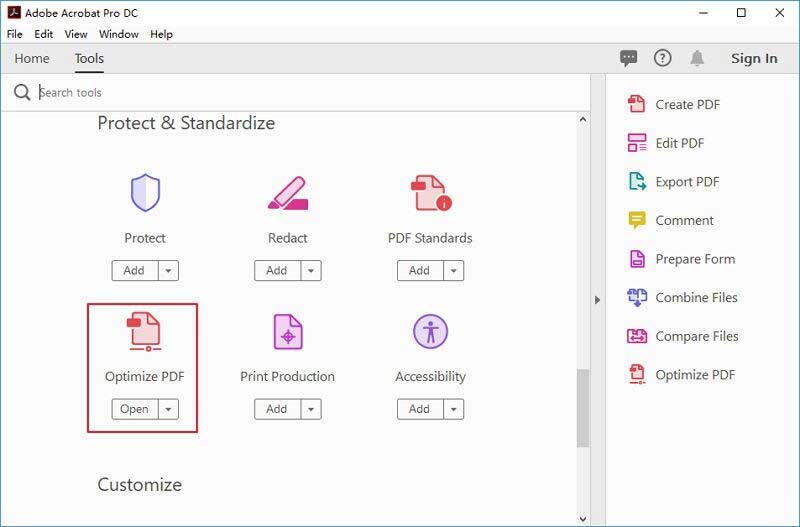 Step 3:
Now, you will get several tools under the top menu bar. Choose
Reduce File Size
or
Advanced Optimization
to trigger the
PDF Optimizer
dialog.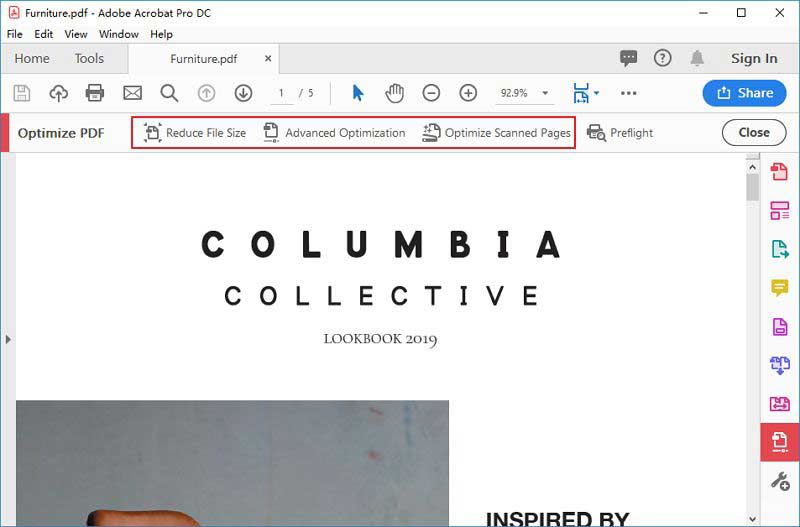 Step 4:
Change the settings related to images, font and more. Click the
Audit space usage
button at the upper right corner and you will see the PDF file size.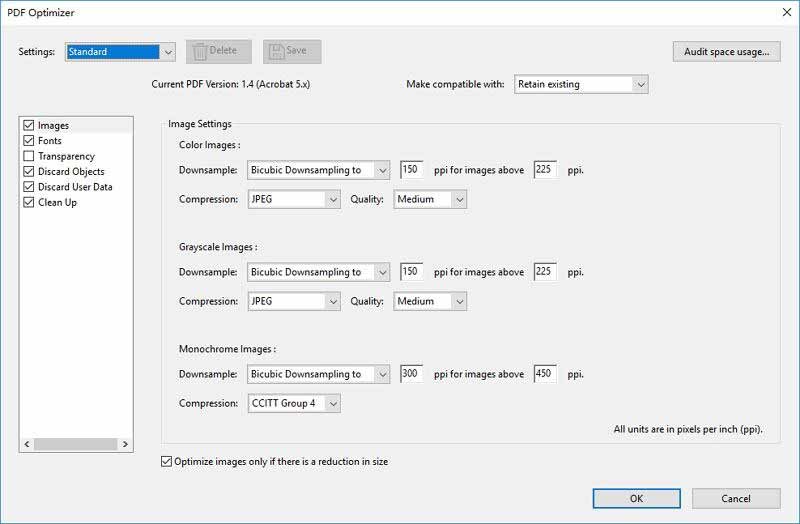 Step 5:
Click
OK
and then hit
OK
to confirm PDF compression. Then save it as a new PDF file. We suggest you to keep the original PDF and not replace it with the compressed file.
Note: Acrobat DC is the latest version of PDF reader and editor. It is available to both Windows and Mac. The annual bill costs $179.88.
Part 3: How to Compress a PDF with Office Word
Office Word is a PDF editor as well. It is able to scan your PDF file and convert it to Word, so that you can change the text, add new graphics and do other editing. In fact, it provides more features related to PDF including compressing PDF files one by one.
Step 1:
Open a PDF in your MS Word or suppose you are going to save a document as PDF.
Step 2:
Go to the
File
menu at the top left side and choose
Save As
. That will open the
Save-As
dialog

Step 3:
Firstly, select a specific folder to save the compressed PDF file and write down the file name in the
File name
box. Click the drop-down option next to
Save as type
and choose
PDF
or relative one.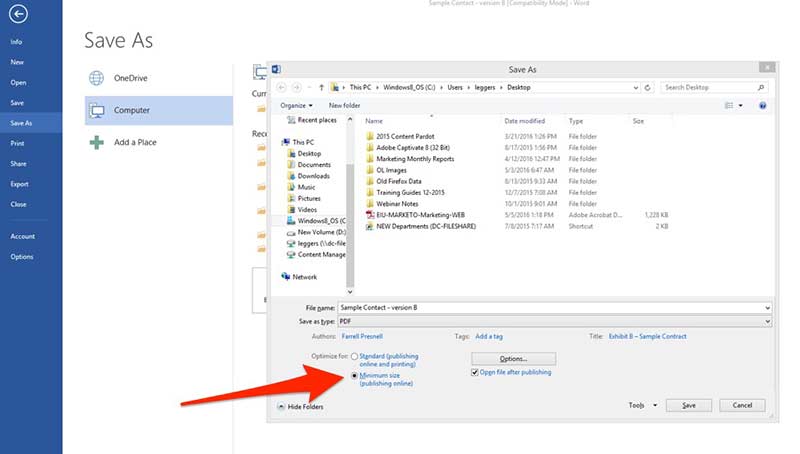 Step 4:
Make sure to select the
Minimum size (publishing online)
under the
Optimize for
section on the popup dialog.
Step 5:
As long as you are ready, click on the
Save
button to compress the PDF and export it to your hard drive.
Note: This way is only available to the PDF files produced by PDF editor or MS Word. It produces a fairly small file depending on the number of images in the PDF. The scanned PDF files cannot be compressed by Word since the file size won't change a lot.
Part 4: FAQs about Compressing PDF
Is there a PDF file size limit?
Generally speaking, there is only one limit in the PDF file size. The overall file size must be below 10GB as the cross-reference tables which define the PDF structure use 10 bits. Therefore, you'd better look at the PDF file, remove duplicate contents and compress it to save more space.
How to compress a PDF without Adobe?
Adobe Acrobat is a popular PDF reader, but the advanced features are only available in the paid version. That is why so many people look for the alternatives to Acrobat. When it comes to PDF compressing, you can use MS Word or online PDF compressor to do the job for free.
How do I learn my PDF file size?
Right-click on the PDF file in a folder, choose Properties and you will see the file size on the popup dialog. This works on all PCs and you do not need any extra software. When it comes to Mac, you can learn the PDF file size in Preview or Acrobat Reader.
Conclusion
This guide has shared three ways to compress your large PDF files and minimize your document without losing quality or data. If you already subscribe Acrobat DC, the PDF Optimizer will help you to do the job manually. MS Word, on the other hand, lets you compress the PDF file while exporting. If they are not available to you, Aiseesoft Free Online PDF Compressor is a good choice to produce smaller PDF file. More questions? Please write them down below this post.

Leave your comment and join our discussion