Useful Ways to Reset a LG Phone
"How to reset LG phone? I find my LG G4 phone is getting slower, sometimes it just stops working. Is there someone showing me how to factory LG phone in a safer way?" - Linda
Is your Android smartphone getting slower and slower? Is your Android smartphone freezing or not responsive? Don't remember the screen password? Then your android phone may need a factory reset or a master reset. When you perform a factory reset on the device, all information or files stored in the device will be totally erased, and it will restore the original the manufacturers settings. To help Linda and other users who want to reset a LG phone, this article is prepared to show about 3 methods for LG phone factory resetting.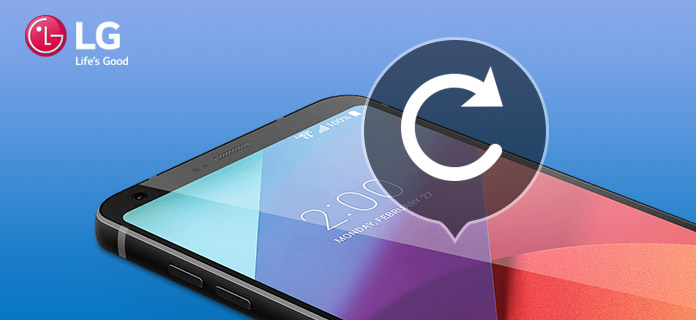 Part 1. Use Android Recovery mode to reset a LG phone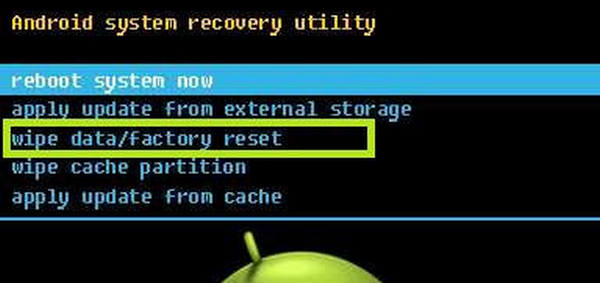 If your LG phone gets frozen or you forget entrance password, entering Android Recovery mode is one ideal method for you to hard reset a LG phone. You can factory reset LG phone using key combination.
Power off your LG phone. If your phone is frozen and you cannot switch off it, just pull out the battery directly and then put it back on.
Press and hold the Volume Down Key and Power/ Lock Key located at the back of your phone simultaneously.
Once the LG logo appears on the screen, release the "Power" Key for a second, however, immediately hold and press the key once again.
Once you enter Android Recovery mode, navigate to the menu with the volume buttons, find and select the "Factory Reset/Wipe data" mode. Wait for the restore process to complete, after you Android phone resets, it will set back to factory defaults.
The steps to reset a LG phone is similar to reset a computer like HP, which needs you to follow the on-instruction steps to perform it.
Part 2. Reset LG phone from Settings Menu
You can also perform a factory resetting from the settings menu. This method is useful when your LG phone has crashed or has no responding for installing any application causing freezing.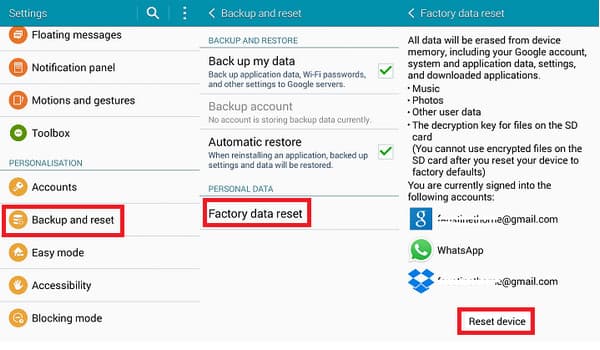 Step 1 Go to Home screen and navigate to "Apps".
Step 2 Click on "Settings" and choose "Backup and reset" option.
Step 3 Choose "Factory data reset" > "Reset Phone".
Step 4 Confirm by clicking "OK" button.
That is a quick and easy method. Then all your LG phone's internal storage will be wiped. If you want to erase all the data on your Android SD card as well, you can check "Format SD Card" before reseting process.
Part 3. Hard reset a LG phone via Android Device Manager
Lose your LG and want to reset the device in case of data leakage? Forgot the screen password? Another useful way is to using Android Device Manager.
Android Device Manager is Android managing service supported by Google Inc, to let users control their android phone, tablet and other android devices using Google account. Besides main function like locating, ringing, and locking android, the service is able to let you hard reset Android device.
Reset a LG phone with Android Device Manager app
Step 1 Install the Android Device Manager application from your LG phone if you ever intalled it. If not, download the application from the Google Play Store.
Step 2 Log into your Google account and you will find the configured Android device as listed.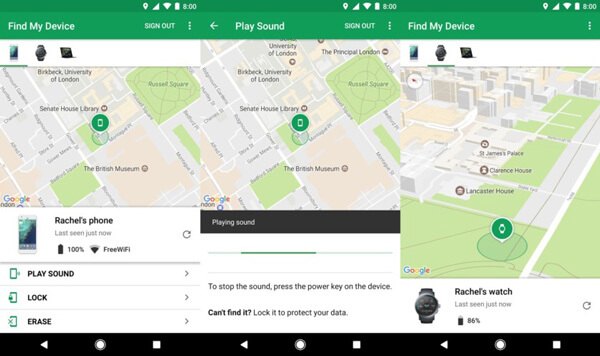 Step 3 Tap the arrow presented beside your LG phone, and choose the device which has to be reset.
Step 4 Tap on the third option of "Erase" to remotely delete the data present on the LG phone.
Reset a LG phone from Android Device Manager website
Step 1 Install the Android Device Manager application from your LG phone if you ever intalled it. If not, download the application from the Google Play Store.
Step 2 Choose your LG device from the device list. click on the arrow which is present beside the device name and you will see the location of that device.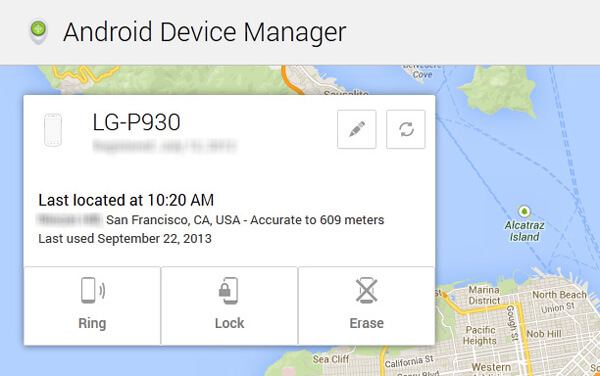 Step 3 After having selected the device which has to be erased, you will find 3 options saying "Ring", "Lock" and "Erase", as shown below.
Step 4 Tap on the third options of "Erase" to delete the data immediately.
Part 4. Best way to back up a LG phone
Before you reset a LG phone, you'd better back up the important data and files in case you want to restore them after resetting. Here Aiseesoft FoneLab for Android, a great LG Data Backup, will be your best choice.
FoneLab for Android
Backup contacts, SMS, WhatsApp data, pictures, music, videos, etc.
Sync data from Android phone/tablet to PC or Mac without root.
Transfer data from almost Android mobiles like Samsung, HTC, LG, Huawei, etc.
How to use LG Data Backup
Step 1 Connect Android to PC
Download and install FoneLab for Android on your PC or Mac. Select "Android Data Recovery" option. Plug your LG phone to PC with the USB cable.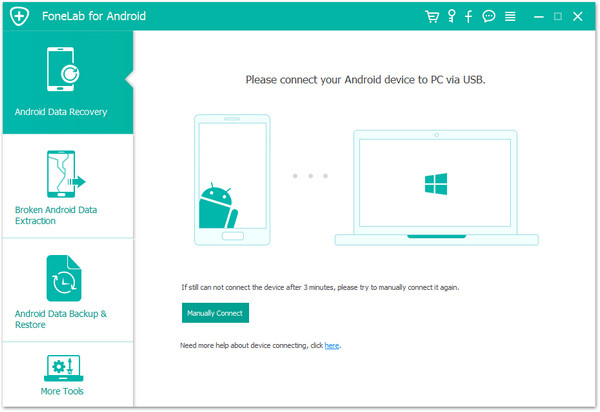 Step 2 Enable USB debug
You need to debug USB mode on your Android phone. After that tap "OK" on your Android phone to get the authority.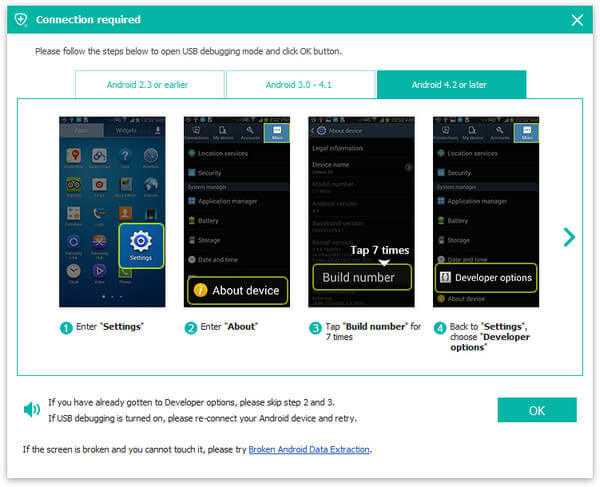 Step 3 Scan Android phone
Select the file type that you want to scan and backup. Here we will see various data types like contacts, messages,message attachments, WhatsApp data, picture library, audio, videos, documents, etc. Just tick the box alongside the data type, and click "Next" to start to scan your Android phone.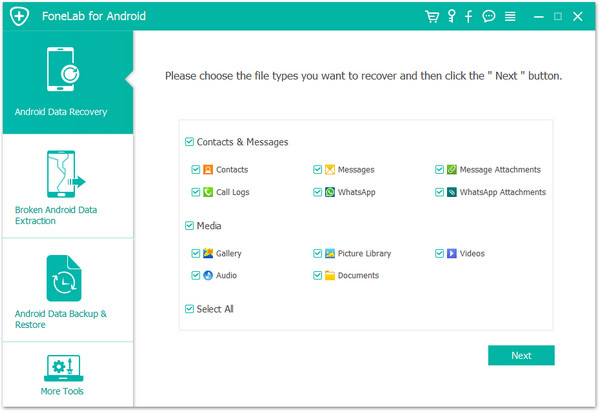 Step 4 Backup Android data
It will take some time to scan your Android phone, especially for the phone with large size of files. Then In the scanning result, select the data from the left sidebar, and view the details on the right window. Checkmark the data types that you want to backup, and click "Recover" to save the data from your Android phone to computer.