Three Ways to Take Screenshot on Samsung Galaxy Note 4/3
"I receive an interesting picture on Snapchat, and I want to screenshot it because Snapchat cannot let me save it. What is the quickest way to screenshot the picture? My phone is Samsung Galaxy Note 4."
When you use smartphone, you will never miss the pleasure to take photos with phone camera or capture pictures from some interesting apps. Taking photos will be made easily by tapping the camera. However, taking the screenshots will comes to be a little tougher. Especially when you use Samsung Galaxy Note 4 or 3. In the following description, we will share you three ways to screenshot on Samsung Galaxy Note 4/3.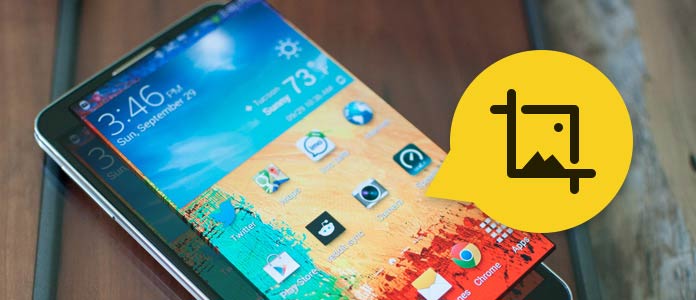 Solution 1. How to take a screenshot on Galaxy note 3/4 with buttons
Like iPhone, Samsung phone also provides you the direct way to take screenshots with buttons.
Step 1 Go to the screen where you want to take a screenshot.
Step 2 Press "Home" and "Power" button simultaneously to take a screenshot of whatever's on-screen.
Step 3 After a second, the screen will flash briefly, accompanied by a shutter sound to tell you that you have taken a screenshot successfully.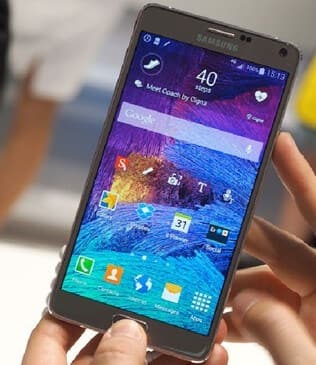 Solution 2. How to screenshot on Galaxy note 3/4 via swipe
This way of taking screenshot is unique for Samsung phone. You just need a gesture of palm swipe shortcut to take a screenshot.
Step 1 Enable palm swipe on Galaxy Note 3/4
On Galaxy Note 4: Swipe down from the top of the screen and tap the cog icon to go to "Settings" > Turn on "Motion and gestures".
On Galaxy Note 3: Access "Settings" > "Controls" > "Palm motion" to ON. Also, do the same for "Capture" screen setting.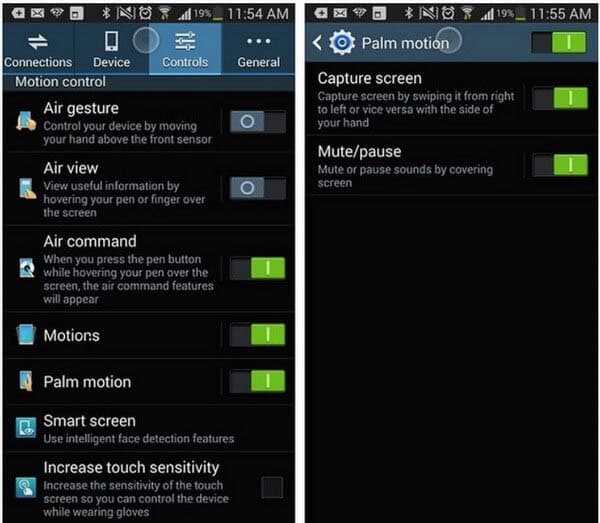 Step 2 Take a screenshot
Place the edge of your hand on one side of the screen and swipe across to the other to take the screenshot for the image that you want.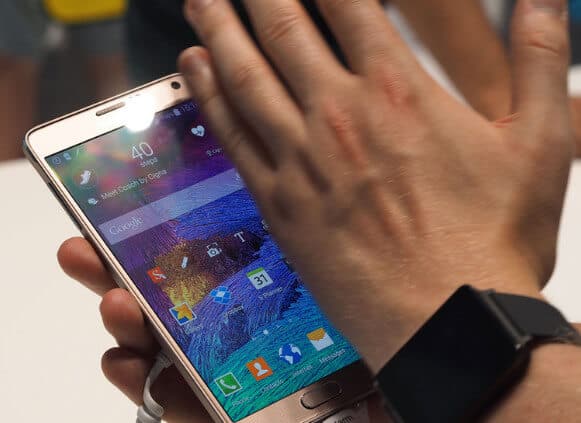 Solution 3. How to make Galaxy note 3/4 screenshot with S Pen
S Pen is the Samsung phone's creation, and also this method is the only way that requires you to get an extra inventory. S Pen enables to deal with many everyday tasks like writing notes, replaying e-mail, and also taking screenshots.
Step 1 Take the S Pen out from your Galaxy Note 3/4, press the S Pen button and while you have the button held down, and tap anywhere on the screen to launch "Air Command" menu.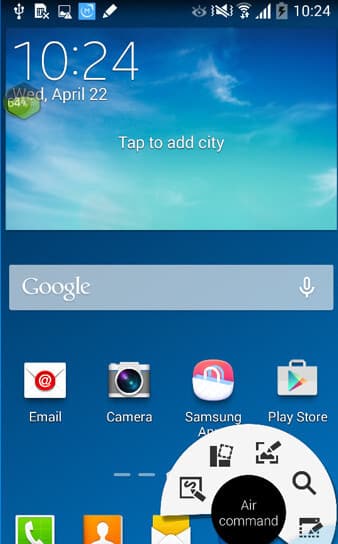 Step 2 Using S Pen, select "Screen Write", as in the photo above.
Step 3 Your Galaxy Note 3/4 will screenshot an image whatever's on screen.
Then you will find your screenshot saved in photo gallery. This article focuses on showing three ways to take a screenshot on Samsung Galaxy Note 3/4. If you use iPhone, just read this page to screenshot iPhone.
Screen Recorder
For Mac
The best video/audio recording tool to record streaming audio and video on Windows computer.
Record streaming video/audio, online video/audio, microphone voice freely.
Record screen video with high quality.
Advanced settings for video/audio recording.