Three Methods to Take Screenshots on Mac
Screenshot, image of a computer screen, is of great use. It helps us make vivid tutorials, save unforgettable moments, etc. In a way, it has already become one of the essential features for any operating system.
For Windows users, screen capturing is quite easy. Windows provides a Snipping Tool for users to take screenshots of any part on computer screen. It features four different capture modes including "Free-from Snip", "Rectangular Snip", "Window Snip" and "Full-screen Snip" to meet your needs. Apart from that, Windows Snipping Tool also has a pen and a highlighter, which are very convenient to add marks.
Even though this snipping tool is utility, it cannot be supported on Mac OS X, whose users are also in great needs to take screenshots. To solve this problem, we must find snipping tools on Mac and some relative methods.
In this article, I'll introduce three methods to capture a screenshot on Mac.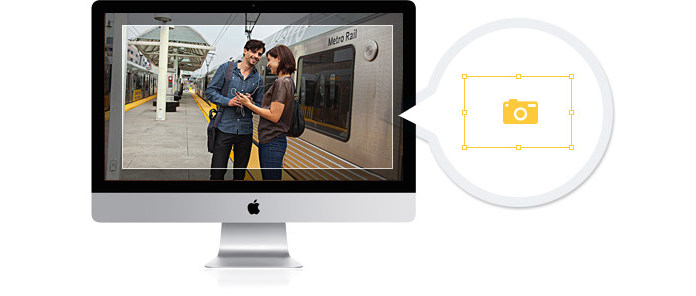 Method One: Mac keyboard shortcuts
Don't complicate the snipping process. In fact, you can easily take a screenshot only with Mac keyboard shortcuts. Apple has bundled in different keyboards based shortcuts to determine what is recorded from the screen. Check out the different combinations below to grab Mac screen.
Full screen capture: Press Command–Shift–3 and the image of the current screen will be saved in full resolution as a PNG file on your desktop.
Partial screen capture: Press Command-Shift-4 and your mouse will change into a crosshair. Select the snipping area by holding down and dragging your mouse, and then release the mouse button.
Individual windows, menus, and icons: Press Command-Shift-4 as well as the Spacebar, and then click the window, menu, or icon you intend to capture.
Method Two: Grab for Mac
Grab can be taken as the built-in snipping tool for Mac. It is very similar with Windows Snipping Tool having various modes like "Selection", "Window", "Screen", and "Timed Screen". To use it, you can click "Finder" > "Applications" > "Utilities" > "Grab". Launch it, and hit "Capture", then choose the capture mode based on your needs.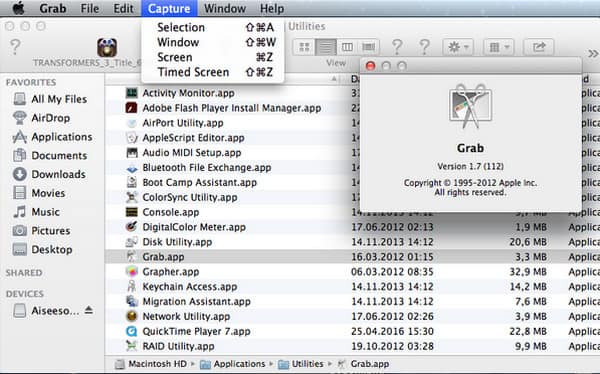 Tips: Grab saves your screenshots as TIFF files. To change the image formats, you can modify in Preview or some other graphics editor like Adobe Photoshop.
Method Three: Third-Party snipping software
Even though Mac keyboard shortcuts and Grab are both free and easy to use. You may still run into situations when they can't work, like when you want to capture images from videos or movies. There are various video formats, some of which are protected somehow and not allowed to take snapshots, all you get when capturing an image from a video is probably just a black screen.
To avoid such unnecessary situations, you may need third-party help. In the following, you will see three amazing snipping tools.
Jing
Jing is an effective screen capturing program. It is very easy to use and you can choose the recording area as you like. After the screenshot is taken, Jing also provides some basic editing functions, so that you can optimize the picture.
Skitch
Skitch is a very popular and powerful snipping tool. The most appealing thing about Skitch is that it supports users to take multiple screenshots easily and quickly. Besides, it provides annotating program and sharing option, so that you can edit and share the screenshot with others.
Monosnap
Monosnap is another free snipping tool for Mac. It has a straightforward interface. With simple clicks, you can capture the entire screen or a selected window. Monosnap supports to customize the operation by changing screenshot hotkeys. Besides, it provides free cloud storage for you to keep your screenshots.
These three snipping tools are all very reliable and work perfectly all Mac OS X versions, including Mac OS X El Captain, Mac OS X Yosemite, Mac OS X Mavericks, Mac OS X Mountain Lion, etc. Apart from all the snipping tools mentioned above, there is also other software that has screen capturing function. For instance, Free Video Converter can capture video images perfectly with its screenshot function. If you want to save images from a video or a 4K movie on your Mac, this might be a better way.
Screen Recorder
For Mac
The best video/audio recording tool to record streaming audio and video on Windows computer.
Record streaming video/audio, online video/audio, microphone voice freely.
Record screen video with high quality.
Advanced settings for video/audio recording.
Of course, you can get to know more about take screenshots on Dell or Toshiba with several ways.