Top 5 iOS Data Transfers to Help You Transfer Files from iPad to Mac
When it comes to transferring files from iPad to Mac, you may think of the Apple official iPad to Mac transfer, iTunes or iCloud. However, both tools only offer one kind of syncing way to move your data. In fact, they give you a backup solution to transfer files between iOS device and Mac.
Are you searching for a method to transfer files from iPad to Mac without iTunes?
Different from Android, you are not allowed to directly copy various iOS data from iPad/iPhone to Mac/PC. As a closed system, iOS can better protect your data and privacy. In exchange, data transferring becomes a little bit complex. Considering that, this post like to guide you to move iPad data to Mac with 5 iOS data transfer tools.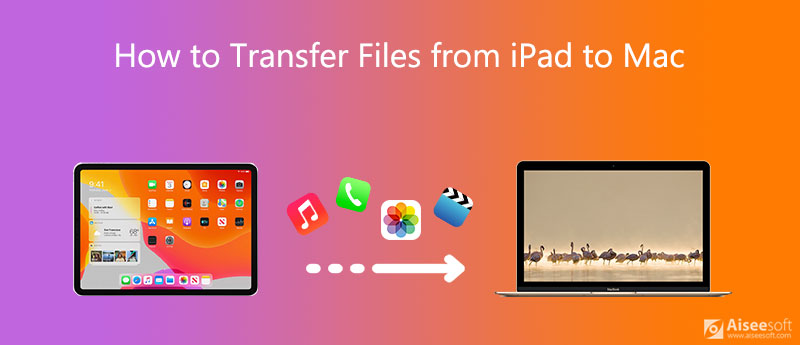 Part 1. Best Way to Transfer Files from iPad to Mac [Recommended]
If you prefer a straight-forward way to transfer data between iPad, iPad and Mac, just like an Android phone, you should give the popular iOS data transfer, FoneTrans a try.
FoneTrans is a great iTunes alternative tool which can manage and transfer all frequently-used iOS files including messages, photos, videos, notes, music, call logs, contacts, calendars, Safari, ebooks, and more. It is specially designed to deal with various data transferring between iOS device and computer.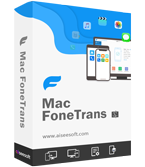 Downloads
FoneTrans - Best iPad to Mac transfer
One-click way to transfer files from iPhone, iPad to Mac or Windows PC.
Move iOS data like photos, videos, voicemails, music, contacts, messages, notes, ebooks, and more.
Manage and transfer files on iPhone, iPad or iPod touch.
Support all iOS devices like iPhone 14/13/12/11/X/8, iPad Pro/Air/mini, all iOS versions including iOS 16/15/14/13, iMac and Macbooks.
Step 1.
Double click on the Mac download button above and then follow the instructions to free install and launch this iPad to Mac transfer.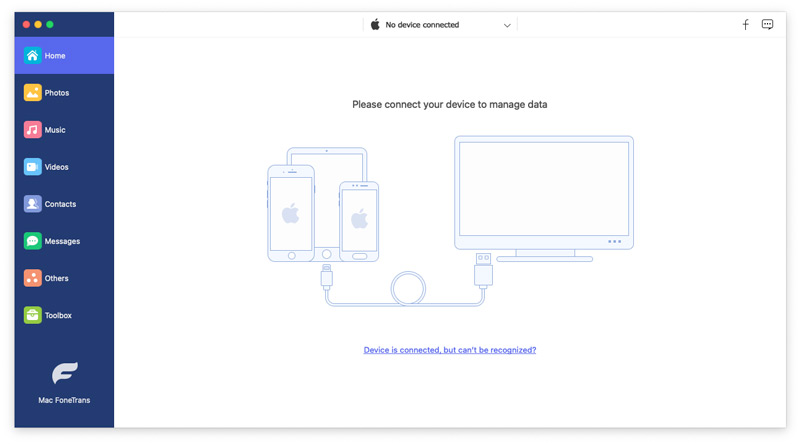 Step 2.
Connect your iPad to Mac with a USB cable. You can see many frequently-used iOS files are listed in categories like Photos, Music, Videos, Contacts, Messages and Others on the left panel. There is also a
Toolbox
option offered for you to get more useful tools like data transfer, backup, restore, recovery and more. When Mac recognizes your iPad, you can see some basic information about this iPad displayed there.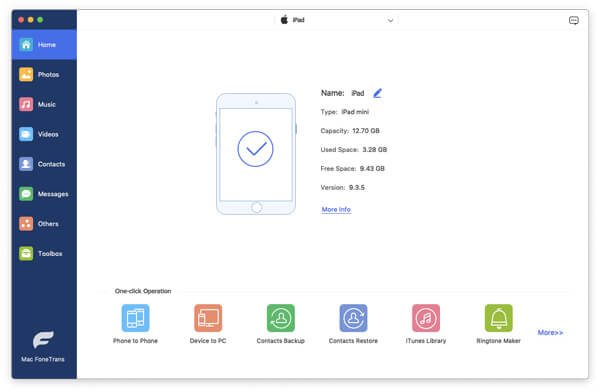 Step 3.
Click the specific data type to view detailed data on the right. Select all iPad files you want to copy to Mac, and then click on the
Export to
icon to start the transferring.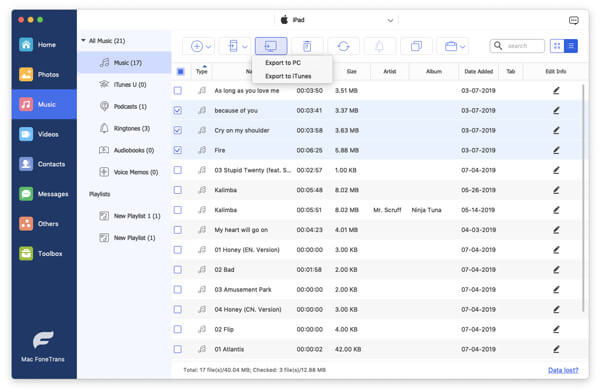 More than just an iPad to Mac transfer, it enables you to directly manage and edit different files on your iOS device. In fact, it provides you with a convenient way to backup iPad data to Mac.
This iOS data transfer tool also allows you to transfer iPhone files to Mac with ease. In addition, it has the capability to copy and add files from Mac or Windows 10/8/7 PC to your iPhone or iPad. If you want to transfer data from one old iPhone to a new iPhone, you can also rely on it.
Part 2. Transfer Files from iPad to Mac with iTunes
Besides the old data syncing way, iTunes now has a File Sharing feature for you to transfer files from iPad to Mac, or copy Mac data to your iPad.
Step 1.
On your Mac, open the latest version of iTunes and then connect your iPad to it.
Step 2.
Click on your
iPad
icon and then click
File Sharing
option on the left. Note that, only files in some apps like Keynote, Numbers and Pages are supported.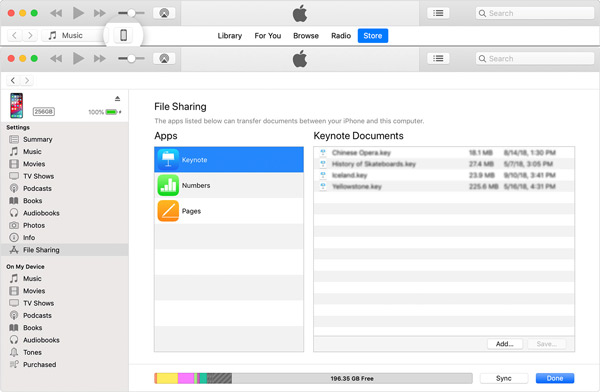 Step 3.
Select the data you want to transfer and then drag it to the desktop. Now you can click on
Save
to copy iPad files to your Mac.
Part 3. Use iCloud to Share Files between iPad and Mac
iCloud offers a simple way to easily backup all kinds of iOS data from iPhone, iPad and iPod touch to its cloud service. On your Mac, you can sign in with the same iCloud account to access these files.
Unlock your iPad and open Settings app. Tap your account and go to iCloud section. When you get there, you can select the files you want to backup. Tap iCloud Backup and then Back Up Now to create a new backup.
We know that iCloud only provides each user with 5GB free storage space for photos, mails, contacts, calendar, notes, reminders, and Safari data. It cannot sync text messages, music and some other files. If you want to access iPad data files on Mac, you have to download them from iCloud site. For this complicated situation, you can restore backup from iCloud with an iCloud data extractor program.
On your Mac, go to iCloud Drive or iCloud site and sign in with the same Apple account. Now you can view these iPad files with ease.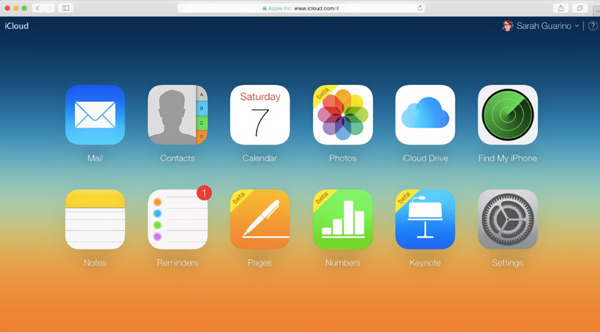 Part 4. Share Files from iPad to Mac Using AirDrop
AirDrop is one kind of Wi-Fi transferring way to share files wirelessly between your Mac and iOS devices. It allows iOS users to instantly share photos, videos, locations, and more with other Apple devices nearby.
Step 1.
Go to
Finder
on your Mac and choose
AirDrop
. By doing so, you can turn on the AirDrop feature and allow to be discovered by a nearby iPad or iPhone.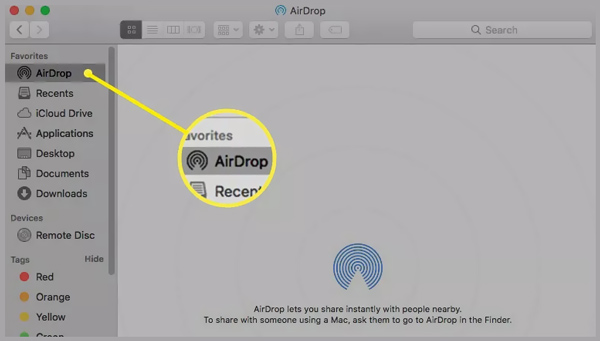 Step 2.
On your iPad, open the app which you want to transfer its files. Select the file and tap the
Share
icon. Tap
AirDrop
and then choose the icon representing your Mac.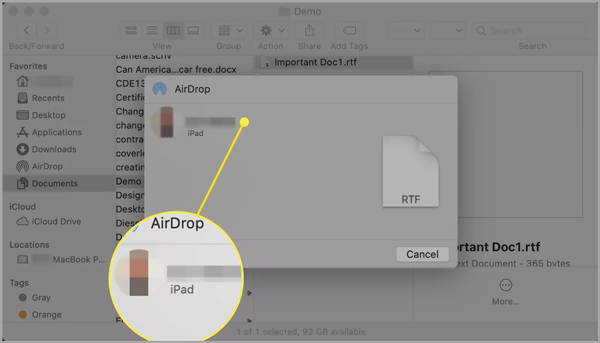 Step 3.
Now you get the prompt asking if you want to
Open with
Pages, iTunes U, Files, Scriptable, Drive, or Cancel, in the Finder window of your Mac. Select a suitable one bsed on your need. You may also be asked to either
Accept
or
Decline
the file. Choose Accept to transfer iPad file to Mac.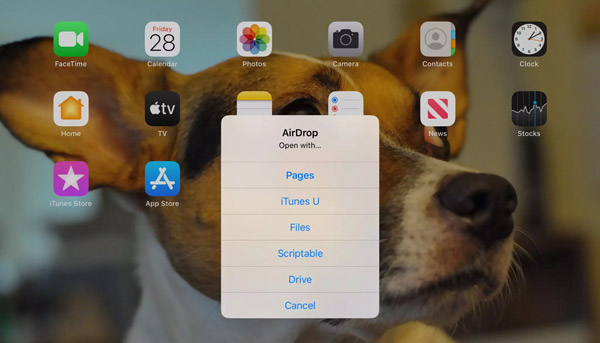 Part 5. Move iPad Data to Mac Through USB Cable
When you want to copy iPad files to Mac, you can choose to connect your iOS device to Mac via a lightning cable, and then transfer files between two Apple devices.
Step 1.
Plug your iPad into your Mac using a supplied lightning cable. Click the
Finder
icon in the
Dock
to open a Finder window. On the left pane, locate and choose your iPad.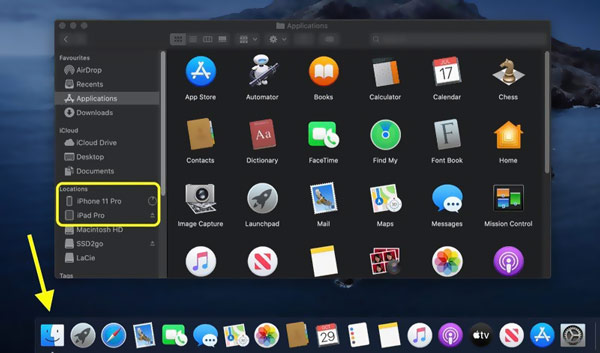 Step 2.
For the first time connecting iPad to this Mac, you need to click
Trust
in the Finder window. Also, you should tap Trust on your iPad and then enter passcode to confirm it.
Step 3.
After connecting successfully, click the
Files
tab to check apps and then select all files you want to copy to Mac. You can click the
triangle
icon ahead of the app to see specific files that you can share.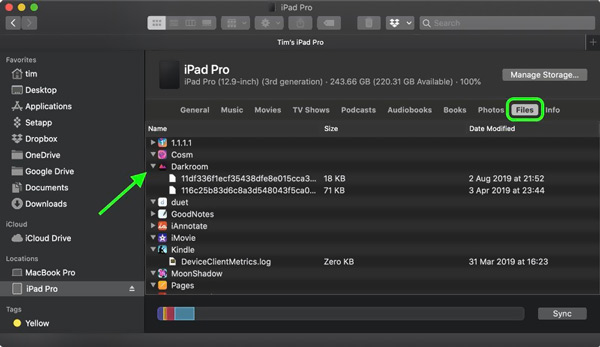 Step 4.
Open another
Finder
window and go to the location where you like to copy the iPad files to. Now you can drag files to this location and copy them to your Mac.
Part 6. FAQs of Transferring Files from iPad to Mac
Question 1. How to transfer files from iPad to Mac using Bluetooth?
Bluetooth is a common way to share files. Both Mac and iPad are equipped with the Bluetooth function. So, you can rely on it to transfer your iPad data to Mac.
You can click on Apple menu on the top, choose the System Preferences option, click Bluetooth, and then select Show Bluetooth in menu bar. Now you can click the Bluetooth status icon and connect it to your iPad. Surely, you should turn on Bluetooth on your iPad to make the connection. After that, you can select file on iPad, click Send, select Mac and start the transferring.
Question 2. How do I mirror my iPad to my Mac?
To use iPad as a second display on your Mac, you can rely on the AirPlay feature. Enable it on both Mac and iPad and then make the connection. By doing so, you can easily mirror iPad to Mac.
Question 3. Can I AirDrop iPad files to a Windows PC?
No. AirDrop can only be used among Apple products like iOS devices and Mac. You can't use it on a Windows PC or an Android phone.
Conclusion
How to transfer files from iPad to Mac? After reading this page, you can learn 5 effective methods to copy or share your iPad data to Mac. In fact, when it comes to transferring iOS data, you should free download the recommended FoneTrans to manage and transfer your iPhone, iPad or Mac files.

Leave your comment and join our discussion