How to Transfer ePub Books from Mac to iPod Touch
Reading eBooks is a good way to kill time during the long travel in the train. Moreover, you can save more space in your limited luggage or room by using a portable reader with thousands of eBooks stored. Moreover, you can access numerous books wirelessly without borrowing from your school or library. Being one of the popular eBook Readers, many people prefer to download and transfer ePub books into iPod Touch for further reading.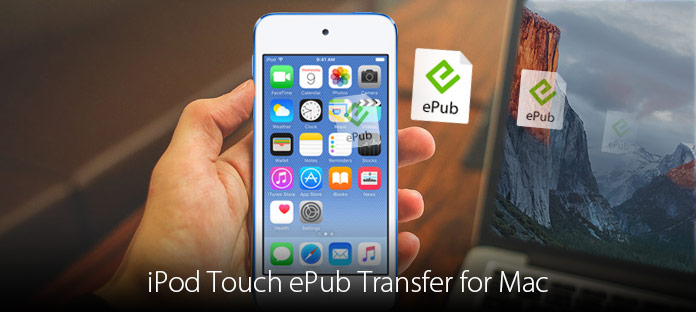 iPod Touch ePub Transfer for Mac
Therefore, this article introduces where to download good eBooks and how to transfer ePub books from Mac to iPod Touch. If you are a reading enthusiast but have no idea how to manage ePub books, then you can read the following paragraphs to get the detail information you need.
Part 1: 10 Popular Sites to Download eBooks in ePub Format
You can find many eBooks with these provided sites online. And ePub is commonly used in eBook formats. There are numerous eBooks you can find, but your time and money is limited. So it will be better to download free ePub books from legal online eBook sites.
| | Format | Category |
| --- | --- | --- |
| Baen Free Library | ePub, Mobi, Nook, Kindle | Science fiction, Fantasy books |
| Digi Libraries | ePub, Kindle, Web | All Genre |
| Arthur's Classic Novels | ePub, html | Classcial |
| Adelaide University | ePub | Classic books including literature, philosophy, science, history, etc. |
| epubBooks | ePub, Kindle | All Genre |
| Foboko | ePub, Mobi, Kindle, PDF | All Genre of Online Authors |
| Project Gutenberg | ePub, Kindle, PDF, Text | All out-of-copyright Books |
| Book View Cafe | ePub, Mobi, PDF | Female protagonist, adventure, magic, biotechnology, etc. |
| Diesel eBooks | ePub, Mobi, eReader, Microsoft Reader | All Genre |
| Free Christian Books | ePub, Kindle, Mobi, PDF | Religion and Bible |
Part 2: Use iCloud Drive to Download and Transfer ePub Books to iPod Touch
You can use iCloud Drive to transfer not only ePub books, but also PDF files, iBooks author books and other items. Moreover, iCloud Drive also enables users to export ePub books to other Apple devices like iPhone and iPad.
Step 1 Open "iBooks" app
Step 2 Find the eBook you want to download
Step 3 Choose the Download icon to save the ePub book to your library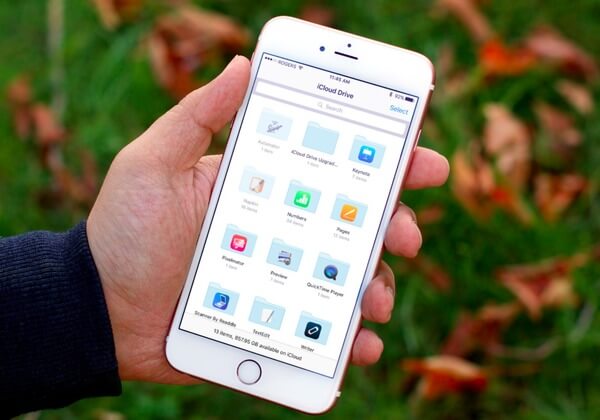 As for transferring ePub files between iPhone, iPad or iPod Touch, you can enable iBooks sharing in iCloud Drive to achieve the goal.
Part 3: Run Mac FoneTrans to Transfer ePub Files and iBooks on Mac
The easiest way to transfer ePub files to iPod Touch is using Mac FoneTrans. You can transfer all iOS files selectively and freely. Compares with iTunes, you can export ePub books and other files without data loss. And you can also group, edit and preview the detail information of each ePub file before transferring to iPod Touch.
Support various file types like photos, music, contacts, ePub, PDF, books, etc.
Transfer from iPhone/iPad/iPod to Mac.
Output from computer or iOS devices to iPhone/iPad/iPod.
Sync from iPhone/iPad/iPod to iTunes.
Highly compatible with all iOS devices including iPod Touch.
Step 1 Connect iPod Touch to Mac FoneTrans
Download and install iPod Touch ePub transfer software. Launch it and plug iPod Touch into your Mac computer. Later, Mac FoneTrans can detect your iOS device entirely.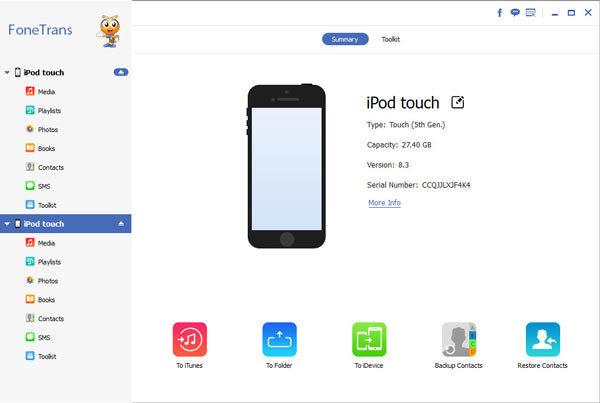 Step 2 Access ePub books on Mac
Choose "Books" in the left panel to see all your ePub books. Moreover, you can run FoneTrans to transfer other file types including media, playlists, books, contacts, SMS and toolkit.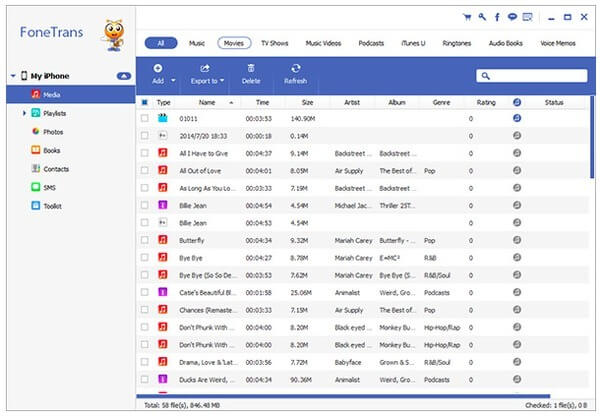 Step 3 Transfer ePub books from Mac to iPod Touch
Click "Add" option on the top toolbar. Later, you can select which eBook you want to output and click "Open". When the ePub transfer process ends, you can transfer other files to iPod Touch as well.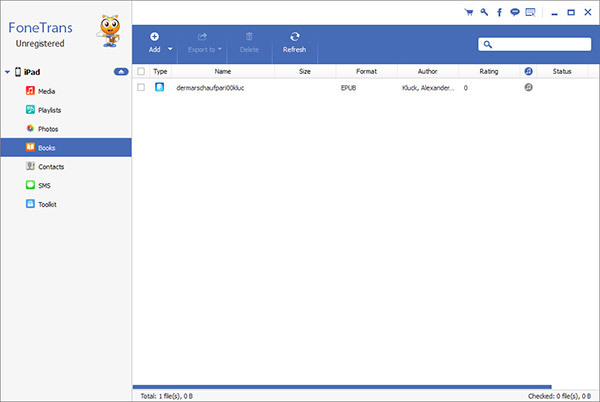 Well, you can transfer eBooks and other files to Mac or iTunes library in easy ways too. Just select "Export to" option and then output your selected iOS files.
Part 4: Common Questions about iPod Touch ePub Books Transferring
Question 1: How to Transfer ePub book files on flash drive to iPod Touch? I have a 2009 MacBook Pro – ver 10.10.5 Yosemite.
Answer 1: You can use iTunes, iCloud Drive or Mac FoneTrans to transfer ePub books. Compares with other tools, FoneTrans has simplified the file transferring process. And you can get more features from FoneTrans to edit, group and preview ePub books.
Question 2: Several days ago, my books disappeared from my iTunes. I can still see everything in iBooks on my computer. But iTunes cannot recognize them. Also iBooks is not syncing with my iPhone and iPad. I can even not see Books tab. So is there a way to make my books from iBooks appear in iTunes?
Answer 2: Choose "System Preferences" and then click "iCloud". Later, you can select "iCloud Drive" options to recheck "iBooks" option. As a result, you can see iBooks again and transfer ePub books to iPod Touch with ease.
Question 3: With the new iTunes 12.7, how do I manage PDFs, ePubs not purchased through Apple in Windows 10? And will those books on my iPhone still be there?
Answer 3: You can update iTunes to the latest version first. Later, choose the ePub books and other contents you want to transfer. Look for your iDevice in the left sidebar to drag and drop those items. And you can still see previous downloaded ePub books that are not purchased through Apple.
Question 4: How to transfer iBooks books and PDFs from old iPod Touch to new iPad?
Answer 4: Using iTunes is the common solution to transfer iOS files. However, it may take a long time to sync eBooks. During this time, Mac FoneTrans is your better choice. You can transfer ePub books and any other file between iDevices freely.
If you find the above paragraphs are very useful about how to transfer ePub books from Mac to iPod Touch, please click the like button and share it to more friends. Also you can tell us any other new idea about ePub books in the comment below.