Top 5 iPod Transfer and How to Transfer Music and Other Files from iPod to Computer
I want to transfer some songs to my iPod touch 6. I don't want to use iTunes as it will erase my current iPod songs. Is there any better choice for transferring music from computer to iPod?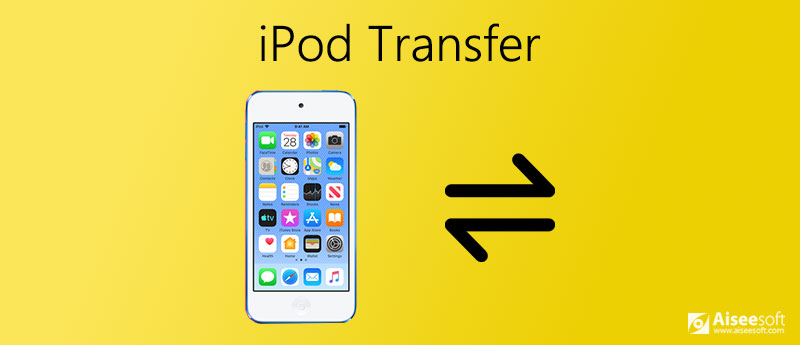 Part 1. 5 of the Best iPod Transfer to Transfer Files from iPod to Computer
Top 1. Aiseesoft FoneTrans – Intelligent iPod Data Transfer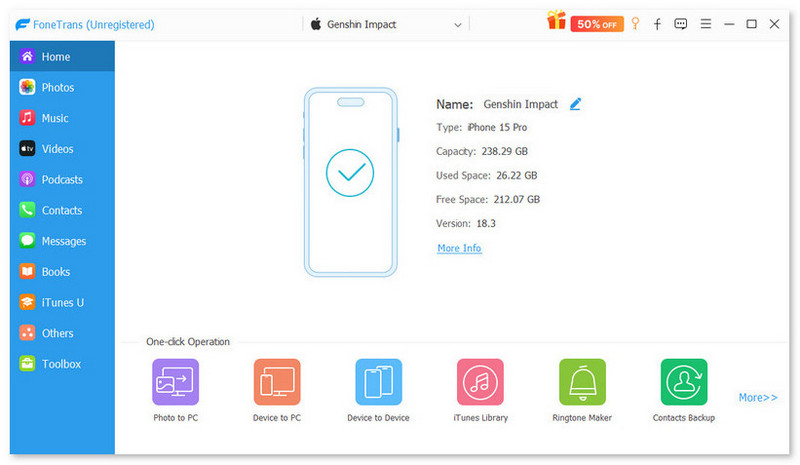 Aiseesoft FoneTrans is an easy-to-use iPod transfer that is able to transfer and back up music, songs, videos, photos and other more contents from iPod to computer. Besides, you can move iPod contents to iTunes and manage iPod files on Windows PC or Mac.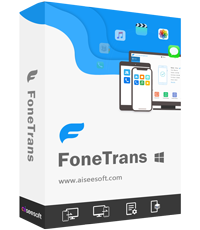 Downloads
Pros
A wide array of data support for iPod transfer, including music, photos, videos, contacts, etc.
Offers convenient arrangement of files in iPod.
Available for both Windows PC and Mac operating systems.
Cons
The free trial version is limited.
Top 2. iTunes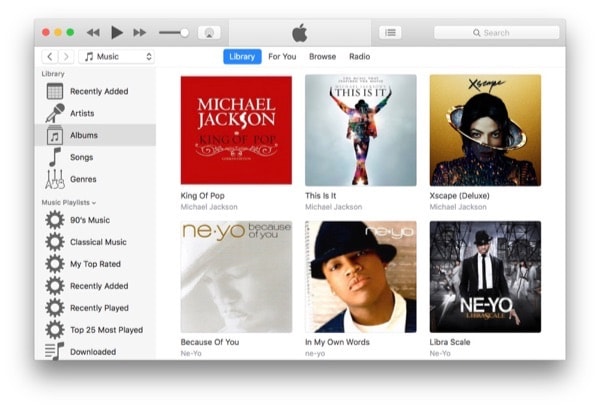 iTunes is one of the most popular iPod transfer software across the world. You can use it to transfer any type of file such as music, movies, documents, pictures, and more. The software can be used for cross-platform data transfer between iPod and a Mac or PC.
Pros
Able to transfer a wide variety of file types.
Cross-platform file transfer.
Cons
The operation is a little bit complicated.
Top 3. PodTrans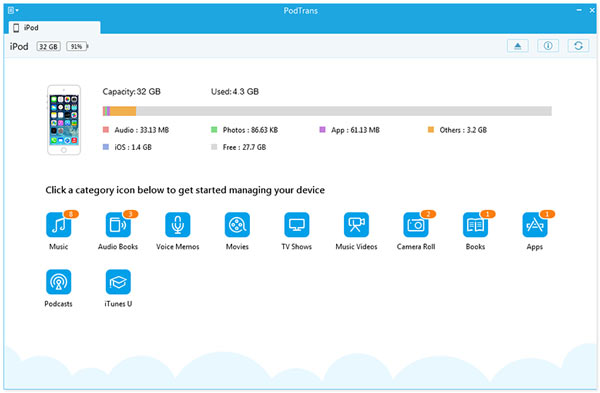 PodTrans is one of the best iTunes replacement software. It can easily sync your music, videos, documents, contacts, and more between your computer and iPod. PodTrans makes it easy to manage, find, and transfer iPod songs on your computer.
Pros
Simple to use.
Support transferring multiple files.
Cons
Limited features as compared to other iPod transfer tools.
Top 4. CopyTrans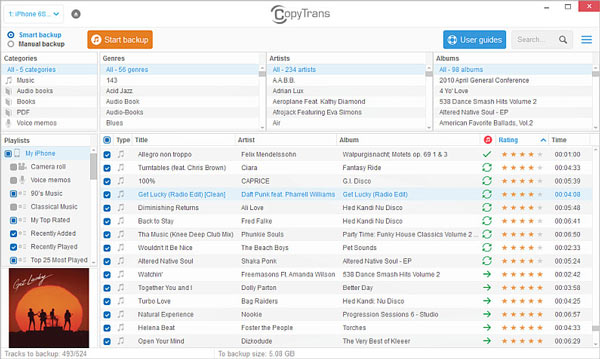 CopyTrans application allows iOS users to backup.
If you're looking for an all-in-one too that lets you easily manage music and media, transfer files between your computer and iPod, or between your iPod devices.
Pros
Easy to transfer music between iPods.
Feature-rich data management.
Top 5. iRip 2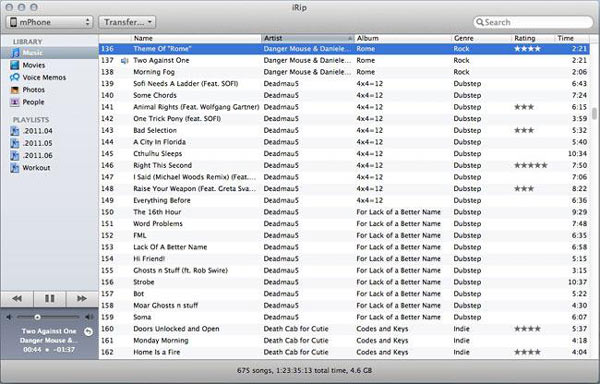 iRip 2 (iPodRip) is a decent iPod music transfer for Windows PC and Mac. It supports any kind of content, including music, photos, movies, books, TV shows, podcasts, and more.
Pros
Clean interface.
Faster transfer.
Cons
No option to move music from iPod to iPhone.
Part 2. How to Transfer and Manage iPod Files
You are able to export iPod files to computer to save space, these files include music, movie, pictures, TV shows, Podcast, iTunes U, PDF, Camera Roll, voice memos, camera shot files. It also allows you to copy files from computer to iPod, like videos, songs, photos, epub, etc. What's more, you can share files between any two iOS devices including iPod, iPhone and iPod.
Here we'd like to take Aiseesoft FoneTrans as an example to show you how to transfer and manage iPod files with ease.
Transfer Music from iPod to Computer
Step 1.
Install and launch Aiseesoft FoneTrans on your Windows PC or Mac, then connect your iPod with computer with USB cable.
Step 2.
Now the interface will display your device information. You now need to go to the left panel of the window and choose
Music
.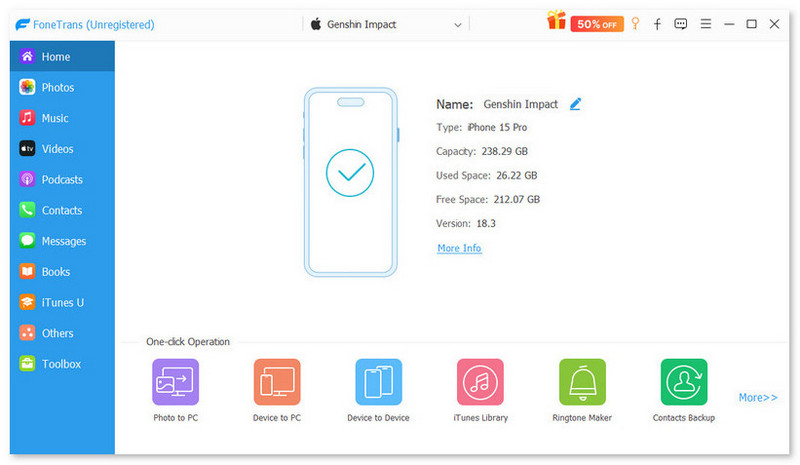 Step 3.
Then, you need to select all the songs which you're going to transfer. Once done, click on the
Export to PC
option (the computer icon) on the top of the interface, and then choose the destination folder for saving your exported file.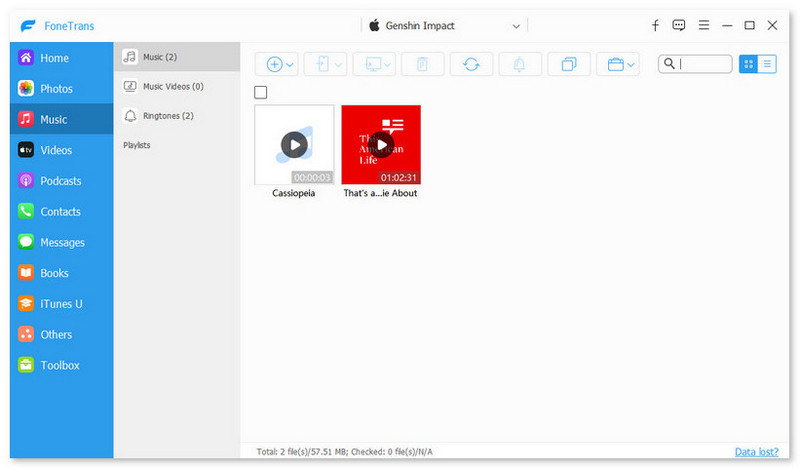 Now, you just need to wait patiently. Once the transfer is over, you can access your music files from your iPod.
Manage iPod
When accessing your iPod files, FoneTrans displays accurate iPod information like device mode, capacity, version number, serial number, and files size. You can use the program to better manage iPod files. It also allows you to edit ID3 information of any video/audio; search though files by genre, artist's name, album name, etc.; view iPod files in various modes. Keep on reading to learn more information.
Delete iPod files
You can also use iPod Transfer to delete iPod files with ease to free up more device storage. Tick what you want, and simply click the Delete button to erase them.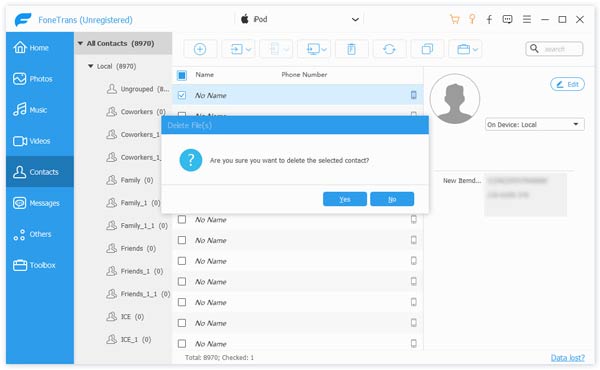 Edit and de-duplicate contacts
Too many duplicate contacts on your iPod? FoneTrans is also a good tool for you to add/edit iPod contacts (contact name, phone number, email address and more) on your computer. Click De-duplicate, and iPod transfer will automatically scan all your iPod contacts and display the duplicate contacts for you. Choose the match type, Exactly matched or Name, email or phone matched. Finally choose Merge option to merge the duplicate contacts, or choose Ignore to keep them on your iPod.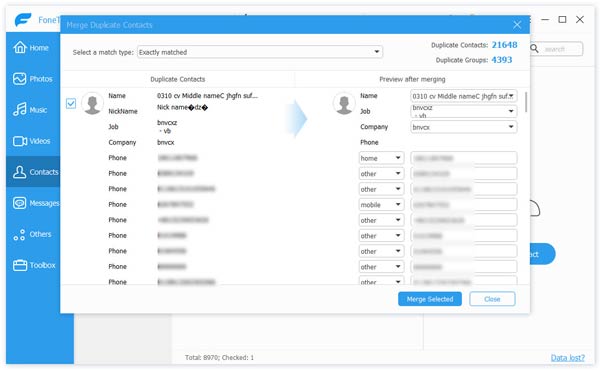 Convert audio and video format
When you import audio or video that is not what your iPod supports, FoneTrans will let you convert them to the iPod compatible one.

Its plug-in video converter helps you convert any video/audio to iPod compatible formats for watching or playing. It can be acted as a good video editor.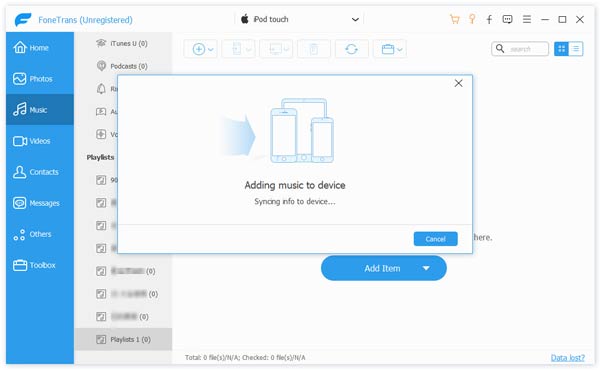 Create iPod playlist
You can use FoneTrans to create a brand-new playlist. Click Playlist button and import your favorite songs to iPod. You can also manage iPod current music playlists.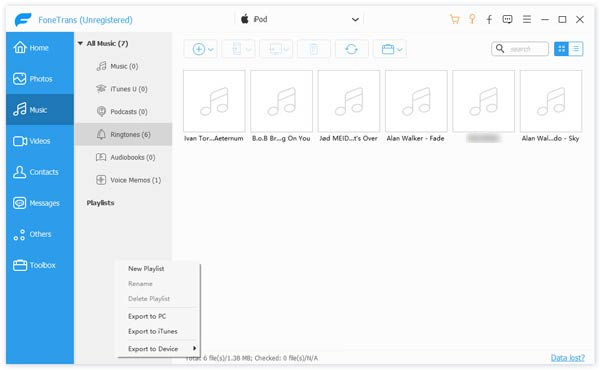 Edit ID3 music info
Want to edit your iPod song info? FoneTrans can also do that for you. Choose the song in the interface, and right click to choose Edit info. And here, you can edit the song name, artist, album, genre and more.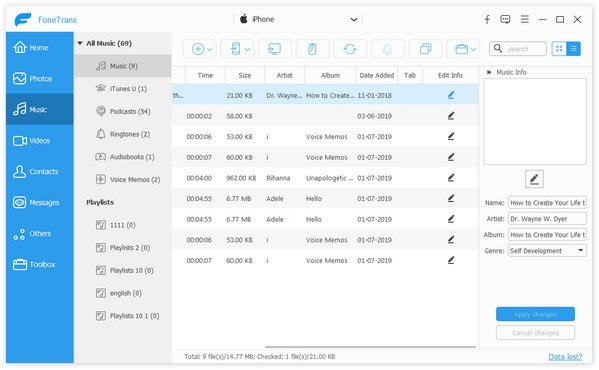 Part 3. FAQs of iPod Transfer
How to transfer music from iPod to iPod?
Here are two ways to transfer music from iPod to iPod. One is to use iTunes, and the other is to use a professional iPod transfer tool like Aiseesoft FoneTrans to copy and move your data from one iPod to another. Click here to learn more how-to details.
Can I transfer MP3 files to iPod?
Yes, you can use iTunes to transfer MP3 songs to iPod. Make sure that your iTunes is up to date, and then you can copy MP3 files to your iPod.
How to transfer music from Mac to iPod without iTunes?
Aiseesoft FoneTrans is one of the best iPod file transfer alternatives to iTunes, as it quickly transfers files and media content between iPod and computer in both directions. You just need to free download this software on your computer, and then you can start transferring your music from Mac to iPod.
Conclusion
The above-mentioned iPod transfer applications are excellent, right? All you need to do is find one that is best for you, so you can easily move files between iPod and Windows PC/Mac or between two iPods. Hope you can like it.

Leave your comment and join our discussion