Top 10 Best GIF APP for iPhone and Android
GIFs are the compromise of videos and images, which have gathered their pros of expressing emotions and conveying messages vividly. Not as large as video files and being more eye-catching than simple photos. You can animate images into GIFs with lightweight file size, to create funny GIFs with all media files on Android or iPhone. Here are top 10 best GIF app for iPhone and Android users, to help you get out of tedious and hassle GIF animations from then on.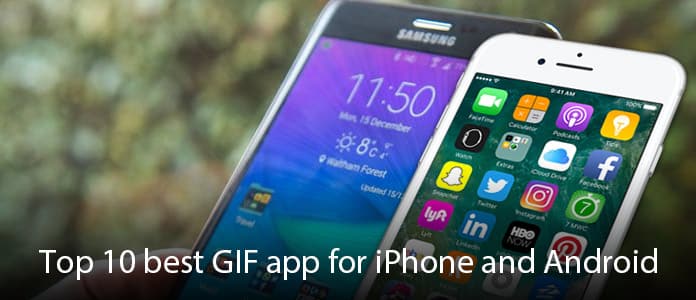 Part 1: Top 5 Best GIF APP for iPhone
The followings are 5 best GIF apps for iPhone with unique features, with which you can animate GIFs easier. There are two mainstreams for you to get GIFs on iPhone, to record short videos and then animate into GIFs, or to create GIFs with images, with numerous filters and effects to apply with.
Giphy

Price: Free
Being the best free GIF app iPhone creator, Giphy offers auto-play on/off switch for people who suffer the poor Internet connection. And there is also a 3D touch to quick aces GIFs on iPhone. Giphy provides users several parts about GIFs, which are search, explore, text, share, save and react. You can enjoy super fast GIF animations and with the comprehensive GIF filters, to edit and send animated GIFs on iPhone even without leaving your conversion. If you want to experience the newest trending of GIFs, then Giphy should be your first choice, to create a GIF on iPhone for free.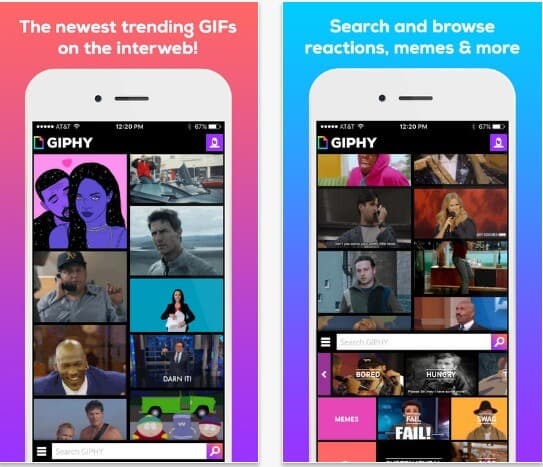 GIFX

Price: Free
With over 200 GIF effects and more than 100 masks provided for iPhone users, GIFX is the best GIF app on iPhone for people to get creative GIF artworks. Your GIFs can be added with background music in customizable way. Or you can save the movie file into a GIF file directly, use filters to change opacity, size and other settings, and then share to social platform with ease. In addition, GIFX supports users to save video files as GIF, movie or even add another GIF layer on, to bring your photos and videos to life in totally free way.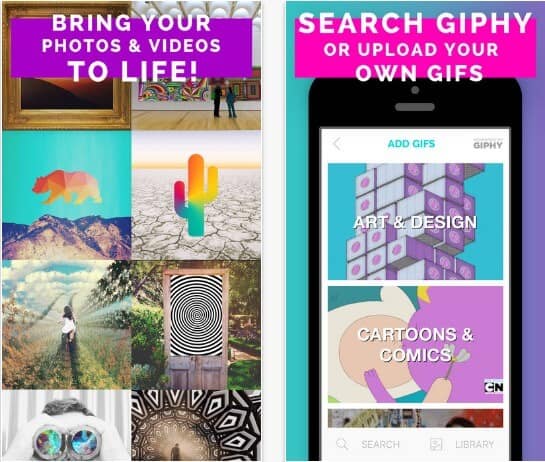 GifLab

Price: $1.99
GifLab is the GIF app for users to animate GIFs with many effects and filters. It allows users to control speed, add captions and apply filters to adjust the GIF quality and outputs. You can use the best GIF app for Instagram sharing and other social platforms, through email, messages and etc. For people who need to upload animated GIF artworks, using URL is the easy method.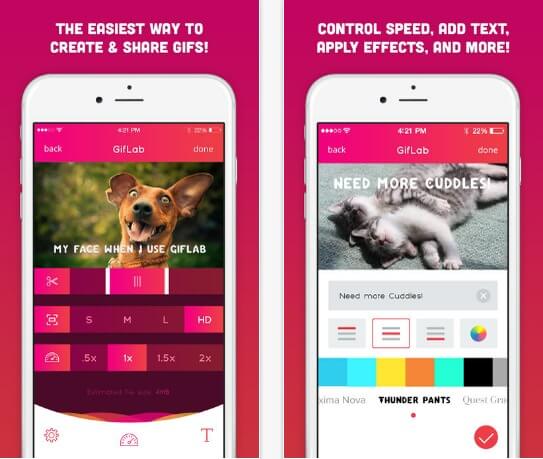 Giffer

Price: $2.99
Giffer is the best GIF maker app for iPhone with powerful filters combined with easy to use interface. It allows users to create GIFs from live photos, burst pictures and videos. You are able to edit GIF downloaded or created before, with 25 awesome built-in filters. Moreover, you can also crop GIFs into any size ratio with precise filters, to add delays, adjust animation speed, add images and text into GIFs easily. In addition, there are also in-app purchases of camera modes to choose from.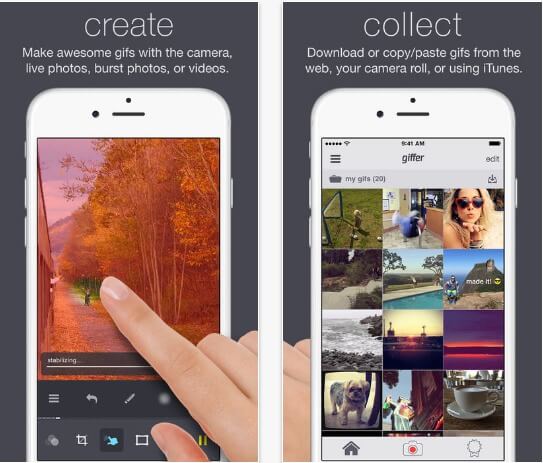 GIF Toaster

Price: Free
You can convert all kinds of media formats to GIFs with GIF Toaster easily. It is the GIF maker consists of all types of effects and filters, as well as the GIF collage maker support. Your animated GIFs will be outputted into camera roll album directly. Or you can use URL Scheme to upload online. If you want to get high quality GIFs, just come to the free best GIF maker app on iPhone.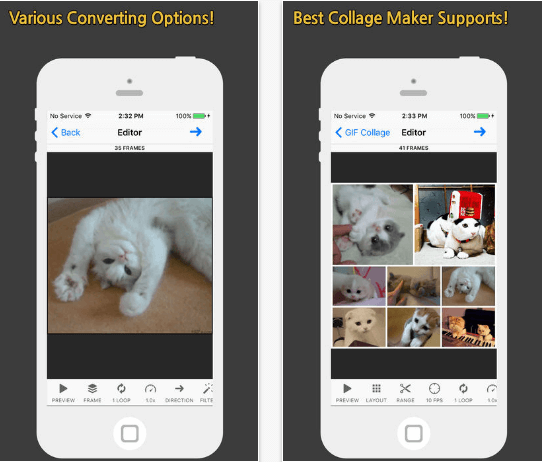 Part 2: Top 5 Best GIF APP for Android
If you wanna to make a GIF on Android, the followings are top 5 best GIF app for Android users, with various animation filters and effects to apply with.
GIF Creator

Price: Free/ $0.99
Get 10 interesting filters to edit your GIFs, and adjust the duration of animation up to 30 seconds with GIF Creator. There are four parts contained in the best GIF app for Android in free way, which are GIF using camera, GIF using pictures, my GIFs and top GIFs. You can know their related functions about GIF animation from their names already. Furthermore, there are also in-app purchases you can choose, to improve GIF creation experience.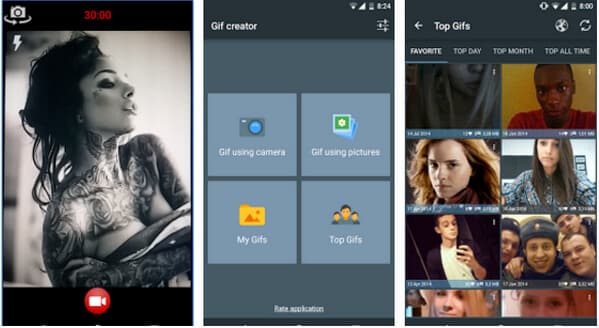 GifBoom

Price: Free
GifBoom is the cool GIF app on Android, for users to animate GIFs in 60 seconds. The auto and manual modes are two different choices to adjust GIF speed. It supports users to create GIFs from videos, photos or GIFs with live filters. After that, use one tap instant sharing feature to post GIFs to Twitter, Facebook, Tumblr, Email and MMS. And the preview feature allows users to change GIF speed easier than before.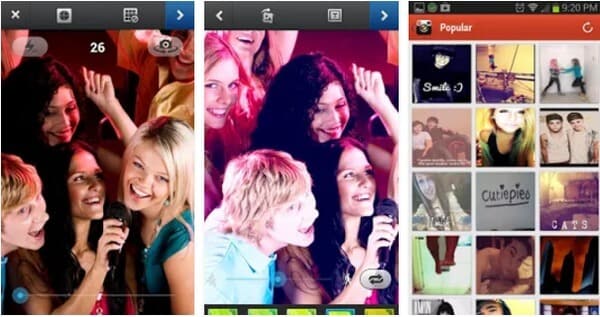 GIF Me Camera

Price: Free/ $0.99
Using built-in camera to take shot videos and then animated into GIFs up to 14 seconds, there are also image filters you can manage with. GIF Me Camera is not only the GIF maker, but also the GIF editor, with real time color filters offered. You can use stop motion or video mode to get more GIF effects. The best GIF app for Android offers watermark-removing feature in the pro version if you need.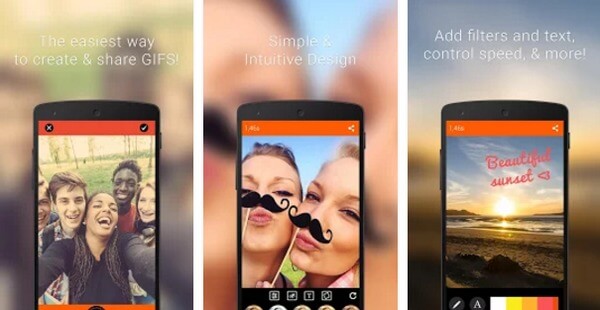 GIF Maker

Price: $2.99
GIF Maker split GIF animation into detail aspects. The number of photos ups to 50, and no less than 10, while the shooting time varies from 5 to 25 seconds. The best free Android GIF creator app supports several shooting modes, which contains camera flash on/off, front/ back camera, camera of no shutter sound and many other settings you can manage with. Therefore, just use shot GIF built-in camera to animate GIFs directly.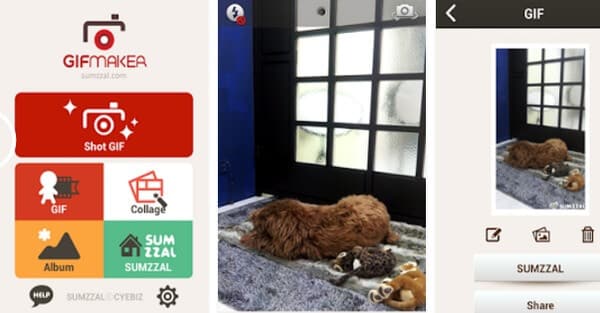 GIF Pro

Price: Free
GIF Pro has divided itself into 5 parts, with which to animate image to GIF, video to GIF, decode GIF, preview GIF and generate GIF link. The best GIF animator app on Android has covered most of your requirements of GIF animation. Well, GIF Pro supports users to share GIFs to Facebook, Instagram and other social platform as well. In addition, no watermark will be attached on your GIFs.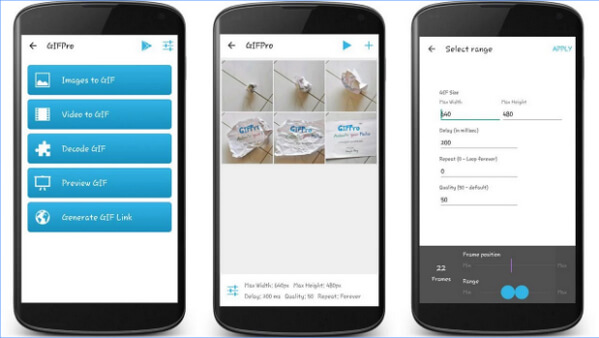 Part 3: Best GIF Maker APP to Make Animated GIF on Computer
What if you need to animate GIF son desktop? Do not worry about that, Aiseesoft Video to GIF Converter is the free GIF animator app works on Windows and Mac computers.
1. Support most media formats and allow users to make GIFs on computer free.
2. Convert video to GIF in high quality and fast speed.
3. No Internet limitation and accept wide GIF sources.
4. Provide professional video editing filters, to enable users to edit and customize output GIFs directly.
You can batch animate GIFs, take snapshots, preview, add watermark and enjoy many other features in the best GIF app free for Windows and Mac of desktop version. If you wanna dig out more features, just download video to GIF converter free to have a try.