Best Free GIF Viewer to Play GIF Animation on Windows/Mac/Android/iOS
Many people like to create animated GIFs from videos nowadays. Why do GIF images become so popular? An animated GIF is a graphics file that displays a short animation. GIFs are great as these animated images can really kill time and liven up our communication when you see that increasing people send or share GIF images on WhatsApp, Snapchat, WeChat and so on.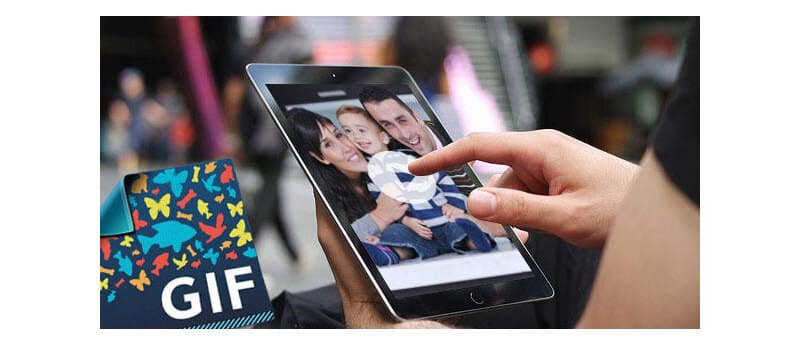 If you get some GIFs on your computer or Smartphone, how can you play these animated images? However, many people complain the GIF playback. For example, the default image viewer of Windows, Windows Photo Viewer can only open still image instead of the animation. To view the GIF animation, you have to open Internet Explorer to play them. Actually, you need one GIF Viewer to help you. What is the best GIF viewer for you? Some GIF players enable you to pause and control the animation speed, while some only allows you to view GIF in loop. Some advanced GIF animation software can even let you edit GIF files with features like Rotate, Flip, image adjustment (contrast, hue, brightness, sharpness, etc.). Most of GIF players support not only GIF format, but also other image format like JPEG, PNG, TIFF, WMF, BMP, EMF and more. In this article, we will list best GIF player for Windows/Mac/iOS/Android.
Part 1. Best 6 GIF Viewer for Windows 10/8/7
In this part, we list 6 reputable GIF viewers for you. You can choose and download one GIF player for free and play your GIF file!
No.
Program
Screenshot
Price
Features
1

Download site:
https://www.aiseesoft.com/mac-media-player-for-free/



Free

◆ View and play animated GIFs.
◆ Play, pause, stop, and resume GIF.
◆ Support other video and audio formats like MP4/AVI/MKV/MOV/MP3/FLAC/AAC, etc.

2

Imagine
Download site:
http://www.debugmode.com/wax



Free

◆ Play animated GIFs.
◆ Flip, grayscale, change color depth, rotate, resize of the GIF file.
◆ Support other image formats like JPEG, PNG, TIFF and more.

3

IrfanView
Download site:
http://www.irfanview.com/

Free

◆ View animated GIF files.
◆ Play, pause, stop, and resume GIF animation.
◆ Other image formats are supported: .psd, .bmp, .gif,.jpg, .jp2, .tga, .psb, .tiff, .avi, .cdr.

4

FastStone Image Viewer
Download site:
http://www.faststone.org/FSViewerDetail.htm



Free

◆ Open and play GIF image.
◆ Have editing features like effects, crop, resize, color options and so on.
◆ Support other image format including .bmp, .cur, .ico, .jpg, .psd, .tga, .tiff, .wmf, etc.

5

Image Eye
Download site:
http://www.fmjsoft.com/imageeye.html



Free

◆ View GIF animation, load next or previous images, and view slide show.
◆ Flip, rotate, adjust contrast/brightness/sharpness/hue.
◆ Highly support other image format like PNG, JPEG, TIFF and so on.

6

InView
Download site:
http://www.inviewer.org/index.php



Free

◆ Open and view GIF file.
◆ Play and pause GIF animation.
◆ Support other image formats including PNG, JPG, TIFF, BMP, ICO, etc.
Note: Besides these GIF viewer introduced above, there are other software that can play GIF image file on the Windows computer, such as GIF View, 7GIF, imageOpen, FreeVimage, DIMIN Viewer n5, ImageGlass, PicViewer, JPEGView, Universal View and so on.
Part 2. Top 3 GIF Player for Mac OX S (macOS High Sierra included)
If you are a Mac user, how can you play or view GIF file? Different with Windows, it is convenient for GIF playback on Mac OS as Mac has Mac Blu-ray Player, QuickTime Player and Preview. These 3 GIF player can help you view GIF image with ease.
1. Mac Blu-ray Player - Best All-in-one GIF Player for Mac
2. QuickTime Player - Mac Native GIF Animation Player
3. Preview - Animated GIF Viewer for Mac
Part 3. Best 2 GIF Viewer apk for Android and iOS 16/15/14/13/12/11
1. GIF Player - GIF browser for Android phones and tablets
2. GIF Viewer - Animated GIF Player Album for iOS devices
Part 4. Play GIF on Internet Explorer/FireFox/Google Chrome/Safari
As we mentioned before, Windows Photo View doesn't allow you to play GIFs. You can use Internet Explorer or other browsers like FireFox, Google Chrome, Safari and more on Windows PC or Mac computer to View GIF images. And in this part, we will take Internet Explorer for Windows as an example and show you how to play GIF image on this browser.
Part 5. FAQs of GIF Player
In this article, we mainly list some GIF viewer for Windows, Mac, Android, iOS and online. Have you found your preferred GIF player to play the animated GIF files? Our site also provides some tips of green video software if you are interested in how to edit green video.
Bonus Tips
Not only want to play or view animated GIF files, but also try to make your own GIF animation? You can try this video to GIF converter which can help you make GIF from other video formats with ease. You can also play and preview the GIF before converting. Let's start to make your own GIF animation now!