5 Best Google Voice Recorders to Capture Voice Calls on Android
Summary: Still don't know what Google free phone service is even you have a Google Voice account? Want to record Google Voice calls but don't know how? Search for the best Google Voice recorders? All the questions will be answered in this page. You can find 10 great audio recording apps to help you record Google Voice calls on Android.
For various reasons, you will think about recording a phone call. For instance, you may want to capture the very important calls of your clients, or you like to save the treasured moments of your lover. However, there is no pre-installed voice recorder on your phone can help you do that.
Here comes the question, how to record Android phone calls?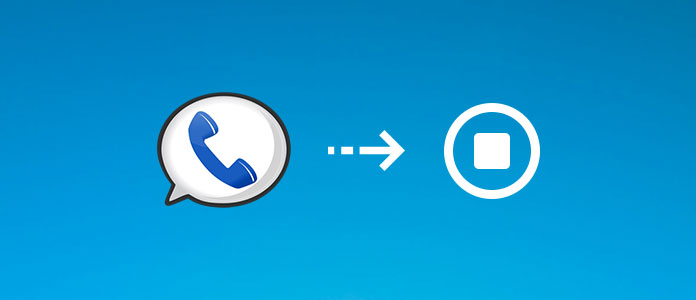 As an Android user, you may used to use Google Voice to make free phone calls. This post will mainly talk about Google Voice service and best Google Voice recorders. Surely, if you want to record common voice calls on your Android device, these recommended Google Voice recorders will still do you a great favor.
Part 1: What is Google Voice
Actually, even though you have a Google Voice account and often use this free phone call service, you are more likely have no clear understanding about Google Voice. So before we introduce you with 5 best Google Voice recorders, we will first give you a simple introduction of Google Voice.
Google Voice is a very popular communication service which enables you to give everyone one phone number (free or paid) and forward it to multiple phones. Even when you change jobs or phone services, people can still easily contact you with Google Voice account.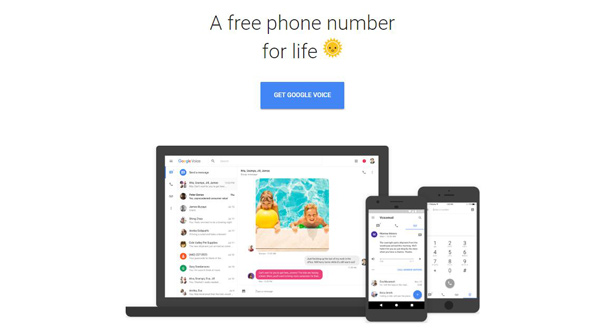 Among Google Account users in the U.S. and Canada, Google Voice provides pc-to-phone, pc-to-pc, video/voice calls, conference calls, low rate international calls, voicemail, voice and text messaging, and international call termination and more services.
Google Voice costs nothing to sign up and get started. You can consider it as a totally free service. You can handily make free calls after creating your account. But one thing you should know is that, for the international calls, you still need to pay for them.
Part 2: How to record Android audio calls with Google Voice
Google offers the Google Voice app for Android users. In fact, after installing Google Voice app on your phone, you can easily record voice calls through a Google Voice account. While for now, this feature is only supports recording incoming audio calls.
Step 1 Open your browser and go to the Google Voice homepage (https://voice.google.com/about). Sign in your Google Voice account.
Step 2 Click the three-dot icon on the left control and then choose Settings.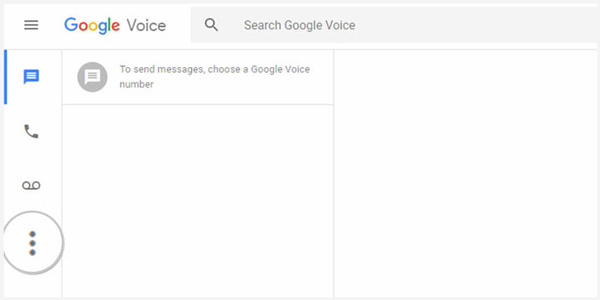 Step 3 When you enter the Settings window, locate and click on Calls. Then you will see a Incoming call options, turn on it.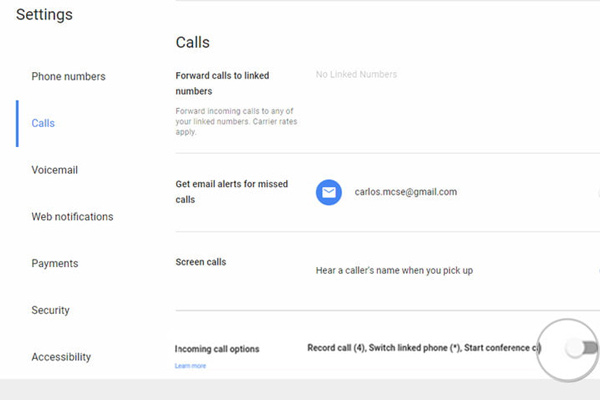 When all these settings are finished, when you get an income call, you can tap 4 button on your phone to start the voice call recording. You can click 4 again to stop the process and save the captured call to your inbox.
Part 3: 5 best Google Voice recorders
As it mentioned above, you can only capture income calls with Google Voice. So when you want to record all phone calls, Google Voice recorder will no longer be a good choice. Here in this part, we will list 5 more best Google Voice recorders for you to capture any call on your Android phone.
Sony Audio Recorder
Sony Audio Recorder is an easy-to-use Google Voice calls recording app which originally designed for the Xperia phone series. It can help you record phone calls from microphone with fairly solid sound quality. Just one simple click, you can easily start the audio recording. While audio call recording, you are allowed to make a pause and then continue to capture the useful parts.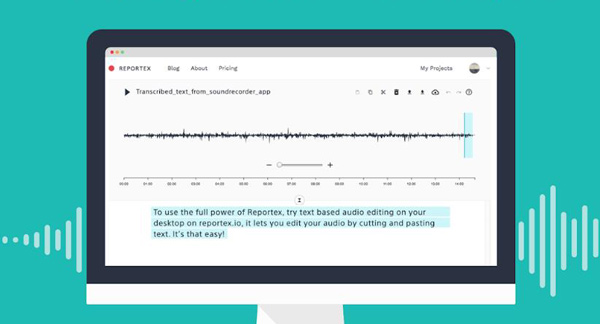 Thanks to its concise interface, you can easily complete the voice capturing process within just a few taps. Moreover, you can play and edit the captured calls with ease after recording. And you can manage the database of your previous recordings.
Call Recorder — ACR
ACR Call Recorder is considered as one of the best call recording apps in the Google Play Store right now. It offers two versions for users to download, freemium and premium. There are some ads in the free call recorder. And you can pay $4 to remove all ads.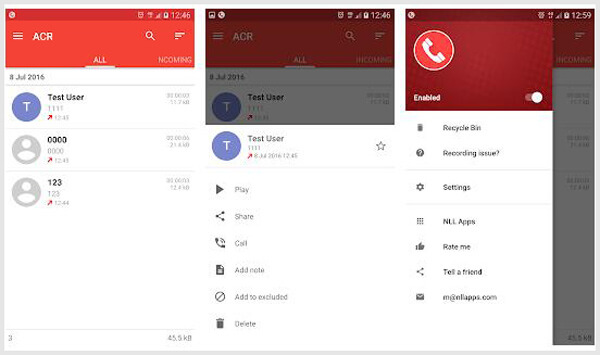 Many cool features are designed in this Google Voice calls recorder app. It has the capability to automatically record and save audio calls based on phone number. Moreover, it can help you auto clear old captured calls. So for some important calls, you need to mark them as important. What's more, you can set password to prevent others accessing your recordings.
It offers different recording modes for you to choose from. For instance, you can handily capture calls by phone number, contact, non-contact and selected contacts and so on. The recorded Google Voice calls can be saved in any popular audio format like MP3, M4A, OGG, WAV, AMR, 3GP, FLAC, and more.
Smart Voice Recorder [Free]
Smart Voice Recorder is specially designed for high-quality and long-time sound recording. With a user-friendly interface, it makes the whole audio recording very simple. It enables you to start, resume, cancel and save recording with ease. The wave/PCM encoding with adjustable sample rate (8-44 kHz) are provided.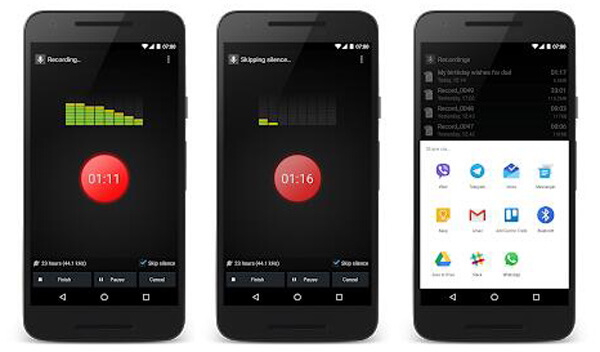 Easy Voice Recorder
Easy Voice Recorder is a powerful Google Voice calls recording app which can help you capture any important moment in your daily life. It enables you to record meetings, personal notes, classes, songs and more without time limits.
This audio and voice recorder can quickly start a new audio recording with widgets and shortcuts, and record in the background. It also provides a convenient share option to ensure you easily send the captured audio files through email or any frequently-used app.
Voice Recorder – Free
Voice Recorder is another popular audio recording app which is able to record your daily Google Voice calls. It can save the captured audio files in MP3 format with high sound quality. Moreover, it is equipped with a microphone tool that will allow you to adjust the sensitivity of the recorder.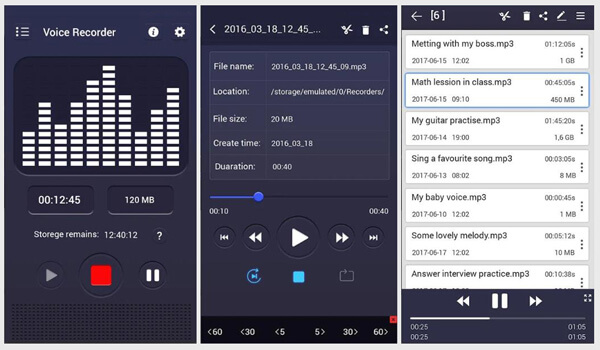 Compared with other voice recorder apps, this free Voice Recorder has a very useful feature. It enables you to edit your Google Voice recordings. Many frequently-used editing features are offered. You can easily cut the recorded audio to only save the necessary parts. In addition, you are allowed to copy and paste these captured audio with ease. After editing, you can preview the final audio and then save it.
Professional audio recorder to record Google Voice calls on PC/Mac
With the recommended audio recorder apps above, you can handily capture everyday Google Voice calls. If you want to record video calls on computer, you should pay more attention to this part. Here we sincerely recommend the professional screen and audio recording software to help you record anything happened on your PC/Mac.
Aiseesoft Screen Recorder
For Mac
Aiseesoft Screen Recorder is the professional video and audio recording software, which can help you record online videos, podcast, webinars, lectures, presentations, Skype calls, online conference, webcam videos, songs, etc. with high-quality image and sound quality.
Record online videos/audio from YouTube, Facebook, Vimeo, DailyMotion, TED, etc. in full screen or customized screen size with ease.
Provide "Blu-light" real-time HD video encoding technology to ensure excellent image and sound quality for YouTube videos.
Recorded YouTube videos can be saved as MP4 or WMV file which would be easy to playback on any video player.
Record streaming audio, online audio, microphone voice with high sound quality.
Capture any sound on your computer from system audio or microphone according to your need.
Support capturing pictures from screen.
Check how to use this screen and audio recorder from the video below: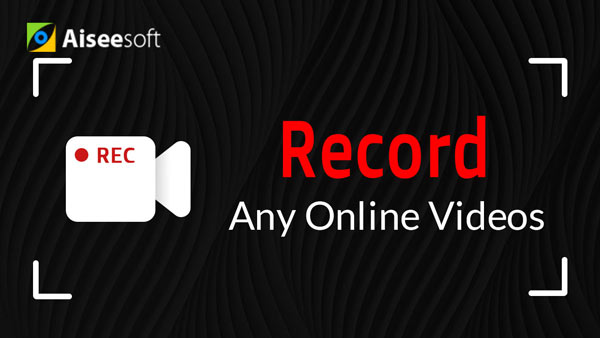 We mainly talked about best Google Voice recorders in this page. We give you a simple introduction of Google Voice at first. And then we introduce you with 5 best Google Voice recorders for you to capture audio calls on Android phone. If you prefer to record video or voice calls on computer, you can also find suitable recording tool here. Leave us a message if you still have any question.