Top 5 Online Audio Recorders in 2018 (Free/Paid)
Summary: It is very convenient to record your voice memos or audio for video making or affair reminders. What you need is finding the best audio recorder. The most ones recommended are the online voice recording software. This page lists the best 5 online sound recorders for your reference.
Voice recording online is a great way to deliver messages. Compared with reading words, people prefer listening to the same words. Whether you want to record your voices and share with others, make voice memos or voice diaries, or you wish to record streaming audio from YouTube to get a free background audio, the online audio recording software can help you.

All you need are Best Online Audio/Voice Recorders!
Searching on the Internet, you would find that a large number of audio recording tools are provided. In the following, I have narrowed them down to top 5 audio online recorders/audio recording apps. Hope you can find them useful to record computer/streaming audio on your PC.
PART 1


Why (not) choose online audio recorder?
Before you take the 5 online audio recorders as follows, you should also know the strength and weakness brought by online audio recorders.
Strength of online audio recorder:
1. Online voice recorder is always easier than audio recording app on portable devices or desktop software.
2. Without downloading any installation software, you can record audio directly.
3. Most of online audio recording programs are free to record.
4. Compatible with Windows, Mac, Android, iPhone and other devices that can open the browser.
Weakness of online voice recorder:
1. Online recorder for audio needs your internet connection, so the speed is limited.
2. Online recorders will require your permission of web camera and microphone. So your privacy is at risk.
3. There is time limitation for some free online audio recorders.
4. Most of them can be very limited to record streaming audio, such as Skype audio, YouTube audio, etc.
PART 2


5 Must-have online audio recorders
1. 123Apps Online Voice Recorder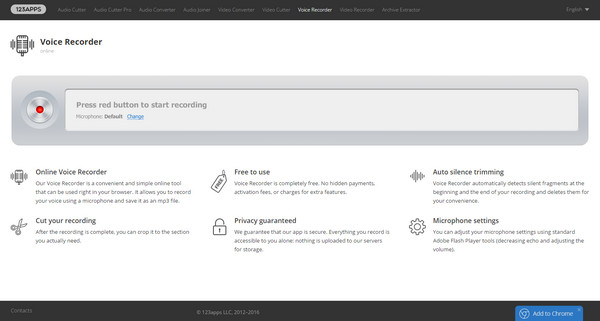 123Apps Online Voice Recorder is a free simple application which records sound from microphone and save it as an MP3 file. Apart from the basic audio recording function, 123Apps Online Voice Recorder could automatically detect silent fragments at the beginning and the end of your recording and delete them for your convenience, which is very appealing. After the recording is complete, you can crop it to the section you actually need.
123Apps Voice Recorder can satisfy you at a basic level, but if you need more functions, you might want to turn to other audio recording software.
2. Voice Spice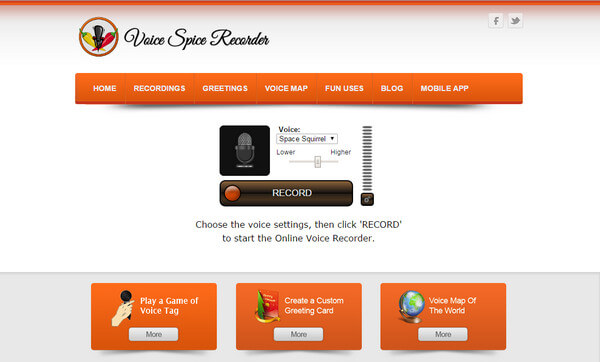 Voice Spice is a free online audio recorder and message sharing site. Compared with 123Apps, this is more funnier. While you are recording audio on this site, not only could you record your original voices, you can also change your sound to other types like "Hell Demon", "Robot", "Space Squirrel", etc. Besides, Voice Spice has created several little games to encourage voice sharing, such as "Play a Game of Voice Tag", "Voice Map of the World". You would definitely enjoy this voice community.
The shortcoming is its design. Compared with other voicing recording applications, the interface of Voice Spice is not attractive enough. Some people may even take it as a spam sites.
3. Chirbit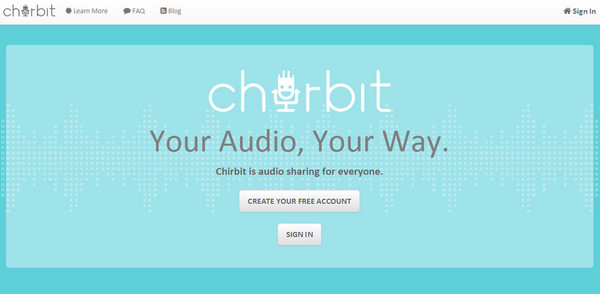 Chirbit, with a big slogan, "Your Audio, Your Way", is very useful audio recording tool for social audio. In addition to online recording, Chirbit also provides audio recording app version, which allows you to record audio on iPhone or Android. You can record your audio with iOS/Android app or via the Chirbit web based recorder. Other than that, Chirbit enables you to upload your audio files and share your audio on various social platforms, such as Twitter, Facebook, Google+ or on your own websites.
However, to get better experience, you'll probably need to create an account and download this audio recording app on your iPhone/Android in the first place, that may take you a lot efforts. For more Android voice recorders, you can refer to this.
4. SpeakPipe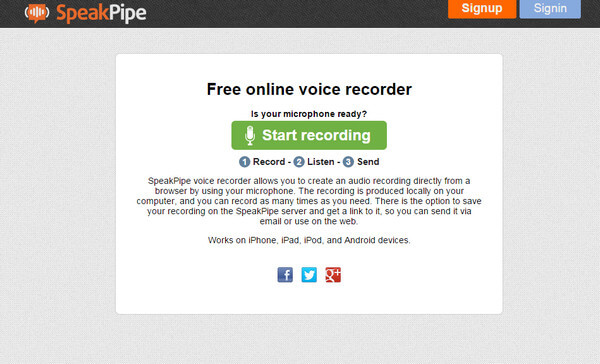 SpeakPipe is an online voice recorder that works not only on your PC/Mac, but also compatible with iOS devices and Android devices. It is a good way to increase interaction with audience for your own website. SpeakPipe provides an option to save your audio recording on the SpeakPipe server and get a link to it, so you can send it via email or use on the web. Visitor could also send voice mails to you with a few clicks in reverse.
SpeakPipe offers a free plan after signing up and installing the widget, with max duration of 5 minutes. For website managers, it'll be better to pay for the pro version with $12 per month.
5. Toolster online microphone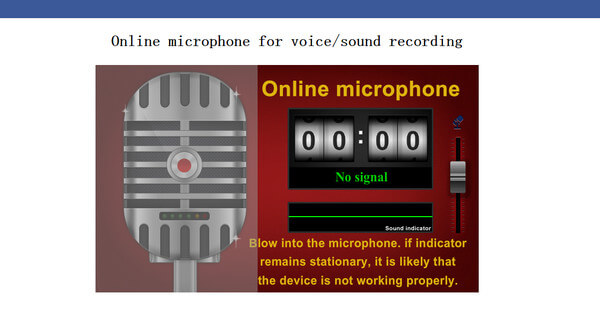 Online mircophone is another free web audio recording application designed to record audio from a webcam or a microphone on your computer or Mac. Like other online audio recording software, the app does not require any registration and is available right in a browser. You only need Adobe Flash Player installed on your computer to start record audio with this app, and allow this online audio recording app access to your webcam and microphone, including both voice and music. Then you can listen to the audio record as well as download it in MP3 format.
Sadly, this online recorder for audio can be very unsteady, sometime it can be totally dead.
PART 3


How to record audio without microphone?
The above 5 online audio recorders all need you to prepare a microphone. However, not everyone is willing to pay for an external microphone if he or she runs a desktop computer, instead of laptop.
At this point, is it possible to get an audio recorder without microphone? Here we sincerely recommend another professional audio recorder to help you record system without microphone.
Aiseesoft Screen Recorder
For Mac
Aiseesoft Screen Recorder is the professional video and audio recording software, which can capture online videos, games, podcast, webinars, lectures, presentations, Skype calls, online conference, webcam videos, songs, etc. with high-quality image and sound quality.
Capture computer audio without microphone.
Record online videos/audio from YouTube, Facebook, Vimeo, DailyMotion, TED, etc. in full screen or customized screen size with ease.
Provide "Blu-light" real-time HD video encoding technology to ensure excellent image and sound quality for YouTube videos.
Recorded YouTube videos can be saved as MP4 or WMV file which would be easy to playback on any video player.
Record streaming audio, online audio, microphone voice with high sound quality.
Capture any sound on your computer from system audio or microphone according to your need.
Support capturing pictures from screen.
Pre-listen the recorded voice.
Step 1 Free download, install and run this powerful audio recording software on your computer.
Step 2 When you enter the main interface of this audio recorder, pick the second option, Audio Recorder.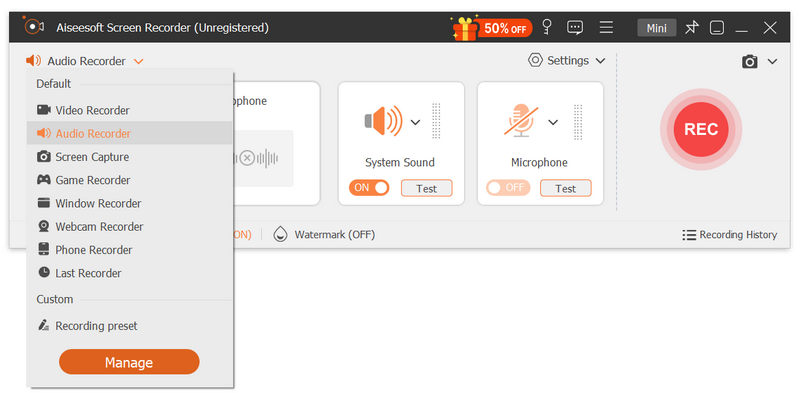 Step 3 This audio recorder enables you to capture sound from system audio and microphone. Considering that you don't have a microphone, here you are suggested to turn on the System Sound and turn off the Microphone.

Step 4 Play the audio you want to record, and then click on REC button to start capturing sound on your computer. Click the Stop button when the audio recording is finished.
The captured audio will keep the exactly the original sound quality, you won't need to worry about the quality loss. Moreover, the recorded audio can be saved in any popular audio format like MP3, AAV, M4A, FLAC, and more according to your need.
Check more details about how to record audio without microphone from the video below:
There are more to the story here. If you need more details, you could jump to: Top Sound Recorders for Windows/Mac/iPhone/Android.
We have talked about some best audio recorder tools in this page. Five great audio capturing apps are recommended for you to capture any sound on your computer. What's more, we also introduce you with one more professional audio recorder to help you record audio without microphone. Leave us a message if you still have any puzzle.