10 Best Voice Recording Apps for MacBook Pro/Air/iMac and More
You may be looking for a voice recorder for your Mac computer, when you read this article. Unlike in the past years, voice recording has become much simpler nowadays since the MacBook and other computers have built in the recording devices.
Although Mac does not have as a lot of voice recording software as Windows, some third-party voice recorder apps do work for Mac. With a reliable tool, you are able to record songs and voice notes for saving and sharing information easily.
That is why this article identifies the best voice recorders for Mac.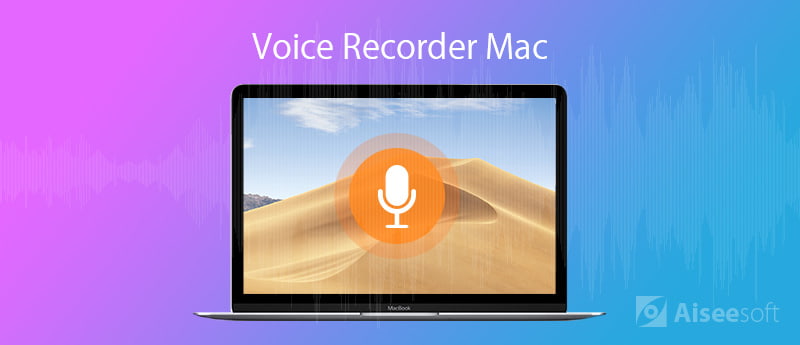 Part 1: Top 5 Freemium Voice Recorder for Mac
Freemium is a popular model of software. A freemium voice recorder for Mac usually offers free download and free-trial. If you like it, you can purchase the software and get the full features.
Top 1: Aiseesoft Screen Recorder for Mac
Price: $23.40
When you look for a voice recorder for Mac, you may focus on several factors, such as use with ease, output quality, and more. Aiseesoft Screen Recorder for Mac can meet all your need on voice recording.
Pros
Record voice on Mac with a single click.
Enhance the audio quality automatically.
Support a wide range of output formats.
Available to all computers running macOS.
Cons
You have to pay for it after the free-trial, though it is affordable.
Apparently, it is the easiest way to capture voice and audio on your Mac computer.
How to Record Voice on Mac
Step 1Install the best voice recorder for Mac
Launch the app after you installed the voice recorder app for Mac. Then choose Audio Recorder from the main interface. (Check Voice Recorder for Windows here)

Step 2Record your voice
There are two sections on the screen, System Sound and Microphone. The former can capture sound from your computer and the latter is used to record your voice. Here you should enable Microphone and disable System Sound. Then adjust the volume to the desired level. Click the REC button and start capturing your voice.
If you want to set the options related to output, hotkeys, and more, click the Settings button to open the Preferences dialog.

Step 3Save the voice recording
When voice recording on Mac is done, hit the Stop button to open the preview window. If you are satisfied, click the Save button to export the voice recording.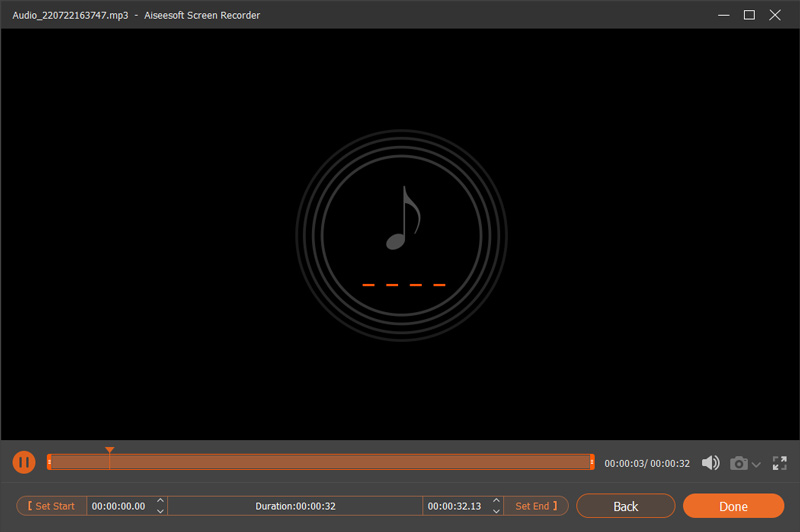 Top 2: Audio Hijack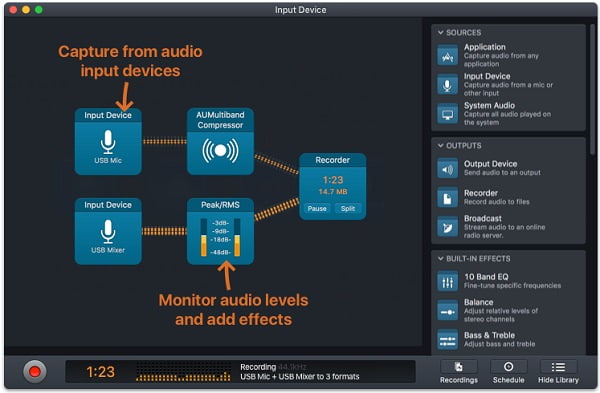 Price:$59.00
Audio Hijack is a good voice recorder for MacBook Air and other models. It is able to capture any voice from your microphone and apps on your computer with sound. It offers 15-day free trial and several licenses.
Pros
Offer a wide variety of audio effects and filters.
Advanced options are available.
Release updates regularly.
Cons
Beginners cannot master all features in short time.
The output formats are limited.
Top 3: Piezo

Price:$23.00
Piezo was developed by Rogue Amoeba. Many Mac users record podcasts using this voice recorder app for Mac. Of course, it is available to capture your voice via built-in or external microphone. Moreover, everyone can master it quickly.
Pros
Available to podcasts, Skype, FaceTime, and more.
Offer some quality presets.
Save voice recordings in MP3 by default.
Cons
It lacks custom options, such as bitrate.
It is too simple compared the price.
Top 4: Macsome Audio Recorder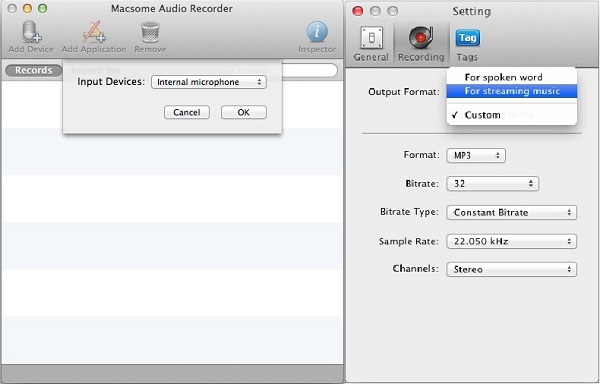 Price:$29.95
Though Macsome Audio Recorder does not provide all the professional features involved with voice recording on Mac, it is a good option to record sound from multiple sources, like various apps and internal microphone.
Pros
Integrate a concise interface.
Use ID tags to organize your recordings.
Record from individual apps, microphone or hardware.
Cons
There is no quality optimization.
It lacks some features, such as voice overlay.
Top 5: eXtra Voice Recorder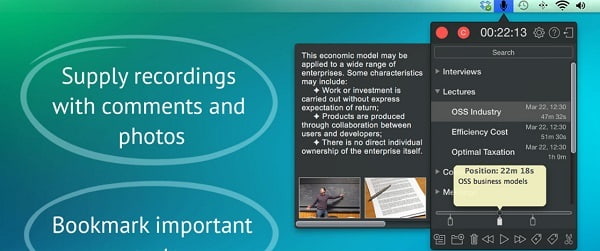 Price:$4.99
eXtra Voice Recorder is not only a voice recorder app for Mac, but also an audio file manager. You can get this app from Mac App Store directly. Moreover, it is available in multiple languages, like English, German, French and more.
Pros
Full control voice recording on Mac.
Add notation and comments to recordings.
Apply bookmarks to important clips.
Cons
It does not offer basic editing tools.
You cannot find advanced options.
Part 2: Top 5 Free Voice Recorder for Mac
Unlike freemium software, free voice recorders for Mac allows you to use without paying a penny. Here are top 5 free voice recorder apps for MacBook Pro and earlier.
Top 1: Garageband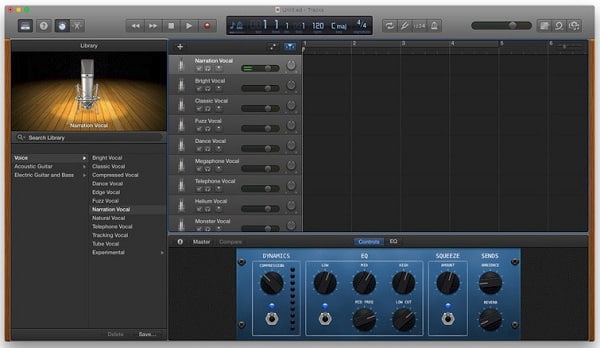 Garageband is a digital audio workstation but not a simple voice recorder for Mac. That means you can find more features than other voice recorder apps. More importantly, you do not need to pay a single penny for this app.
Pros
Support MIDI recording as well as voice recording.
Compatible with iOS devices.
Offer audio editing features.
Cons
It is not suitable to beginners.
The interface is messy.
Top 2: QuickTime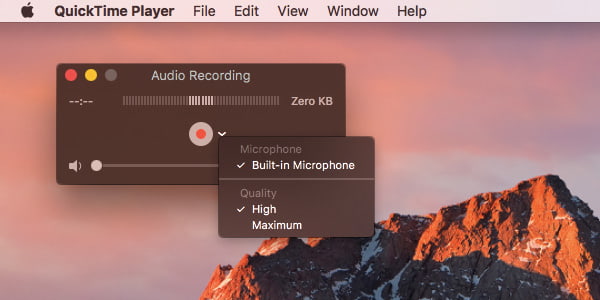 QuickTime is the pre-installed media player on Mac computers. However, it is more than a media player since you can find the movie recording, screen recording and audio recording features as well. If you want to record your voice quickly, it is a good choice.
Pros
Easy to use for everyone.
Pre-installed and not installation requirement.
Record voice from different sources, including external microphone.
Cons
The output formats are limited.
There are no custom options.
Top 3: Audacity
If you prefer to open-source projects, you may have heard of Audacity. As a voice recorder for Mac, you can find a lot of pro-level features within it. However, Audacity for Mac is not suitable for everyone, especially beginners and non-tech savvy.
Pros
Record voice and display them in tracks.
Support unlimited tracks.
Edit voice recordings simply.
Cons
The interface looks complex.
The learning curve is long.
Top 4: Ocenaudio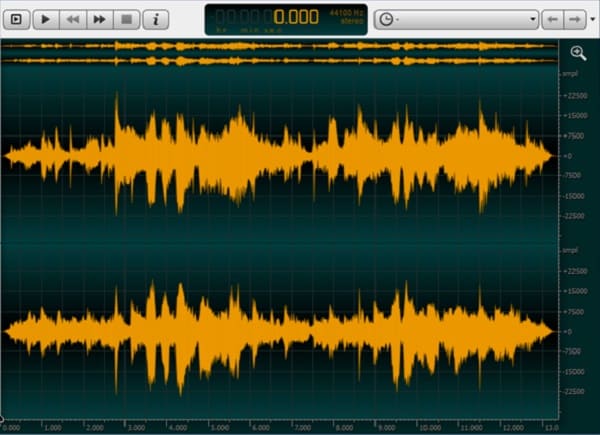 Ocenaudio is another all-in-one voice recorder app for Mac. It helps you to capture voice and sound from any sources. After that, you can edit them within the same app. Plus, it is totally free to download and use on most Mac computers.
Pros
Record, pause and stop voice recording simply.
Apply effects to specific clips of the recording.
Pre-listen to the audio effect in real time.
Cons
It is large and takes space.
There are too many features to master quickly.
Top 5: Ardour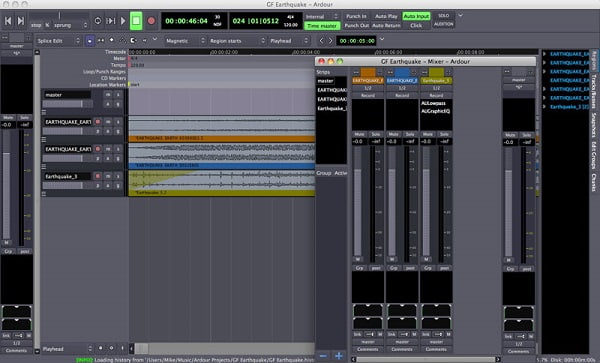 Ardour is another open-source voice recorder app available to Mac, Linux and Windows. It attracts a lot of professionals, like musicians, programmers, bloggers, recording engineers and more, partly because it equips pro-level features.
Pros
Expand with plugins, like LV2.
Have a support community.
Record and mix voice and sound.
Cons
The installation is complicated.
The Mac version does not support VST plugins.
Conclusion
Based on our review above, you should master at least 10 best voice recorder apps for your Mac machine. Aiseesoft Screen Recorder for Mac is on the top of our list, because it is not only easy to use, but also able to produce high quality recordings. If you have other recommendations, please write them down below.

Leave your comment and join our discussion