Part 2. Top 10 GIF Resizers You Must Use This 2022 [A Complete Review]
The information below will detail the different GIF resizers we found on the market that could help you solve the problem instantly. We will only provide a factual review about them so that you will know which software or app should you use to resize or compress the image you have. Are you ready to have a walkthrough on each? If so, you will need to keep reading the information we add to each tool to see which suits you the best by starting with the best on the market.
Top 1. Aiseesoft Video Converter Ultimate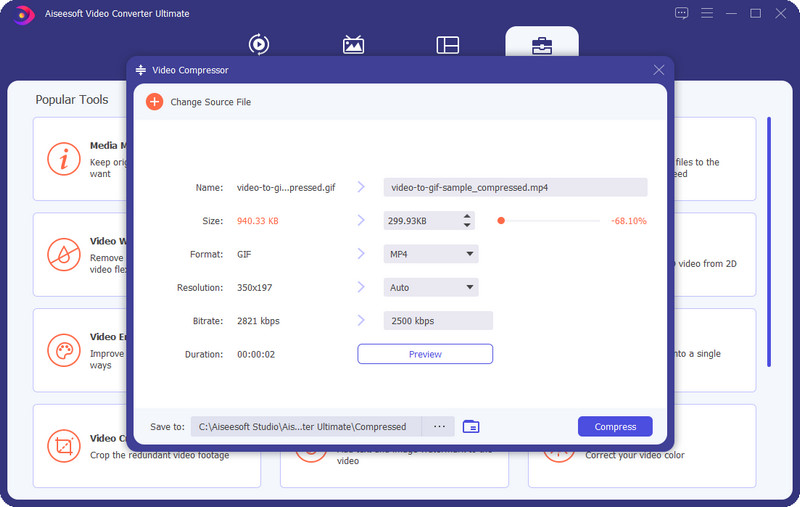 Aiseesoft Video Converter Ultimate is a top-notch free animated GIF resizer you can download on your desktop, whether a Windows or Mac. This tool proves that you can take this task as easy as possible without vast resizing experience. With its features and functions, there is nothing left to look out for because it is an all-in-one software you must have! In compressing the GIF, the ultimate compressor does the job without affecting the overall quality once it starts optimizing the size.
Ahead of compressing, you can tweak the format, bitrate, and resolution if you want to. Before exporting the GIF file, you can try to see a sample of the compressed file on the preview. So, if you think this is the best choice for you, we gladly present a download button to have the ultimate compressor on Windows & Mac directly.
Top 2. Aiseesoft Image Compressor Online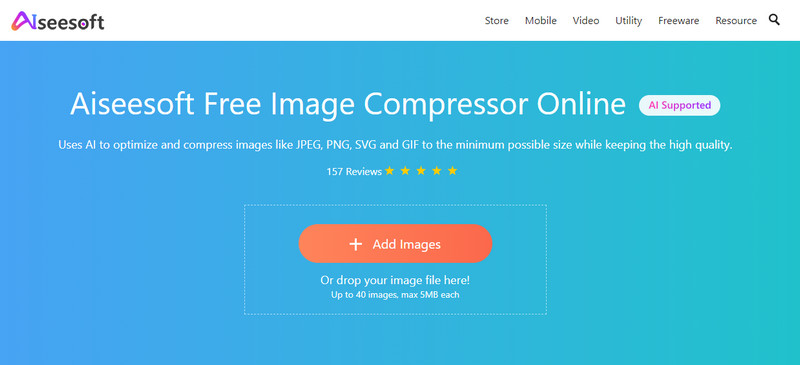 Aiseesoft does have an online GIF resizer kb that you can access without downloading additional files on your end. With Aiseesoft Image Compressor Online, you can do the job with a single click. This online tool does the job effectively with the help of AI to automatically compress the GIF you upload here. Unlike other compressors you can download or access on the web, this tool does the job automated, which means you will need to upload the file, the tool will process it, and download the compressed version of the GIF. Same as the ultimate compressor we introduce, this tool can finish the task without breaking the sweat of its user.
So, if you want to use this software to compress your GIF file effectively, you can visit its official website by clicking its name and see it yourself!
Top 3. EzGIF Image Resizer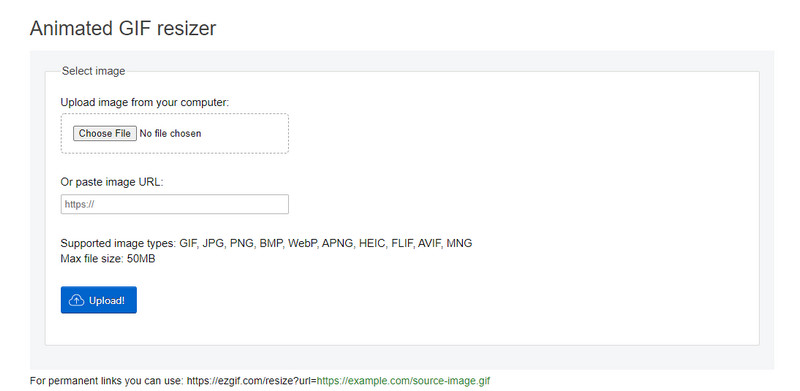 EzGIF is a known GIF editor that you can use without downloading any installer on your local drive, and it does the job for free. Also, this has an EzGIF image resizer that you take advantage of to compress your GIF. Besides GIF, this tool can compress JPG, PNG, BMP, WebP, APNG, and many more with a maximum file size of 50MB. As we said earlier, this tool can do other editing you might want to try, like the rotate, crop, cut, optimize, split, and others. To use the tool, you can go to the official website of this GIF editor on the web.
Top 4. GIF Resizer on Windows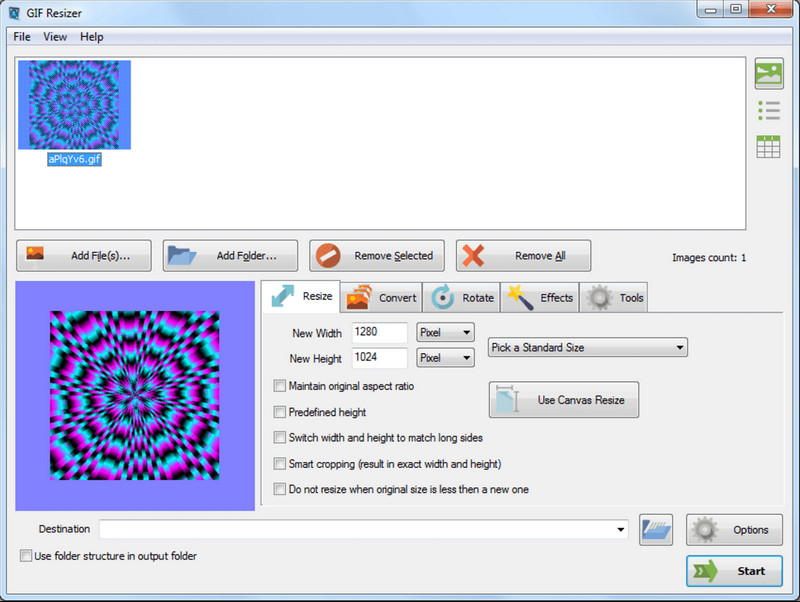 GIF Resizer on Windows is a no-cost batch GIF resizer you can download on your desktop. This tool can resize the GIF you upload here easily, which means you wouldn't need to go into technicalities because of its straightforwardness. Even though it doesn't support the Mac version, this tool can resize the file you upload here in a batch to finish the job in no time. So, if you want to use this to resize the image file you have on Windows, you can download the official tool on the official website of SoftOrbits.
Top 5. Red Ketchup.io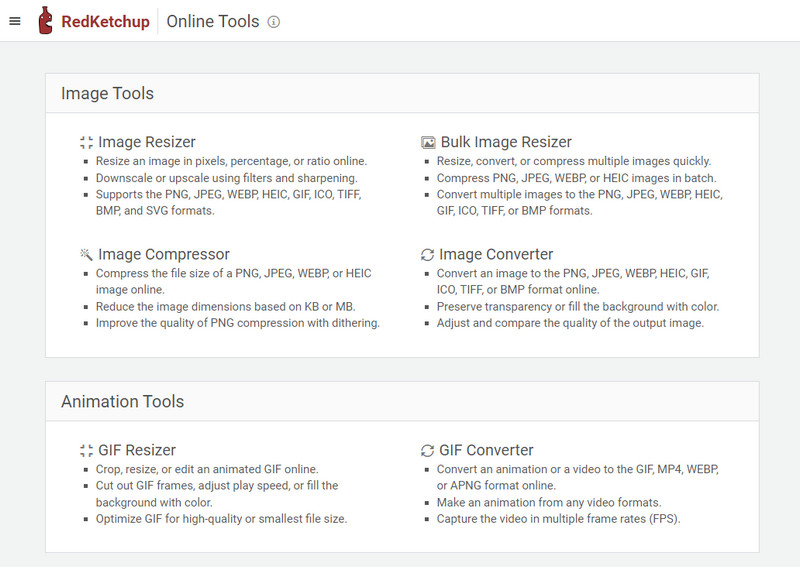 RedKetchup.io is a web-based bulk GIF resizer you can access on any web browser for free. If you've visited its official website, you can see that its GUI is simple, yet it supports features and functions you might need to deal with different problems you might likely encounter. With its resizing feature, you can do two additional things to your GIF before exporting: the crop and making a GIF. Though the tool has ads, it will not bother your user experience. You can use your search engine and type its name to start using this tool to change the scale of the file you upload.
Top 6. GIFski on Mac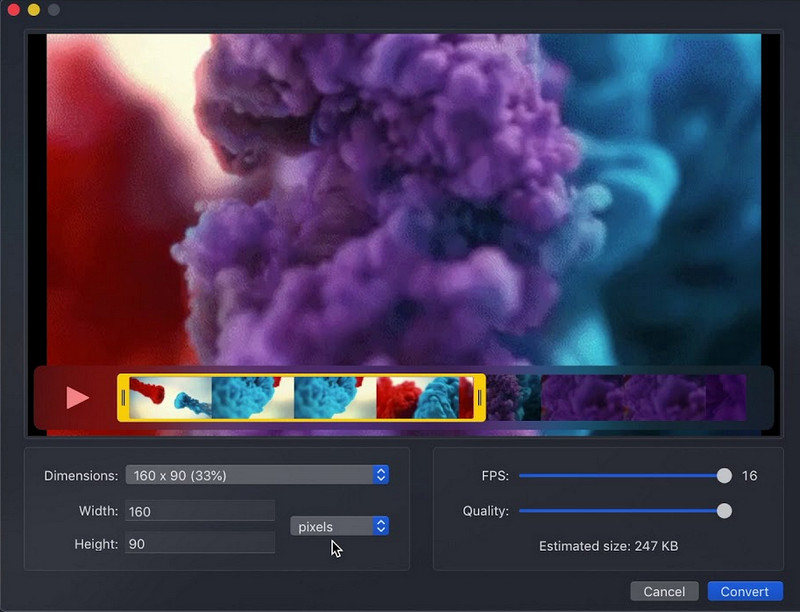 For Mac users who need a GIF resizer freeware, you can open your Mac AppStore and download the GIFski. It is compatible with Mac and solves the problem if you downloaded it on your drive. Due to its efficiency in changing the size of the GIF you upload here, we can at least say that this tool is one of the best. With this tool, you change the FPS and quality of the GIF you upload here to optimize the file size and make it smaller without affecting the overall quality. Other than resizing images, there is nothing else this tool to offer.
Top 7. Leapic GIF Optimizer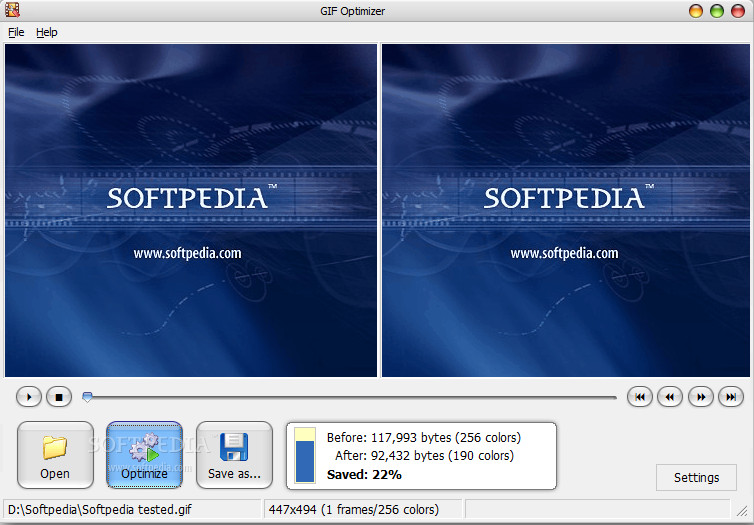 With another download free GIF resizer on Windows, you can easily optimize the GIF's size. Leapic GIF Optimizer is a reliable tool you can have if you are a Windows user to change the dimension of the animated GIF and its file size of it. Even though you will need to download the software, you would only need at least 4MB of space on the drive to download the tool, which is less than another resizer you can download. Also, you wouldn't need a high-spec of PC to download; even if you are using a Windows XP or Windows 7, you can still use this tool. The tool has a simplistic design, so we can assure you that learning how to use it won't take much time. If you install this tool, you will experience a straightforward process of resizing the file you upload.
Top 8. Shrink O'Matic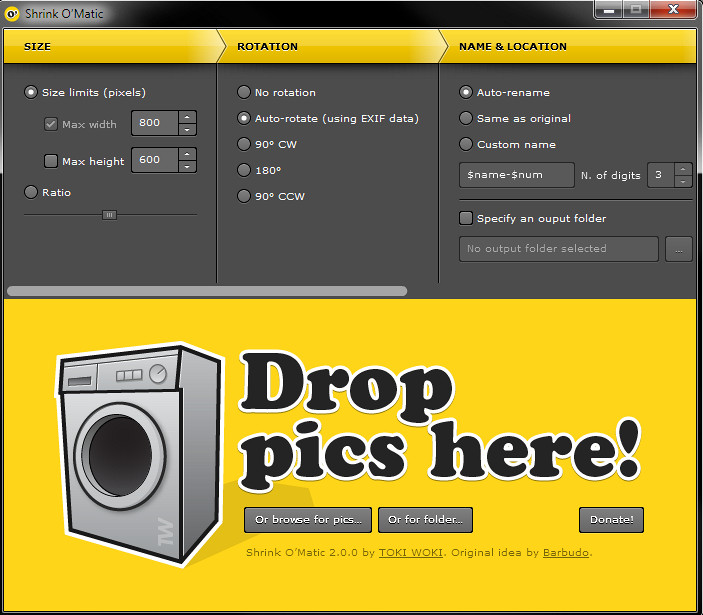 Shrink O'Matic is another GIF resizer to download for free on your Mac but also has a Windows version if you want to use it. The name says it all; it is a capable tool that could shrink the GIF file size to make it smaller than before. It produces a fantastic way to compress the image file size without destroying the original quality of the GIF you import. However, this software doesn't upload a broad image format. Before you can use this software, you will need to have an Adobe AIR on your desktop before you can use it. But its batch processing can help you resize multiple GIFs at one go.
Top 9. Image Compress & Resize Easily 4+ on iOS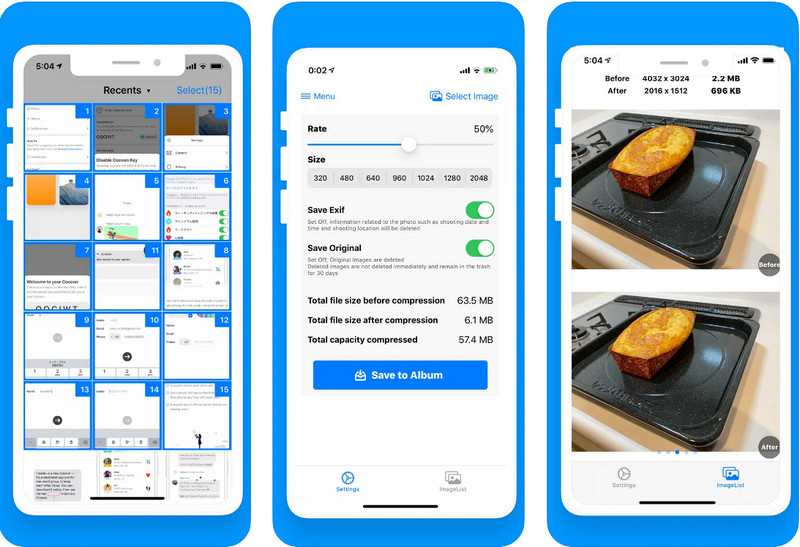 Image Compress & Resize Easily 4+ is a freeware GIF resizer you can download on iOS to compress and resize the GIF easily. This app is compatible with a different version of iOS to take the task effectively without making a fuss about optimizing the GIF. With this app, you can save the EXIF file of the GIF before you compress or resize the image and save the original image in the trash for 30 days before deleting it. However, there are options that you can't use for free because it is available on the pro version of this tool, so if you decide to use this tool for a long time, then it is ideal to purchase its pro version on App Store.
Top 10. GIF Maker, GIF Editor on Android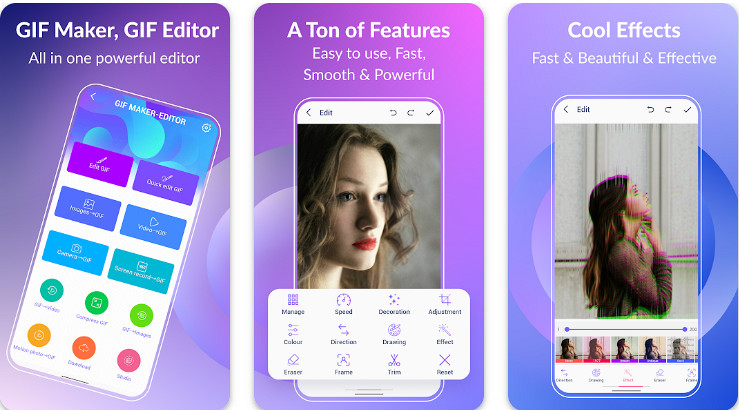 GIF Maker, GIF Editor is an Android application you can install on your device as your GIF resizer. This application is a dedicated tool that deals with GIFs' problems like converting, editing, and compressing. We can say that this tool has one purpose: to deal with the GIF, which is what the developers made this tool for. Also, it supports adding effects and filters to your GIF to make it even more eye-catchy before sending or posting it on the web. Start from nothing and transform it into an amazing GIF with this app. Like other powerful tools we enlist, this has an in-app purchase before unlocking the pro version of it. Nevertheless, the tool is a complete GIF editor that you can have on your Android right now!