Top 3 Ways to Crop Your Images Online and Free
When you need to crop an image file in JPG, JPEG, or PNG format, you can rely on some free online cropping tools. Compared with the professional image editor like Adobe Photoshop, these online image croppers offer you a straightforward way to directly crop your photos on a web browser.
This post makes a list of 3 best image croppers for you to choose from. You can know the key features of each free image cropping tool, and then select your preferred one to crop images online.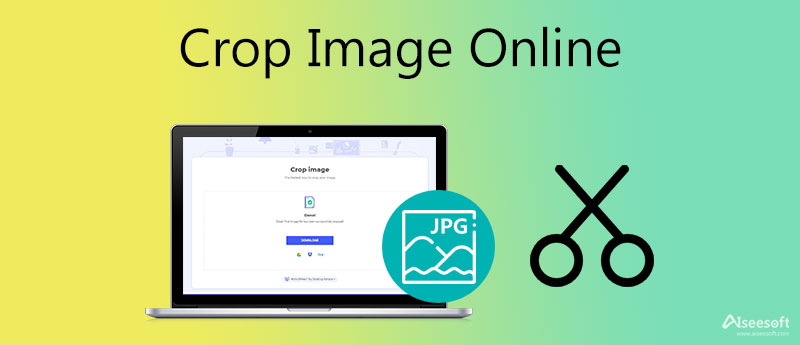 Part 1. How to Crop Image Online and Free
When you need to crop an image file, you can first try the easy-to-use Free Background Remover Online. It is specially designed for removing unwanted background from your photos. Besides accurately erasing useless background around the main figure, it is equipped with a Crop feature to help you quickly crop an image online. This online image cropper highly supports all commonly-used image formats like JPG, JPEG, PNG, and others.
Step 1:
On your web browser, search for and go to this photo cropper site. You can use it to crop images on any popular browser including Google Chrome, IE, Edge, Firefox, Yahoo, Safari, and more. When you get to the page, you can click on the
Upload Portrait
button to upload your image file.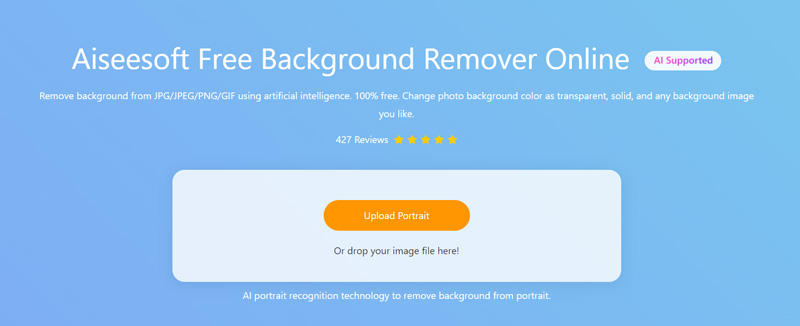 Step 2:
With the adoption of the latest AI technology, it can automatically analyze the uploaded image and remove background for you. During this step, you are allowed to use its
Keep
or
Erase
feature to adjust the cropping area. You can freely adjust the brush size based on your need.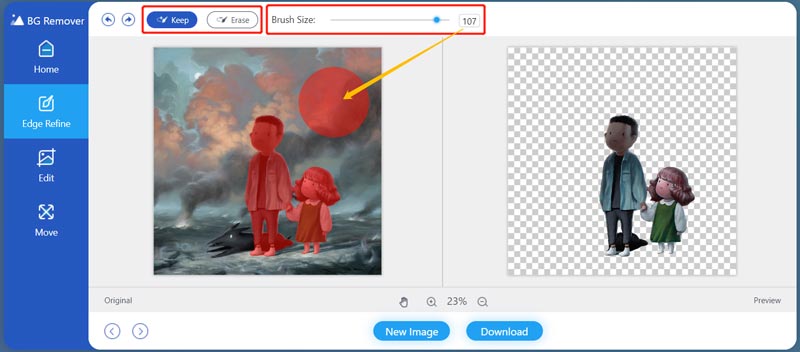 Step 3:
To crop an image file online, you can choose
Edit
on the left panel and then click on the
Crop
button. From the drop-down list of
Ratio
, you can use a suitable way to crop your photo. You can freely crop the image borders and customize the cropping region. You are offered Zoom in, zoom out, and Move options to better make the image cropping.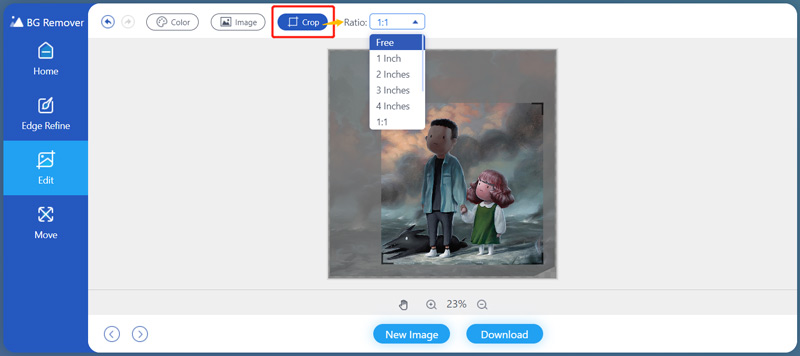 Step 4:
You can preview the output image. When you are satisfied with the online image cropping result, you can click the
Download
button to save this edited photo on your computer without quality loss. This free online image cropping tool requires no account sign-in or sign-up. Moreover, it won't add a watermark to the output image file.
Part 2. How to Crop Image Border Online Using Adobe Creative Cloud Express
Adobe Creative Cloud Express is a very popular online image editor powered by Adobe Photoshop. It can work as an online crop image tool to help you free crop your pictures. It is compatible with most image formats, such as JPG, PNG, TIF, TIFF, and more. You can follow the steps below to crop your image online.
Step 1:
Navigate to the official site of Adobe Creative Cloud Express and go to its
Crop
page.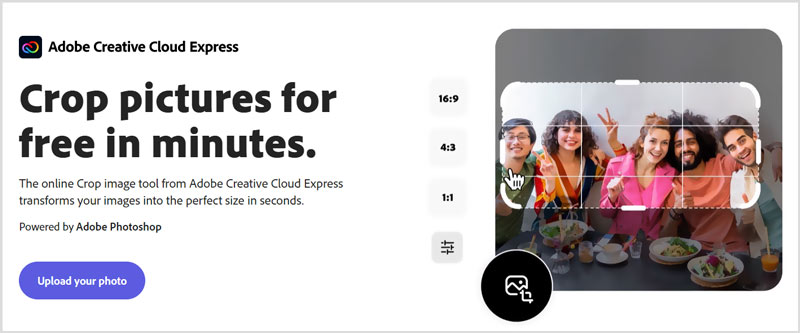 Step 2:
Click on the
Upload your photo
to enter the image uploading page. Here you can drag and drop an image for uploading, or add your image file by clicking on
Browse on your device
.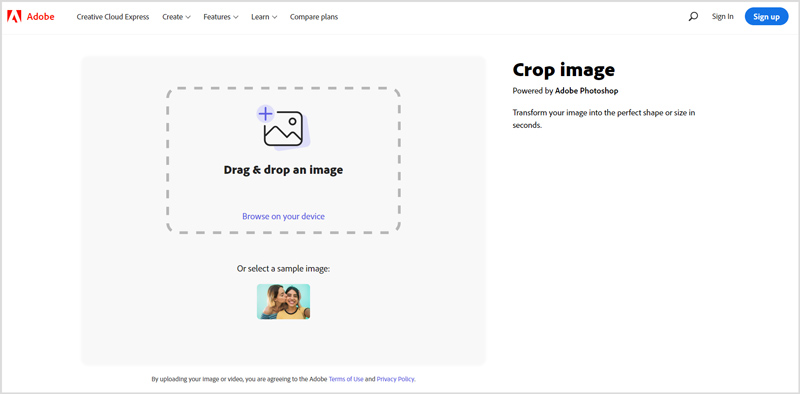 Step 3:
After the image uploading, you can drag the four corners to crop your image online. You need to sign into your Adobe account to download the cropped image. Here you can choose to sign in with your Facebook, Google, or Apple account. After that, the edited image file will be automatically downloaded to your computer.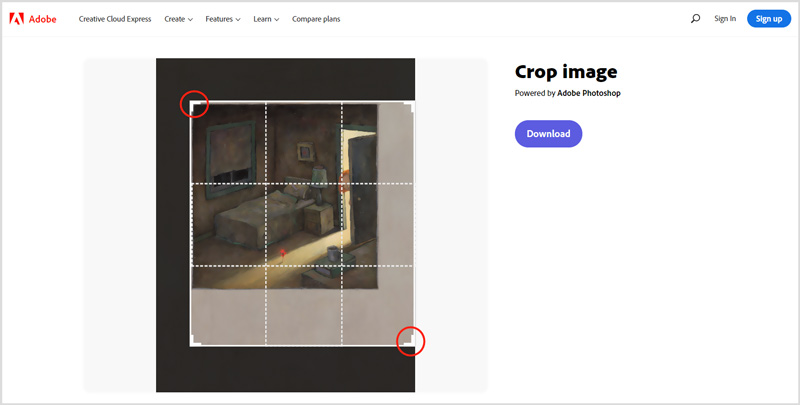 Part 3. How to Crop Image Online Using iLoveIMG Crop IMAGE
iLoveIMG is an all-featured online image editor which carries many useful editing tools including Crop IMAGE, Compress IMAGE, Resize IMAGE, Watermark IMAGE, and more. Its Crop IMAGE tool allows you to cut your images online and free. It can crop images in JPG, PNG, or GIF format by defining a rectangle in pixels.
Step 1:
Search for the iLoveIMG and go to its official site. When you get there, you can choose the
Crop IMAGE
tool to enter the specific online image cropping page. Then click on the
Select images
button to select and add your image file. You are also allowed to upload a picture from Google Drive and Dropbox.

Step 2:
After the image uploading, you can freely crop your picture according to your need. It offers 4 crop options on the right side for you to make the online image cropping. Click on the
Crop IMAGE
button to move on.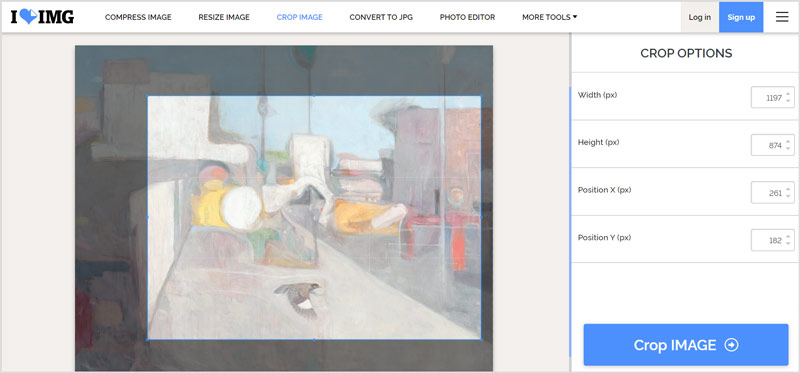 Step 3:
It will crop your image file and take you to the downloading page. Generally, it will automatically download the cropped picture. Or you can click on the
Download
button to save it on your computer. You can also choose to save cropped image to Google Drive, Dropbox, share download link or scan QR, or delete it. iLoveIMG won't insert any watermark into your cropped images.
There are a large number of online image cropping tools offered on the market. While through our tests, most of them are not totally free. They will add a watermark to your output files and ask you to upgrade to a paid version. If you are using the 3 recommended free online image cropping tools above, you won't see that kind of problem. You can use these 3 tools to crop background of images too.
Part 4. FAQs of How to Crop Image Online
1. How do I crop a picture with Adobe Photoshop?
Launch Photoshop on your computer and load the image file to it. Click on the Crop icon on the left toolbar to choose the cropping feature. Now you can freely crop the image based on your need. After cropping, you can click on the top File menu, and then use the Save As option to save this cropped picture.
2. How can I crop a circle in my photo online?
Many online image croppers can help you easily crop a circle in your picture, such as the IMAGEONLINE.CO, Adobe Creative Cloud Express, Circle photo cropper, and more. When you choose the Adobe Creative Cloud Express, make sure you are using its circle cropping tool.
3. How to free crop a picture in Windows 10?
To crop a picture file on a Windows 10 PC, besides the introduced online image croppers above, you can also use its pre-installed painting software, Microsoft Paint. You can open your picture in Paint, choose the Select feature, and then use the Rectangular Selection option to choose the cropping region. After that, you can right-click on it and then select the Crop option to crop the image file.
Conclusion
You can find many image editors to help you crop image online. Here in this post, we recommend 3 great ones for you to guarantee a good online image cropping experience. If you have any other recommendations, you can also share them in the comment with other readers.

Leave your comment and join our discussion