Top 21 Best Musically Video Makers for PC & Android & iPhone
Smartphones have developed beyond imagination. Back in the day, there is no way to think that you could make video call or live stream through a smartphone. Recently, a kind of musically video maker app has come to people's view. It takes advantage of the video recording functions on your phone, but with more fun. Musically Video Maker is said to be the newly saver for boredom, also makes you the popularity among the party!
In the following article, we have collected 21 most popular musically video maker apps for PC, Android or iPhone. Now find the one you like and make the music video on your own.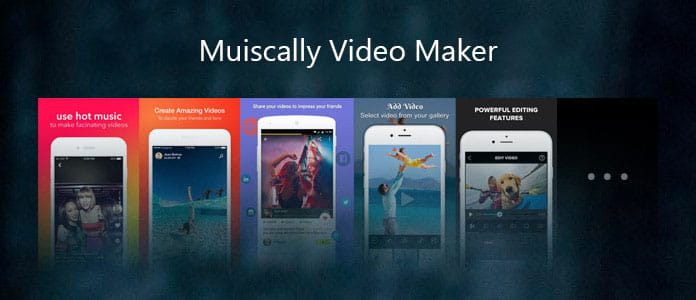 Muiscally Video Maker
Part 1. Best desktop musically video maker & video editor on PC
Aiseesoft Slideshow Maker is powerful but easy-to-use Musically Video Slideshow Maker, which helps you create wonderful and awesome slideshow with videos, photos, and also music. Also creative video music editing effects make your slideshow much more attractive. Enhance your music and videos with dynamic effects and transitions to make perfect music videos of your loved ones. Now make your music videos adventurous and delightful by adding quality filters and make them everlasting piece of memory.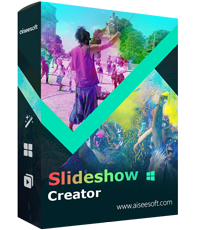 Turn your favorite music and photos into perfect and unique slideshow videos.
Make your own music videos sideshow with background music adjustable.
Edit the video effect as you like, such as adding text, filter, elements to your video.
Add themes to your music video sideshow according to different topic, such as wedding, christamas, memory, etc.
How to create slideshow with the top-rank Musically Video Maker on PC
Step 1 Download and install Musically Video Maker on PC
Download this software here and install it on your Windows PC, and then launch the software to start the next step.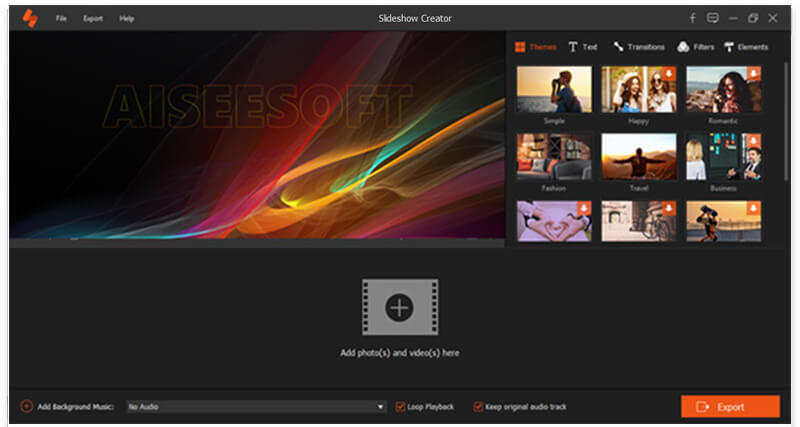 Step 2 Import videos/photos/music to the software
A. Click "Add photo(s) and video(s) here" to import video and photo files into this Music Video Maker.
B. Click "Add Background Music" column at bottom of the main interface to add the favorite music, and get the background music loop playback easily.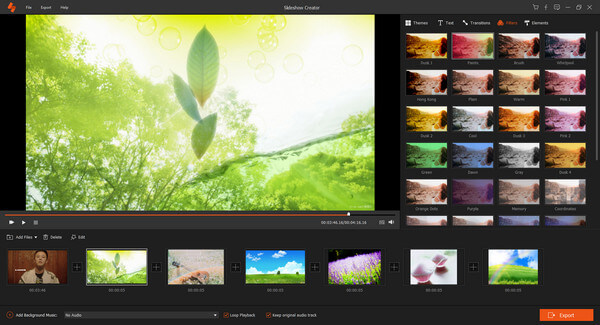 Step 3 Edit the music video sideshow and enhance the effect
A. Edit videos/photos/background music
Navigate the photo or video that you want to edit, click "Edit" button to start the editing interface. You can rotate, clip, set contrast/saturation/brightness/hue, crop, and set fast/slow motion to the video.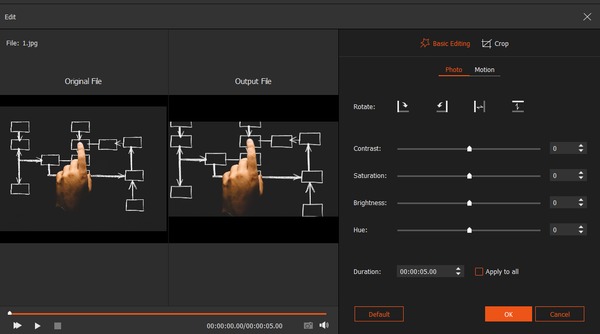 B. Add themes, filters, transitions and elements for your slideshow
Click "Themes" to select the ready-made themes, or you can customize the materials to create your own theme. You are capable of adding or deleting the filter effects on your slideshow. Select the little elements to decorate your musically video sideshow. Set different transitions effect for each video clip and photo.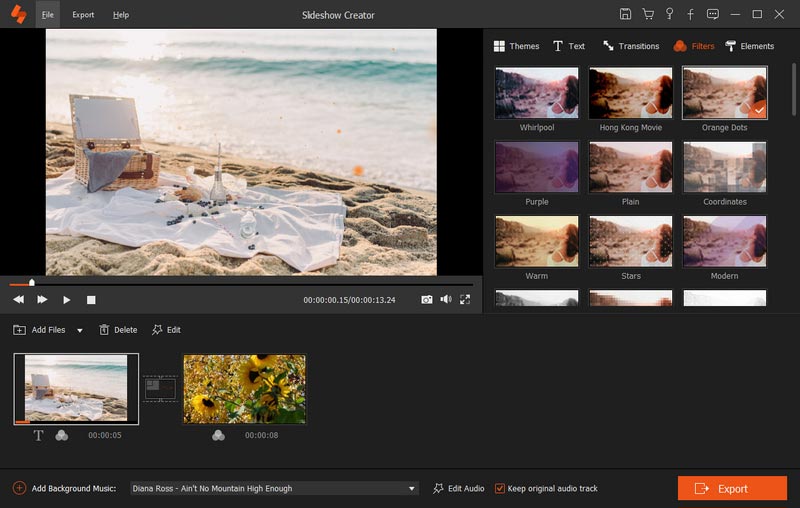 Step 4 Make your own music video slideshow
Click "Export" button to select the output format and resolution, and then click "Convert" button to make your own music video slideshow.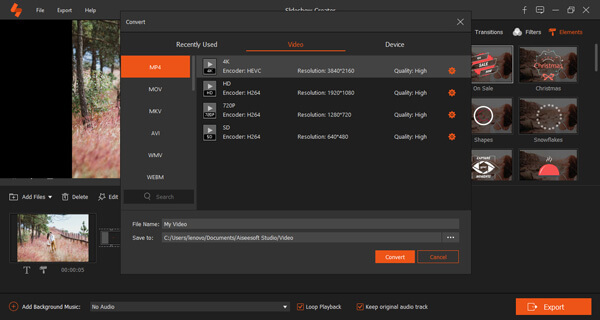 Here's the video about making slideshows for you. Click it to check.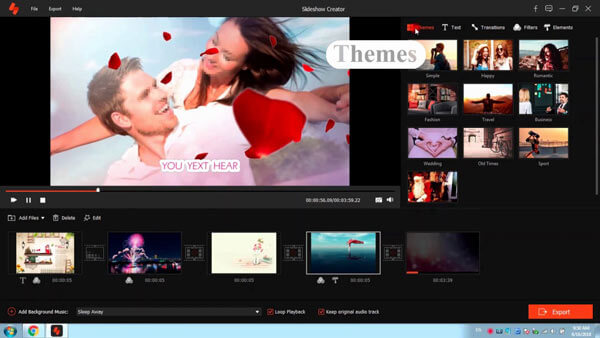 Part 2. Top 10 musically video makers for Android
No. 1. VideoFX Music Video Maker
VideoFX Music Video Maker is the top-rated musically video maker app for Android. It allows you to create awesome lip-sync music videos with live video effects and your choice of music. VideoFX Music Video Maker is super easy to use, Just pick a soundtrack from your music collection and start shooting your lip-sync performance or action. Over 50 video effects are provided for you, and more features include Stop Motion, Fast Motion, etc.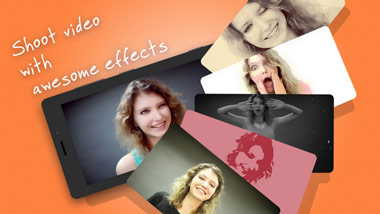 No. 2. Triller – Music Video & Film Maker
Triller is the easiest musically video maker to create flawless video. You can make celeb-quality music videos, shoot beautiful films, and collaborate with friends to make group videos in seconds. Tons of music are provided for you to make music video with the hottest songs, and after the shoot, you can personalize your videos with text, drawings, emojis, etc. Many celebrities have made Triller videos on the fly including Selena Gomez, Rita Ora, Justin Bieber and more.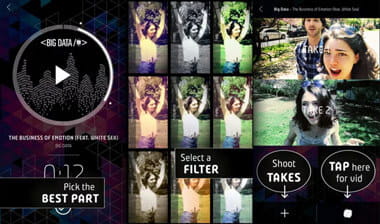 No. 3. VivaVideo
As a "Top Developer" in the Google Play Store, VivaVideo is best musically video maker, video editor, photo video editor & slideshow maker, HD Camera for Android market with over 400 million users. By choosing from 1000+ user-friendly video effects that range from themes, music, stickers, filters to animated clips and subtitles, you can easily create your video work and transform everyday moment into videos of art. VivaVideo music video maker will help you create professional-looking video stories, like montage, Meme, collage(PIP), lip-sync, duet videos, etc.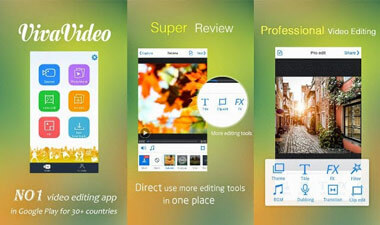 No. 4. Music Video Maker
Music Video Maker is the best video editor and movie editing app, but mainly a photo slideshow maker. It provides you the easiest way to create, edit and share amazing photo music videos and stories. With your photos, videos and tons of free licensed music, you can easily make fun, inspiring, or creative photo music videos. For people who are looking for a photo video maker with music, this would be a better option.
No. 5 Fideo: Music Video Show
Fideo is the best musically video maker app as well as a fun video community. Many songs and sound effects are provided for you to make great music videos. After that, you can share fun videos with your friends and family, deliver every interesting and exciting moment of your life. Moreover, you can explore you more interesting videos from around the world, find, follow and interact with people whose videos you like in Fideo community!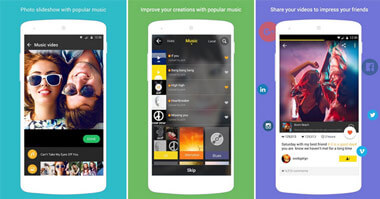 More musically video maker apps for Android
No.
Musically Video Maker for Android
Screenshot
Features
6.

Musical.ly

◆ One of the most popular musically video maker apps that enables you to create your own video with music.
◆ Share your own video to the community and find what you like.
◆ Top categories on musical.ly include music, comedy, talent (sing, dance, magic, etc.), fashion & beauty, vlog, animals and more.

7.

VideoShow

- Video Editor, Video Maker, Music, Free
>

◆ The best video editor and musically video maker app available.
◆ Hundreds of pieces of background music available for you or add local songs from your device.
◆ Variety of text styles and fonts to create artistic subtitles are available in this movie maker app.

8.

PowerDirector Video Editor App

: 4K, Slow Mo & More

◆ Photo video editor for quick editing.
◆ Vidoe maker with music and voice over.
◆ Pic and video collage maker, maker a video and pic collage with music from your collection.

9.

Photo Slideshow with Music

◆ The best musically video maker to help you to create fast and awesome slideshow with selected photos and music
◆ Offers lots of stunning 2D & 3D animations for creating professional videos.
◆ Share with friends or family via Whatsapp, Instagram, Facebook, Gmail or any social network.

10.

Musically Video Maker

◆ Create your musicals from your own music collection before you upload to Musical.ly.
◆ Easy to use but lacks more features.
Part 3. Top 10 musically video makers for iPhone/iPad
No. 1. Flipagram: Video Maker+Music
Flipagram is the best musically video maker app for making fun slideshows and videos. It lets you take photos and videos, and edit together short sharable videos and/or slideshows with just a few taps of your iPhone/Android. You can get featured & become famous with fun challenges for every talent like dance, beauty, comedy, lip-sync, etc. and share a Flipagram with family and friends on all your social media apps.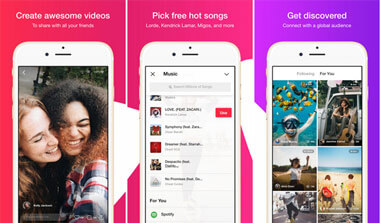 No. 2. Musical.ly
Musical.ly is the world's largest creative platform for music videos. This platform makes it super easy for everyone to make awesome videos and share with friends or to the world. In Musical.ly video maker, you can use hot music to make fascinating videos, discover trends around the world, mix cool effects to turn your video into magic. Top categories on musical.ly include music, comedy, talent, animals, etc.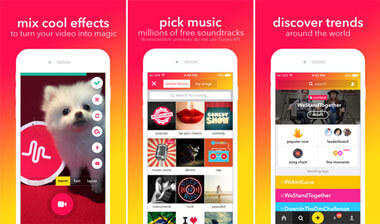 No. 3. Funimate video editor
Funimate is the easiest to use and most fun musically video maker app for creating awesome video edits. You don't have to be an expert, Funimate instantly transforms an everyday moment into a creative video. With its patent-pending technology, you can create awesome videos with never before seen real-time effects. You can easily share the fun on Instagram, Vine, YouTube, Twitter, Facebook, WhatsApp, Musical.ly or iMessage and amaze your friends.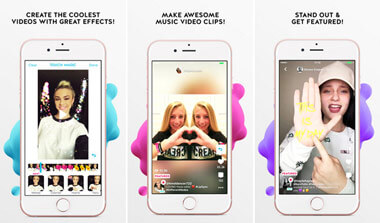 No. 4. Splice
Simple yet powerful, Splice makes it easy to create fully customized, professional-looking music videos on your iPhone, iPad or iPod touch. Imagine the performance of a desktop editor, optimized for your mobile device. Just tap to trim clips, adjust transitions, add slow motion effects and more to create beautiful videos you'll love to share. It's never been easier to edit like a pro on the go. More importantly, splice works with photos and videos captured with your GoPro and phone.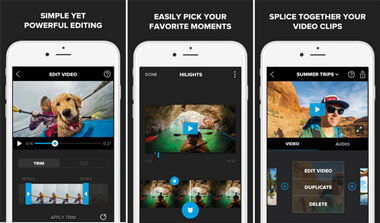 No. 5. Video Star
Video Star is an exclusively music videos maker app. It provides many amazing features to make you and your friends the stars of awesome music videos. Specifically, you can select from hundreds of built-in effects, then add Power Packs to crank up the awesome. You can also create reversed "backwards" clips, act along with "clones" of yourself, move in slow-mo & fast forward, and make awesome stop motion and green screen effects. This is a great way to make Instagram videos as well.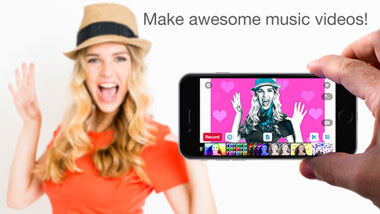 More musically video maker apps for iPhone
No.
Musically Video Maker for iPhone
Screenshot
Features
6.

Magisto Video Editor & Movie Maker

◆ One best and reputable video editor and musically video maker.
◆ Upload photos/videos from your gallery, add music to video from device or Magisto's music library and make an amazing music video.
◆ Auto video maker function makers it 24/7 available to transform your photos and videos into magical video stories.

7.

Lomotif Music Video Editor

◆ The best musically video maker app to make videos for Instagram, Snapchat, Musical.ly & Facebook.
◆ Automatically transforms clips in your camera roll into awesome music videos.
◆ Built-in editor allows you to tweak your music video to perfection.

8.

InShot Video Editor Music

◆ Handy, comprehensive and fun musically video maker app!
◆ Add music, effects & voice-overs to video, easy to sync sound and video with timeline features.
◆ Support your own music in any format, like MP3, OGG, etc.

9.

InstaVideo Editor

- Trim & Add music to videos

◆ Professional music video maker app that helps you to add background music to videos.
◆ Apply trim, loop, fade in & out to your audio track.
◆ Trim, cut and control volume of your music video clip.

10.

Pic Music

◆ Mix your favourite msuic & pictures to play as a video.
◆ Eye-catching effects, including transitions, subtitle, watermark, etc.
◆ Easily save and share on Instagram without cropping.
Part 4. FAQs of musically video maker
How many pictures do I need for a 5 minute slideshow?
For a 5 minute slideshow, you need approximately 60 photos and 3 videos. That's a good rule of thumb in selecting the right number of photos.
Does Google have a slideshow maker?
Yes. Google Photos offers a slideshow option. The Google Photos web and mobile apps (Android and iOS) let you make a movie using photos or videos.
Can I add music to a Google slideshow?
Yes. You can add music to a Google slideshow by linking to a track from an online music service like Spotify or SoundCloud.