Make Slo-Mo Video with the Best Slow Motion Video App on Android/iPhone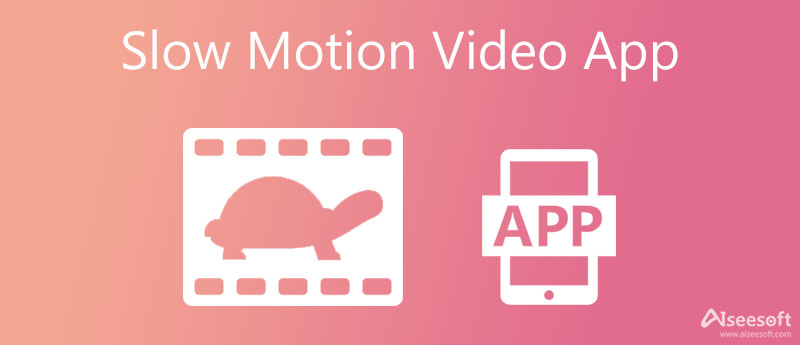 Slow motion video, generally speaking, is a video recorded at a higher-than-normal frame rate, then playing it back at a regular speed. You may be not appealed to the concept, but if you have ever watched a great slow motion video on YouTube, or customize a video with help of a slow motion video editor, you would understand how simple but funny and useful it can be, and there will be no need to explain why I want to introduce to you the best slow motion video app for Android/iPhone.
In the following, I have collected 10 best slow motion video apps for Android/iPhone. You'll learn the best side of each slo-mo app, and how to make slow motion video with Android/iPhone slow motion camera as well as edit your own slow motion video.
Part 1. Slow motion video app for Android
Android phones and tablets have cameras that you can record video with, but not all of them have slow motion recording options. However, slow motion on Android is undoubtedly a very handy option to make awesome videos. In case you are wondering how to make slo-mo videos on Android, there are plenty of useful slow motion apps that can help you. With any Android slow motion camera app we mentioned below, you can capture you own cool slow motion videos easily.
No. 1 - Coach's Eye
Coach's Eye is by far the most complete slow motion video app for Android users. As the title highlights, this is a slow motion app that can be even used for professional sport coaching. With this slo-mo app, you can record things and then slow the videos right down. Other than the slow motion video capture feature, Coach's Eye also comes with other slow motion video editing functions such as slow motion review, drawing tools, and simple sharing options.
Price: $4.99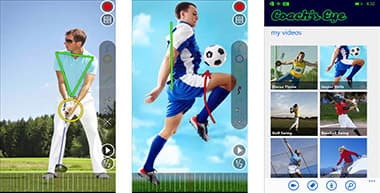 No. 2 - AndroVid Pro Video Trimmer
AndroVid Pro Video Trimmer is not specifically a slow motion video app, but a more general editing app that can also be regarded as a free slow motion video editor. Slow motion video playback is one of the many video effects from this app. Apart from slo-mo editing, you can also add extra effects such as fade in, vintage, and sepia to the slow motion video. It also enables you to add music or split the slow motion video according to your needs.
Price: Free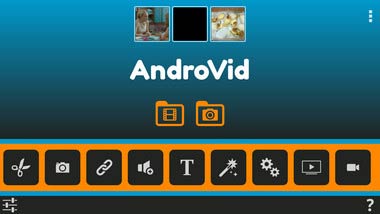 No. 3 - Slow Motion Video FX
Slow Motion Video FX is a fully featured slow motion camera app devoted only on recording slow motion or fast motion video. The slo-mo app is very simple to use, you can capture a video then make it slow motion/fast motion. A video can be slowed by almost half of its original speed or can be made 5x faster. Like the first two slo-mo apps we mentioned, this slow motion video app also enables you to edit slow motion videos freely, or share slow motion to your social networks.
Price: Free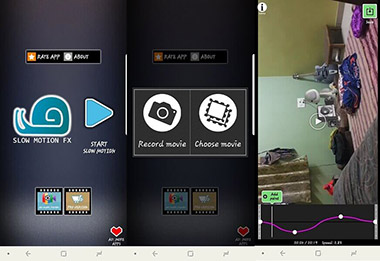 No. 4 - ReAction Slow Mo Pro
ReAction Slow Mo Pro, also named as Free Slow Motion Video Maker, is a great slo-mo video app to make slow motion video from your Android camera. The advantage of this slo-mo app is taking slow motion video by not deterring the video quality of the video, so that you can enjoy the best slow motion video. The one and only "Speed Bump" option allows you to make a slow motion video with a specific time setting. Besides, this slow motion app also has the share option to directly post slow motion video to YouTube, Vimeo and more.
Price: Free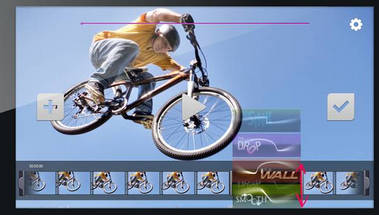 No. 5 - Controlled Capture Pro
Controlled Capture Pro can not only capture videos in slow motion, but also record time lapse videos. Two modes are available in this slo-mo app, Image Capture Mode and Video Capture Mode. The Image Mode gives you more space to deal with snap shots such as stop motion animations. The other advantage to support time lapse videos adds more value to the app.
Price: $2.99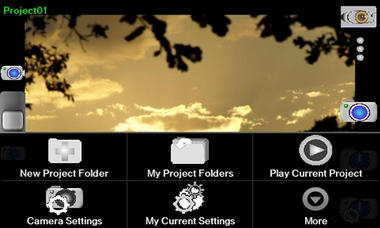 Part 2. Slow motion video app on iPhone
Apple has added iPhone Slow Motion feature since iPhone 5, which allows you to shoot slow motion video without the help of any slow motion video app. To use iPhone slow motion on iPhone 5/5s/5c/6/6s/SE, you can open Camera and swipe right twice to change the "Photo" mode to "Slo-mo", which will allows you to record slow motion videos.
That being said, if you want a slow motion video editor with more features to customize slo-mo videos, or you want record a slow motion video on iPhone 4/4s, here are better options for you.
No. 1 - SloPro
SloPro is considered to be one of the best slow motion video apps applied on iPhone or iPad. It provides amazing slow motion features on iPhone, super slow speeds of 500fps and 1000fps can be simulated using optical flow to get the best slow motion video. This slow motion video editing software also comes with powerful slow motion editing features such as frame blending, exposure lock, sharing feed and more.
Price: Free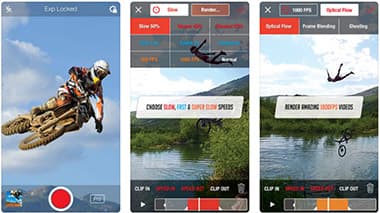 No. 2 - SlowCam
SlowCam allows iPhone users to record cool slow motion videos in real time. With this slo-mo video camera, you are able to capture video at 60 or 120 fps for smooth slow motion capture. To edit your slow motion video, there is the option to set focus, tender in the background or set exposure points and more.
Price: $1.99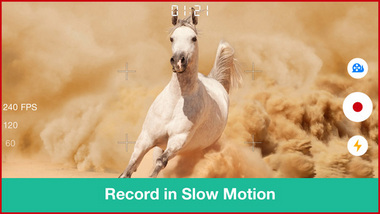 No. 3 - Videoshop
Videoshop is probably the most powerful video editors available in the Apple store, which also has the function to record slow motion video. With Videoshop, you will record a normal video in the first place, then this slow motion video editor allows you to change the speed of the video in the editing mode to get the best effect of slow motion. What's more, it also provides you powerful editing features, so that you can add music or text on the slow motion videos.
Price: $1.99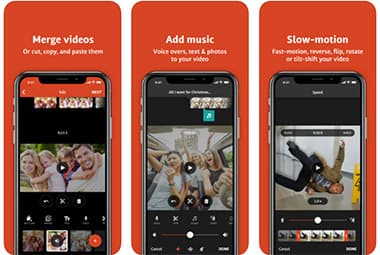 No. 4 - iMotion HD
iMotion HD is an intuitive and powerful time-lapse and slow motion video app for your iPhone or iPad. This app lets you easily shoot HD 720 videos and export them to your YouTube channel. The app opens up to a very straightforward and spare menu with a giant button for making new slo-mo videos. You can easily set everything with no trouble.
Price: Free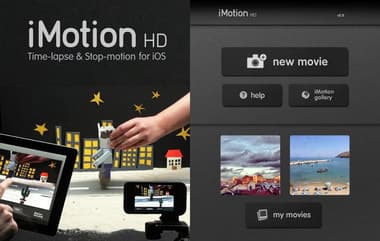 No. 5 - Slow Motion Camera
Slow Motion Camera is a very simple slo-mo app with a stylish design, specially developed for having fun and keeping memories bright and joyful. With Slow Motion Camera, you can shoot high quality videos with no time limits, apply slow motion effect with instant preview, and save you videos without losing any quality. There will be no watermark on your slow motion video.
Price: $0.99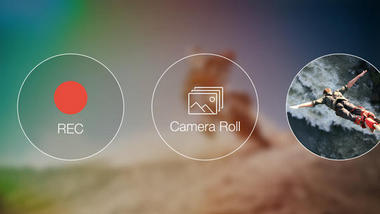 Best Video Editor for PC/Mac you may want to know
Video Editor
Aiseesoft Video Editor is the free video/audio editing software which can help you edit video and adust output video effects.
Edit video audio and adjust output effects.
Support any popular video/audio format converting.
Check how to use this Free Video Editor from the video below:
In this article, we mainly recommend the best slow motion video apps for iPhone or Android, hope you can enjoy yourself with one slo-mo app above. If you still have more questions about slow motion video app, feel free to leave your comments below.