Simple Ways to Grasp Android Parental Controls Quickly
Children are always immature in mind so sometimes they cannot control their behaviors. Besides, with the development of technology, there are a wide range of attractions to children on the Internet or on the Android devices. In order to keep children mental and physical healthy, Android parental controls can provide some efficient assistance for parents to better manage the time students put online. In what follows, the article will explain specific knowledge of Android parental controls.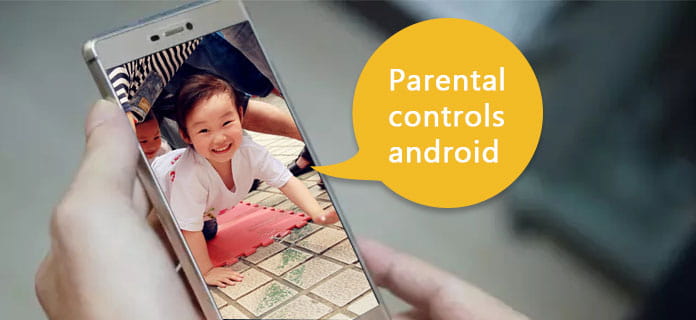 Parental Controls Android
Part 1. What You Should Know about Parental Control
Parental Control for Android is very practical and helpful. It might be effective to communicate with your children about distributing proper time online and supervise their online behavior when you are on the spot. But actually, it is hard for parents to control their children's time spending on the Internet, especially when you are at work. Therefore, parental control for Android is a must. Parental Control can guarantee the safety of the Internet environment for your children. But it is not a special and secret spying tool to watch your children all the time. Best use is made when you openly and honestly cooperate with your children. There is a wide range of parental controls for Android for establishing a safe as well as productive digital ambience for your kids. Next, instructions about how to use Android parental controls will be articulated for your better understanding and use.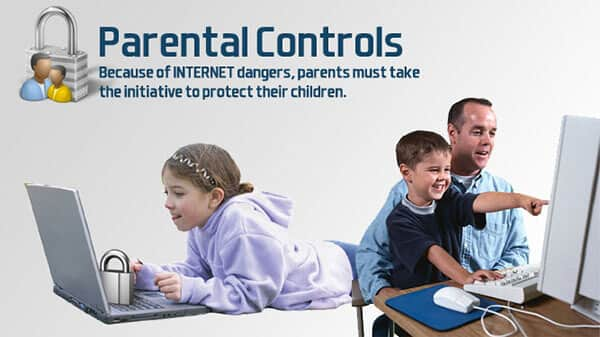 Part 2. How to Use Android Parental Controls?
There are a number of various choices for you to find a suitable parental control for Android. Here the article will elaborate the premium approaches for you.
Section 1: Fundamental Parental Controls for Android Phones and Tablets
Step 1 Look for the entry of users on your Android device.
Step 2 Click the icon of Add user to establish a kid's account.
Step 3 Hit OK and Set UP NOW to continue setting up.
Step 4 Prepare to log out and sign into a new account.
Step 5 Click Continue and Skip Setup to prevent kids from downloading.
You are allowed to download and install applications by your own account.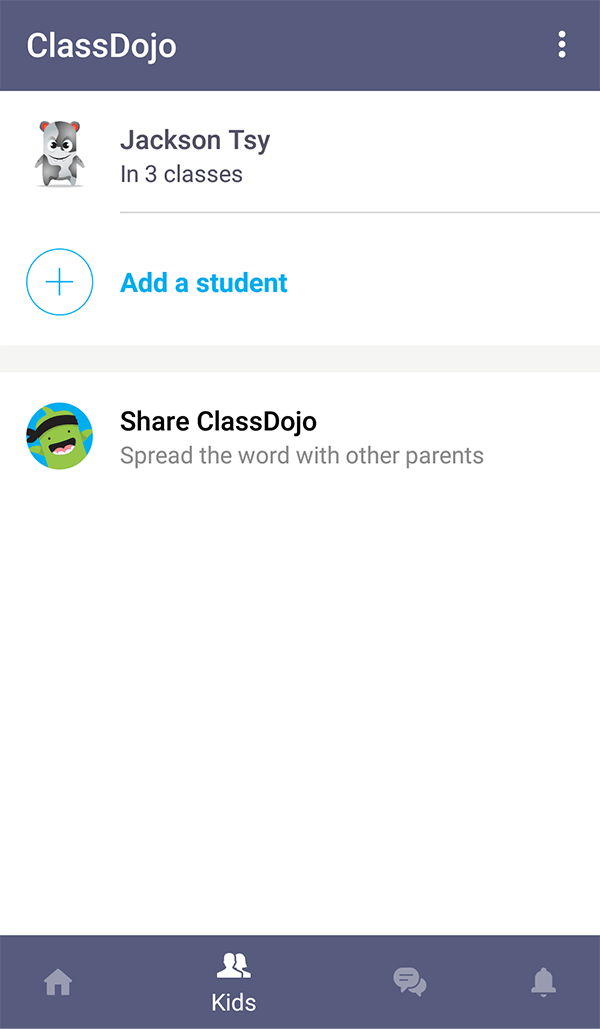 Section 2: Third-party Apps Taken as Android parental controls
There is a wide range of third-party applications for Android parental controls. So when you are confronted with various applications, you will get puzzled easily. You may have learned Kids place, Net Nanny, Screen Time, Toddler Lock, MMGuardian, Secure Teen and so on. Here, the following article will explain a popular and highly recommended application for your Android parental controls – MMGuardian Parent App.
Designed mainly to protect children, MMGuardian Parent App has a lot of extra features. It owns call blocker as well as SMS tracker, which helps to obstruct sexting, cyberbullying, apps and games, etc. Considered as one of the most useful parental controls for Android, MMGuardian can filter the websites your kids browse and better schedule the time they spend on the Internet. Just check out more details from the following article.
Step 1 Download and install the application to your kid's Android. You must register an account of MMGuardian or use an existing account.
Step 2 Follow the tutorials on the screen to enter the management system.
Step 3 Configure the application to the mode of kid after enrollment.
Step 4 Enter the Parent Wen Portal to establish the device required and web filter.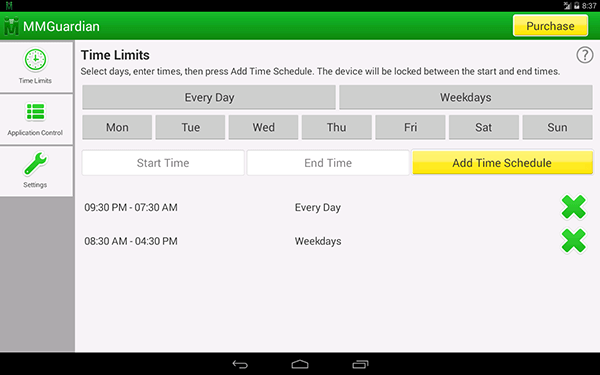 Section 3: Home Networking for Android Parental Controls
It is said Torch and Circle Home are very helpful Android parental controls to help control Wi-Fi. Once you possess one of them, simply with a click, you will have easy access to turning off the Internet. Therefore, you can manage your kid's Android on your amid wireless and wired. What is more, you are allowed to set a timetable for your kids and you are able to give an award to your children if they do a good job.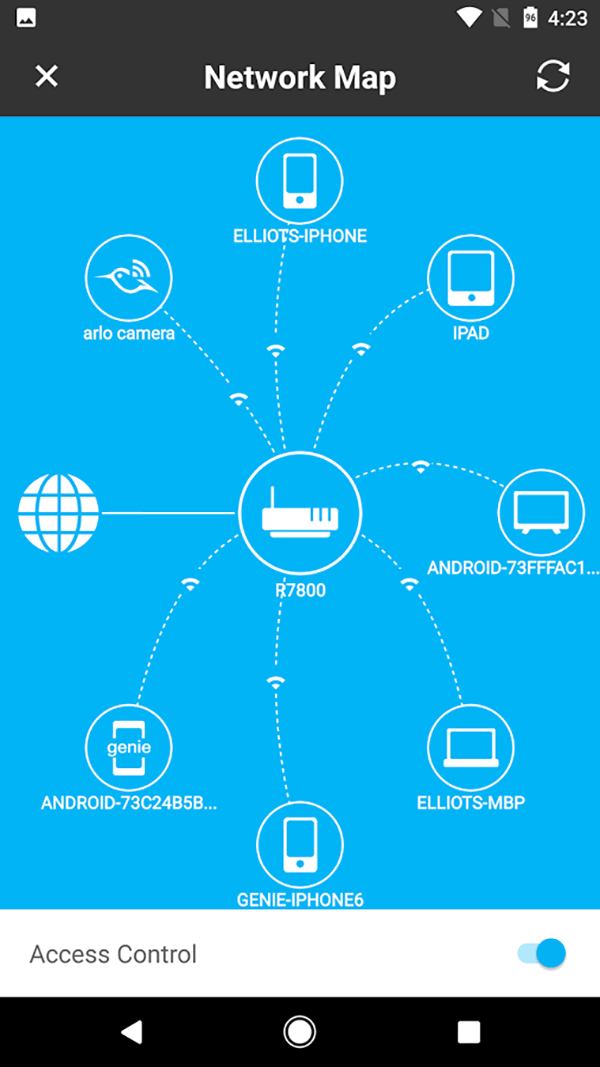 Part 3. Great Software Recommended for Parental Controls for Android
You may be worried your important data will loss when you give your Android device to your kids, and they may delete some crucial files or damage your phone unconsciously. As a fabulous subsidiary application for Android parental controls, Aiseesoft Android Data Backup & Restore is aimed to help you to backup, retrieve together with restoring the significant data on your Android phone. Also, you have the capacity to transfer your files to another device with easy, which is secure and safe. Covering a variety of videos, messages, contacts and so on, it can also permit you to set a password to better protect your backup. If you want to find optimum Android parental controls, at the same time, you cannot miss this terrific software to help you better manage your kids' behaviors. Just refer to the following steps to help you understand more about Aiseesoft Android Data Backup & Restore.
Step 1 Download the software from its official website. Launch the software immediately after installing.
Step 2 Hit Android Data Backup & Restore One-click Backup. This step is just suitable to Android device data backup.
Step 3 Connect your Android device to your PC via aUSB cable.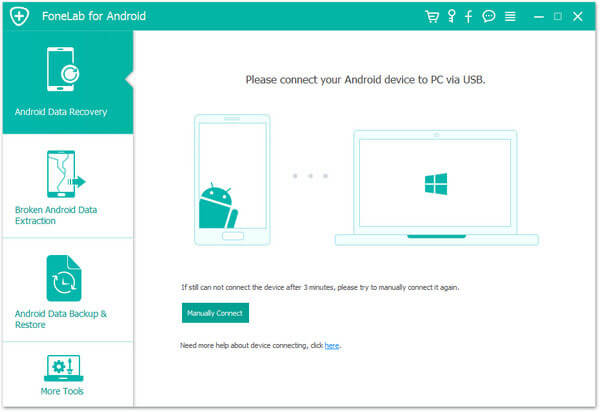 Step 4 Wait for a short while for the end of the process of backup. Click OK and start to preview the backup data. You are supposed to choose data you want to restore.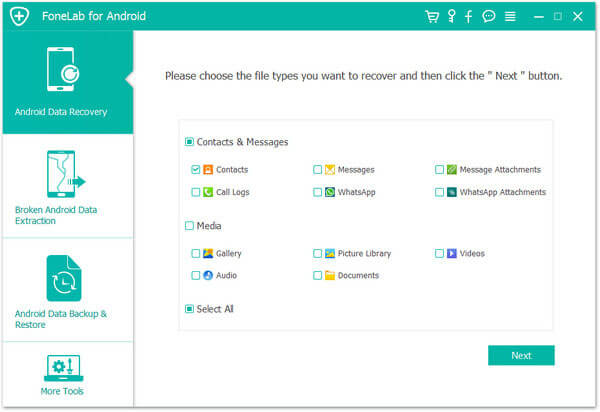 Step 5 Tap "Restore" box to finish the process of restoring.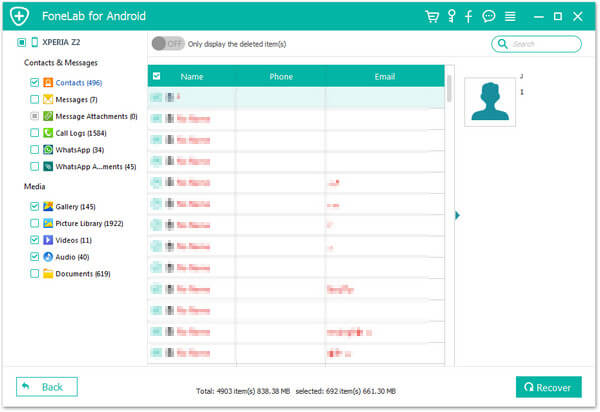 Conclusion:
As you can see from the above article, you will have a good knowledge of the concept of parental controls and some ways to Android parental controls. Android parental controls are important for parents using Android device for the reason that children should be kept in a secure and healthy environment and only by doing this can they grow better and better. Parents are responsible for their growth, thus making it necessary for them to manage the time their children focus on Android devices. Also, Aiseesoft Android Data Backup & Restore can assist you to find the lost files in case that your children mistakenly delete the vital data.