5 Great Methods to Change the Font Style on Android
With the same Android phone on hand, a small change of settings such as changing the font style of your phone makes it different from others and more refreshed. Actually change your font might be a necessary task to make your phone usable. Especially when you need to change a larger font style for Android.
Whatever your reason, just check more details from the article followed to find out how you can change your Android font settings in a suitable way. You can choose downloading third-party apps if you can well manage them, or you are able to change the font style on you Android through settings directly.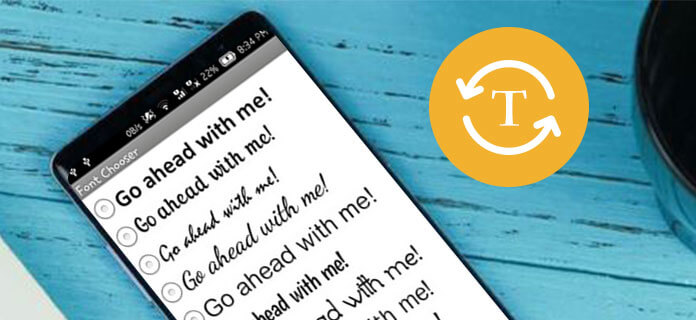 Font Style Changer Android
Part 1. How to change Android font from Settings
The way to change your font style on Android varies from diverse forms and changing your font might be a necessary task to make your phone usable. By adjusting the stock settings as well as downloading third-party apps, you can achieve your goal and make your Android feel a bit refreshed. Occasionally, people choose the former one to reach the target more efficiently. Exactly where and how you access these settings could also vary as a result of operator tweaks to the OS but generally, you can follow the general steps to make changes. Want more details? Just scan the article to find how you can change your font settings on Android through stock settings.
Step 1 Go to "Settings" and enter "Display", and then click the option to head to the "Font".
Step 2 Hit "Font Size" button and slide the bar to adjust the optimum size. Don't forget to check the preview presented above.
Step 3 Move to "Font Style" option button to select your preferred style. You are allowed to skim the font appearance and choose the one to change your font style.
Step 4 Preview the font style and have a careful check by tapping different options. Then back to the home page and appreciate the new font on your Android.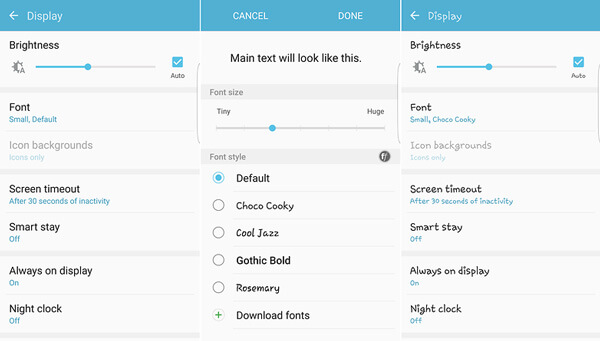 Part 2. Change fonts on Android by installing Launcher apps
If you want to do more than just change the style of the font you're using, one of the easiest ways are to install a third-party launcher, which tends to offer reams of customization options. You've probably got your own favorite launcher already that lets you change the font settings in just a few taps. If you don't, here are some useful suggestions to guide you to change fonts on Android. The main steps of using launchers are generally similar; you can follow the main steps and discover other apps.
Step 1 Input the "Download fonts" in the Android app store.
Step 2 Check the preview and comments of each app. You are able to choose the one that suits yours needs.
Step 3 Download and launch the application. You can enter the home page of the app to check its function and the variety of the fonts.
Step 4 Choose the optimum font for your Android. You are permitted to download some of which are free of charge.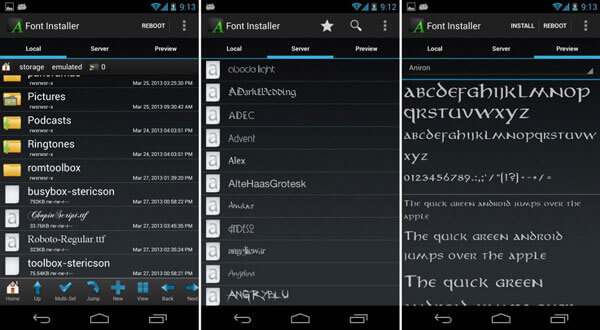 Part 3. 5 top useful font changer apps for Android
Top 1: FontFix
FontFix is a great answer to someone asking for a quick font change. You can search, select and preview a whole load of different fonts. There are over 4300 fonts available for Android, which also allows you to change font styles for Android from the web. When you have Samsung or HTC Sense, you can use the fonts without rooting Android phone.
Step 1 Allow installation from unknown sources first.
Step 2 Preview the fonts and select the font you want.
Step 3 Click the Install button, at which point it'll need to be downloaded and activated.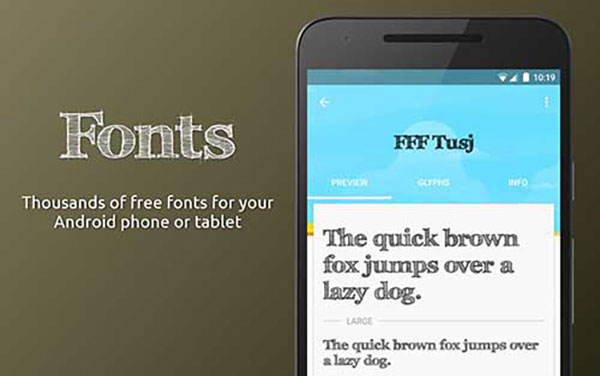 Top 2: iFont
iFont is another highly capable app for changing your system font with hundreds of beautiful fonts. What is more important, you can also download multiple fonts for Korea, Japanese, Arabic, Russian, French, Spanish and more. You can customize the font size without rooting for some Android phones.
Step 1 Choose the language of your Android.
Step 2 Preview the fonts presented in the app.
Step 3 Tap the install button and change the font style of your Android.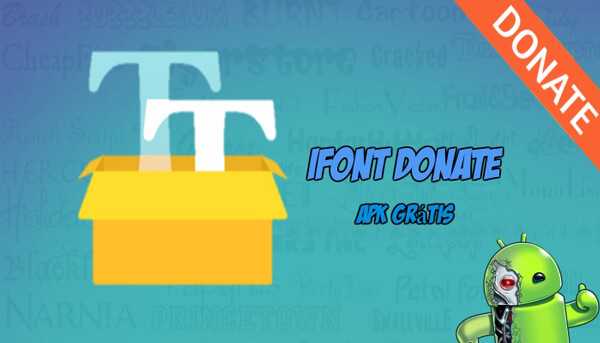 Top 3: Hifont
Hifont serves as another practical font charger, which helps you change font style at ease. You can preview hundreds of handpicked written fonts styles, such as cute, darker, comic, galaxy, love, pink and more others. When you need to change the Android font style, you can use the flipfont changer system within the program.
Step 1 Download the Hifont in the Android store.
Step 2 Preview the fonts in the homepage.
Step 3 Select and install the best font style for your Android.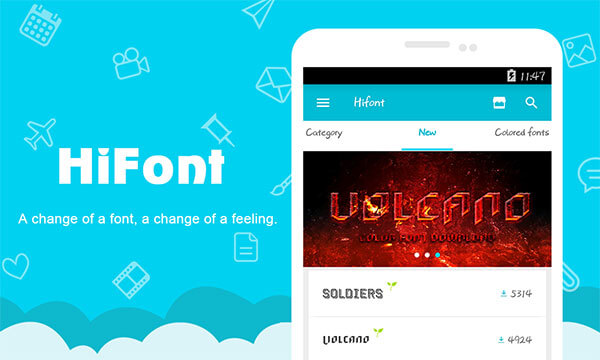 Top 4: Fontstyle
If you are looking for another Android changer for font style, Fontstyle would be a suitable choice. It should be an easy to use font style changer with 24 fonts, you can find the easy user interface with great impression. The program works on any smartphone that allows the custom fonts of Samsung and Flipfont.
Step 1 Download the app in the Android app store.
Step 2 Scan the homepage of the app and choose your favorite style.
Step 3 Install the font style and change your Android font appearance to another one.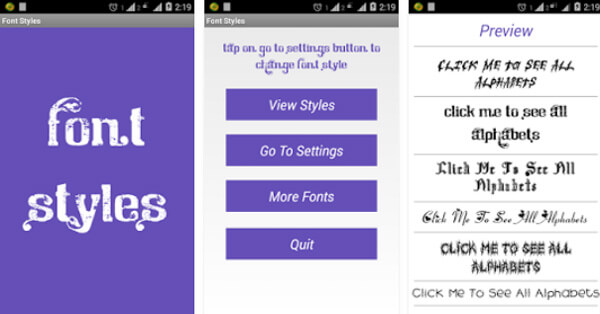 Top 5: Stylish Fonts
Check Stylish Fonts to explore a new way to change the font style on your Android. Instant preview the fonts, change font from Application without long process, and light weight font style changer should always be a solution to enjoy different fonts on Android with ease.
Step 1 Install the app in the Android app store.
Step 2 Preview and choose your favorite fonts for Android to change.
Step 3 Download the fonts and get your Android a new look.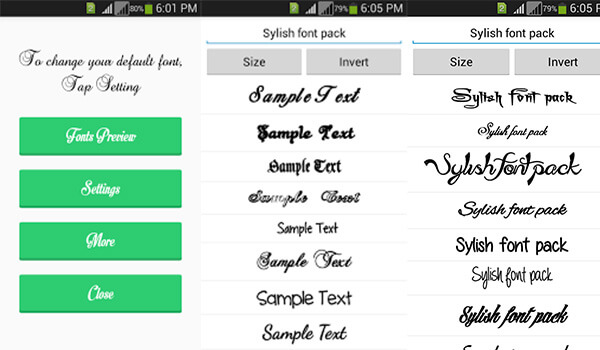 Part 4. A comprehensive and practical application for backup and restore on Android
As you know, when you succeed finding a font style changer for your android, you will be confronted with such a problem that you will mistakenly delete some of your important data or files, thus making it of great necessity to back up and restore your significant files in order to better and more securely change the font style for your Android device. Aiseesoft Android Data Backup & Restore is considered as one of the most useful subsidiary software to help you out. Here come useful and helpful tutorials for your reference.
1. One click to backup and restore Android data to PC or Mac.
2. Preview data files before restore data from Android backup.
3. Choose the desired format only to backup.
4. Support multiple Android versions for backup and restore.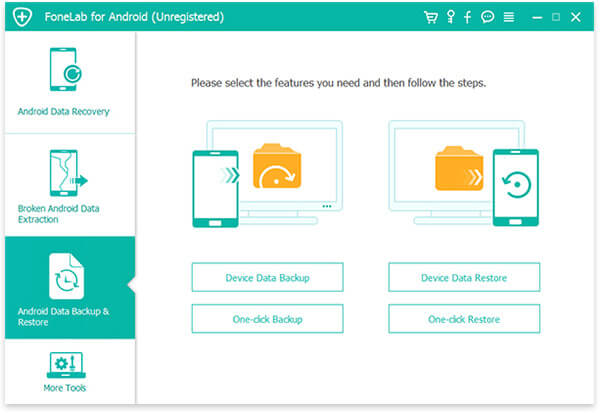 Conclusion:
After reading the entire article, you must have a good command of different ways of changing font style on your Android. There are so many practical and useful font style changers recommended including using the stock setting as well as installing third-party apps. Some may provide different language options, other may conclude original fonts. Sometimes you may suffer from a data loss and all your elegant fonts will disappear. And Android Data Backup & Restore might satisfy your needs hunting for a data backup and restore application. It provides you with an insurance of restoring different style of your fonts. Also, it serves as a huge database for other information stored in your Android. You may rely on it and you will have a good time changing the font style for your Android.