Android Device Manage – Find Your Phone Location
Several days ago, I got a new Samsung Galaxy S6 from my brother as a birthday present. But I lost it when I went to the cinema. Luckily, I have set Android Device Manager with my Google account on that phone. Can I get back my Samsung phone?
A friend consulted me how to get back her lost new android phone with Android Device Manager. I suppose that many android users probably encountered the same problem. Here, in this article, a detailed introduction of Android Device Manager, together with some good alternatives Android Device Manager, will be described. Now, have a good look at them.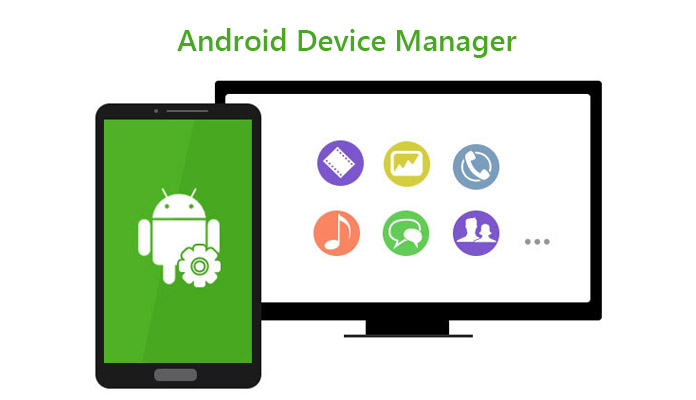 Android Device Manager
1

What is Android Device Manager

Android Device Manager, also named as ADM, is a kind of device managing service designed for Android users by Google Inc, to control their android phone, tablet and other android devices via Google account. Its main function is to locate, ring, lock, and erase their android phone or tablet when they lost or misplaced it to make all data on the device safe and secure.
2

How to set up Android Device Manager on your Android device

1. Turn Android Device Manager on.

Before using Android Device Manager, be sure that your Android phone is synced with your Google account and Android Device Manager is on. If not, try to do the following:

Go to "Google Settings app" > "Security" > "Android Device Manager", and tap "Remotely locate this device", also activate "Allow remote lock and factory reset".

2. Turn location access on

3. Prepare to track your android device someday

Google Android Device Manager also runs on tablets. By now, you have enabled Android Device Manager. Next, you can manage your Android devices as you need.
3

How to use Android Device Manager to track/lock phone

We always hope that you will never use this Device Management on Android. However, unfortunately, when you have to use it to track Android phone one day, you can open Android Device Manager App on other phones, or through Android Device Manger website. Then follow the paragraphs below to find out where is your phone.
Locate Android phone
1. Log into your Google Account. (Forgot Google password? Recover Google account easily here.)
2. Choose the exact device you are tracking.
3. The Android Manager will show you the approximate location of the device when the lost phone is online.
4. After locating your lost android, you can ring, lock, or wipe all your android phone data remotely to preserve your privacy.
Ring lost phone
Sometimes, you just misplaced your mobile and you cannot find it. So go to this Android Device Management, and click "Ring", causing your phone to ring for 5 minutes even if it is set on silent or vibrate.
Lock Android phone
When you are sure that you have lost your Android phone and because there are very private things, it is better to lock your mobile just in case. Click "Lock" option and you need to reset your password twice. From then on, whoever wants to use this phone must use Android Device Manager to unlock it.
Erase data of lost Android
Here is the highest level – Erase Device. If you are so worried about your privacy and want to remove all of your photos, contacts, videos, messages, app, etc on your phone or tablet, you can wipe your Android device remotely. Just click "Erase Device", like factory reset, and it will clear your phone. But the things on your SD card maybe not removed.
4

How to unlock Android Device Manager

If you have found back your lost phone, you can unlock it by inputting the PIN password or pattern. However, if you are forgetful, or your phone was back after a long time, and you forget the password or pattern, you still can unlock Android Device Manager to use your phone freely.

For removing Android Device Manager lock, you need to meet the following rules:

1. ADM will have to be enabled on your phone before it is lost, stolen, etc.

2. The GPS option must be turned on in order to track your phone with the help of ADM.

3. The phone you are using with ADM has to be connected to the Internet or Wi-Fi.

4. Your phone must be running Android 4.4 and above.

Now, let's show the process to unlock ADM.

Step 1. Go to google.com/android/devicemanager on your computer or any other mobile phone. Sign in to your Google account enabled ADM.

Step 2. In the ADM interface, choose the phone you want to unlock and then select "Lock".

Step 3. Enter a temporary password and click on "Lock" again. Then you will see a confirmation with the buttons of Ring, Lock and Erase.

Step 4. Input the temporary password to unlock your phone.

Step 5. Visit your phone's lock screen settings and disable the temporary password.

Now, Android Device Manager lock has been removed from your phone.
5

Alternatives to Android Device Manager

If Android Device Manager location is unavailable, and cannot find your phone location history, you need to find its alternatives, here we recommend you some software to track your Android devices.

Prey is a phone-tracker application which runs silently in the background after you install it. It can track and trigger your lost phone, gather and deliver a picture of who is using it, or remotely lock down and erase everything on your lost device completely. More importantly, it supports almost all major devices, including Android phone or tablet, iOS device, Windows PC and Mac.

Find My iPhone is an app to track your iPhone, iPad or Mac. It was developed by Apple Inc. exclusively for Apple users. When your device goes missing, you need to lock down your device immediately and text a message to the lost device with a contact number by logging in to your iCloud. You can also use Activate Lock to protect your data from the wrong hands. Also, remote erase is available to you to wipe all your data on device when you cannot get it back. It is totally free to use. However, it only supports Apple products.

Where's My Droid is also a phone-track app to help you track and find your lost phone. It can help you locate your lost phone and ring it. It can adjust the ringtone volume up. And it can keep your phone battery consuming less after losing it. It has a free version with limited features. Just have a try.

By now, everything about Android Device Manager is introduced. And we hope that it will bring you convenience to find your lost Android device.

Conclusion

This page mainly talks about Android Device Manager, definition and usage. You can easily set up Android Device Manager to help to track and find your lost phone location. Surely, if you do not want to use it, you can remove the lock easily with the step-by-step guide. Surely, Android Device Manager is not the only tool you can use to locate your lost phone, and you can find the replacement of ADM in the last part to track your lost phone.

Have you grasp the whole usage of ADM? Let me know to leave your comments below.