Perfect Way to View F4V Videos on Windows and Mac with F4V Players
"I got a F4V file offline, but my media player cannot open it, I need a F4V player, any recommend?" F4V is a file extension of Flash MP4 video. As increasing demand for high definition videos, Adobe had developed the F4V format for internet. It is well-known that FLV, also known as Flash Video, was a widely-used video container format released by Adobe.
F4V is the upgrade of FLV and offers better video quality under the same conditions. In result, F4V becomes a go-to format for embedded HD on the websites. Therefore, we are going to share basic knowledge about this format and best F4V players for Windows and Mac.

F4V Player
Part 1: What is F4V File?
F4V is a new Flash Video file format based on Adobe Flash and Apple QuickTime. It is supported starting with Flash Player 9 update 3. F4V is similar to FLV, but F4V file uses MPEG-4 codec and has higher quality. Today, F4V has been accepted as the default online video format by wide array of sites.
Part 2: Top 3 F4V Player on Windows 10/8/7
Since F4V is a popular video and audio compression format, many media players support F4V. But if you want to get high quality experiences, the top F4V players below are best options.
Aiseesoft Free F4V Player
Aiseesoft Free F4V Player is a popular open-source F4V player.
Pros
1. It is able to open F4V files on Windows 10/8/8.1/7/XP.
2. You can enjoy F4V videos with original video and audio quality.
3. The biggest benefit is to control video and audio playback with a single click.
4. If you want to record important moments, it allows you to make HD snapshot while playing F4V files.
5. Users are allowed to adjust bit rate, sample rate, resolution, contrast and other parameters until you get the desired effect.
6. The intuitive interface integrates rich features orderly.
7. Totally free of charge.
Cons
1. This F4V player cannot play Blu-ray discs.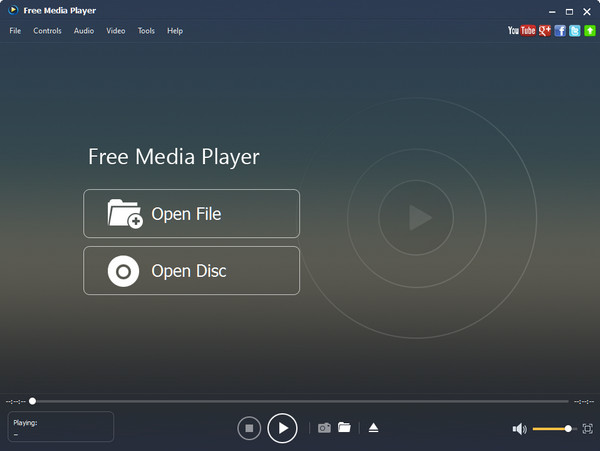 Windows Media Player
Windows Media Player is not only a F4V file manager, but also a F4V player
Pros
1. Manage all multimedia files on your Windows PC, including F4V files.
2. Play F4V files in media library or any location on the hard drive by drag-and-drop command
3. Display the art and other information of the F4V file in media library.
4. Offer basic playback controls, like play, pause, volume, stop and more.
5. Pre-installed on Windows and free to use.
Cons
1. You have to install extra codec package to open F4V files.
2. Some people reported error messages when playing F4V videos with WMP.
5KPlayer
5KPlayer is another option to get high quality F4V experience on Windows PCs.
Pros
1. Play F4V videos with as good quality as possible.
2. Support playing flash videos in HD or UHD resolution.
3. Extract audios from the F4V videos and play it separately.
4. Allow people to view F4V files in various modes, like full screen.
Cons
1. It is a paid F4V player, though the price is affordable.
2. This media player is pretty large and takes up a lot of space when playing F4V videos in original quality.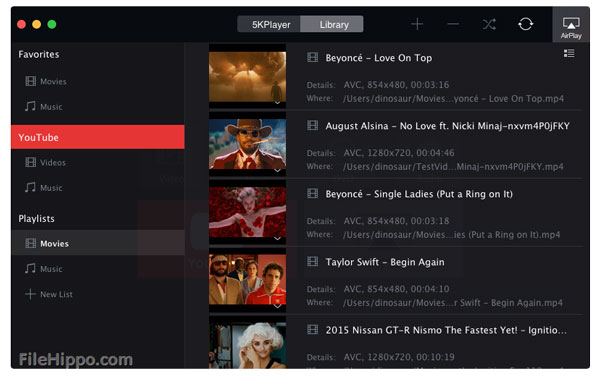 Part 3: Top 3 F4V Player on Mac (Mac OS High Sierra Included)
According to our research, Apple has change the frame for latest QuickTime to save power. But many users complained that it did not support flash videos anymore. It is wired that after years of doing so, are F4V files not playable via QuickTime. Don't worry! You can learn 3 best F4V players for Mac OS below.
VLC
VLC is a popular multimedia player available to both Mac and Windows.
Pros
1. Download online F4V files from any website through RUL.
2. Offer excellent F4V playback quality and stability.
3. Open source project, so free to download, install and use.
4. Offer a wide range of useful tools, like video streaming capacity.
5. Convert F4V files to other video or audio formats.
Cons
1. The installation file is rather large.
2. This F4V player may try to install extra program if you download it from unsafe source.
3. The operation is pretty complex and makes beginners confused.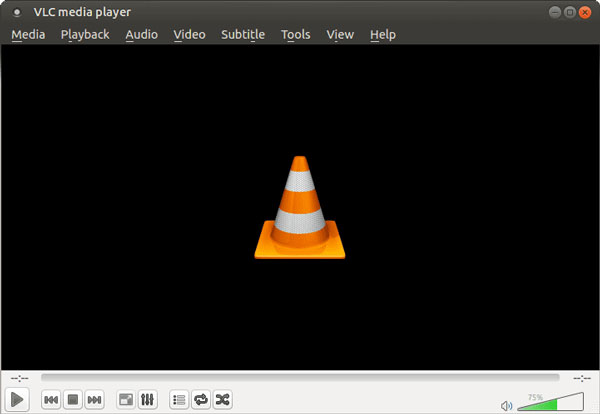 Adobe Flash Player
F4V is a flash video format and the native F4V player should be Adobe Flash Player. And many people consider it is one best VLC alternative.
Pros
1. Allow you to play F4V files on Mac flawlessly.
2. Support for the H.264 video codec and the HE-AAC audio codec.
3. Fully accelerate GPU rendering using OpenGL and DirectX technology.
4. This F4V player is lightweight and uses little space.
5. You can download Adobe Flash Player from Adobe for free.
Cons
1. It cannot handle other video formats, like MP4, AVI and more.
2. It only works on Mac OS X v10.9 or above.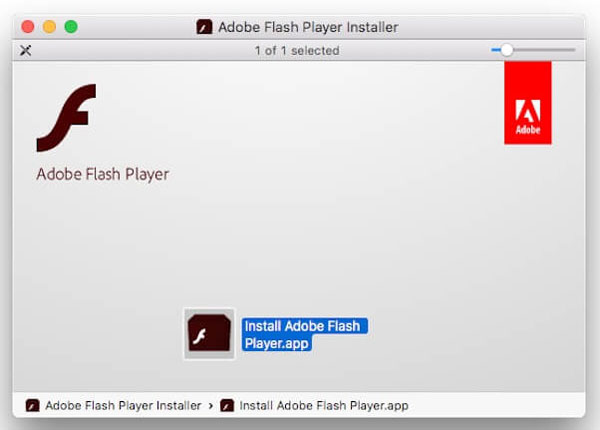 Aiseesoft Blu-ray Player for Mac
If you want to enjoy F4V and other multimedia files on Mac, Aiseesoft Blu-ray Player for Mac is a smart option.
Pros
1. Open and play F4V files and almost all video and audio formats, including rare ones.
2. Render videos in 3D mode and get awesome audiovisual experiences.
3. Play videos in 4K and HD quality using advanced algorithm.
4. Besides local F4V files, support Blu-ray disc and ISO folder playback.
5. Playback HD videos smoothly via hardware acceleration technology.
6. Work well on all Mac OS, including Mac OS High Sierra.
7. For beginners, the basic playback buttons are easy to use; while advanced users can find more custom options in top menus.
Cons
1. Only support playing offline F4V files.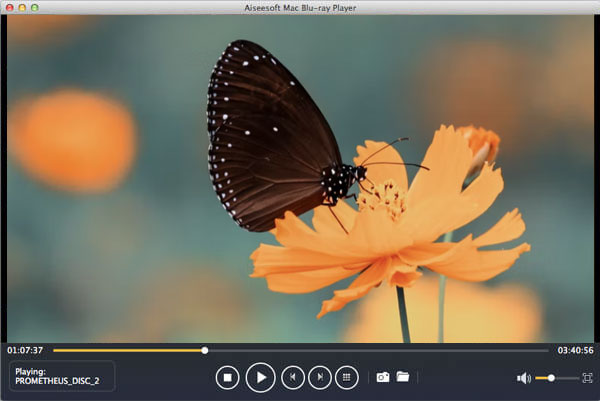 Part 4: FAQs about F4V Player
How do I convert from F4V to MP4?
F4V is not compatible with some players, so you'd better convert F4V to MP4. Run Aiseesoft Free Video Converter on your computer. Click Add File(s) button to load the F4V file. Then click the dropdown button of Output format, and select MP4 as the output format. Finally, click Convert button to start converting F4V to MP4 for free.
How do I play F4V files?
With the powerful Aiseesoft Blu-ray Player, you can play any video and audio files like F4V file at ease. As you run this player on your computer, click Open File button to import the F4V file. As it is loaded, it will start playing F4V file automatically.
Is F4V better than MP4?
F4V files are MPEG4 containers with h.264 video and MP3 audio. It is a flash video format supported by all browsers with Adobe Flash Player software. Mp4 is a multimedia container format that is commonly used to store digital video and audio streams.
Conclusion
Now, you should learn at least 6 best F4V players for Windows and Mac, and you can make a better decision based on our reviews. First of all, if you are using Windows PC, the built-in media player, WMP, is able to open F4V files. Get the error message when playing F4V in WMP? You can try to install the extra codec package. On the other hand, Aiseesoft Free F4V Player is a good option to enjoy your F4V videos with best quality. For Mac users, there are fewer choices, but Aiseesoft Blu-ray Player for Mac can meet your demands on F4V playback without quality loss.