Best Scanning Apps for iPhone 7 Plus/7/6 Plus/6/5/X/8
Nowadays, most of our life are full of digital things, like email, electronic payment, etc. However, our life still cannot live without a lot of paper work. Having an document scanning app would be helpful for our daily life. Here we introduce 5 best scanner apps for iPhone for your reference.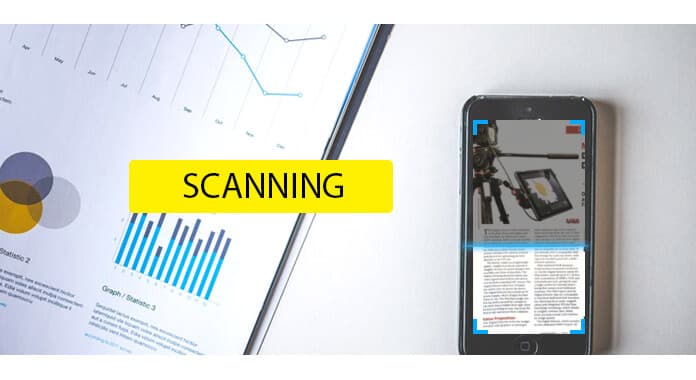 No. 1 Evernote Scannable
Price: Free
Evernote Scannable which is developed by Evernote is a free scanning app for iPhone and iPad to help you scan receipts, business cards, printed documents, etc. in high-quality scans and save or share documents through your iOS devices instantly and easily. As Scannable is used OCR (optical character recognition) technology to detect letters and numbers on whatever you scan so that you can search for words or phrases within the scanned digital document.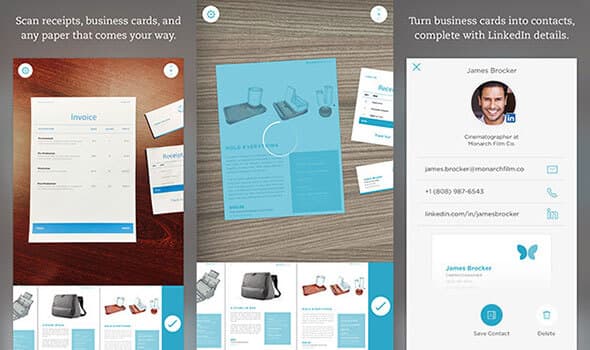 Features:
• Capture documents, expense receipts or whiteboards immediately when you point your iPhone camera at them;
• Automatically rotate, crops and adjusts images for you to read easily;
• Easily send documents to colleagues through email or text or export them as PDF and JPG files to Evernote and other apps;
• Turn business cards into contacts from pulling information from business cards and Linkedin, adding profile photos and saving to your contact list.

No. 2 Genius Scan - PDF Scanner
Price: Free
Genius Scan is like a scanner in your pocket which can quickly scan your documents on the go and export them as JPEG or multipage PDF files. With smart page detection, perspective correction and image enhancement scanning technology, Genius Scan scans fast and generates high quality scans.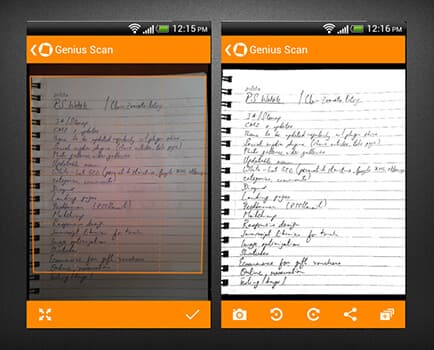 Features:
• Offer Magic mode to auto-detect and snap scans with your handsfree and Batch mode to scan dozens of pages in a breeze;
• Feature three fine-tuned image enhancement including Black and White, Color/Whiteboard and Photo;
• Easily create multi-page PDF documents by gathering multiple scans;
• Prevent unauthorized access to your documents with Touch ID or a pin code and encrypt your PDF to make it can be read only by your recipient.

No. 3 Scanner Pro - PDF document scanner app with OCR
Price: $3.99
Scanner Pro is one of the best scan apps for iPhone to quickly scan and save a digital version of a paper document. It can scan all sorts of papers (including paper documents, receipts, checks, agreements, rentals, dashboards, etc.) and digitize them. You can also use Scanner Pro to scan agreements and books into multi-page PDFs.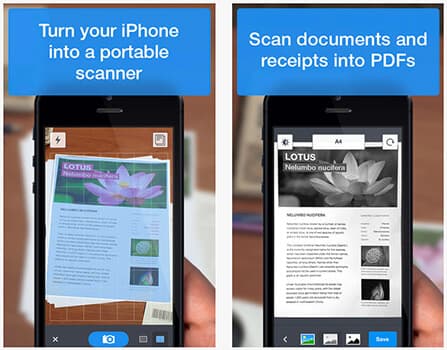 Features:
• Automatically detect scanning document or image borders in real time and correct distortion and geometry;
• With OCR technology to extract text from scans and let you select and copy phrases or paragraphs;
• Support automatically uploading PDFs and JPEG files to Dropbox, Google Drive and other cloud services and sending scanned documents via email, etc.;
• Keep track of every change you make to your scans and let you be able to go back and change or reverse an edit according to your need.

No. 4 CamScanner - PDF Document Scanner and OCR
Price: Free
CamScanner is a document scanning app for iOS to scan documents into clear and sharp image or PDF and make it easy to send them through email, fax, print them out or save them to cloud. With its unique technology, it can quickly scan all kinds of documents and optimize the scans quality automatically.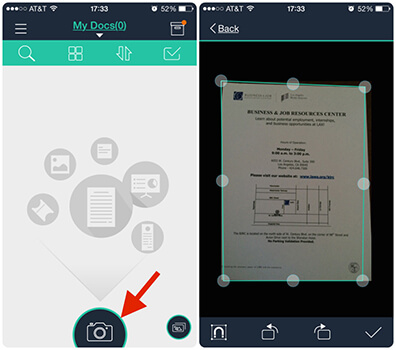 Features:
• Use your iPhone camera to scan all kinds of documents and optimize scans quality with smart cropping and auto enhancing to make texts and graphics look clear and sharp;
• Share documents in PDF or JPEG format through social media, email attachment or sending the document link to others;
• Print out the docs instantly with nearby printer via AirPrint or fax docs to over 30 countries directly;
• Support making annotations or adding customized watermark on docs.

No. 5 Scanbot - Scanner App and Fax
Price: Free
Scanbot is a scanner app for documents and QR codes for iPhone. It can create free, hight-quality PDF or JPG scans with just one tap. You can also send the scans through email or fax or upload them to iCloud Drive, Box, Dropbox, Evernote and other cloud services.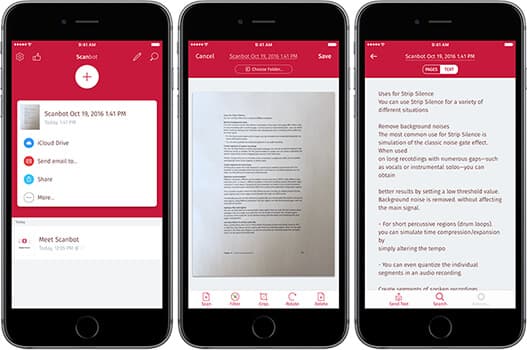 Features:
• Easily scan documents, QR Codes, barcodes, labels, whiteboards, business cards, sketchbooks and more;
• Support all major cloud services like iCloud, Google Drive, Dropbox, Evernote, etc. and remember you last folders to let you upload documents with one tap;
• Streamline your workflow and fax documents directly from your iPhone or iPad with no need of an actual fax machine;
• Support adding notes, signing and highlighting important parts of PDFs and even moving the pages, rearranging them or adding some more.

Quick comparison chart of the best scan apps for iPhone
| Scan Apps | Scannable | Genius Scan | Scanner Pro | CamScanner | Scanbot |
| --- | --- | --- | --- | --- | --- |
| Support System | iOS | iOS/Android | iOS | iOS/Android/Windows Phone | iOS/Android |
| Cost | Free | Free | $3.99 | Free | Free |
| OCR Technology | Yes | No | Yes | Yes | Yes |
| Fax Scans | No | Yes | Yes | Yes | Yes |
| Prints via App | Yes | Yes | Yes | Yes | Yes |
| Docs Edit | No | Yes | Yes | Yes | Yes |
| Cloud Sync | Yes | Yes | Yes | Yes | Yes |
Extending Reading: Convert Scanned PDF to Word/Excel and more
Sometimes you may like to edit your scans on the computer with the more editable format like Word or Excel. In this condition, you can choose a professional PDF Converter to assist you for the conversion.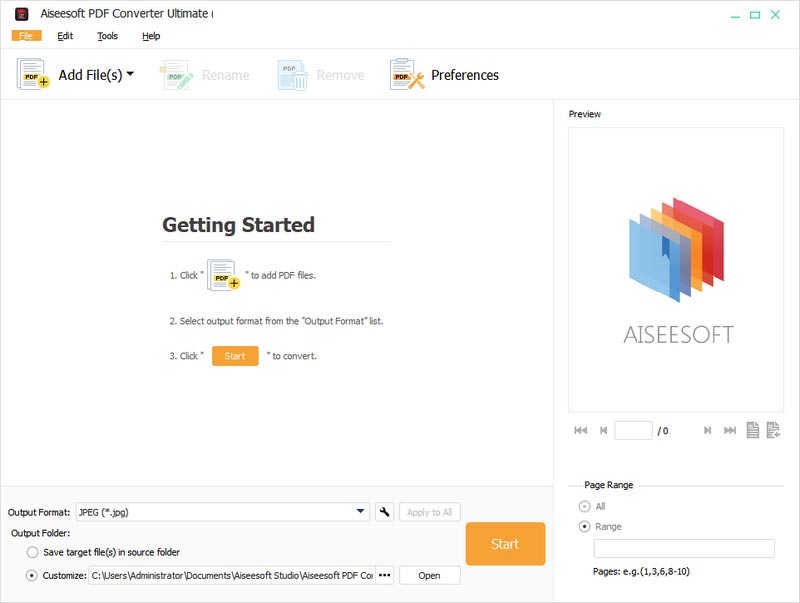 Step 1 Download the program and install in your PC or Mac.
Step 2 Add the scanned PDFs by clicking "Add File(s)" button and choose the PDF files you want to converter.
Step 3 Choose the output format from the drop-down list and click "Start" button to start conversion.
Step 4 After converting, you can easily edit the scans in Office format.
We have talked about 5 great scan apps for iPhone. If you have any better recommendation, you can leave us a message.