Sirius XM Player to Enjoy SiriusXM Satellite Radio
Sirius XM Player must bring you a lot of good memories if you ever used the SiriusXM satellite radio. Compared with regular radio, you can easily get crystal clear stereo sound, all kind of commercial free music stations, many of your preferred news/sports options and a much wider reception range in SiriusXM Player. Even you have to pay a monthly fee for the Sirius XM Player service, it still a good option for you to enjoy satellite radio on-the-go.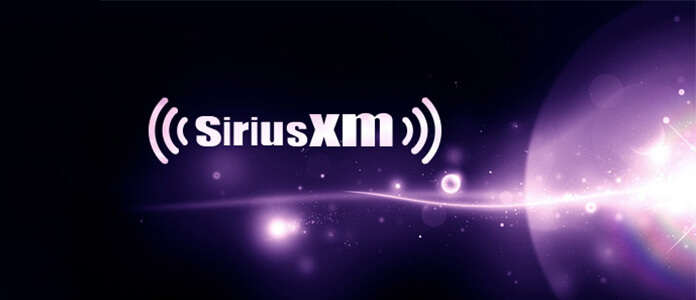 For whatever reason, SiriusXM has blocked connections to the online SiriusXM player and app outside of US and Canada. You are only allowed to play commercial-free music, plus the favorite sports, exclusive talk and entertainment on SiriusXM official site and iOS/Android/Windows app. We will talk about Sirius XM Player and SiriusXM radio in this post. What's more, we will show you a simple way to better enjoy the SiriusXM portable streaming radios.
Part 1: Sirius XM Player
➤ Listen to SiriusXM channels live, including additional online-only channels
➤ Access On Demand shows, custom mix SiriusXM music and comedy channels
➤ Enjoy a large catalog of content on your schedule
➤ Custom mix your favorite music and comedy channels
➤ Store select talk and entertainment shows for later playback while offline
➤ Easily search for your the channels, shows, and episodes you are interested in
➤ Share with your friends with what you're hearing
Get the Sirius XM Player app for your portable device:
SiriusXM app is able to let you listen to commercial-free music, plus exclusive sports, talk, comedy, and entertainment programming. Access hundreds of On Demand shows and custom mix SiriusXM music and comedy channels so you hear more of what you want.
Part 2: How to record SiriusXM satellite radios
Just like many other Sirius XM Player users, you may still prefer to listen to your favorite subscriptions like "Howard Stern", "David Choe killing it", "Wendy at Wendy's" and more on the Sirius XM Online Player. Do you want to record your desired radio contents for further playback? To do that, you can rely on the professional SiriusXM Radio Recorder. First, you can free download and install it on your computer.
Step 1 Launch SiriusXM Radio Recorder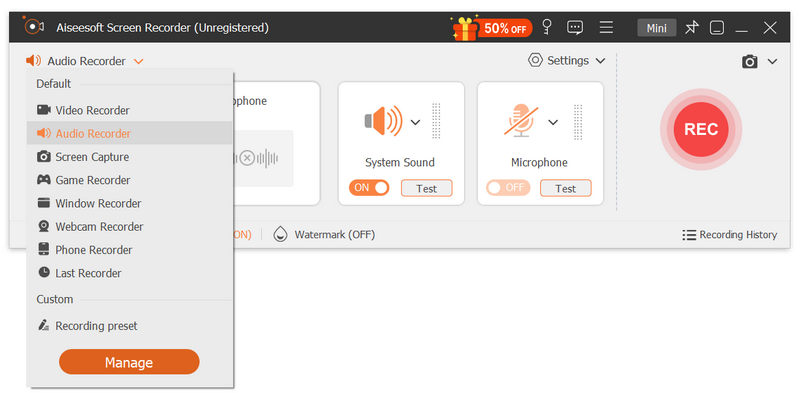 Download, install and open this powerful SiriusXM radio recording software on your computer.
Step 2 Customize recording settings
Click "Audio Recorder" to open the "Record Audio" interface. When you enter the main interface of this SiriusXM Radio Recorder, you are allowed to record SiriusXM streaming radio from system audio and microphone audio. It can help you record audio in format of WMA/AAC/MP3/M4A, so you can choose the suitable output audio format according to your need.
Step 3 Turn on Sirius XM Online Player
Play the subscription you want to record with the Sirius XM Online Player.
Step 4 Record SiriusXM satellite radio

Click the red "REC" button to start to record the audio file playing on the Sirius XM Online Player. Click the "Stop" button when the playing is over. After that, you can preview and save the recorded radio file.
Bonus tip: Blu-ray Player
In case you donwload Sirius XM audio, one useful tool is highly recommended here, Aiseesoft Blu-ray Player.
Blu-ray Player
Blu-ray Player is a powerful player that could play Blu-ray disc, Blu-ray folder, Blu-ray ISO file and common media files and videos smoothly.
Play Blu-ray disc/folder/ISO file on your computer.
Play any video format, including HD and 4K.
Lossless sound effect as well as HD image quality
Part 3: FAQs of SiriusXM player
What devices can stream SiriusXM player?
The devices that can stream SiriusXM player are Roku, Amazon Fire TV and Apple TV.
Can I get SiriusXM on my computer?
Yes. With the streaming SiriusXM, you can listen to all channels on Mac, PC, Android devices, iPhone, iPad, iPod touch and more.
Is SiriusXM free right now?
Yes. You can use Sirius for free after registering for a free 30-day subscription.
In this post, you give you a basic introduction of Sirius XM Player. You can download and use the Sirius XM Player app to listen to your favorite satellite radios. Moreover, we show you a simple way to record the SiriusXM satellite radios. You can download the easy-to-use recording software and have a try.